2019 was quite the year. We stepped up our travel by flying over 76,000 miles to 40 airports and 7 new countries! We spent about 80 nights in hotels and even learned to maximize the value of our points more. Our 2019 year in review overall costs should have been over $70,000 for all of the trips we took. Instead, we only spent LESS THAN $5,200 for the entire year of travel for the two of us. I am seriously blown away by that number as last year we spent almost double that number and it should have cost us just under $40,000.
New Experiences
Besides traveling the world, we also had some other ups and downs. This included me breaking my leg in 5 places while on one of those trips, purchasing our first investment property, and even changing careers and moving to another state. Regardless of our ever-changing lives, we kept moving forward to reach our overall goals. Without Basic Travel Strategies, we would not have been able to experience all of these amazing cultures and adventures. Needless to say, these methods have honestly changed our lives for the better. We learned about this hobby randomly from a girl in a class through The Establishment we attended to learn about credit scores. I honestly don't even know her name, but I hope I find her one day and can properly thank her! Now our goals are to share our knowledge of how you can also travel the world for less!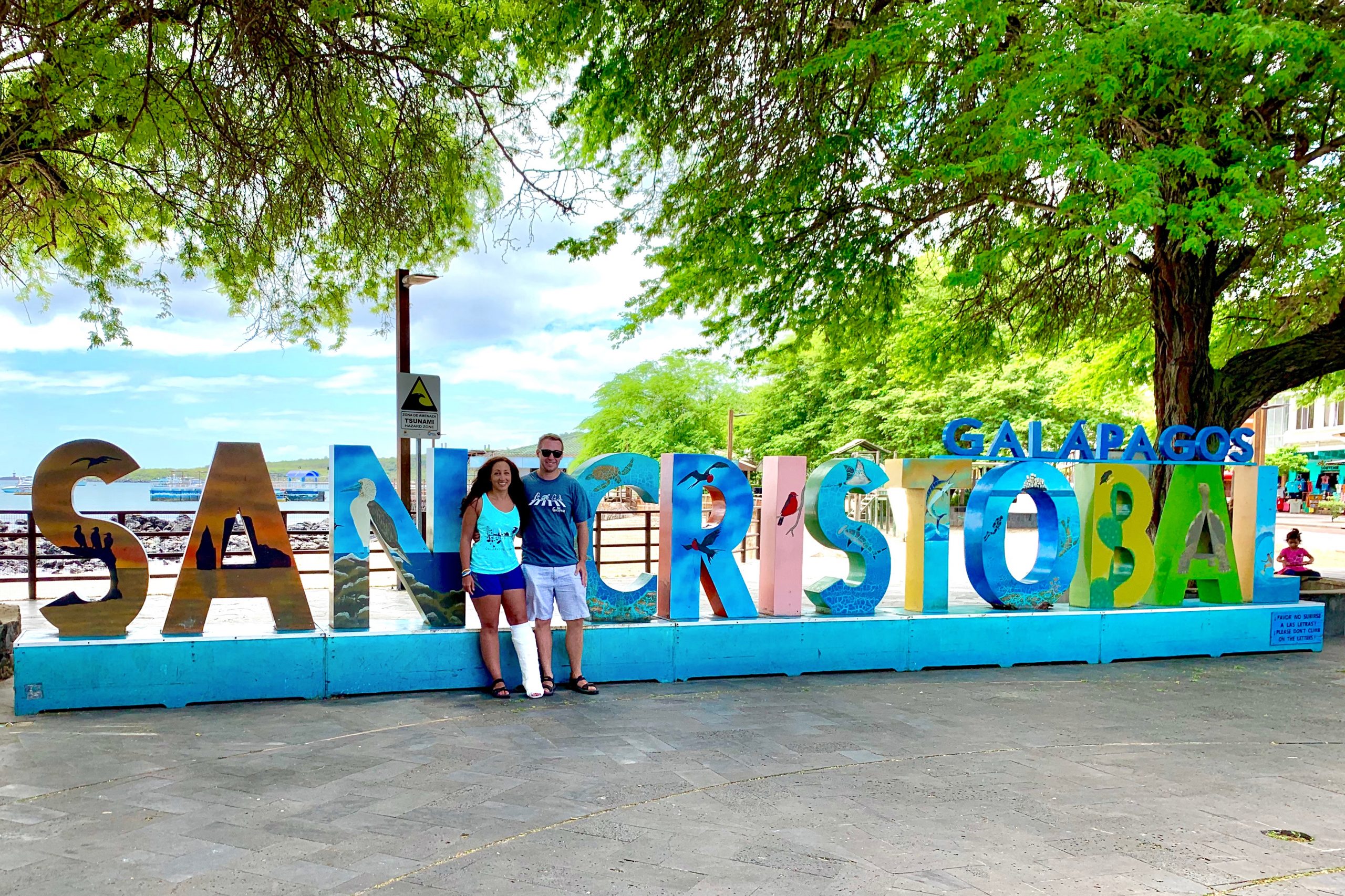 So let's dive into an overview of the last two years.
2018 vs 2019 Year in Review
We first started learning about credit card award strategies at the end of 2016. 2017 we had some major trips including Thailand for 30 days, Costa Rica, San Francisco, and Jamaica. I haven't actually gone back to figure out the numbers, as we didn't have a blog at the time. Maybe one day I will go back and figure out those numbers. For now, we have a 2018 vs 2019 comparison.
| | | |
| --- | --- | --- |
| | 2018 | 2019 |
| # of nights | 66 | 80 |
| Countries Visited | 6 | 7 |
| Miles Flown | 53,149 | 76,046 |
| Points Used | 998,334 | 1,033,724 |
| Should have Cost | $39,765.25 | $70,999.26 |
| Total Cost | $8,945.64 | $5,129.36 |
Travel is possible. There are ways to travel the world and experience it for way less money than you think. You just have to know the Basic Travel Strategies to figure out how to get extremely reduced airfare and hotels. The purpose of this article is for a brief overview of trips that are possible. We have more detailed articles we will link to with the specific how-to's. If you have never heard of Basic Travel Credit Card Strategies, download our completely free guidebook. This is the Ultimate Guidebook To Super Cheap Travel and it will give you an overview of Traveling on points. If you haven't already, be sure to Join our Insiders Facebook Group- Basic Travel 101- Points, Miles & More and follow us on Instagram @BasicTravelCouple.
So without further ado, our year in review of where in the world points took us, and how they can take you places too!

Aruba!
Our first international trip of the year we decided to spend in Aruba to get those famous pink flamingo pictures! This trip cost us $502 by utilizing Southwest Companion Pass to get buy one get one free flights. We also used Marriotts buy 4 nights, get the 5th night free! This enabled us to get easy access to the flamingo island. We ended up spending about $502 total on our trip for flights and hotels.
Aruba we got to go on a beautiful Sunset Sail with Octopus Aruba, Ride around on UTV's with Around Aruba Tours, visit the Pink Flamingos on Renaissance Island, and we were even featured on our VERY FIRST Podcast with Guys Telling Stories!
Final Thoughts
We highly recommend Aruba. It is very family-friendly, low key and safe. The weather also seemed to be pretty perfect with just enough sun. It DID get a little windy though so watch out for sunburns if you don't realize how hot the sun is! If you are looking for a low key destination, definitely check it out and be sure to let us know if you have any questions on it.
How to Replicate this trip
Galápagos Islands
The Galápagos Islands were a dream destination for both of us. We wanted to swim with sharks, see the huge tortoises and check out the famous sea lions! My BIGGEST thing was seeing a Blue Footed Boobie. Ever since I heard about them in grade school in my animal books, I was obsessed! We opted for a land tour vs the liveaboard boat tours. Partially because of how expensive we have seen those tours were. The other part of us likes to be on land to explore at our own pace. We also were able to get flights to the islands for only $379!
Galapagos Islands, in general, had a lot of great history, wild life, and exploration. We got to explore Lava Tubes, see a treehouse hotel, scuba dive and snorkel with turtles, penguins, and sharks, and even visit Tortoise Farms where they are trying to protect and increase the number of tortoises to save the species of animals. Charles Darwin Interpretation center was also a great spot to see the history of the islands. We really had an amazing time in the islands exploring.
The Accident
This was the trip where our last day in San Cristobal Island, I fell through a hole in a dock and broke my leg in 5 places. Let me tell you it is not fun to do, so be aware of your surroundings!!! Luckily health insurance is FREE in Ecuador, and we did not have to pay ANYTHING for my overnight hospital stay. Be sure to be mindful of healthcare in other countries and get travel health insurance if you do not have it! Accidents happen in a split second and you will be grateful you had it.
Quito
Even though I was injured, we still spent a day in Quito. I was determined to see the equator! We booked a private tour guide and went to Mindo, The Cloud Forest, as well as the Equator! It was a very slow-moving day but, I am so glad we were able to go on this trip. We also had the best chocolate at Yumbos Chocolate. So if you head to Quito or Mindo, I highly recommend it!
Final Thoughts
Moving on, the trip was incredible and I would absolutely go back in a heartbeat. The people are amazing and SO friendly. We even had our hotel owners show up at the hospital when I broke my leg and literally went above and beyond to take care of us. (We love you Galapagos Eco-Friendly!) It is absolutely possible to do day trips from the islands. We actually flew into Santa Cruz island, took a ferry to Isabella, and then took a flight from Isabella Island to San Cristobal. This helped to cut the time it would have taken to take a ferry from Isabella back to Santa Cruz, then Santa Cruz to San Cristobal. I highly recommend visiting at some point in your life though.
How to replicate this trip
Italy
Just a few short weeks after the Galapagos Islands, my college roommate was getting married in Italy. Since I was recovering from my injury, I decided to see if I could make the trip happen. Unfortunately, Dave was unable to go with his work schedule, so I recruited my friend and sister for a quick girls' trip to Roma! It was quite difficult still being on crutches in a walking boot, but we made it work for about $400 each!
The trip was pretty quick and we were limited on walking due to my injury, but we still managed to get to a few top places! My favorite parts were the golf cart tour through Rome, visiting a winery and doing a wine tour, the gelato, and of course watching my friend marry the guy of her dreams! It was such a beautiful ceremony and venue located at La Badia di Orvieto. I was blown away and so happy my broken leg was able to get us to Italy! So much so that I even wrote some quick tips to travel with an injury!
Last-minute trips
We actually got super lucky finding tickets last minute YYZ to ROM, only $600 or so! Utilizing the Capital One Venture Rewards Credit Card each saved us $500. We like this card as if you have NO points and need a last-minute trip, this is a great option. You can open the card, book something on it before you have the points, and then 'reimburse' the cost of the trip within the 60 or 90 days. Our flights only cost about $100 each!
Hotels we found air Bnb's for the 4 nights and we were able to split the cost 3 ways, making our Italy trip super cheap! Our hotel was right in Rome and walkable to the Colosseum. I was even able to crutch home from visiting it one night.
How to replicate this trip:
This trip we just got lucky finding cheap options. You could use one of the 3 cards below that all give you the same type of points for erasing travel costs or cashback for travel expenses.
Japan/Singapore/Philippines
After learning about ANA's first-class awards booking deal, we were dyingggg to go! We had accumulated points for quite some time, so I knew we had the funds to get there. The only issue was, finding the flight availability. Since I was still recovering, I was constantly searching for open availability to fly to Japan in First Class for two people. Eventually, I found 2 seats available about two weeks prior to the trip in First Class! The way home we could only find Business class availability, which was still pretty amazing. (Note photo below).
The Cost
The flights alone should have cost us over $40,000. I quickly snatched them up and we were scurrying to book hotels. Luckily we had a TON of free night certificates saved up as well and we were able to utilize them in many 5 star resorts such as Hilton Conrad and Intercontinental. In the end, we saved almost $3,500 on hotels in Japan as well. Our final costs for Japan were about $656 for our flights and hotel. We combined our trip to Japan with Singapore and the Philippines, and all of our flight and hotel costs were included in the above calculations.
Traveling Japan
Japan was a destination that has been extremely unique from any of the other countries we have visited. It is really hard to put words on how unique the culture is. We got to travel to Tokyo, Osaka, Nara, Hiroshima, and even Mt Fuji. Bamboo Forests, Traditional Tea Ceremonies, Sumo Wrestling, and even MarioKart Racing through the streets of Tokyo! There was SO much to do in each city, we did not spend nearly enough time in each. We did however really enjoy the riding the Shinkansen trains! It was pretty easy to navigate and get around once you got used to it.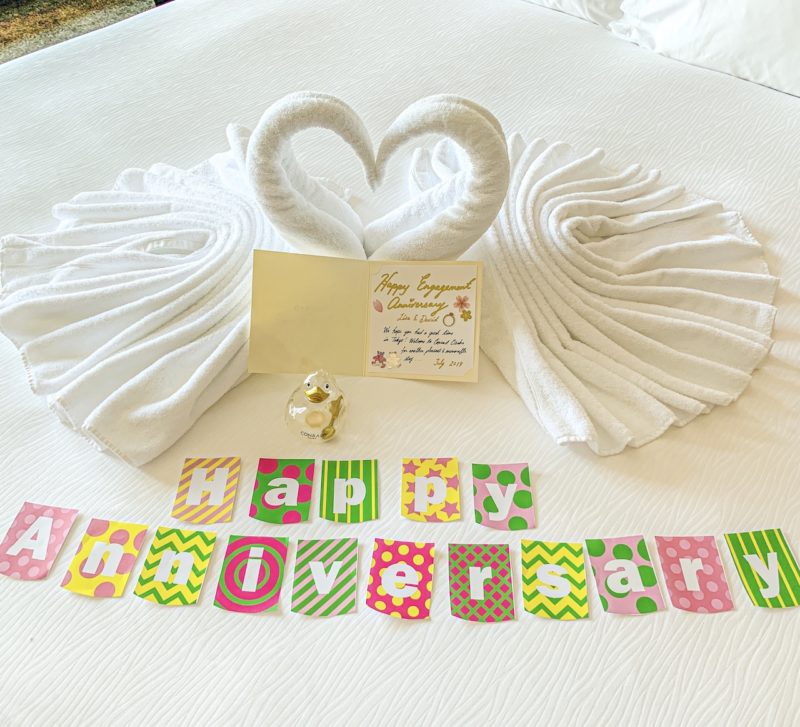 Full Disclosure- we never wrote articles for the Philippines and Singapore. Well, we have content we still need to finish editing and posting. I just happened to be leaving for training shortly after and having to finish up our rental property got me a little distracted from writing those. Here are a few pictures and thoughts anyway.
Final Thoughts
Japan is unlike ANY country we have ever visited. Seriously it is so incredibly unique and everyone needs to experience it. I feel like we were only there a short amount of time, but I would absolutely love to go back and visit. The culture is incredible, it was the best hospitality I think I have ever seen, and the food was amazing. Definitely a must-do.
Planning your own Japan trip? Check out some of our other Japan Blog Articles!
Singapore
After flying out of Japan we headed to Singapore for a quick 3 nights. We visited Gardens by the Bay, saw the famous Jewel in the airport, visited Merlion, and got to eat some unique foods. My favorite was the purple sweet potato ice cream. Not so favorite was trying Durian for the first time! We also got to meet up with some friends, and even checked out Marina Bay Sands! It was a very busy 3 days. Our hotel stay we were able to cover with our Hilton Credit Card and free night certificates or points!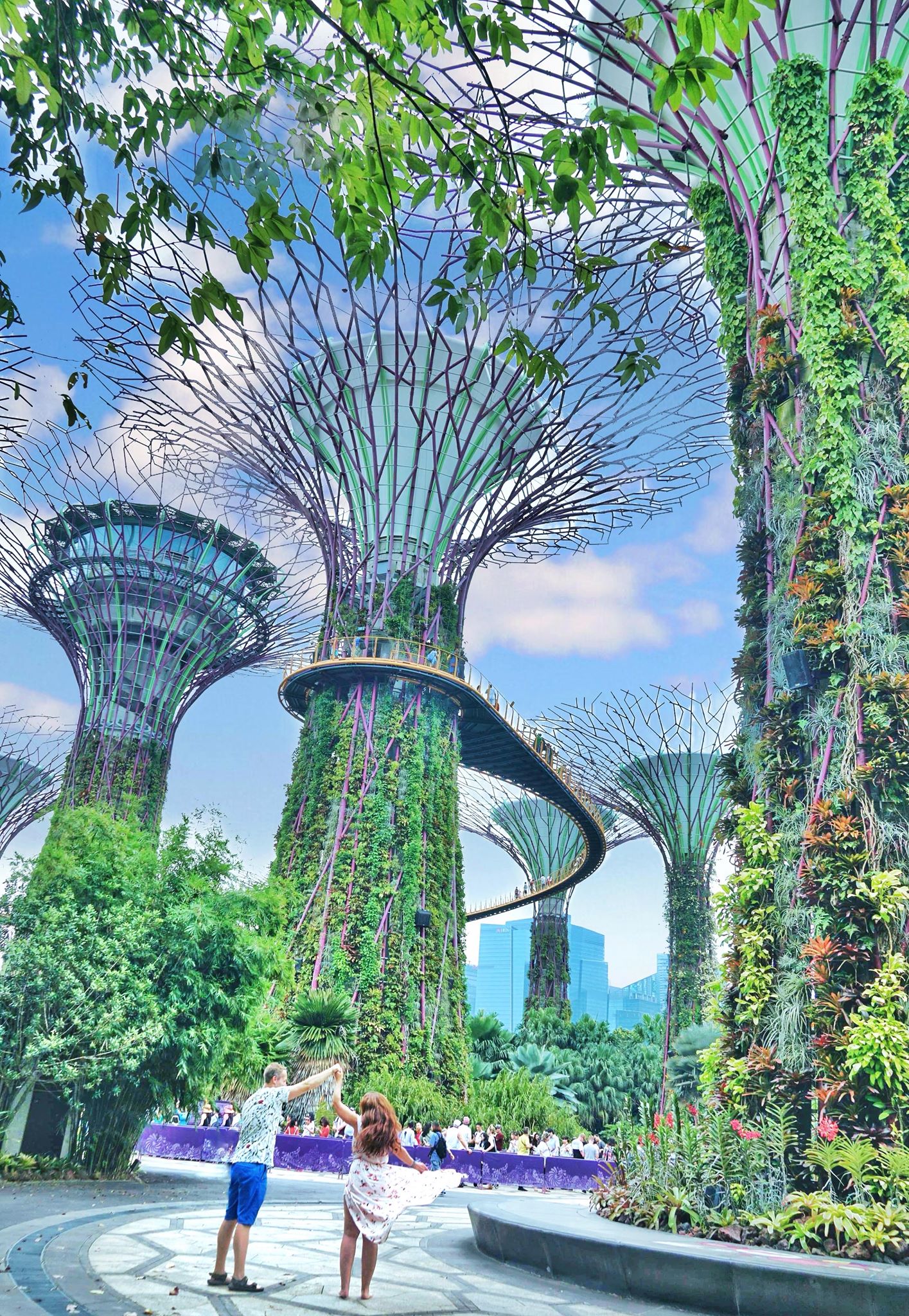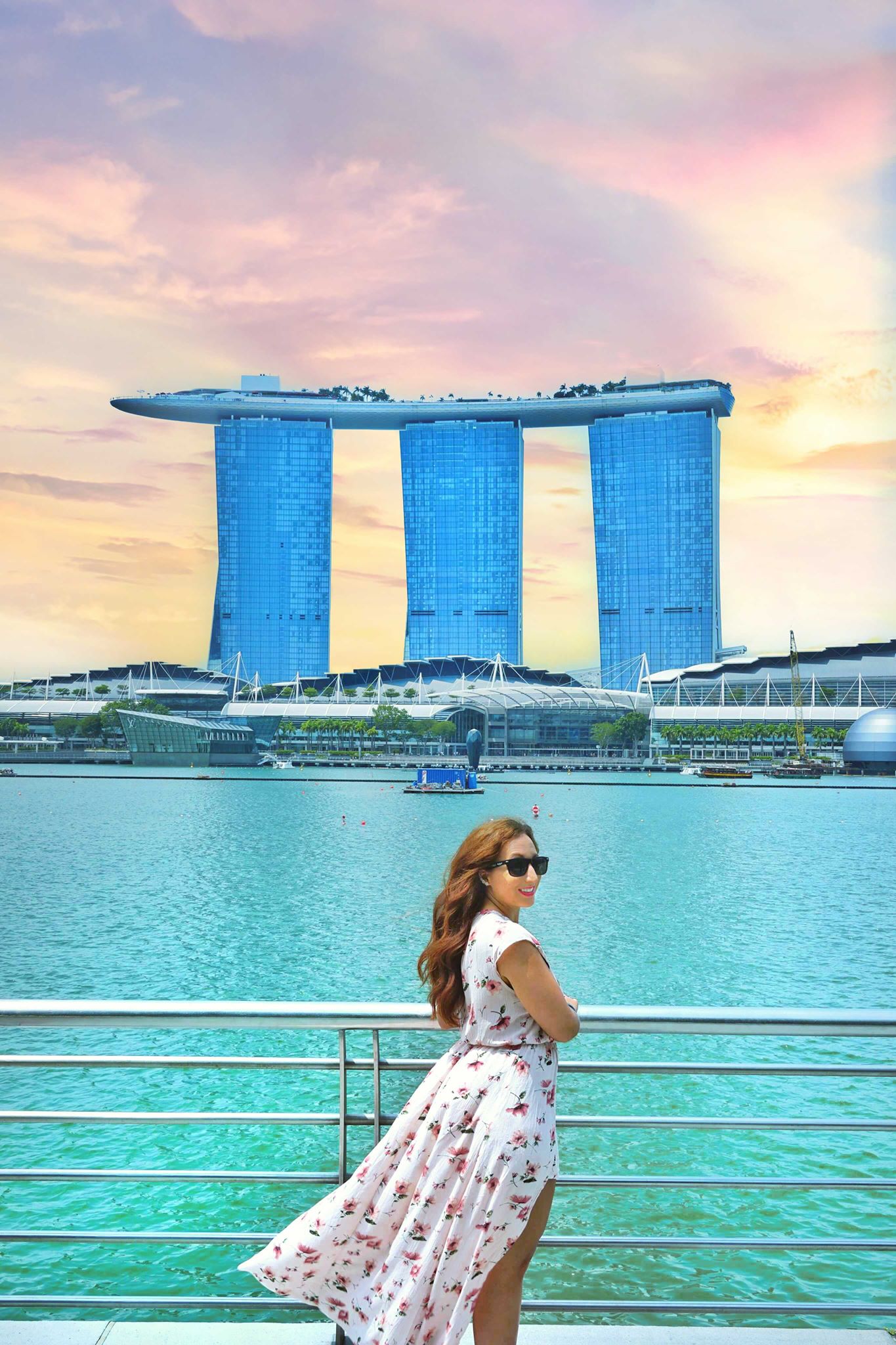 Final Thoughts
Singapore is also really incredible and different. There was SO much to do in such a short time period. Seeing the Jewel, Merlion, Gardens by the Bay and Marina Bay Sands should be at the top of everyone's list. I do however wish we stayed a night at Marina Bay Sands to experience the pool and actually just staying at the resort.
Philippines
I'm not really sure where to start with the Philippines. They were incredible for one. We got to see some pretty amazing views, live on a boat for 3 days and 2 nights (and get stranded on a random island because of the squall storm coming through), eat some of the freshest and best food out there off the boat, and even try Rambutan fruit which I miss!
The boat tour was probably my favorite part though. It was such a unique adventure being able to spend time on the water and hopping from island to island. Literally no 'rea' itinerary, but definitely one of my favorite adventures! We went with Belarmino Ventures and 100% recommend them! Be sure to mention we sent you if you do book with them!
Final Thoughts
In the Philippines, you need to spend more time than we did there. I think we had about 6 days maybe and it was not nearly enough time. Maybe 8-10 days I would think should be the minimum! The culture is soo much more laid back in the islands. It was a very relaxing culture and different to see how children are raised and how they live.
How to replicate this trip:
This trip we pulled out all the stops to visit 3 new countries. While you don't need all of these cards, we had accumulated them over the years. If you are trying to go to Japan, I'd start with the basics of airline credit cards and get Chase or Citi. Be sure to check out our Top Credit Cards to learn more.
Citi ThankYou Points
Chase Sapphire Reserve or Preferred
Hilton Honors Points/certificates
IHG Hotel Certificates
Marriott Points/ certificates
Bahamas
To end our year for our annual White Christmas, we headed over to the Bahamas to swim with the Pigs! We also got to see some iguanas, visit some really pretty white sandbars, and swim with sharks! Flying into Exuma Island from Fort Lauderdale was direct on Silver Airways and fairly inexpensive. We booked our hotel through the Chase Portal for a quick 2 nights stay.

Next up we spent 4 free nights (minus taxes and fees) in the Atlantis thanks to our Caesars Rewards Match! All in all, our almost $4,000 trip to the Bahamas only cost us about $120!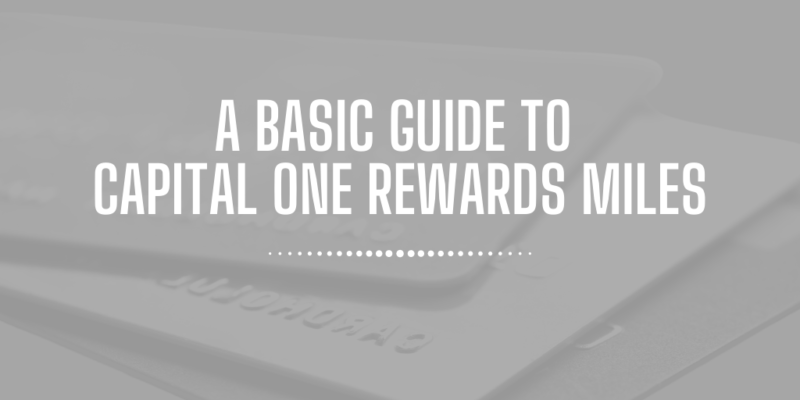 Final Thoughts
I absolutely LOVED Exuma Island and only wished we spent a few more days there. I heard of a bunch of great beaches there, but on the first day we were there the weather was not very friendly and we had to stay indoors. However, I do think it was an awesome place to visit off the grid. Atlantis was pretty touristy I would say, and the food was a lot more expensive. If you go, PACK FOOD. We were told this but did not really listen and I really wish we did. Overall though, I would still go back. Atlantis was a fun time and we even got to win some cash at the casino! I can't forget the waterslides were a pretty fun time as well.
How to replicate this trip:
Some type of loyalty hotel program match. We prefer Hilton Aspire Card which gives you Diamond status
Chase Ultimate Rewards Points (Chase Sapphire Preferred or Chase Ink would be our picks!)
Domestic Trips
Not only did we go to 7 new countries, but we also took many domestic trips. We hopped over to Dallas to check out the Buffalo Bills crush the Cowboys, went on a date night in Las Vegas, headed to Washington DC for the Cherry Blossom Run, AND even went to Kentucky to run a half marathon.
Our Date Night In Vegas was thanks to Caesar's Rewards Status Match. We enjoyed an amazing $250 meal at Nobu, for only $50. We got to check out a show, and even see Bellagio's amazing Christmas display!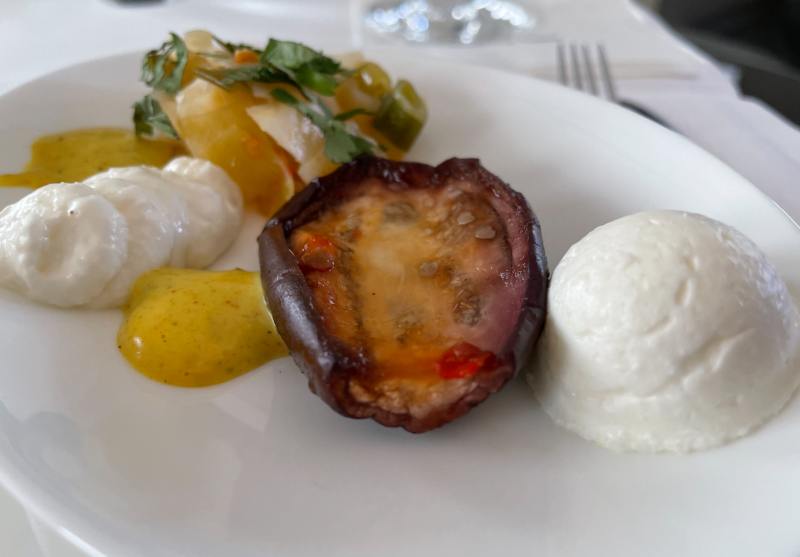 Niagara Falls
We also ventured right into our own backyard and visited Niagara Falls! Staying at the beautifully redone Hyatt Place on the US side was a fabulous choice. The location was perfect, the rooftop was seriously amazing, and not to mention the incredible breakfast buffet in the morning. We definitely suggest grabbing that before leaving the hotel because it is worth it.
Chicago Marathon
Lastly, I cannot forget Dave's Chicago Marathon! Dave was lucky enough to get into NYC Marathon Last Year, and this year, Chicago! We actually BOTH got into the lottery, but with my broken leg, I, unfortunately, had to withdraw. Dave booked TWO hotels for Chicago right away to determine which one he should use for the event, and still was able to score a free stay! Dave is on a quest to run the Abbott World Marathon Major Challenge. He also plans to travel on points his way there!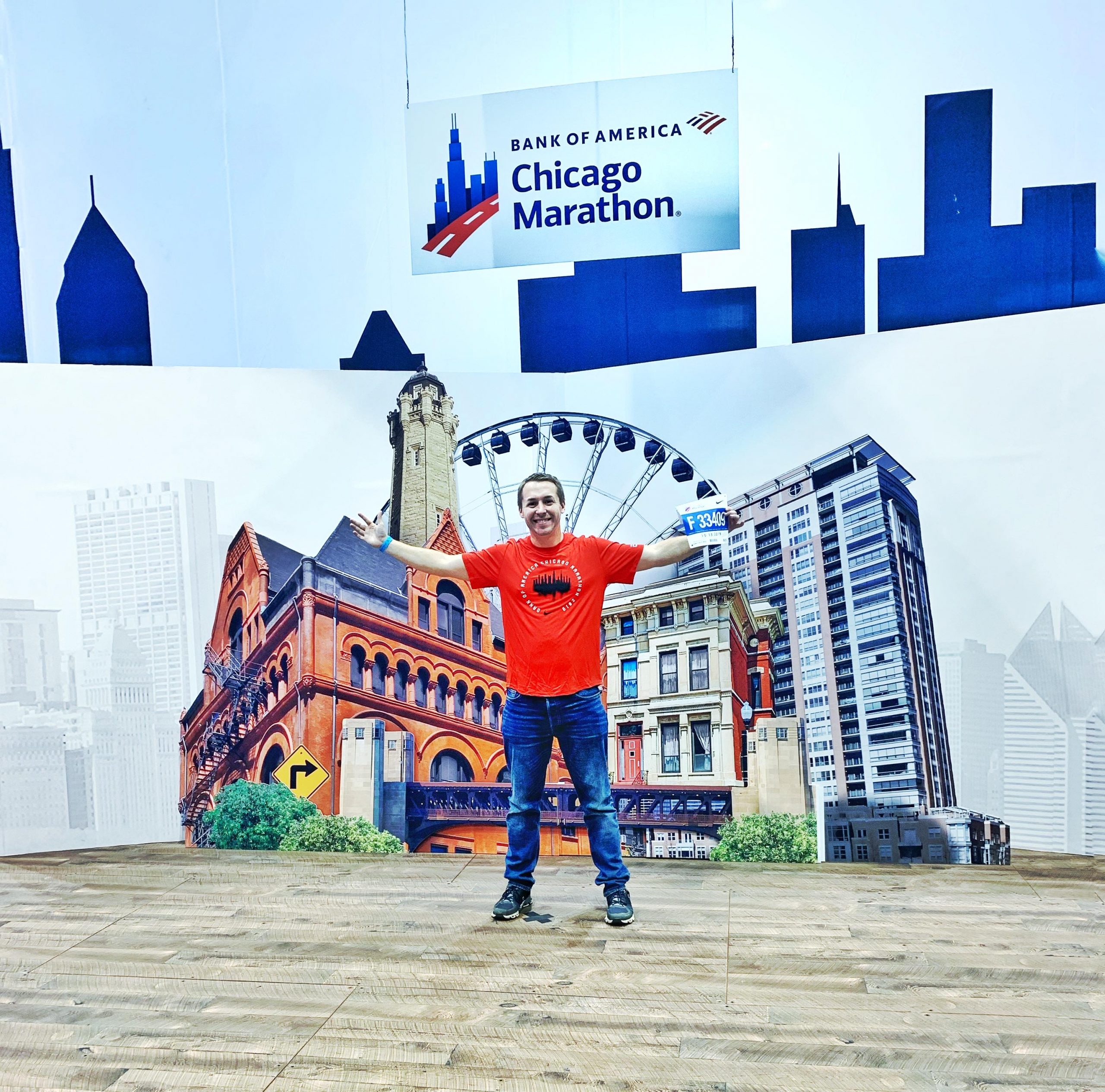 Kentucky Half Marathon
Kentucky we actually DROVE down with a friend and split an Airbnb. Our costs were super minimal for that trip. We got to run the "Prettiest half marathon in America." I think it was the hilliest half marathon though. My gosh, those hills were KILLER. I really did enjoy the trip and even ate some of the best ice cream at Crank & Boom.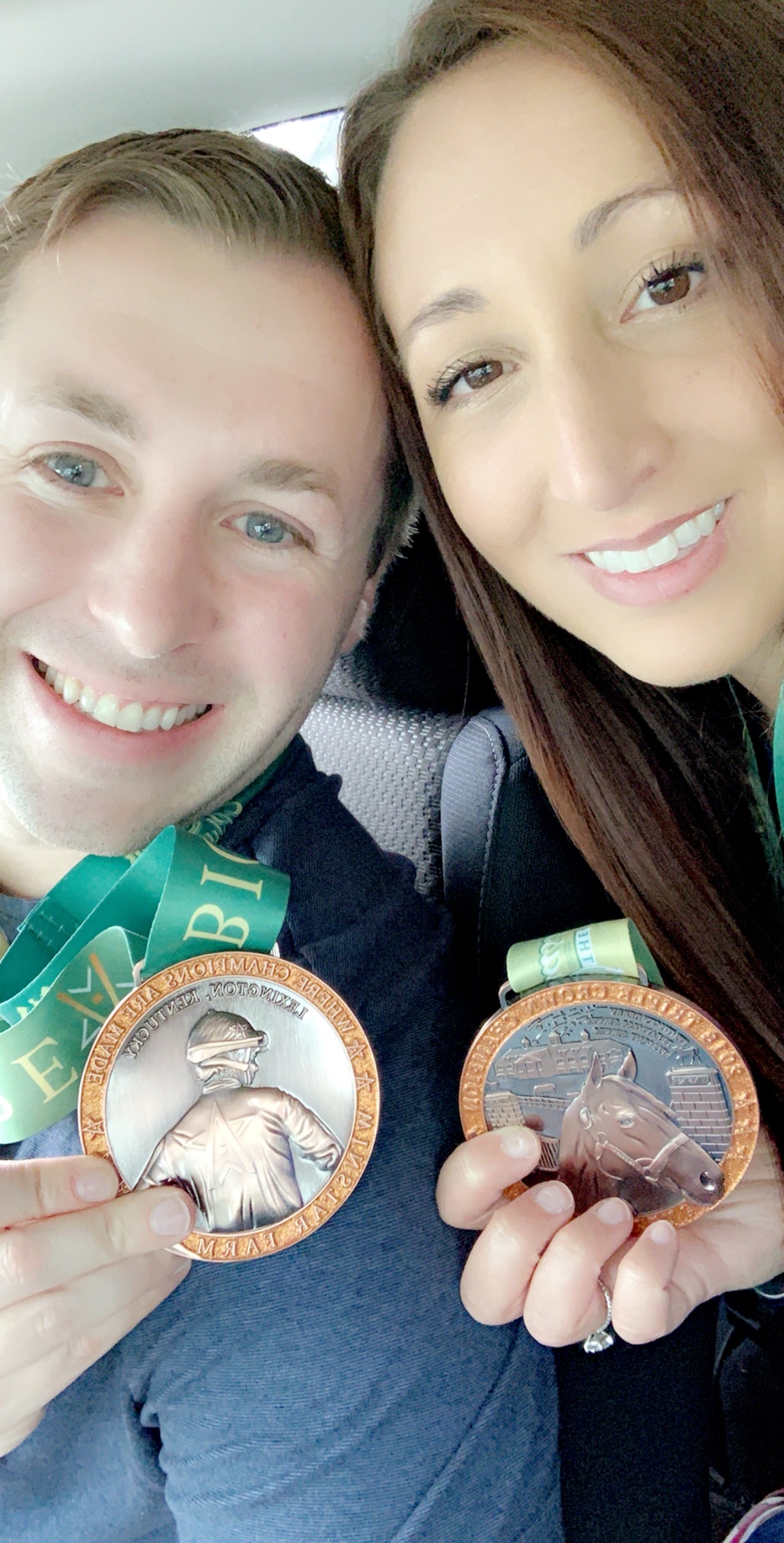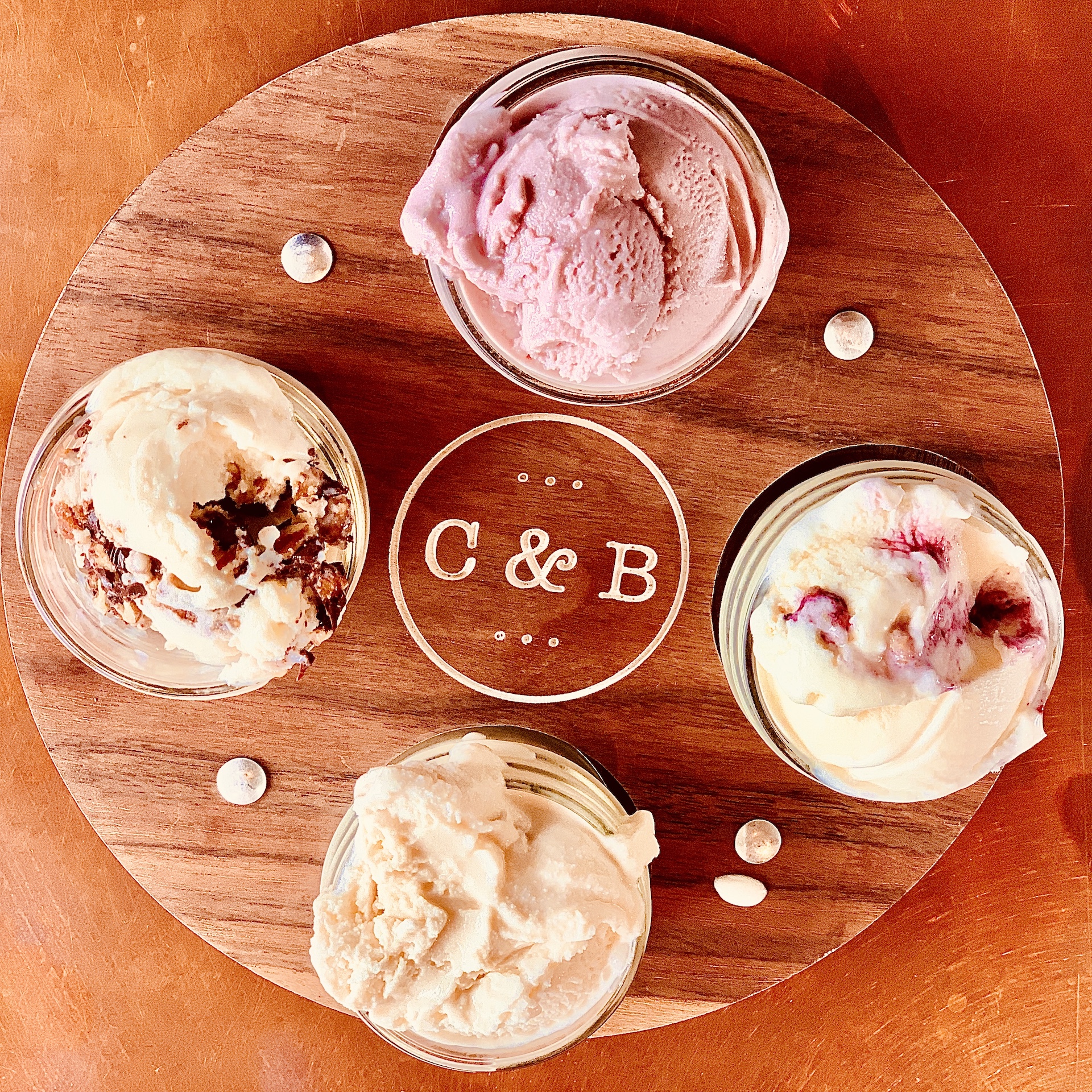 Cherry Blossom Run, Washington, DC
The Cherry Blossom Run in Washington, DC was a quick trip we were able to utilize the Southwest Companion Pass and fly direct into BWI. We split an uber 3 ways and headed to DC. We were only there for one quick night, but we got to run the 10-mile race, and even see the beautiful Cherry Blossoms all throughout the city! If you haven't seen them, it is a must-visit!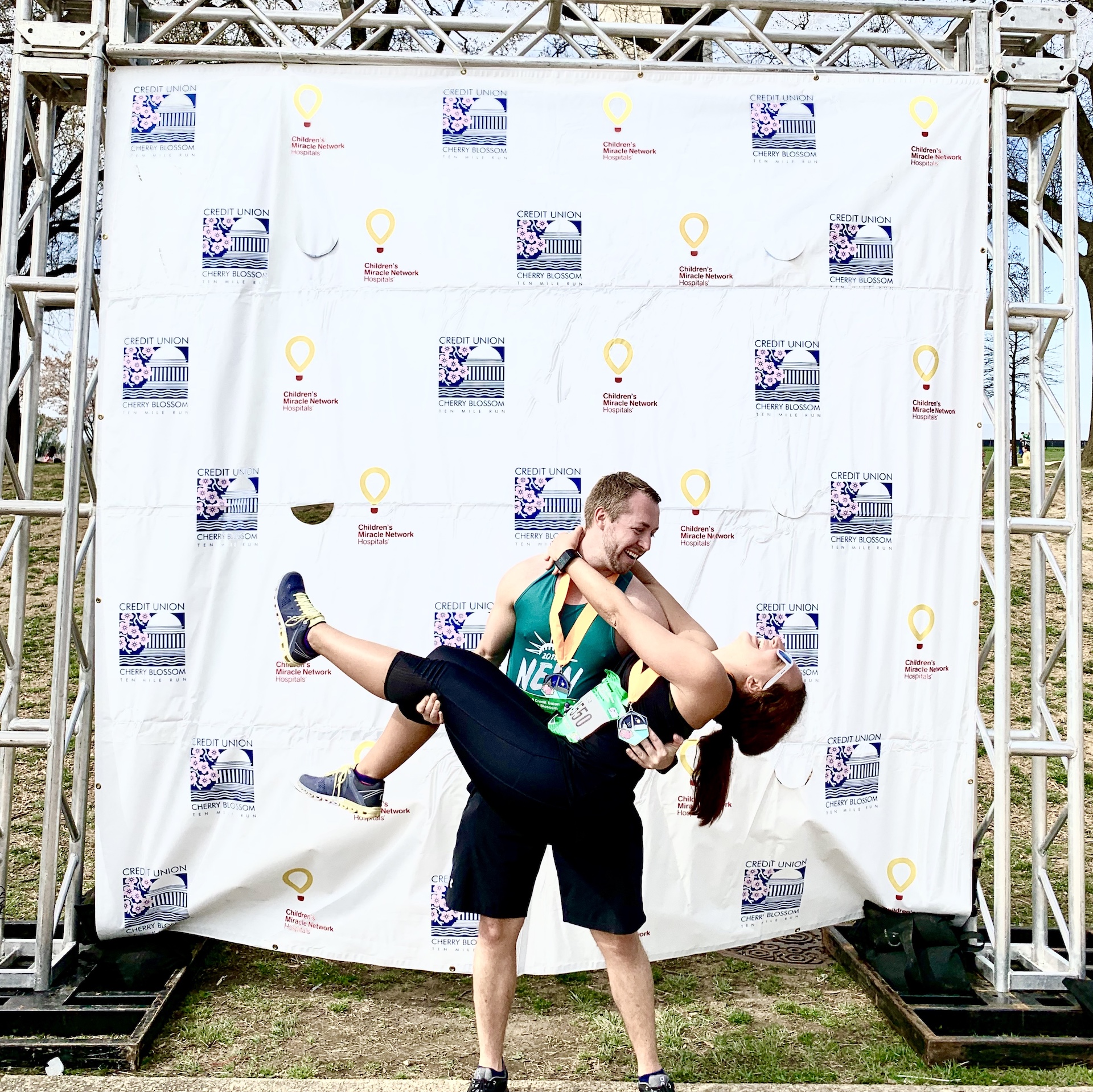 Final Thoughts
Domestic trips are always great. Usually, they are a quick weekend trip. Sometimes we are able to extend them into a long weekend. Our favorite travel tip though is utilizing the Southwest Companion pass for these trips! Making trips buy one get one free, and then splitting rooms with friends makes these trips extremely affordable! We also cannot forget how great of service that Buffalo Limousine provided to us throughout the year of taking us to and from the airport! It was SO convenient, easy, and stress-free booking with them. Definitely check them out and be sure to tell them Basic Travel Couple sent you!
We also took quite a few business trips that we got to work together. We didn't include these in our numbers as we did not pay for the flights. I did, however, include this in our final mileage as we still flew!
2019 was a huge year of growth and we are so happy to have been able to experience all that we did. We are also extremely grateful for each one of our readers and cannot wait to see where the world will take you next!
So, what's next?
2020 we have big plans in store. First and foremost we want to continue to grow Basic Travel Couple. Secondly, we would like to buy more rental properties. Travel is still obviously on the horizon. Lastly, and most importantly, finally, get MARRIED!! We have a few ideas for when and where, but most likely will be this SUMMER 2020.
We have a few trips we are planning, which include Grand Cayman Islands, Peru, and then our Honeymoon! Thoughts we have thrown around are Maldives, Bora Bora, South Africa, and Bali. We are open to any suggestions on honeymoon destinations. Our trip will probably be about 3-4 weeks.
Final Thoughts
But in all seriousness, we are really looking forward to being to help others travel the world on miles & points. Experiencing the world is something truly unique to each and every person. I read a great quote, thanks to Tim Ferris's 5-bullet Friday emails that I thought was a great closing to the year. We hope you all have an amazing, healthy and happy 2020 full of love & travel.
"What makes life worth living? No child asks itself that question. To children, life is self-evident. Life goes without saying: whether it is good or bad makes no difference. This is because children don't see the world, don't observe the world, don't contemplate the world, but are so deeply immersed in the world that they don't distinguish between it and their own selves. Not until … a distance appears between what they are and what the world is, does the question arise: what makes life worth living?"
— Karl Ove Knausgård
✈️ Travel Well,
– Basic Travel Couple