On February 28th, 2018 at 10:54 pm I received the email I had been anxiously waiting for: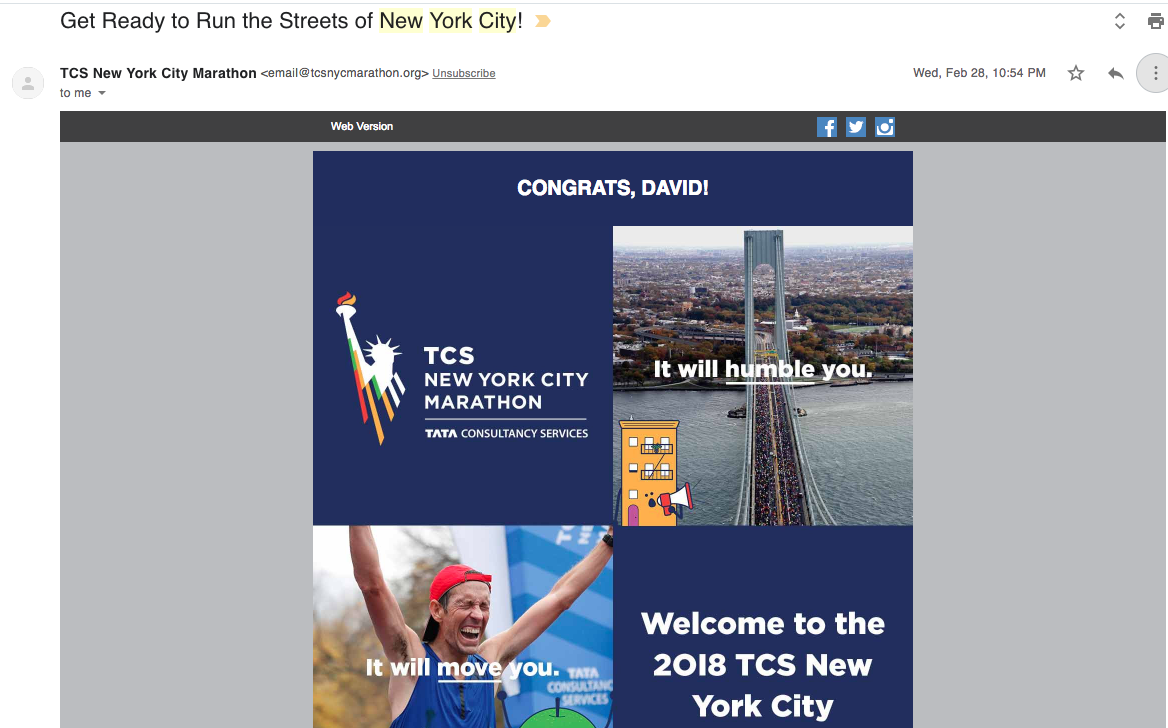 Babe, I made it!! Is what I told Lisa exactly 44 days after completing the NYC Marathon Lottery Drawing. I had so much anxiety surrounding whether I made the cut and to find out I did was definitely worth all of those sleepless nights. Out of the 98,247 people who entered the lottery only 16,640 people were selected to participate in the NYC marathon. That means that I had a 16% chance of being accepted! It was such a rush of raw emotion reflecting back on how far I've come over the last 3 years. Going from someone who could barely complete 1 mile of running to completing 2 full marathons, losing over 35 pounds, and getting my physical and mental health together. This truly was a testament of being granted the privilege to participate in this amazing and historic New York Running Staple.
Basic Travel Strategies
After a few hours and many deep breaths; I was able to pry myself off of the ceiling and realized that I just paid a whopping $295.00 to run 26.2 Miles! For those of you that know me so well, you already know what my next question to Lisa was. How can we travel cheap our way to the 2018 NYC Marathon?
Flights
Living in Buffalo, NY, I know that JetBlue Airways is the cheapest option to fly to JFK. After doing a little research in the TrueBlue portal, I found $92 one-way flights leaving on November 2nd.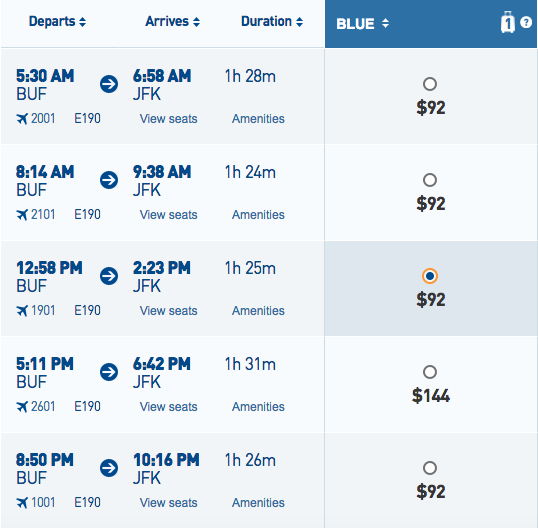 Repositioning
As a couple who often uses JFK as a "Repositioning" airport, I know that these flights typically range from $92- $120 each way per/person. We have used repositioning to save money by using these low-cost flights to move from Buffalo (a smaller airport with very few international flights) to JFK when traveling out of the USA! Repositioning basically means we book our long-haul flights out of JFK (or wherever is cheapest), and then book a separate flight from BUF to JFK on either Southwest or JetBlue. Since we usually only take carry on, it's not a big deal to switch airlines, and in turn, can save us hundreds of dollars. For the flights back, I found a bunch of options on Monday, November 5th for $116: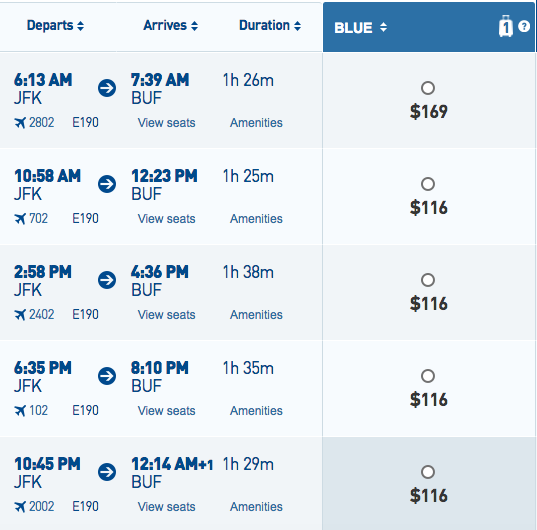 `I was pretty pumped to find cheap availability for Lisa and me to New York City. Round trip tickets cost $416. Luckily I had received a 50,000 early spend bonus on the Capital One Venture Rewards Credit Card. These points equaled $500 in travel-related cashback.
fter spending $4,000 within 3 months from account opening
fter spending $4,000 within 3 months from account opening
Now that I had flights figured out, I knew that hotels in Manhattan can certainly jump in price by the minute when the demand is there. After doing some research, I found my favorite option using my Chase IHG Rewards Premier Credit Card points at 40,000 per/night plus my annual free night certificate which along with the sign-up bonus would cover Friday, Saturday and Sunday night for free!

But then, Lisa dropped a jaw-busting points-bomb on me. This came in the form of a Hilton Timeshare Presentation at the Hilton Midtown. Hilton Midtown is conveniently located right near Times Square and a few blocks from Central Park. To say it was an AMAZING LOCATION would be an understatement. The Hilton Midtown daily night rate can easily get up to well over $400/night. She just scored us a 4 day/3 night deal for $400.37. This also included some other perks, such as some Hilton Honors Points, a future $100 towards Hilton stay, and $100 Elevated rewards towards dinner/shopping while in the city!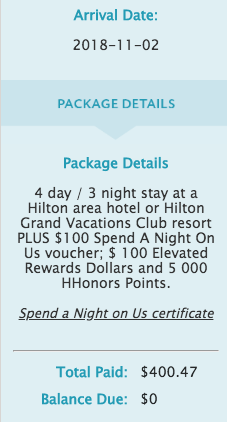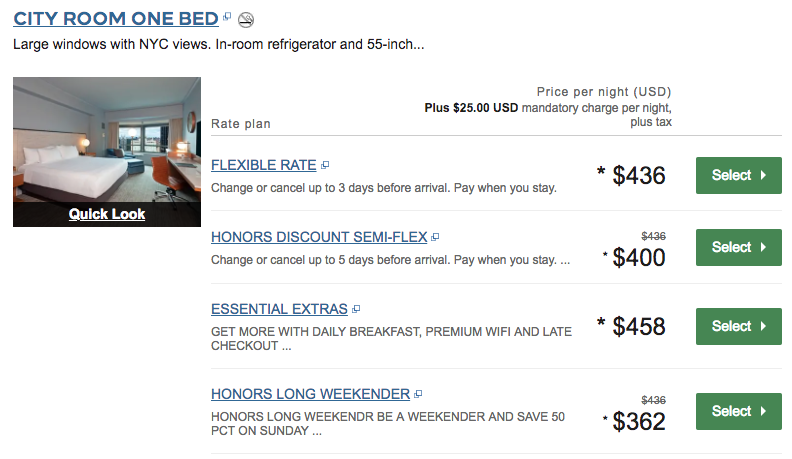 Hilton Status
The Hilton Grand Vacations hotel is absolutely ideal. It also doesn't hurt that we have Complimentary Diamond status thanks to the American Express Hilton Aspire Card. Diamond Status provides us with access to a private lounge. Included in the lounge are free daily breakfast and happy hour. Happy hour typically has hors-d'oeuvre in the evening and discounted alcoholic beverages.
Even though we could have scored free nights at the IHG property this Hilton Timeshare opportunity was a no-brainer! Luckily, I also had stashed away a $500 credit from opening the Capital One Savor Cash Rewards Credit Card. I was easily able to use the Capital One Savor Card to cover the $400.07 fee for the Hilton Timeshare Package.
on dining, entertainment, popular streaming services, and at grocery stores (excluding superstores like Walmart® and Target®), plus 1% on all other purchases
on dining, entertainment, popular streaming services, and at grocery stores (excluding superstores like Walmart® and Target®), plus 1% on all other purchases
There it is, hotels and flights booked and comped using the Basic Travel Method. All in all, every step of that 26.2 Mile Adventure was amazing and it truly made for an awesome weekend getaway in New York City!
Basic Travel Couple Big Breakdown:
2 Roundtrip Flights from Buffalo to New York City for $416 minus 40,160 Venture Miles = $0

Hilton Timeshare Package ($1,191.28 value) for $400.07 minus $400.07 from Savor Bonus = $0

$100 Elevated Rewards Voucher

5,000 Hilton Honors points

$100 Hilton Spend a Night on Us Voucher for a future stay

Free Breakfast from Diamond Status for 3 days for 2 people (Valued at $40 x 3 days =$120)
Grand Total Paid = $0 For two flights and hotel room for 3 nights



Grand Total What it should have Cost: $1,727.28 (Flights, hotel, breakfast)



1 TCS NYC Marathon Registration Fee = $295.00
A Basic Travel Couple Long Weekend Getaway to run with over 52,000 people = Priceless