This Basic Travel Reader Review comes from our friend Shawn. We actually ran into him and his brother while we were in Singapore this past summer following our trip to Japan. We did not stay in Marina Bay Sands but we did visit and wished we stayed here!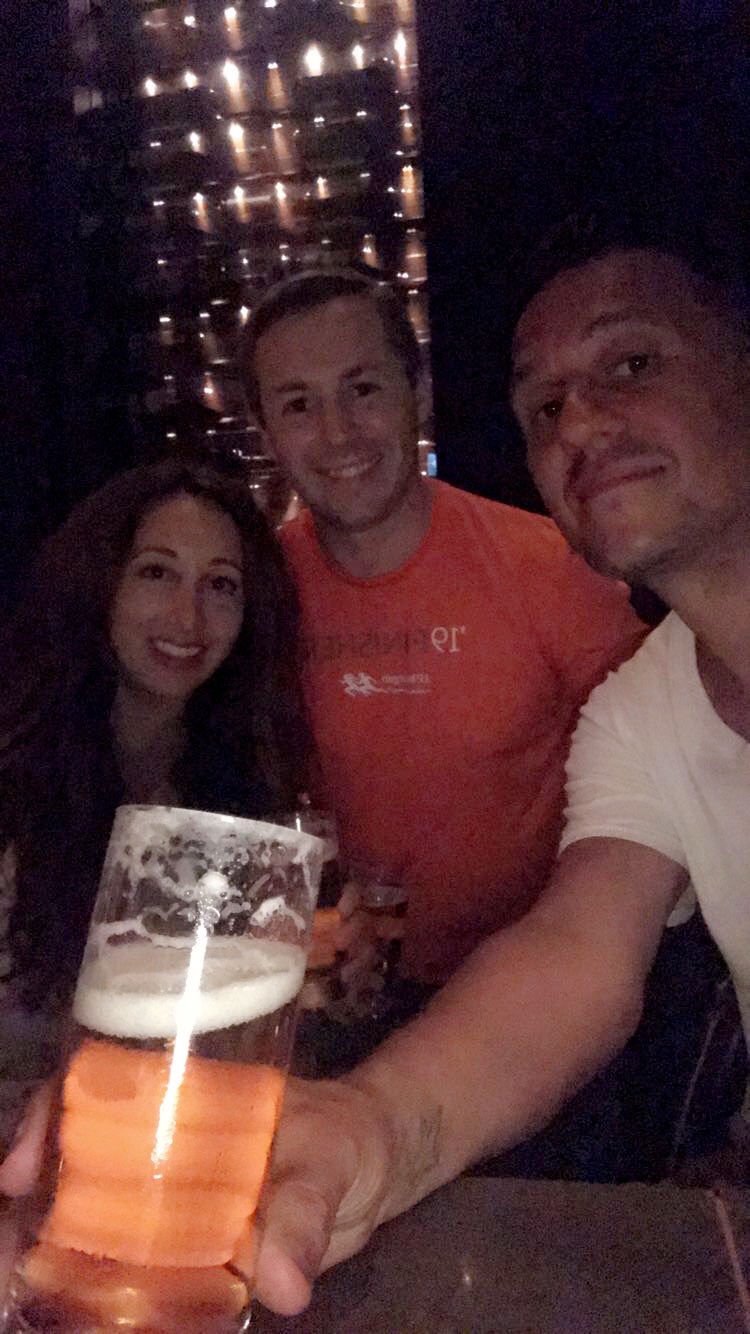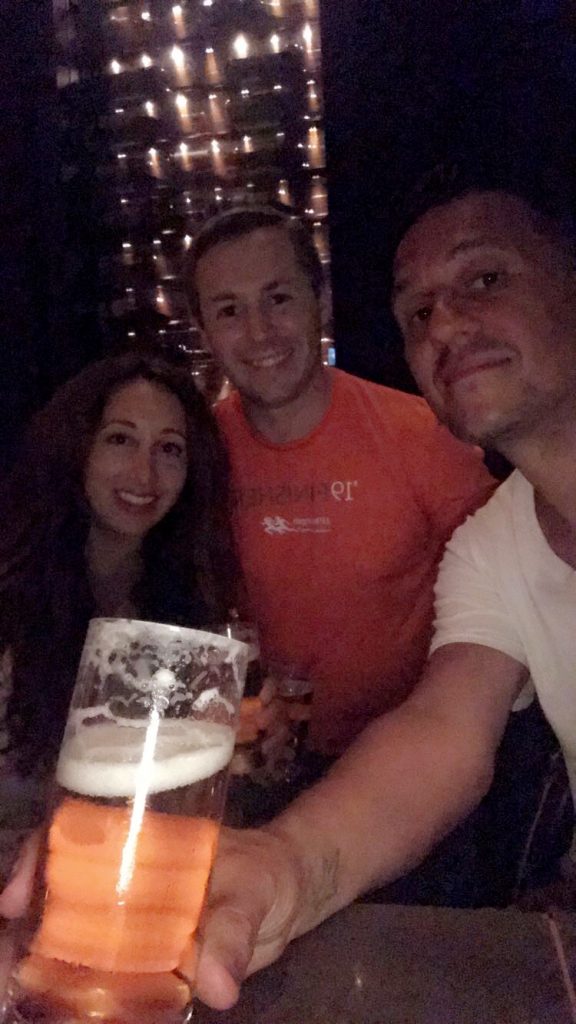 Written By Basic Travel Reader Shawn
No visit to Singapore is complete without checking out the iconic Marina Bay Sands. It's even better if you choose to stay there during your visit. However, it is one of the most expensive hotels to stay at in Singapore, but for many good reasons! After staying there on my most recent trip, I can't imagine staying anywhere else in Singapore. I'll explain…
My brother has been to Singapore twice now and it's somewhere I had always wanted to visit.
He had some time off this summer so we planned a trip to go there for a few days.
Although on his first visit to the country he didn't stay at Marina Bay Sands. He definitely made sure to stay there on his 2nd visit.
When we began planning this most recent trip, he made sure to let me know that THIS is where we are going to be staying, nowhere else compares. That was fine by me because based on my research before traveling it was where I was hoping we would be at as well. He did warn me the price was a bit steep. But, since we were sharing a room it didn't really seem all that bad If we split the cost.
*Editor Tip* This is where we would have utilized a card like the Capital One Venture Rewards Credit Card. With this card, we could have erased $500 or more on the overall hotel cost.
fter spending $4,000 within 3 months from account opening
fter spending $4,000 within 3 months from account opening
For starters, let's get the price out of the way.
The average price for 1 room at least 3 months out is between $589-$729 a night.
Cheapest prices I found for 2020 so far are a few dates in June where you can book a room for $419 for a few nights. We got our room for around $450 a night.
Now, before I even visited this country whenever I would google "Singapore", almost every picture I saw had this hotel in the background or it was prominently shown as one of the most popular landmarks of Singapore. Crazy that it's not even 10 years old yet (it opened in April of 2010).
My first thoughts upon seeing Marina Bay Sands
Seeing the hotel in pictures is…it's like a cruise ship that sits atop 3 high-rise skyscrapers.
Matter of fact we even heard a couple of people when we were walking around call it "The Cruise Ship Hotel" because they didn't know the name of it.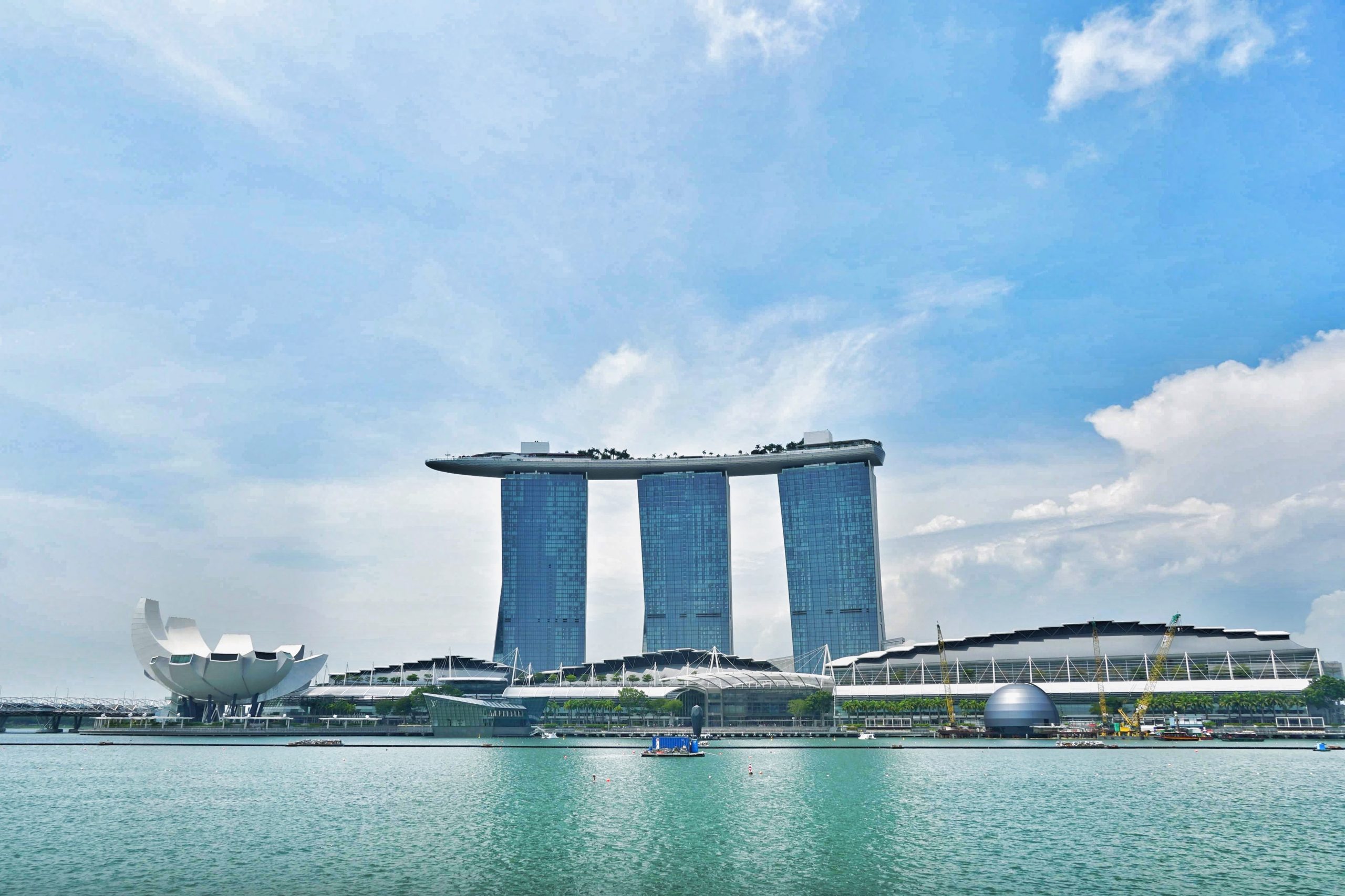 The best part of Marina Bay Sands is at the rooftop. This is where that hefty $600-something a night price has its privileges. The Sands Skypark is 57 stories high and has a bunch of different restaurants and bars with incredible views, but the main attraction is the Infinity Pool.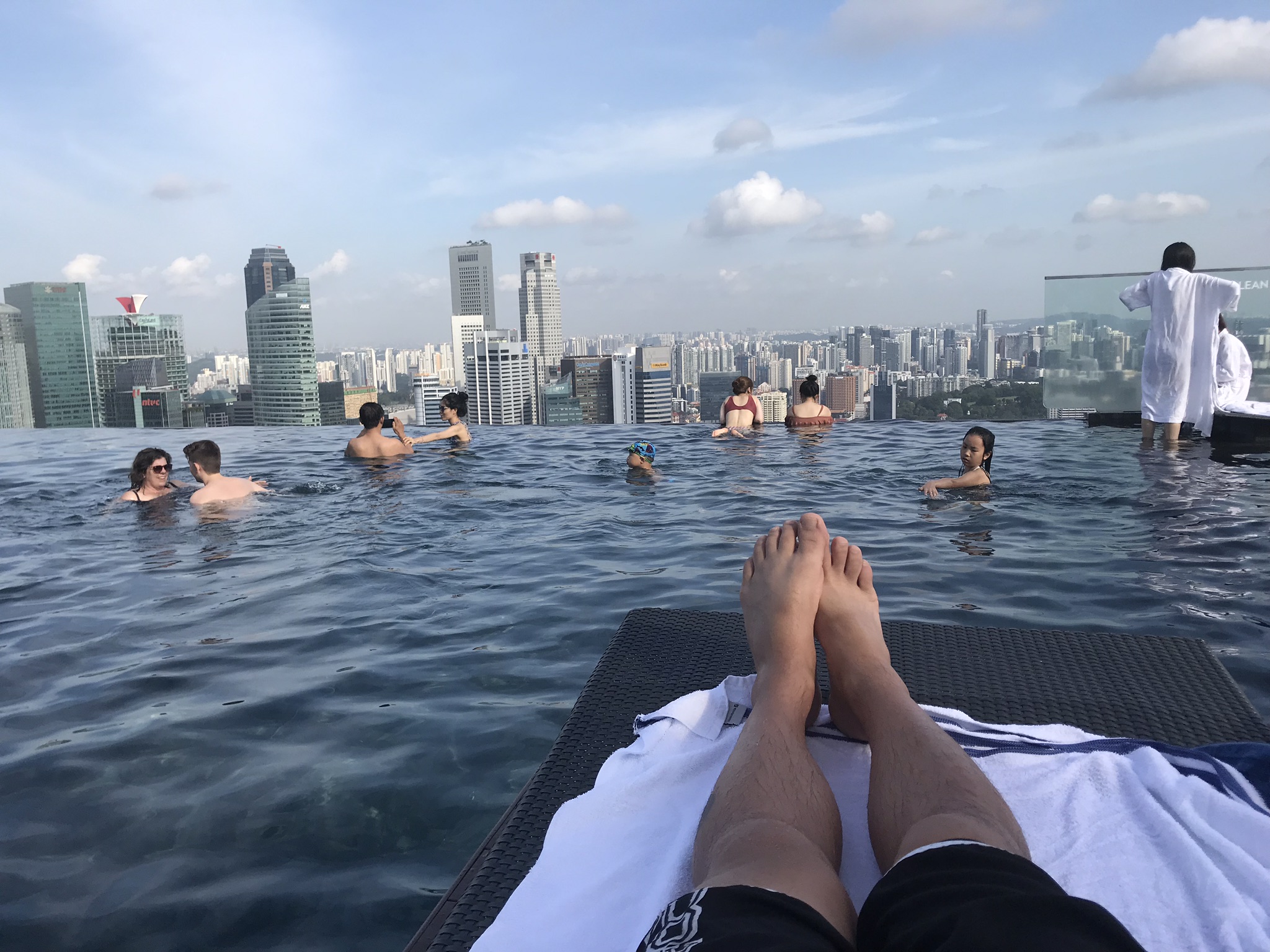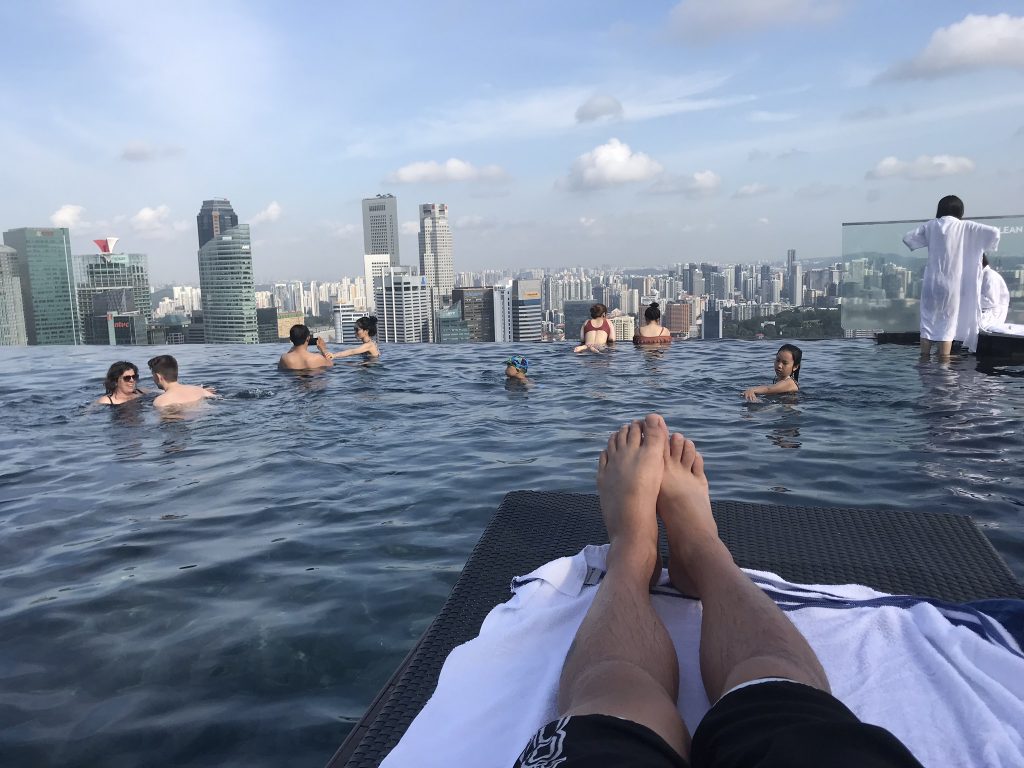 Observation Deck
Now you don't have to be a guest of the hotel to go to the top and eat/drink at the restaurants and check out the observation deck. It is the only place in Singapore to offer a high-rise view of the skyline from the other side of the bay. But the Infinity Pool, however, is strictly for hotel guests only.
Infinity Pool
You can see the pool from one of the bars as is it situated right next to where it ends. However, access to the pool area (where there is also spas, hot tubs and more) is forbidden without your room key. Taking a selfie in the iconic pool with the beautiful Singapore skyline in the background is probably the #1 thing to do overall things while visiting Singapore.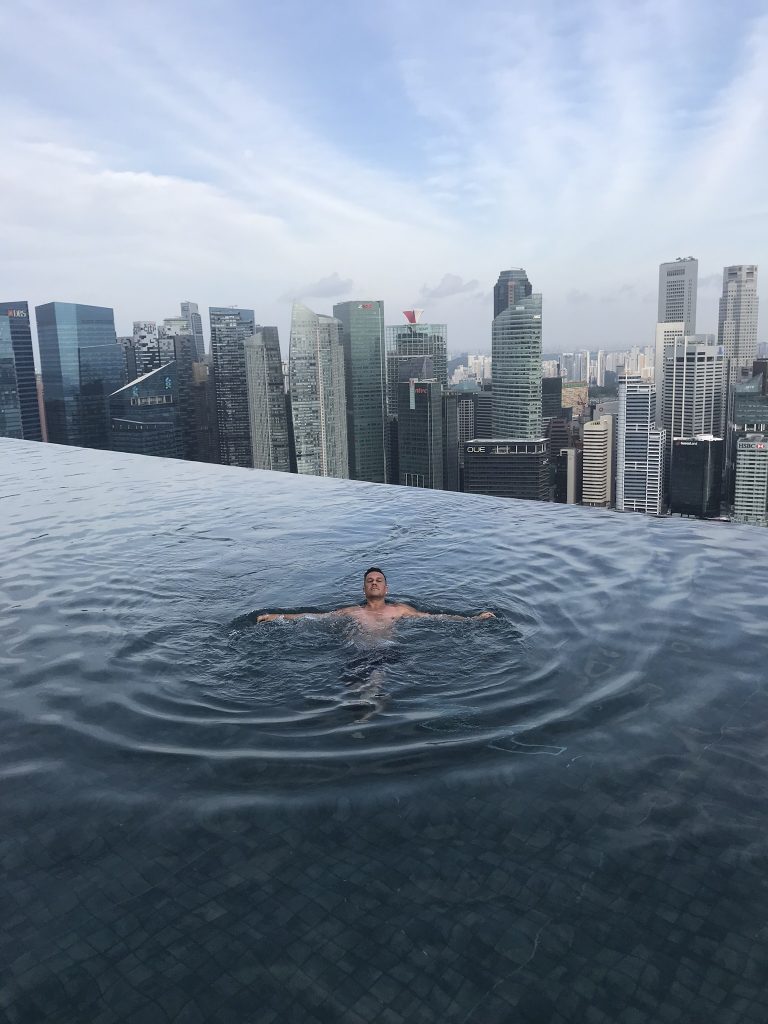 Because of its popularity, it gets pretty crowded during most of the day with the hotel guests. It can be difficult to find a good spot to sit as the day goes on.
Thankfully, there are numerous waiters walking around where you can order food and drinks from while laying poolside in the extremely hot Singapore sun. (Singapore is only one degree above the equator by the way).
We stayed in Singapore for 4 days and the majority of each day was spent poolside. That's also due to Singapore being a relatively small country where you can do all that there is to do there in a day or two (which we did)…so that way you have more free time to relax at the Infinity Pool and day drink.
Firework Show
Saturday night we received word there was going to be a firework show in the middle of the bay area. We made sure to get the best spot on the ledge of the pool at Marina Bay Sands. That was probably far and away my favorite moment on the whole trip. It was breathtaking and overwhelming.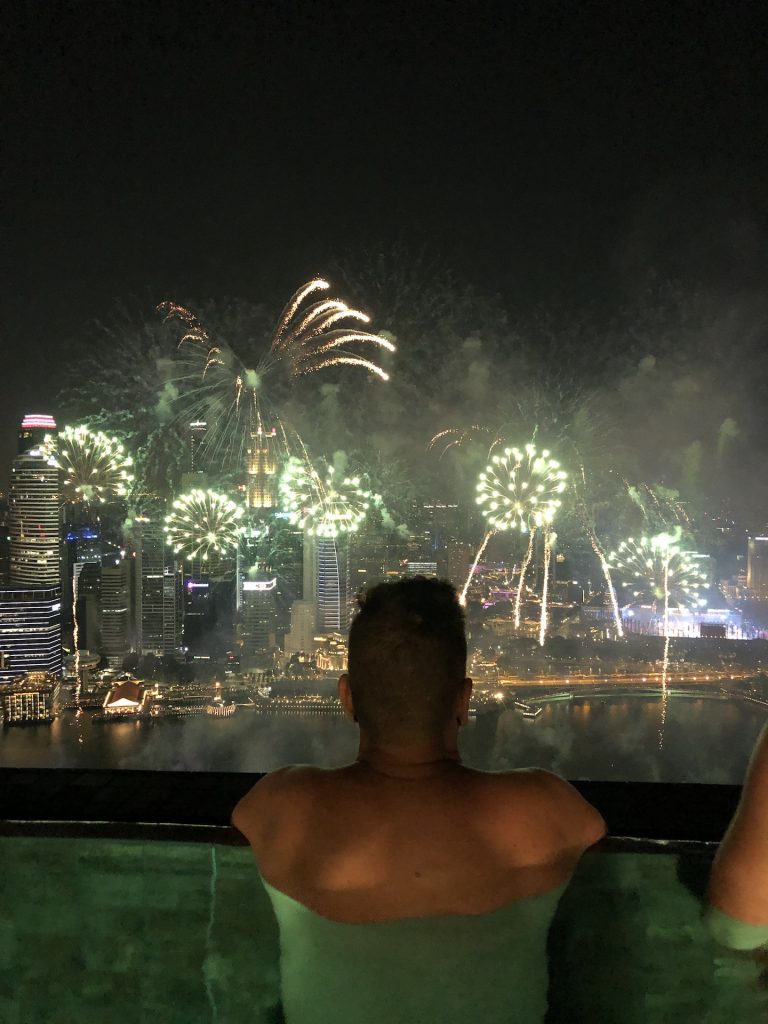 How to get the perfect shot
I'm also very big on taking epic photos when on vacation. My tip for getting that iconic shot of you alone in the pool with nobody else around (which is extremely hard to accomplish due to how crowded the pool gets sometimes) is this…
At least 2-3 times a day they clear people out of a section so they can clean the pool. There are 4 sections to the Infinity Pool if I remember correctly.
This process takes about 30 mins and then once that section is cleaned they move on to the next one.
So my insider tip is this: Find out when the next time they plan on cleaning the pool. Hang out by that section once. When they are finished they will let everyone know they can make their way back over to that section and swim again. That is where you need to rush and be that first one in there. Hurry over to the edge (or wherever you want your pic to be) before everyone else gets in.
I did this move twice and got some amazing shots. You have about 60 seconds to do it if you do it right.
The rest of the Marina Bay Sands…
Now let's talk about the rest of the hotel. It is so so so much more than just the Infinity Pool that everyone wants to see at the top.
According to their website, the Marina Bay Sands holds at least 40+ different restaurants. All ranging in different cuisines and sizes. Almost every single one getting 4 or more start on TripAdvisor.
No matter what you're in the mood for there's a restaurant in there just for you.
And if that's STILL not enough…there is a giant mall attached to the hotel called The Shoppes at Marina Bay Sands. Like any mall, there are more restaurants and food courts which offer even more options (most of them relative to local Singaporean cuisine).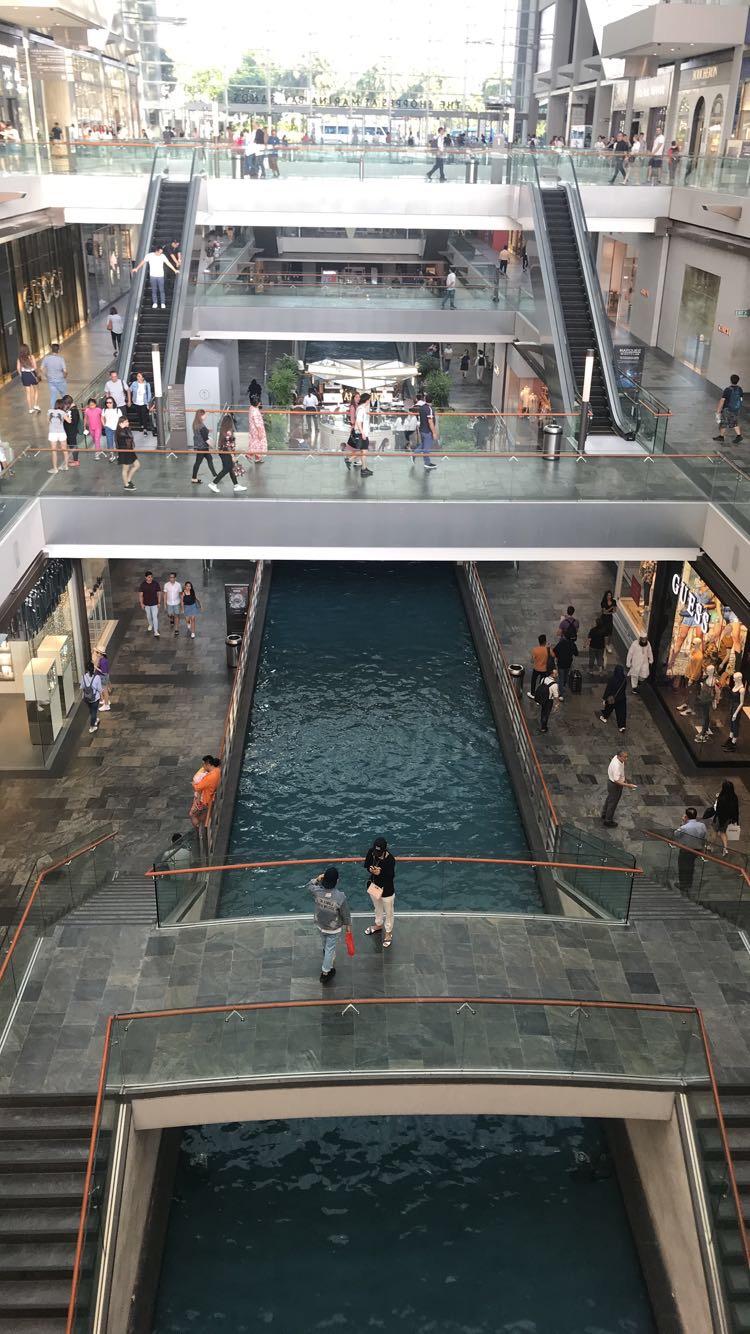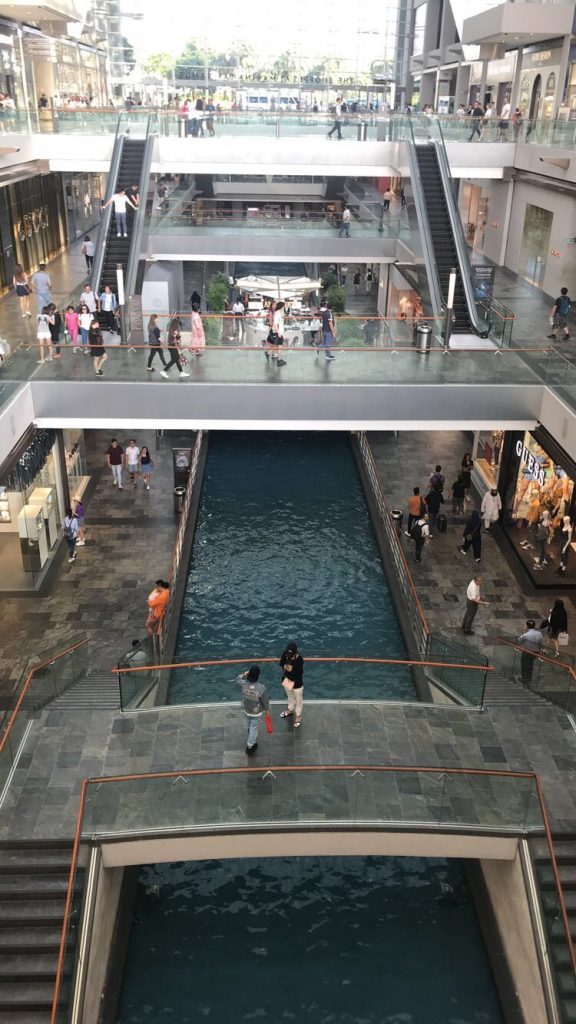 The shops by the way? Everything from high-end stuff like Rolex, Dolce & Gabbana, Prada, Louis Vuitton to your more simpler stores like Lululemon, Pandora, Adidas, The North Face and more.
The shops are 3 to 4 levels and there's a giant canal with gondolas than run through it. There's also a section with a waterfall. I'm sure there are other parts I don't even know about because it would take hours to explore the whole thing.
The backyard of the Marina Bay Sands is the Gardens By The Bay which is another huge Singapore attraction. It's great to be able to leave your hotel and take a quick walk to enjoy all the structures, statues and gardens. At night they have an incredible light show which everyone needs to see at least once during your stay there.
Finally, how was the actual room?
You don't see me complaining.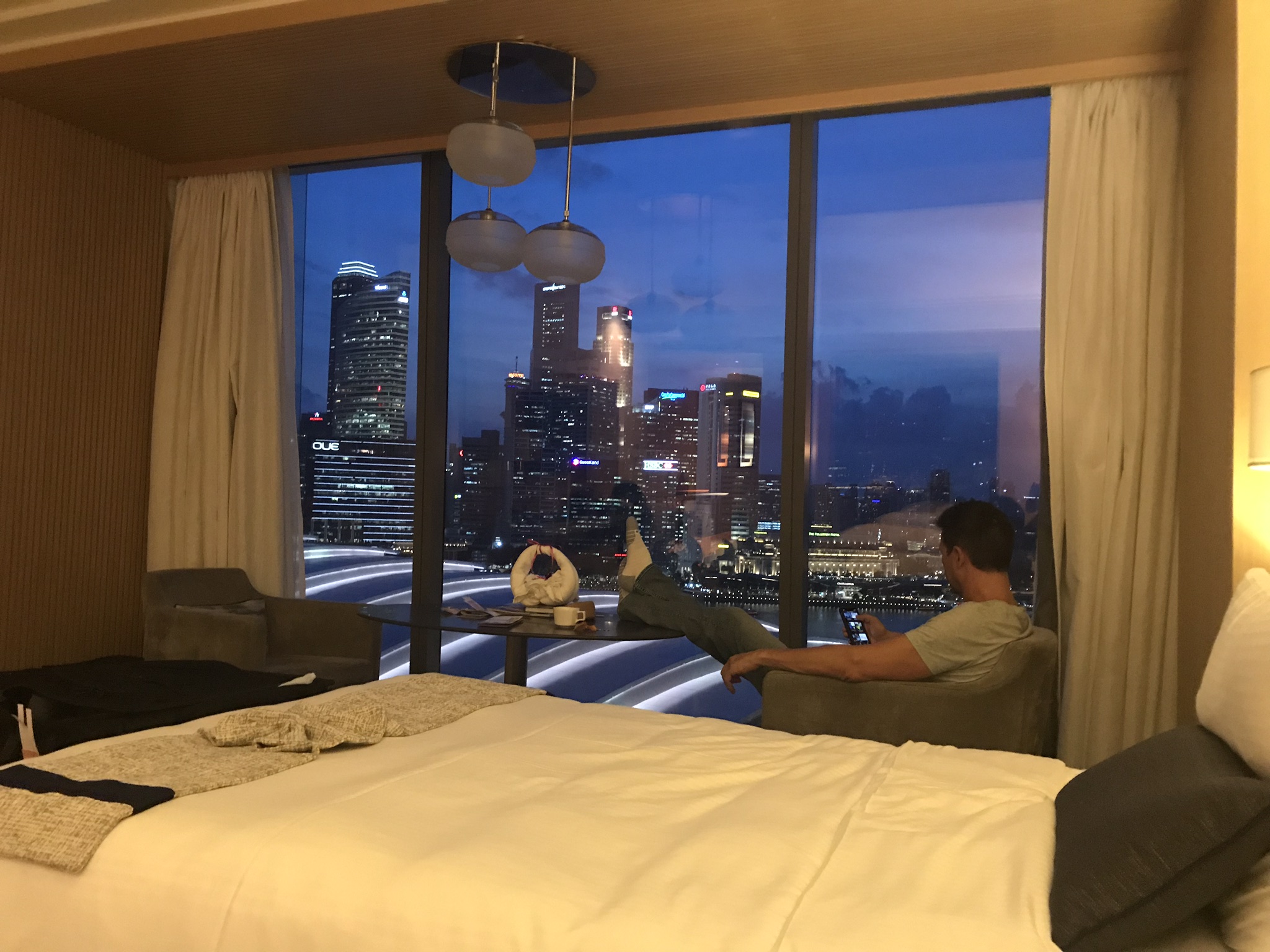 Final Thoughts
Even though the price tag was what it was, it was still your basic hotel room. Nothing too flashy or Vegas-y. Standard size with 2 Queen beds. My brother did ask if there were any rooms available higher up (as to get a better view) and they did find one for us about 17 or so flights up with an amazing view of the skyline and Marina Bay.
I do plan to visit Singapore again someday.
But since I was able to do everything that there is to do there, next time I visit I think almost all of my time will be spent at the Marina Bay Sands. It made the entire trip worth it.​
More Basic Reading