What is a Credit Score?

A Credit Score is a 3 Digit Number that is created to reflect a person's creditworthiness. In other words, the level of risk that a bank may have in choosing to lend you money for a credit card, personal or business loan, car loan, or a home mortgage. Typically the higher your credit score, the less risky you are to the bank or credit-lender and the more likely you are to be approved for a line of credit.

A Credit Score Ranges from a low score of 300 to a high score of 850

Before I explain the Factors that impact your credit score I want make sure that I point out that there are primarily Two Distinct Algorithms for credit scores. These are FICO & VantageScore and they review your credit history using the data reported to the Three Major Credit Reporting Agencies (Equifax, Experian, TransUnion).

FICO or VantageScore, which is better?

Over 90% of Credit Lenders choose to use your FICO Score to review your creditworthiness and make a decision on offering a line of credit. Given that over 90% of lenders are using the FICO; you could assume which score is more important and should be considered your real credit score! You can check your FICO score for free using Discover's Credit Score Service.

What Factors Impact your FICO Score?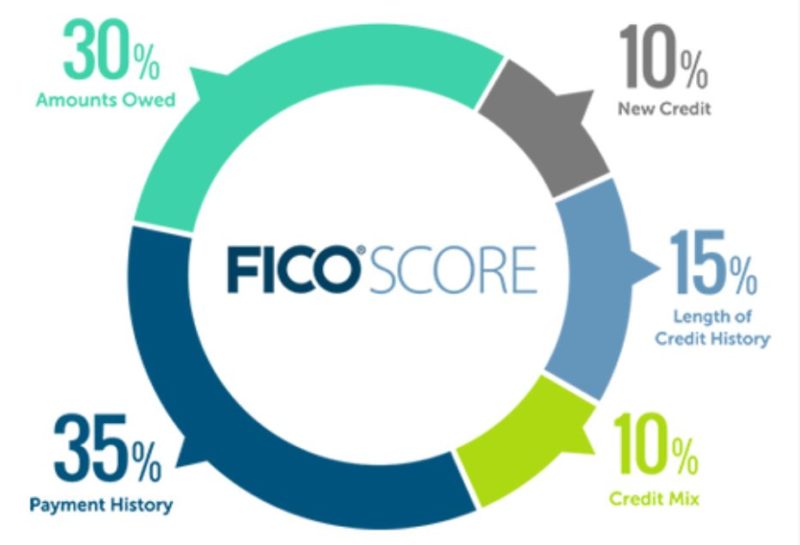 Payment History – 35%
This makes up the biggest chunk of your FICO Score which logically makes sense. Banks and Credit Lenders want to know that your accounts are in good standing and that they can trust you to pay back what you borrow. By paying your bills regularly and on time; your score will continue to rise as this is the most important factor making up your Credit Score. When you open new credit cards and make regular payments; you're increasing both your payment history and your credit score.
Credit Utilization- 30%
Your Credit Utilization is determined by how much of your available credit you're using. For example, let's say you open up a new credit card at Best Buy. You then max out the Credit Line that they give you. Impacting your credit score immediately, it will most certainly take a dip because you are utilizing 100% of the available credit. You can keep you Credit Utilization low by carrying a low balance on your credit cards.
Basic Pro-Tip: This factor is actually why your Credit Score will increase when you open new credit cards due to the increase in your credit line and the overall decrease in utilization. For example if you owe $1,000 on a credit card with a limit of $5,000 you are utilizing 20% of your available credit. Now if you open up a new Credit Card with a credit line of $15,000, you will be utilizing $1,000 of your $20,000 available credit or 5%. As you can see, if you keep opening lines of credit, your utilization will continue to decrease and boost your credit score as long as you're not increasing your debt by purchasing things you don't need!

Credit History – 15%
Your Credit History is made up of the length of your open accounts. This 15% is the average of your oldest, newest, and all accounts in the middle. As you can see, it's only 15% and a small piece of the credit puzzle. You can still have a score in the 700's with limited Credit History as long as the rest of your Payment History and Utilization are in good standing. This is one of the main reasons why you shouldn't close credit cards that you aren't using. Long credit history actually will help your credit score. As long as there is no annual fee, I'd suggest leaving an old line of credit open. It's important to remember that after 7 years of inactivity; credit lines could be closed or taken off your credit report. Purchase a coffee every now and then to keep them active and on your report!
New Credit – 10%
Credit Lenders are always on guard when it comes to new credit lines being given out. A quick google search of "credit card scams" should be enough to give you an idea of what they are guarding against. Nevertheless, if you are responsible with your credit and ensure that your Credit Utilization and Payment History are in good standing, your score will continue to rise. This is one of the biggest worries of people who are considering opening a credit card. Opening up lots of credit cards in a short time span is certainly a red flag for Credit Lenders. It could negatively impact your FICO score due to too many hard inquiries. However, this is typically a temporary impact and bounces back up pretty quickly. No more than 1 Credit Card every 30 days is a good rule of thumb.
Types of Credit – 10%
The variations of Credit lines that you have will impact your score. This includes Student Loans, Mortgage, Car loan, Personal Loan, and Credit Cards. The total number of accounts and whether the accounts are revolving (Credit Card) or installment based (Car Loan or Mortgage). This factor is only important if you have little to no credit established.

What about the VantageScore?
The VantageScore was created in 2006 to aid lenders in making decisions in creditworthiness, similar to the FICO Score. The original VantageScore tried to change the Credit Scoring from FICO's 300-850 to 501-990. In addition to some other tweaks to their version of the credit score; over 90% of lenders decided to stick with the FICO due to how confusing the VantageScore was becoming and what their customers were used to using. In 2013, VantageScore decided to adopt the FICO Scoring Range of 300-850.

To aid in the confusion, the VantageScore does not disclose the percentages of Credit Factors, but rather categories of Most Important to Least Important; which you can see ordered below:
Payment History

Age and Type of Credit

Credit Utilization

Total Balances

Credit Inquiries

Total Available Credit
Only history will tell what will happen with the Almighty Credit Score going forward. But for now, the FICO Score is the King of the Credit World! Don't be fooled by any imposter Credit Scores that may show up trying to take the throne with a new way of running the kingdom.

If you want to see my Discover FICO side-by-side with my Credit Karma VantageScore scroll down to the bottom of this article. You're in for a good laugh!

How do you Check your FICO Score for Free?
The easiest way to check your FICO score is by enrolling in Credit ScoreCard through Discover Bank. Your Score will be updated once every thirty days and you can check it at any point.

How do you Check your VantageScore for Free?
My opinion is that because of all of the hard times that the VantageScore faced out of the gate, they charge companies much less to use their algorithm and provide a score then the FICO folks do. You can find your Free VantageScore all over the internet at websites like Credit Karma, Credit Sesame, Quizzle, Credit.com, and Wallethub.

Basic Strategy to Stay On Top of Your Credit
Open a Credit Scorecard Account Via Discover Bank to have Access to your FICO Score

Open an account with Credit Karma or any other one of the free accounts above to have access to your VantageScore.

Use AnnualCreditReport.com to access your TransUnion, Equifax, and Experian Credit Report for Free once per/year.

By Combining the Three Options above, you'll be in control of your Credit Score and will be able to protect yourself from fraud or identity theft in its early stages!
Basic Bonus Tip: You can also use this same strategy to stay on top of your X/24!

This guide is not meant to be the definitive overview of Credit Scores. It is merely a guide to help you better understand the key points of Credit and the strategies to take greater ownership of your personal credit. I sincerely hope that this guide has helped to clear up some myths and misinformation that is constantly spread around the internet and office water coolers. I'd love to hear some feedback or questions down in the comments section! Next, we suggest figuring out what your x/24 status is!

Bonus Basic Trivia Question
Using the pictures below and after reading this article, which Credit Score is Picture A using and which Credit Score is Picture B using?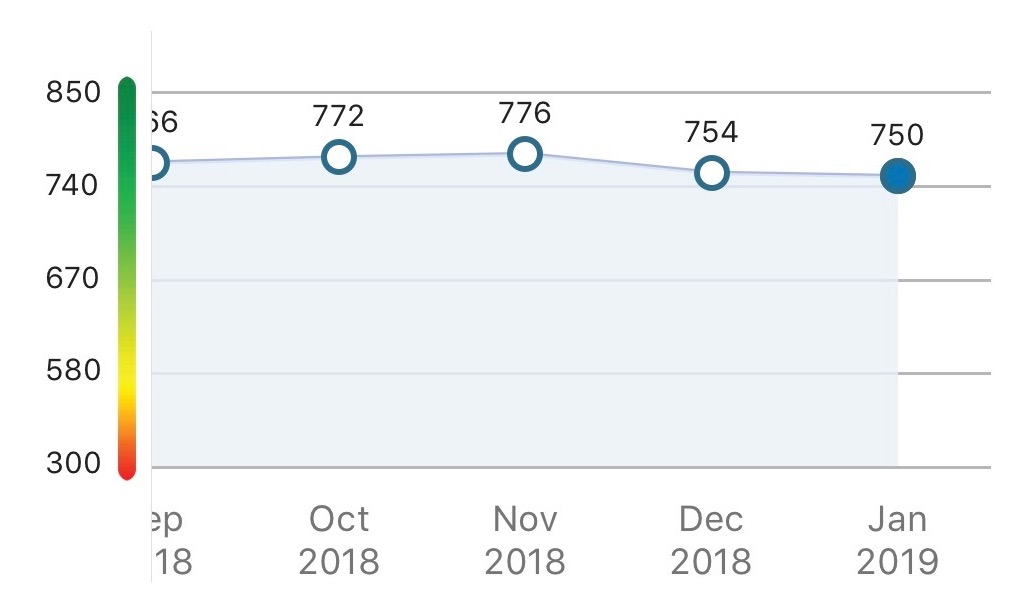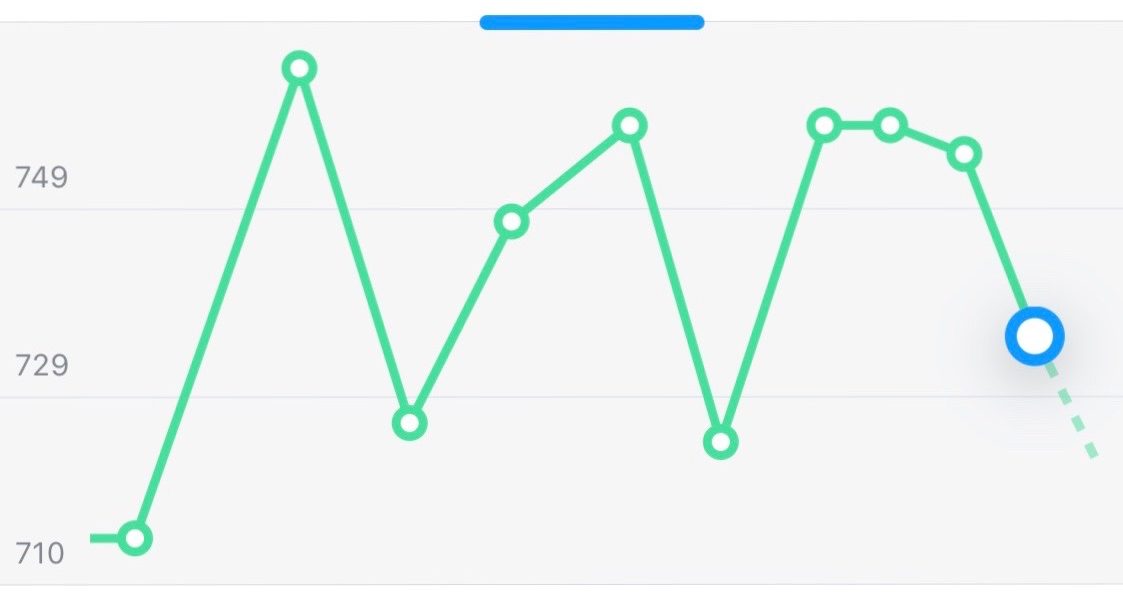 New to Credit Card Rewards Points? Check out the BASICS Below!