Traveling can have challenges all on its own. Throw in an injury of a broken leg, and it is a whole new ballgame. I learned quite a few things traveling with an injury that I thought I would share! I am the type to not let anything hold me back. Italy was something I was not about to miss because of an injury. I was determined to get there to watch my college roommate marry the love of her life! So, if you MUST travel, here are some tips for you!
If you are looking to travel to Italy on a Budget, be sure to check out my last article- How Breaking my Leg got me to Italy for $400!
1. BRING HELP
Not being able to walk and on crutches, you need help. I am typically one to try to do things for myself but I have learned a lot over these last few weeks. It is hard to ask for help but I am SUPER grateful for my two friends who came to help me on this journey of traveling to Italy. This trip would not have been possible on my own. We started out great with a ride through the airport on a golf cart!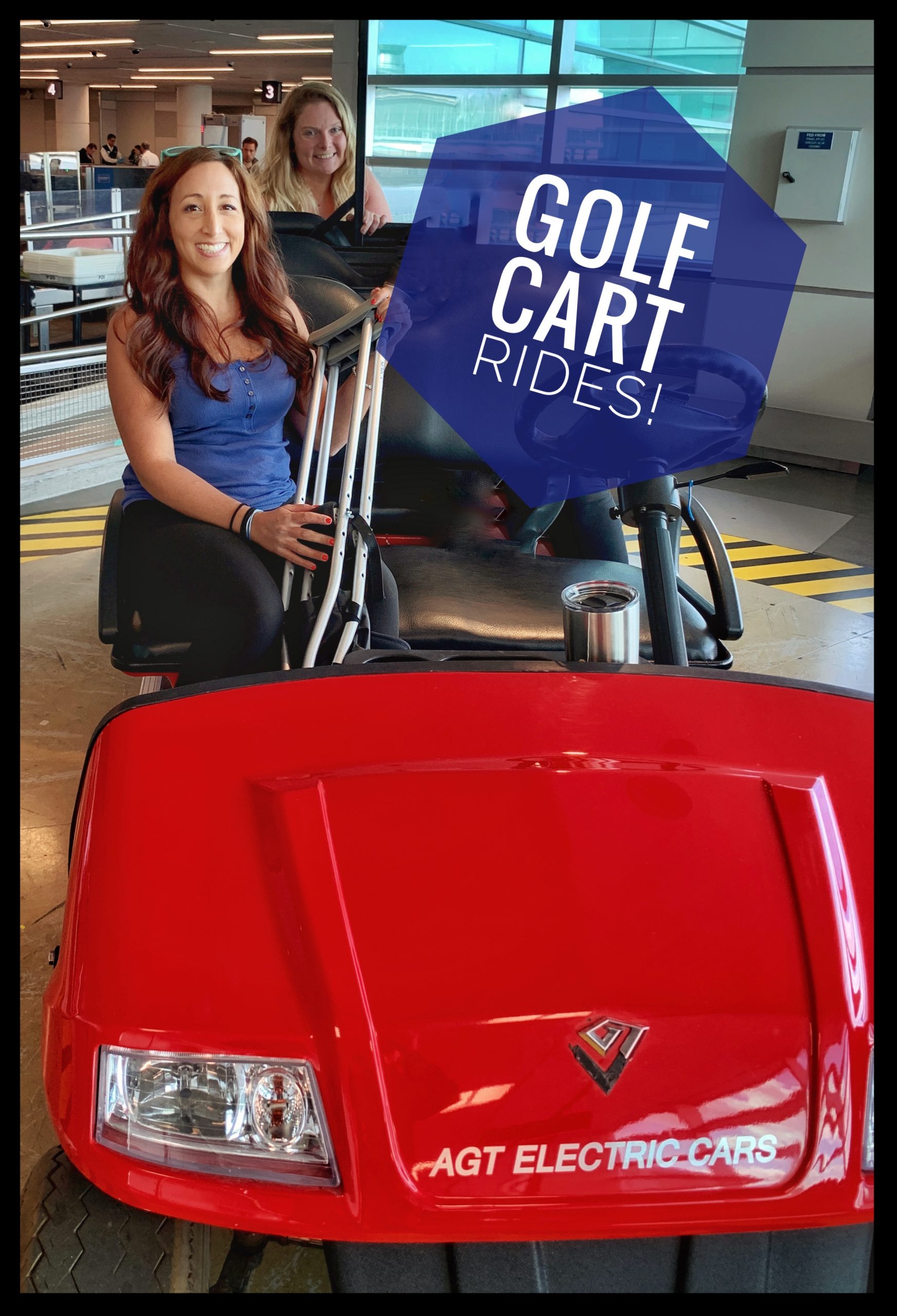 2. Slow it down
Typically when Dave & I travel, we are on the GO. There are sometimes trips where we leave before sunrise and come back well after midnight. With an injury, you have to take a step back. Anything we did had to be scaled back a bit and at a slower pace. There was no rushing from one destination to the next. (There was also no being up before sunrise.) We opted to do a Golf Cart Tour in Rome to get around to the main sites. We got out at a few stops for some photo opportunities. After a few hours, we were all pretty tired.
We basically stuck to one main activity of the day that we wanted to complete. This kept us all pretty low key and go with the flow. It also kept a lot of time open for GELATO!
3. Call Ahead!
Wheelchair Assistance at the airport was a HUGE lifesaver. In Toronto, we had a nice Golf Cart Ride. Milan had really cool wheelchairs where the person actually stands on the back and carts you around. They even brought us to the lounge and then came back when it was time to go back to the gate! When you cannot walk far, having this assistance was so worth it. When we first arrived at the airport, we had quite a long walk just to get to the counter. So we improvised a bit using a luggage cart and I got a nice ride on that!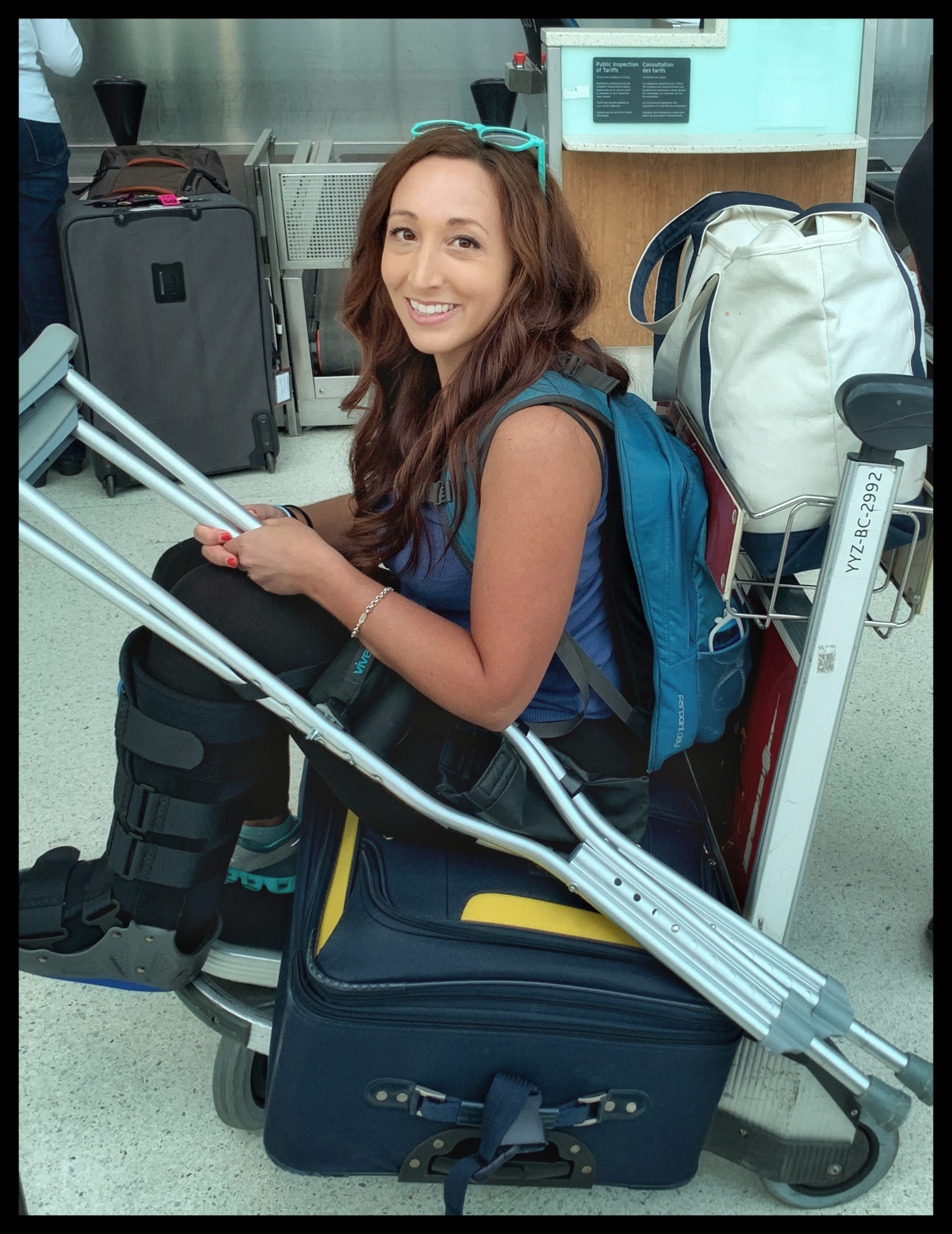 You can typically book this when booking your ticket, or you can call the airline you booked with and they can update the ticket to reflect wheelchair access.
One mistake I made was thinking the Roma Termini for taking the train would be small. I crutched over a mile to get to our train station. I did not think the train station would be so big. 
4. Check luggage
This was a lesson we really learned the hard way. My poor friends carted their stuff, as well as mine around multiple airports. On the flight home, we decided to check some more luggage. In the future, I will absolutely check luggage. It's hard enough going from point A to point B. Bringing 6 bags along with you for 2 people to carry gets to be a bit much. Do everyone a favor and check it.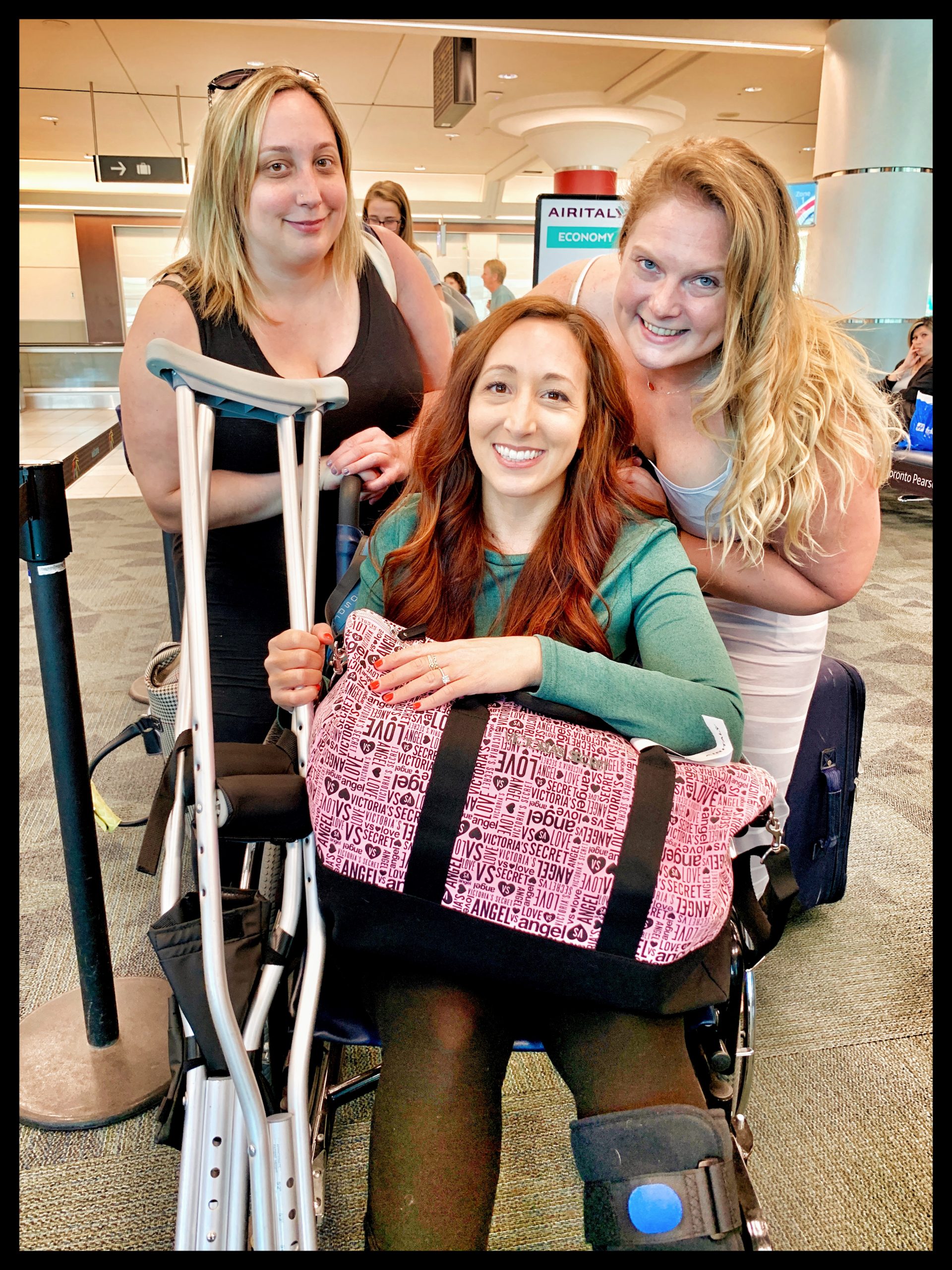 5. Look into disability access at popular tourist destinations
During this trip, I would have LOVED to see the inside of the Vatican. Doing research prior, and being informed when in Rome, if you have a disability, you can get into the Vatican and skip the line. They also have wheelchairs for rent to help you get around. Unfortunately, we really did not have time besides Sunday (when the Vatican is not open to the public), so we could not take advantage of this. I will gladly walk through it though next time I'm in Rome to do a tour of the Vatican!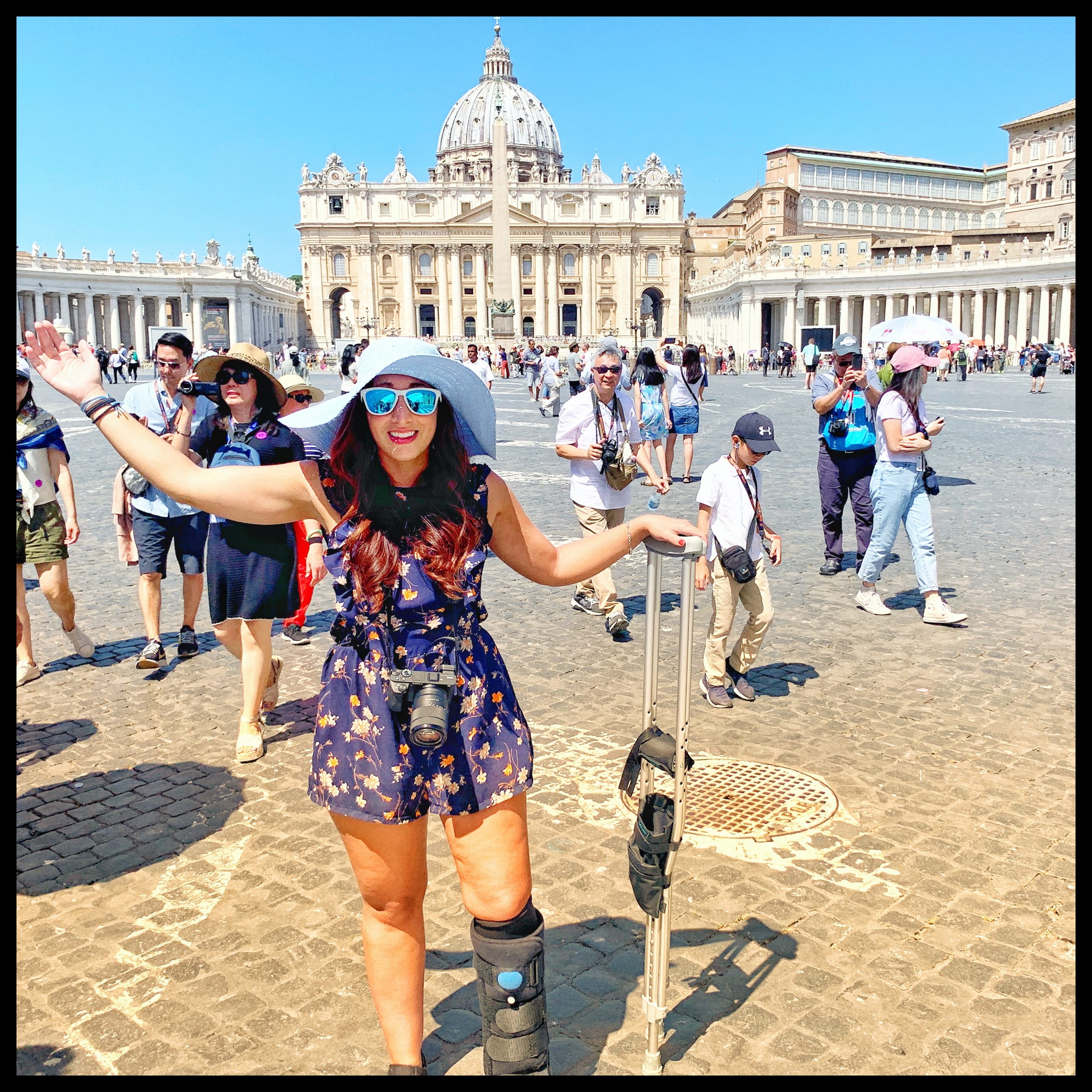 6. Check hotel locations for SHOWERS
The biggest thing I checked for was 'walk-in showers.' In the city center of Rome, there are not big brand name hotels that would provide handicap access. So, we opted to book Air BnB's. I still cannot stand very long on my injured leg, so it was important for me to be able to 'crutch' into the shower. Both hotels we booked had this so it made that part of the trip a little more accommodating!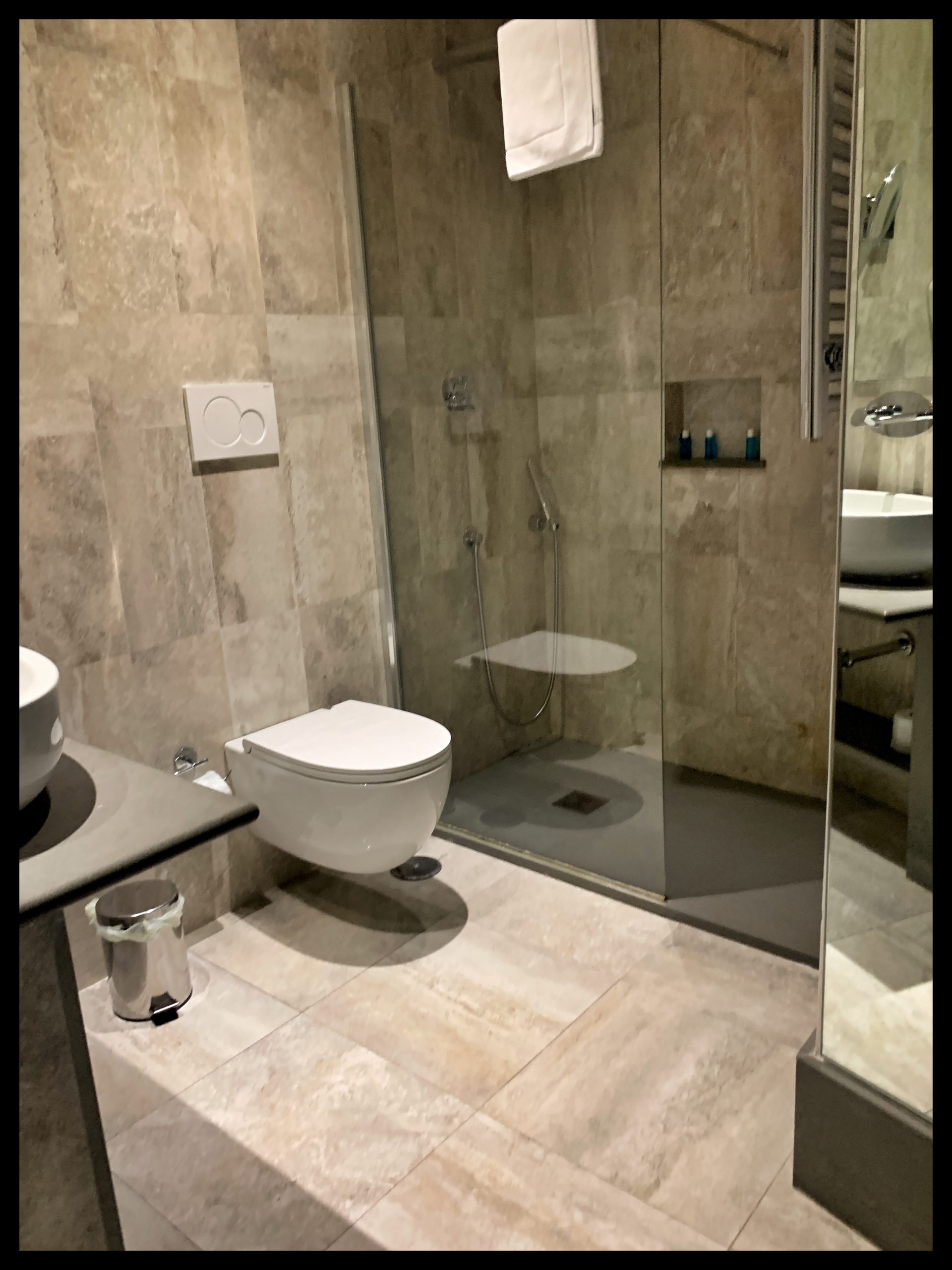 7. Research if there are STAIRS or Elevators
One of the locations I did check and she mentioned there was one flight of stairs I would have to get up. This wasn't too big of a deal for me. I am able to go up/down stairs now but if you are not secure on crutches, I would highly recommend checking for elevators in buildings. The other location, however, did have an elevator. But, it was an old school elevator. Someone on another floor had the elevator 'in use' so we were unable to use it to carry our luggage up. I did work the remaining of the trip! It was one of the open the gate and the doors to get in/out. Sometimes a challenge on crutches!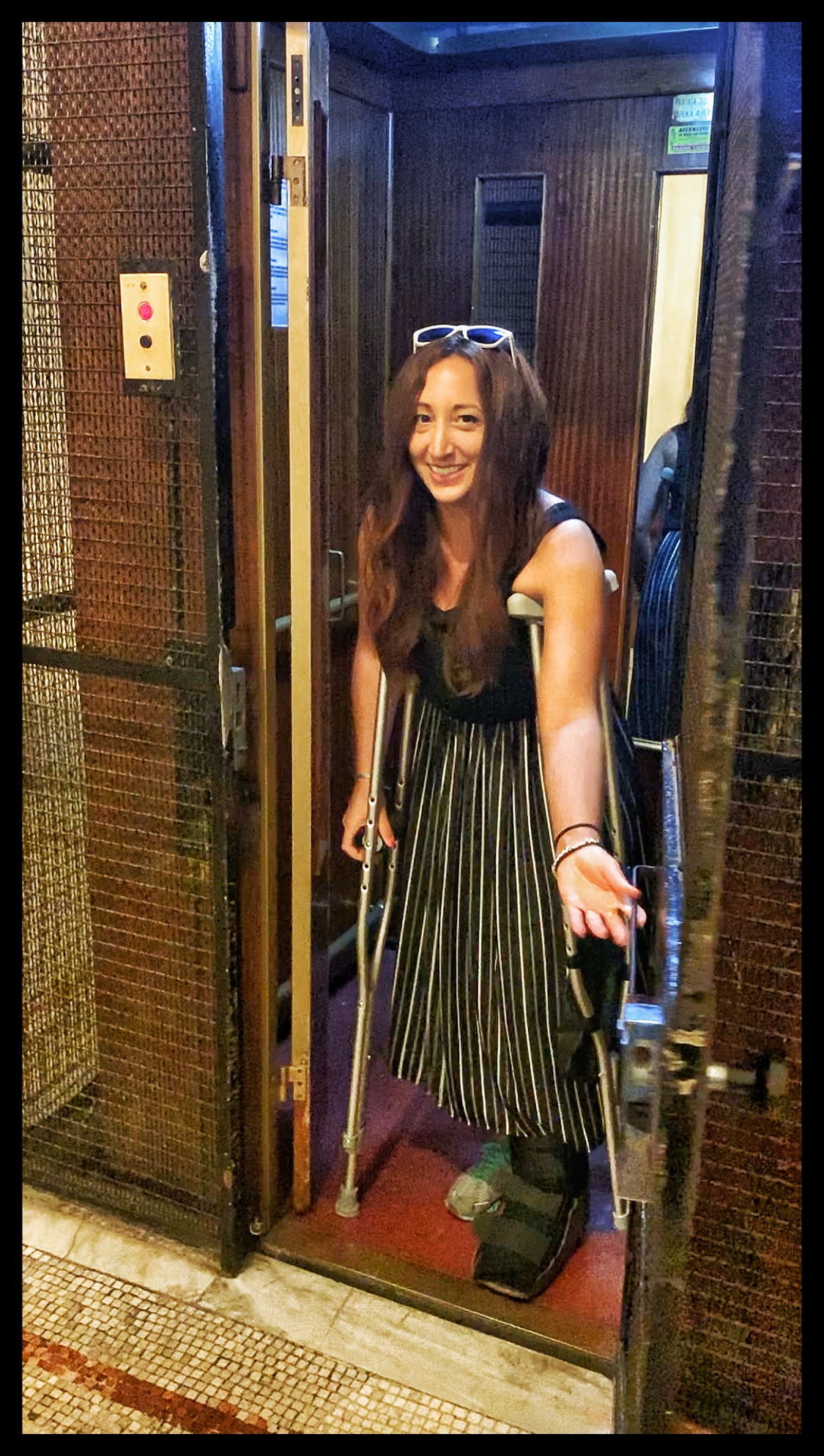 ENJOY YOURSELF.
Eat all of the Gelato and drink all of the wine. Get the Truffles. Seriously. Kudos to you and your friends for traveling with you while injured. It is not easy, but definitely not impossible. I even conquered a WINE tour while there. They said I was the first person on crutches with a broken leg to do so. BUT I wanted to check out these amazing cellars. I mean how cool is that!?