The Atlantis is located on Paradise Island which is northeast of the main island of Nassau. This resort is massive which includes six different options for accommodations. In addition, the Atlantis features the world's largest open-air marine habitat, a 141-acre aqua-park complete with waterslides and 11 pools, 5 miles of beaches, oceanfront golf course, and a casino. It's also impossible to go hungry at the Atlantis with 21 Restaurants and 19 Bars & Lounges to choose from. It's easy to spend an entire day exploring this awesome resort! Continue reading below to learn about the Caesars Rewards FREE Atlantis Trip.

The Atlantis Property in the Bahamas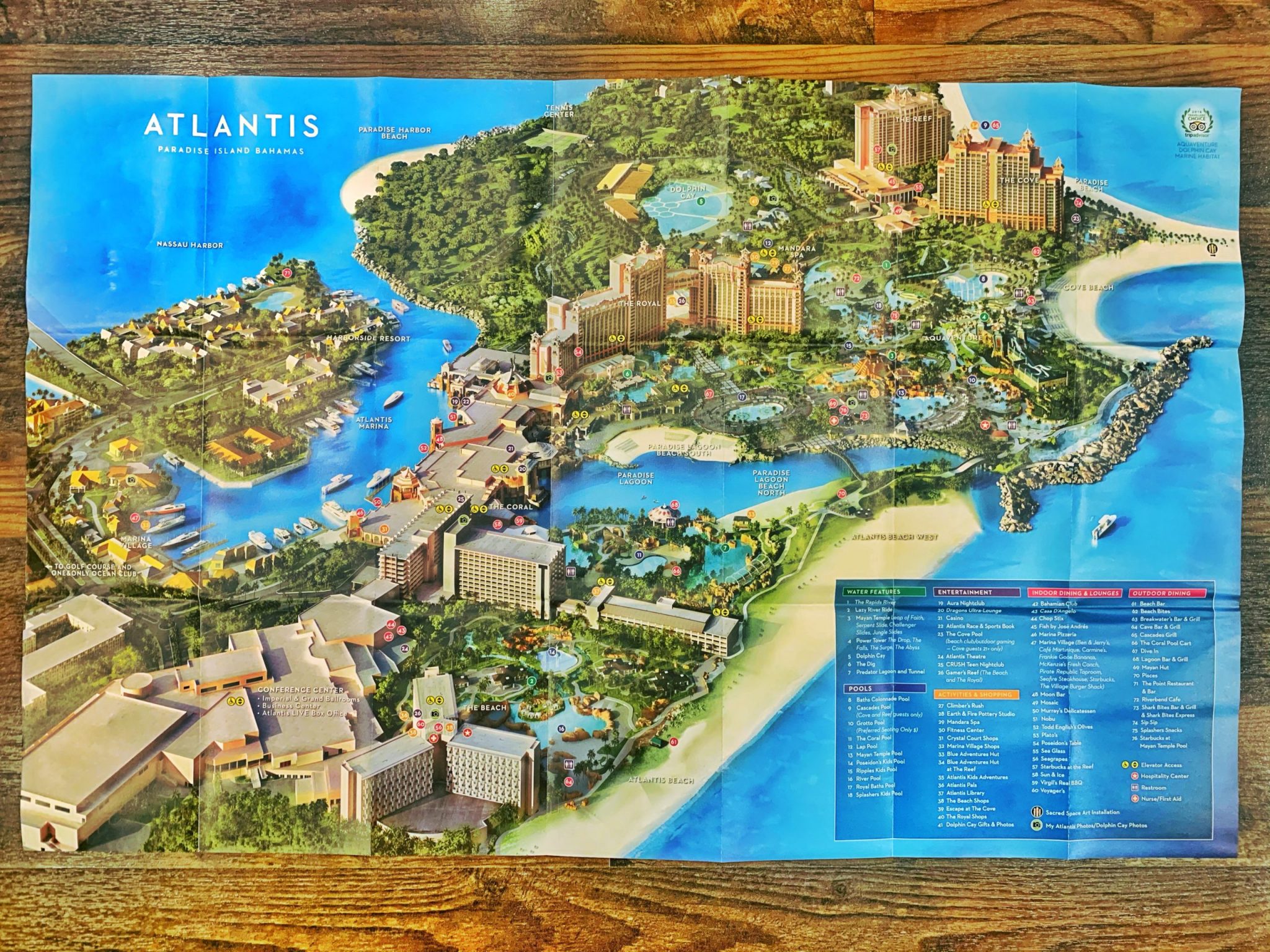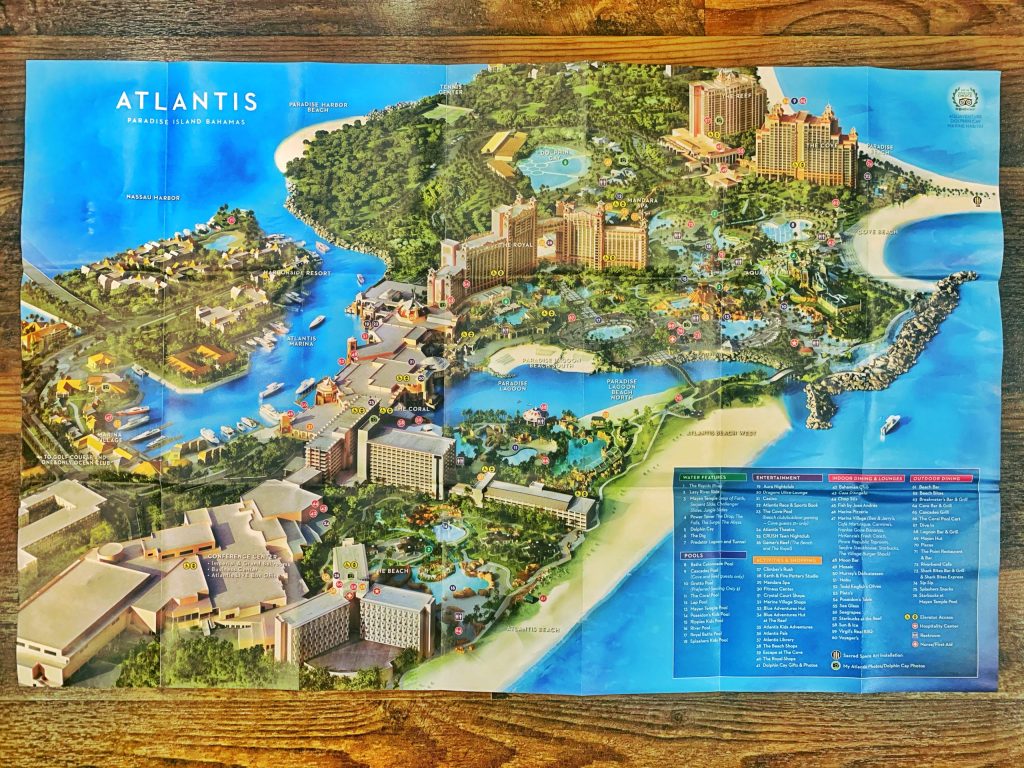 Caesars Rewards Status Match
The fact that it's easily possible to earn 4 FREE nights at the Atlantis has got to be one of our favorite Basic Travel Strategies. In order to qualify for the complimentary stay, you must have at least Platinum Status. However, for this article, I will assume that everyone reading this will be pursuing or have obtained Diamond Status. You can read more about the perks of Diamond Status HERE which include an annual $100 Celebration dinner and Two Free Show Tickets every month in Las Vegas. For Atlantis, Diamond Status entitles you to a complimentary 4-Night Stay!



Easiest Route to Caesars Rewards Diamond Status
The Easiest Route by far is to open up the Barclays Wyndham Earner Business Credit Card to earn Wyndham Rewards Diamond status. Once you are Wyndham Rewards Diamond, the final step will be to status match to Caesars Rewards Diamond. This whole process listed above should only take a maximum of a few weeks to complete!

Steps to Caesars Diamond
Open the Barclays Wyndham Earner Business Credit Card for Hotel Status
Match Wyndham Diamond to Caesars Diamond (Guide HERE)
Hilton Honors Bonus Points
once you spend $4,000 on purchases within the first 3 months from account opening. All information about Hilton Honors American Express Aspire Card has been collected independently by basictravelcouple.com
Hilton Honors Bonus Points
once you spend $4,000 on purchases within the first 3 months from account opening. All information about Hilton Honors American Express Aspire Card has been collected independently by basictravelcouple.com
Booking Free Nights at Atlantis with Caesars Diamond

You've successfully matched to Caesars Diamond and are now trying to head straight down to the Bahamas for your complimentary stay! There are two options for accommodations listed on the website, the Royal and the Beach. Based on availability, you'll be able to book one or the other. Most people agree that the Royal is the nicer of the two options. The Caesars website indicates that it's based on off-peak months, however, there are many data points of being able to book the Royal during peak travel times. In addition to the 4 Free Nights, the Caesars Diamond Status also provides access to the Aquaventure Waterpark and $100 Free Slot Play. To book your complimentary stay, call the Casino VIP Services at 1-800-752-9711 between 8:00-11:00pm ET.


Steps to Booking Free Atlantis Stay
Verify you have Caesars Diamond Status
Call Casino Services at 1-800-752-9711 to check availability
Provide Name, Caesars Rewards Number, and Date of Birth
Provide Credit Card to Hold the Reservation
A Reservation Confirmation Should be Received via Email
Too Good to Be True

This may seem like this is way too easy! It really is this easy to book a complimentary stay at the Atlantis all from opening a single credit card and status matching. However, there are TWO stipulations that you need to be aware of; Resort Fees and Mandatory Casino Play.

Resort Fees

There is a $52.95 Daily Resort Fee plus a 12% VAT charge and a $10 Room Cleaning Gratuity. For four nights, this works out to be $69.30 per night and $277.20 Total. These Resort Fees are unavoidable! Trust me we tried all of the tricks to get these waived but they would not budge. Given that a 4-night stay at the Royal typically costs almost $1,600; I'll take the 80% Discount and be on my way!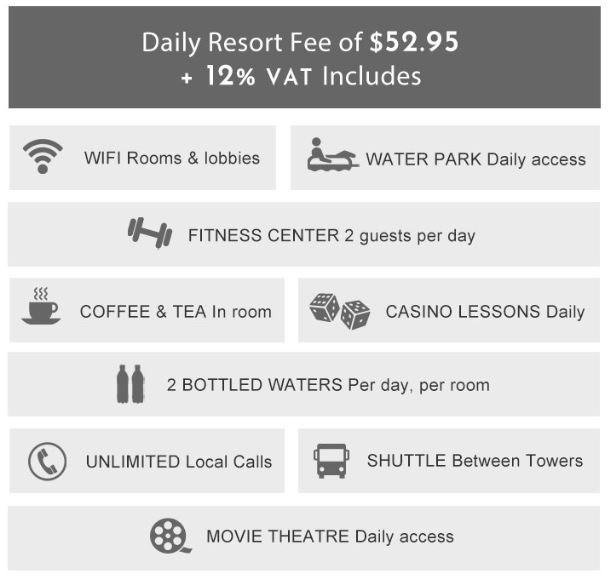 Free?
To make this trip hotel completely FREE, it is possible to use Credit Card Cash Back or Travel Eraser points to cover the $277.20. For example, the final cost of the room could be covered with 27,720 Capital One Venture Miles! You'll find all of the options under our Top Credit Cards Page.

Casino Play
There is a mandatory 4 Hour Minimum Required for the complimentary stay to be honored. Although I haven't heard any data points on the Atlantis actually enforcing this rule, I wasn't going to test my luck with that much money on the line. During our most recent stay, the front desk actually called my room to remind me about the minimum play requirement! Now, this isn't the worst condition I could think of, especially when the casino is providing a $100 Credit that can be used during those hours. The slot machines include a USB port for your cell phone and you get complimentary beverages while playing!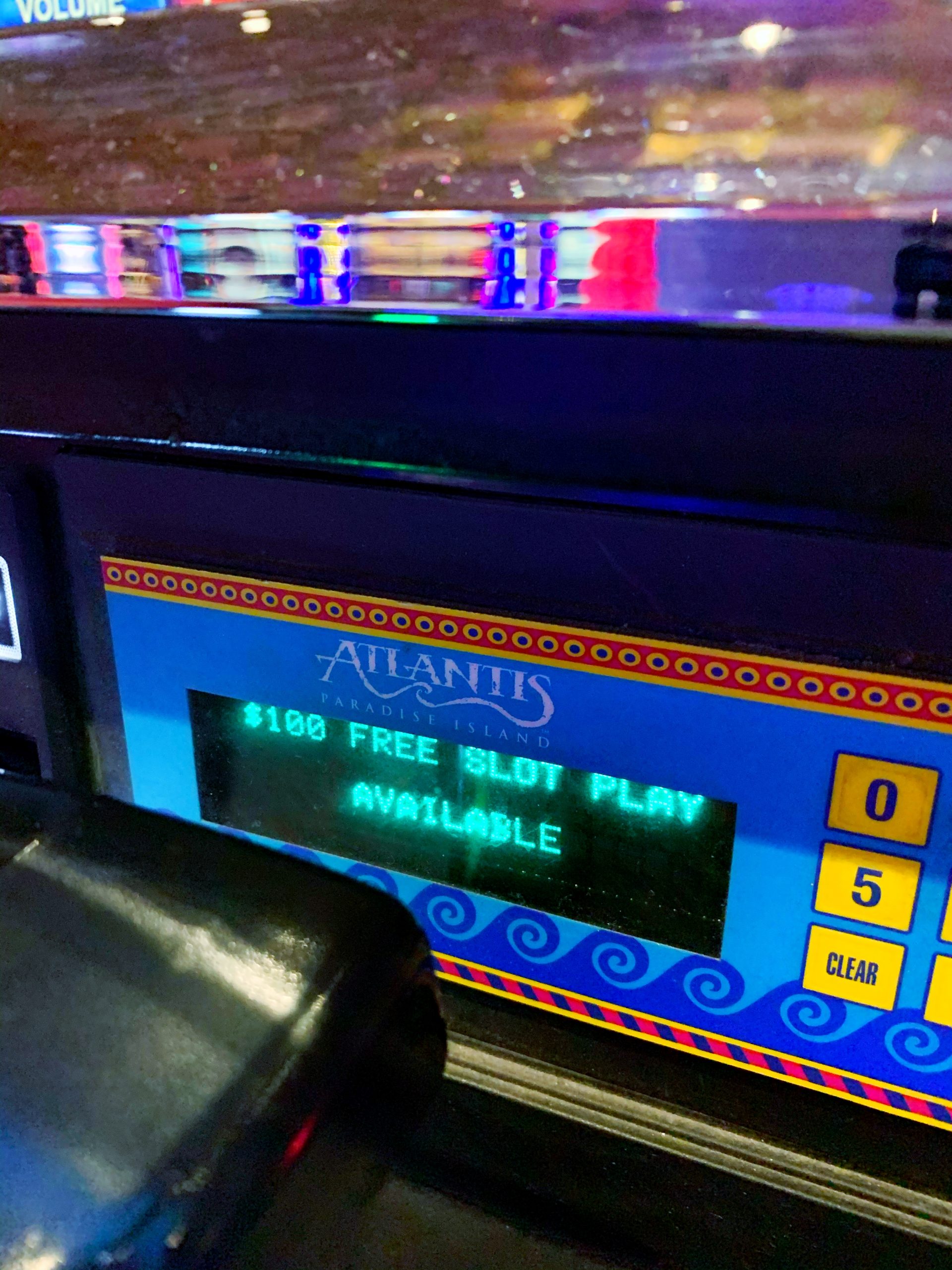 Double the Fun

This is actually a travel tip that we discovered on our last trip to the Atlantis. Since Lisa and I both have Caesars Diamond Status, we each booked two nights back-to-back. Reason being? An extra $100 Free Slot Play Credit! Lisa had much more luck than I did on the very fun and addicting Fishing Slot Machine Game. She ended up winning around $300 which covered those pesky resort fees from above!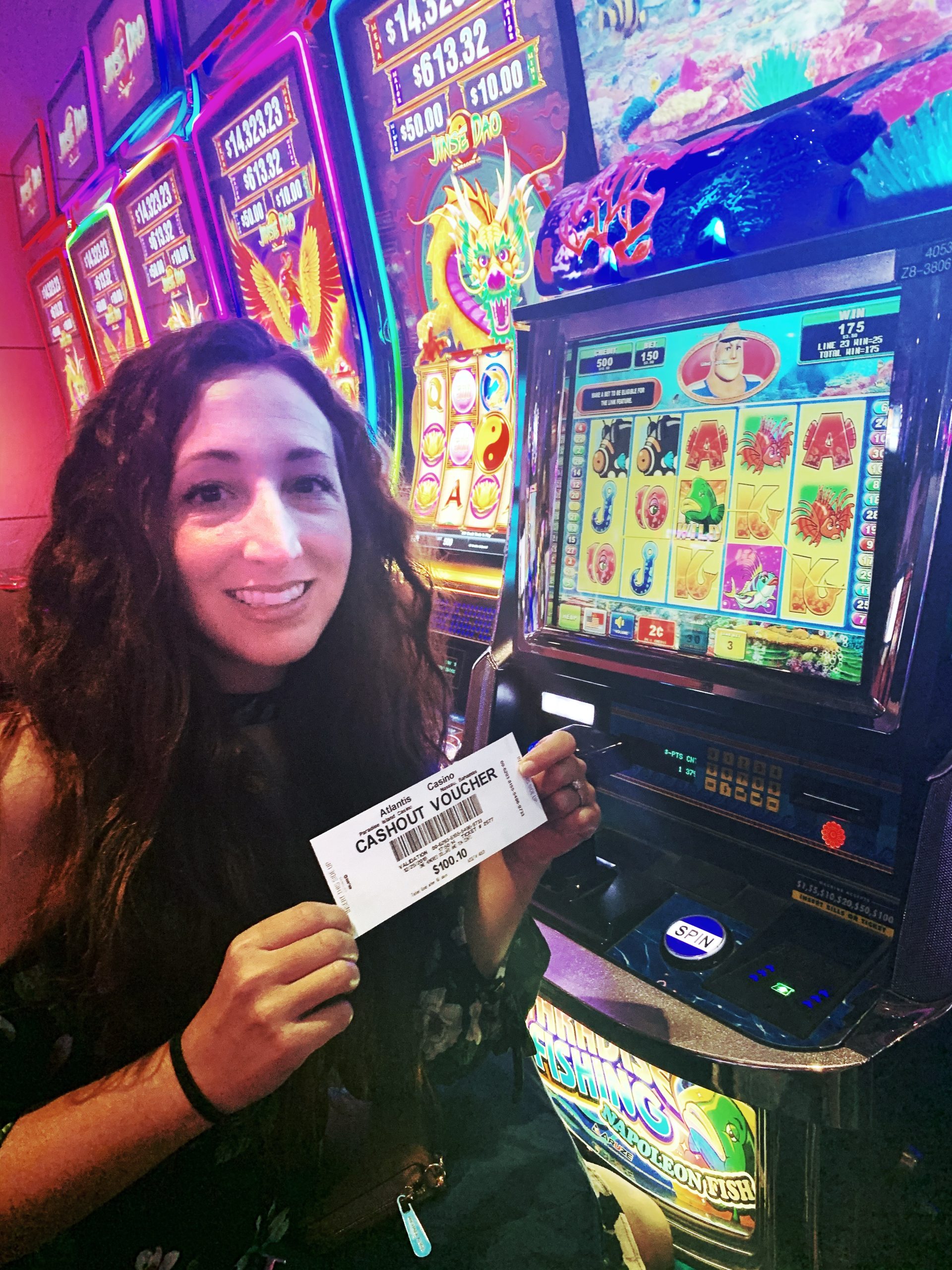 Basic Recap
If you're looking for a great value option in the Caribbean then look no further! The Caesars Rewards FREE Atlantis Trip offers tremendous value and ranks as one of our favorite Basic Travel Strategies. The Atlantis is great for families, couples, or friends trying to get some sun and take in that beautiful blue Bahamian water!
More Las Vegas Reading