The Cayman Islands are known for their stunning sunsets, beautiful beaches, endless dive sites, and a top-ranked culinary destination. From the moment, we touched down on Grand Cayman Island, we felt what locals refer to as "CaymanKind". The enthusiasm and hospitality from the Caymanian's were so heartfelt that we felt like we were no longer visiting somewhere new, but coming back to a place that felt like home. We're excited to share our Basic Guide to the Cayman Islands and all of our favorite things to do while visiting!

A Basic Overview
The Cayman Islands are made up of three separate islands; Grand Cayman, Cayman Brac, and Little Cayman. Grand Cayman is the largest of the trio but relatively small measuring 22 miles long and 76 square miles total. If you're ambitious, you can drive around the entire island in only a few hours. This is not recommended as there are many beautiful sites to stop and see!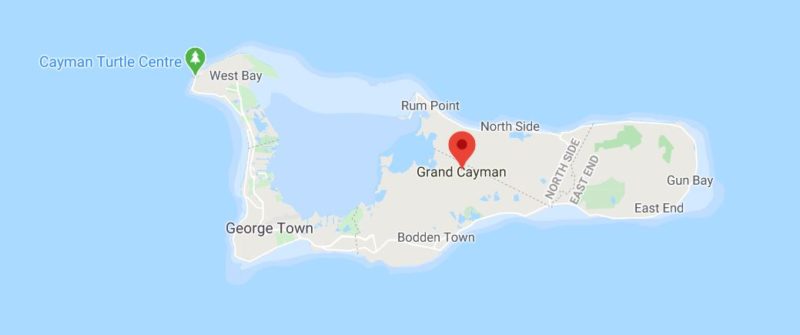 Getting There

The Cayman Islands are located in the Western Caribbean about 450 Miles from South Florida. Our flight down from Ft. Lauderdale was a very short 90-minute flight. There are daily flights operated by Jetblue and Southwest Airlines. From Grand Cayman, you can reach it's sister islands via a 30-minute flight. There are no boat transfers from Grand Cayman to its sister Islands. However, it is possible to take a speed boat between Cayman Brac and Little Cayman.

Climate

Sunny and 75 is what you'll expect to find in the Cayman Islands year-round. The weather ranges up to 85 and rarely peaks above 90 degrees Fahrenheit. With a refreshing Caribbean breeze, it's no wonder why the Cayman Islands are such a popular draw for those trying to escape the cold in the northeast USA (Like us!).

Safety

It's apparent throughout the Cayman Islands that they take safety seriously. There was no soliciting by anyone trying to sell us something illicit or felt like we were being hustled as tourists. We ventured around freely, took the public bus, and rode bicycles around the island. Never once did we feel as if we were putting ourselves in a dangerous situation. I can honestly say that is not the case for many other Caribbean Islands!

Culinary

The Caymanians take their cuisine seriously! Despite the islands being fairly small, there are over 200 restaurants among the trio. Known as the "Culinary Capital of the Caribbean" the Cayman Islands offer a wide range of delicious options to curb any hunger! We really enjoyed the culinary scene in the Grand Cayman. I hope to come back for the annual Cayman Cookout, which takes place every January.

Currency

The Cayman Island Dollar is on a fixed exchange rate. 1 USD is equal to .80 CI. You can use either currency throughout the island as they are both accepted interchangeably. In addition, credit cards are widely accepted (even in taxis) throughout the island from all four of the major issuers. This includes Visa, AMEX, Mastercard, and Discover. Be sure to stock up on those valuable credit card points. Lastly, you'll find ATM's spread about the island which offers currency in either USD or CI.

Click here to learn how to get all ATM Fees Reimbursed While Traveling
CaymanKind

A friendly smile and a helping hand can go a long way when traveling. Caymanians are known for their kindest and generosity which was apparent from the moment we arrived. Even the customs official who stamped our passports greeted us with a smile! They also offered to stamp a page of our choosing. A Basic PSA – This is not typical! As we talked about our experience day-by-day it was almost as if our minds were being read and the folks around us anticipated what we might want before we asked. This Caymankind-ness really set apart these islands from many other Caribbean options!

Top 13 Things to do on Grand Cayman Island

The following list comprises all of our favorite activities to take part in while visiting Grand Cayman Island. Sadly, we did not have the opportunity to visit the sister islands, Cayman Brac, and Little Cayman. I hope that we can get back down there someday soon to explore the rest of the Cayman Islands!
13 – Cayman Spirits Co.

This high rated distillery is a frequent stop for both tourists and locals. Cayman Spirits offers high-quality Rum, Vodka, and liqueurs which are crafted by hand. For the full experience, be sure to join in on an official Distiller's Tour. The distiller's tour takes participants behind the scenes where the spirits are created. The Tour always concludes in the tasting room. You'll have an opportunity to try fan-favorites like Seven Fathoms Rum, Gun Bay Vodka, and the Governor's Reserve Rum!

The Tours take approximately 40 Minutes and often sell out in advance. Be sure to book yours by clicking HERE! Located: End of Bronze Rd., George Town KY1-1206, Grand Cayman
12 – Seven Mile Burger

This place is GREAT! We actually stumbled upon it while riding complimentary bikes from our resort, the Kimpton Seafire, one day after working up an appetite. Don't let the location fool you. We were surprised to find it housed within a "Shopping mall" called Governors Square. We were pleasantly surprised to find a handful of delicious Burgers, Chicken and Fish Sandwiches, and various appetizers. The Burgers are HUGE and they even have local Caymen Island Brewery favorites on tap to wash them down! One of my favorite aspects of Seven Mile Burger is the "Wall" of condiments that you can choose from. There had to be at least 50 different variations of sauces ranging from sweet to heat. 

Hours of operation are 11 AM – 9 PM daily and Friday/Saturdays they are open until Midnight. Location: #3-104 Governor's Square, next to Tortuga
11 – Crystal Caves

If you're looking for beautiful Nature above and below ground then the Crystal Caves should be on your shortlist while visiting Grand Cayman. Daily tours take place beneath the ground through the three caves displaying the beautiful stalactite and stalagmite crystal structures. I've always found them so fascinating knowing that they have been growing for thousands of years. Above the ground, participants can explore the tropical forest and see the unique plants and animals that reside there.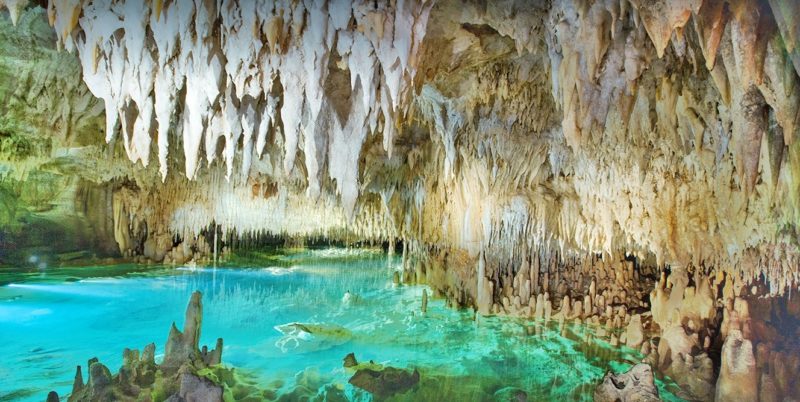 Tours Take Place Daily from 9 AM – 4 PM and can be pre-booked on their Website. A tour of the Three Caves and Forrest typically last about 90 Minutes. Location: 69 North Side Rd, Old Man Bay, Cayman Islands
10 – Cayman Turtle Centre

The Cayman Turtle Centre is a top tourist destination while visiting Grand Cayman Island. Here you can get up close with beautiful Green Sea Turtles, Reef Sharks, Cayman Parrots, Butterflies, and Conch Shells. I'd say that if we had kids with us on this trip, we could spend quite a bit of time here. They also are home to the largest swimming pool on the island with two waterfalls and the "Turtle Twister Waterslide".

There are Two Different Options for admission into the Cayman Turtle Centre. The more expensive one providing access to all of the tours and activities. Most people find the cheaper option fulfilling but if you have plenty of time on your hands the second option may be worth the additional money. The hours of operation are 8 AM – 5 PM Daily. Location: 786 North West Point Road, West Bay KY1-1303, Grand Cayman
9 – Cayman Island Brewery

We had a great time visiting the Cayman Islands Brewery which was our final stop before flying back home. I wish that we had more time in the Cayman Islands. Visiting this brewery ended up making for a great ending to our tropical getaway. We heard about Cayman Island Brewery when we visited Seven Mile Burger and decided that it had to make our basic list! At Cayman Island Brewery, you'll find popular options like the Mango Tango Lager, Shell Shock IPA, and White Tip Lager. Be sure to visit with an appetite! Casa 43 Mexican Street Kitchen Food Truck parked outside serves up some of the most delicious Tacos we've ever had!

You can Tour The Cayman Island Brewery Monday – Friday from 9 AM through 4 PM. The tours include 5 samples of their various beers and fun photo opportunities behind the scenes! Location: 366 Shamrock Road | Prospect, George Town KY1-1209, Grand Cayman
8 – Go to "Hell"

Did you know that you can visit HELL on Grand Cayman Island?! Well not quite, but it sure could have resembled what Hell might be like. On the west side of the island, there is a group of Black limestone formations that are viewable behind three different "Hell" visitor stops. This popular tourist destination doesn't take very long to visit but is certainly a great stop for fun photos. While visiting you can even mail a postcard and get your passport stamped from HELL!

Hell, Grand Cayman shops are open daily from 8 AM – 5 PM. We took the public bus straight here from our hotel for only a few dollars! Location: Hell Rd, West Bay, Cayman Islands
7 – Rum Point

Located on the north side of Grand Cayman Island, you'll find the beautiful Rum Point. This popular destination includes multiple options for lounging in and out of the white sandy beach. You'll also find plenty of watersports that you can take full advantage of in the water. Most notable, Rum Point is supposedly the place where the Famous Mud Slide Drink was invented!

We opted to use Cayman Ferries to travel from Camana Bay to the Kaibo Yacht Club. From there the Ferry provided transportation (5-minute car ride) to Rum Point. Alternative options to Rum Point are to drive around the whole island. We opted not to do for time's sake! Rum Point is Located: Rum Point Club, Cayman Islands (Place where we got Original Mudslides).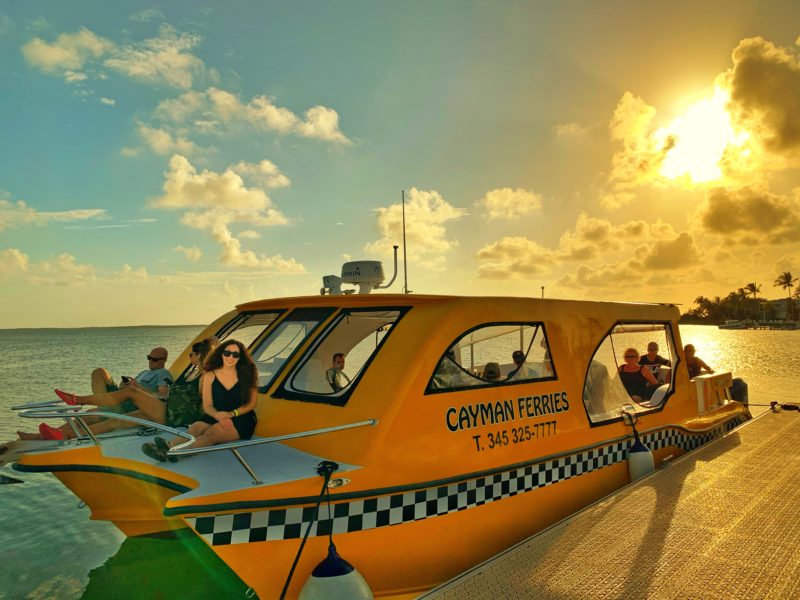 6 – Starfish Point
Starfish Point is a fun stop on the way to Rum Point which is home to so MANY friendly Starfish! One actually wrapped its way onto Lisa's hand and didn't want to leave her. Starfish point is a fun place to cool off in the water and shoot some photos of all the Starfish. We ended up walking here (about 10 minutes) from where the Cayman Ferries dropped us off. After we got all of the Starfish action that we could handle, we caught the Cayman Ferry back to Camana Bay!

Starfish Point is FREE to access and makes for a nice pit-stop while visiting Rum Point. It's located: Water Cay Rd, Cayman Islands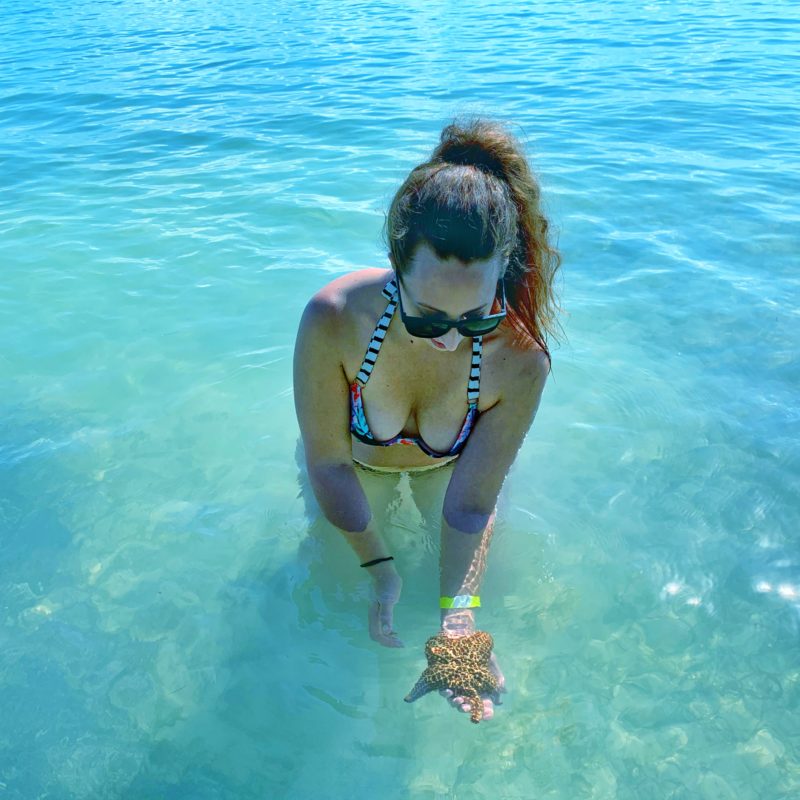 5 – Bioluminescent Bay Tour

Within the Grand Cayman Bioluminescent Bay, you'll see beautiful bright sparkles of light throughout the water. These lights are caused by millions of plankton that give off light when they move. Guided tours within the bay only operate a few weeks each month due to the prime opportunities to see the special lights based on the moon cycle. There are a handful of different tour options that included kayaking or going directly into the water with a full wetsuit.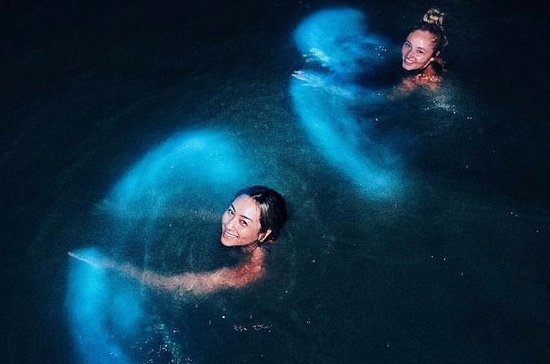 One of the most popular tours is operated by George's Watersports! This tour includes full-body gear including gloves, wetsuit, and a mask. Seeing the colors through the masks is one of the greatest shows on earth! More information about George's Bioluminescent Tours can be found by clicking here.
4 – Camana Bay

One of our favorite aspects of visiting Grand Cayman Island was our time spent at Camana Bay. The Camana Bay Town Centre is comprised of over 40 locally-owned shops and boutiques, 15 eateries, cafes and restaurants, the island's only cinema, and unique attractions. A main attraction in Camana Bay include a 75-foot Observation Tower. This tower features a floor-to-ceiling seascape mosaic and a panoramic view of Grand Cayman from the top floor. We had fun walking around and exploring the local Farmers and Artisans market. The markets in Camana Bay take place weekly on Wednesdays from 10 AM until 7 PM.

Our favorite stops included sampling different wines at the West Indies Wine Company. Wherever your wine experience lies, West Indies Wine Company has you covered with over 80 different wines. The best part is that the wine is served from these fancy wine station machines. To pay it is a quick swipe of a wine card! Following our West Indies Wine Company visit, we enjoyed the most delicious dinner at Agua. Fresh plates filled with Ceviche, Yellowfin Tuna Tartare, Sicilian Mahi, and Agua Tuna! Every bite was exactly what you'd imagine when you think of delicious fresh Caribbean cuisine.
Camana Bay is Located at 10 Market St, KY1-9006, Cayman Islands. Camana Bay is easily accessible by a Public Bus or Taxi.
3 – Stingray City

This was so much fun! We loved mingling with Giant Stingrays at the famous Stingray City. Located about 25 miles off the coast of Grand Cayman you'll find a group of sandbars filled with VERY friendly Stingrays. The water was pretty shallow, 2-3 feet maximum depth which was nice for walking around and shooting photos! There are a handful of tour operators in Grand Cayman that bring curious tourists to this unique destination. We opted to combine our Stingray City stop with a Sunset Sail through Red Sail Sports. It was a beautiful evening under a Cayman Island Sunset. It even resulted in us getting some special "kisses" from our new friends!

Did you know that kissing a Stingray is said to provide 7 Years Good Luck?!
2 – Scuba Diving Grand Cayman Island

The dive sites spread about the Cayman Islands are some of the best you'll find in the world. Scuba divers have been seeking out the hundreds of dive sites throughout the three Cayman Islands since they were discovered. No matter what level Scuba Diver you are there is plenty to see. Beautiful coral reefs, wall-dives, wrecks to explore, and marine life to be fascinated by. Our favorite Dive Site on Grand Cayman Island is Trinity Caves which is a wall dive. Passing through different swim-throughs at about 100 feet, we were lucky enough to see interesting Marine Life, including a large Cayman Turtle!

We booked our Scuba Diving with Red Sail Sports Grand Cayman as they are known for being both safe and accomodating. The Dive Boat picked us up on the beach behind our hotel which was very convenient. Not once, did the equipment ever appear worn down or aged which can sometimes be the case when diving with certain companies. From start-to-finish, we had a fantastic two-tank dive with Red Sail Cayman and certainly recommend their service. Special shoutouts to Captain Mark and our dive guide Natasha for going above and beyond!

You'll find everything from Discovery Dives to Certification Courses offered by Red Sail Sports Grand Cayman. Check out their full list of Scuba Diving options by clicking here.
1 – Seven Mile Beach

Without a doubt, the top destination on Grand Cayman Island is the beautiful Seven Mile Beach. This top-ranked beach is known throughout the world as one of the premier options to dig your toes into the sand. I recall setting my first sight on this beach as we walked to the rear of our hotel. I was in complete awe of its beauty. Each step through the sand nestles between your toes while the clear warm water utterly refreshes your soul. It was the epitome of what a beach bum would find surreal. To top it all off, every evening along the beach everyone gathered around to witness the most beautiful sunsets. All around the world we have chased Sunsets. From the Philippines to Greece to Hawaii, the Seven Mile Beach Sunsets were right on par!

Staying at the Kimpton Seafire also made for a perfect access point to Seven Mile Beach. It was conveniently located directly behind the hotel. Kimpton Seafire included plenty of complimentary amenities on the beach. Water sports right on like kayaks, water tricycles, and paddleboards to name a few!

You'll find the Seven Mile Beach located along the Western Side of Grand Cayman Island!
We hope you have enjoyed reading our Basic Guide to the Cayman Islands and our Top Things to do on Grand Cayman. What's your favorite thing to do on Grand Cayman Island? We'd love to hear down below in the comments or in our Basic Travel Facebook Group!
More Basic Reading

A 5 Day Trip to Grand Cayman Island for ??? (Coming Soon)
Top Reasons We Loved Red Sail Sports Cayman Island (Coming Soon)
How to Spend a Day at Camana Bay Grand Cayman Island (Coming Soon)
A Basic Review of the Kimpton Seafire Grand Cayman Island (Coming Soon)