Turquoise water, the magnificent sun shining down, and the tranquility of a Caribbean breeze flowing through your hair. Listening to the birds chirping as the sailboat glides gently through the water. Smelling that fresh ocean breeze and enjoying these moments that never seem to last as long as we want them to. This is my version of peace and serenity found on this beautiful planet. Something that Octopus Aruba offers daily aboard their 41-foot Sailboat!

Octopus Aruba
Octopus Aruba has been providing travelers a unique and personalized experience on the Caribbean Sea for the last 25 years. During the day, they offer various snorkeling trips with instruction included (if needed) and take special care to ensure that safety is always first. You can choose from a morning "Champagne Brunch" Snorkel and Sailing trip or an "Afternoon Delight" Snorkel and Sailing Trip. Both trips include two stops for snorkeling, one of them being the famous 400 foot "Antilla" shipwreck which is certainly a must-see while in Aruba! Both of these trips also include open-bar and snacks while aboard.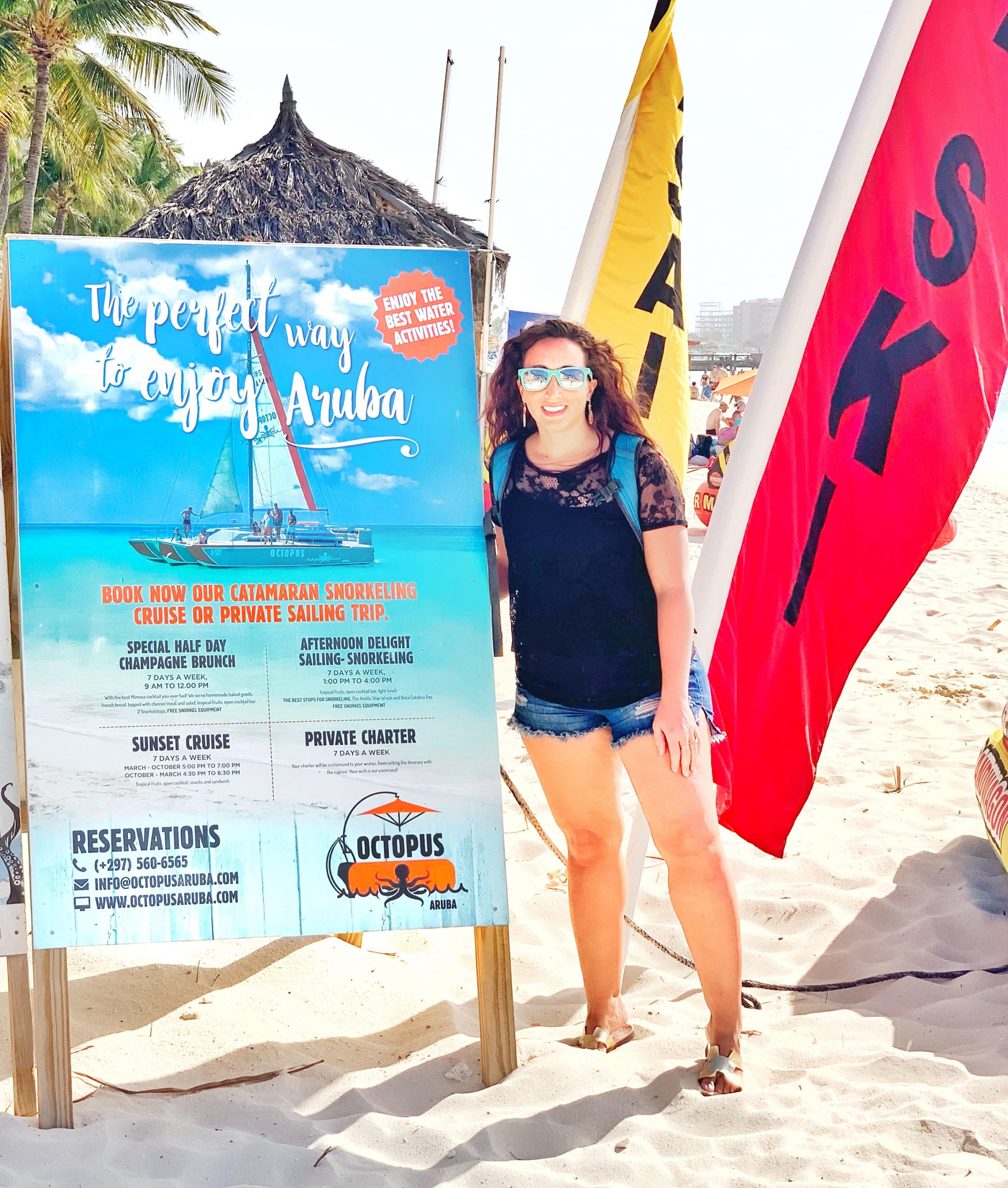 Types of Sailing
In the evening, Octopus Aruba offers the "Happy Hour Sunset Sail" which includes 2 hours of beautiful sailing aboard the 41 Foot Trimaran Sailboat rightfully named "The Octopus". Captain Jethro has been sailing "The Octopus" for the last 18 years and certainly knows how to maneuver it across the open water. The Sunset Sail also includes an open cocktail bar and snacks while aboard.

It's a no brainer that we ultimately decided to go with the Sunset Sail because WE LOVE CHASING SUNSETS! Sunsets are so beautiful and unique, with every single one being different from the last. Our relationship is tied to those incredible moments together and we truly enjoy each second embracing every experience like it's the last.

Here are our top 7 BASIC Reasons why we loved Octopus Aruba's Sunset Sail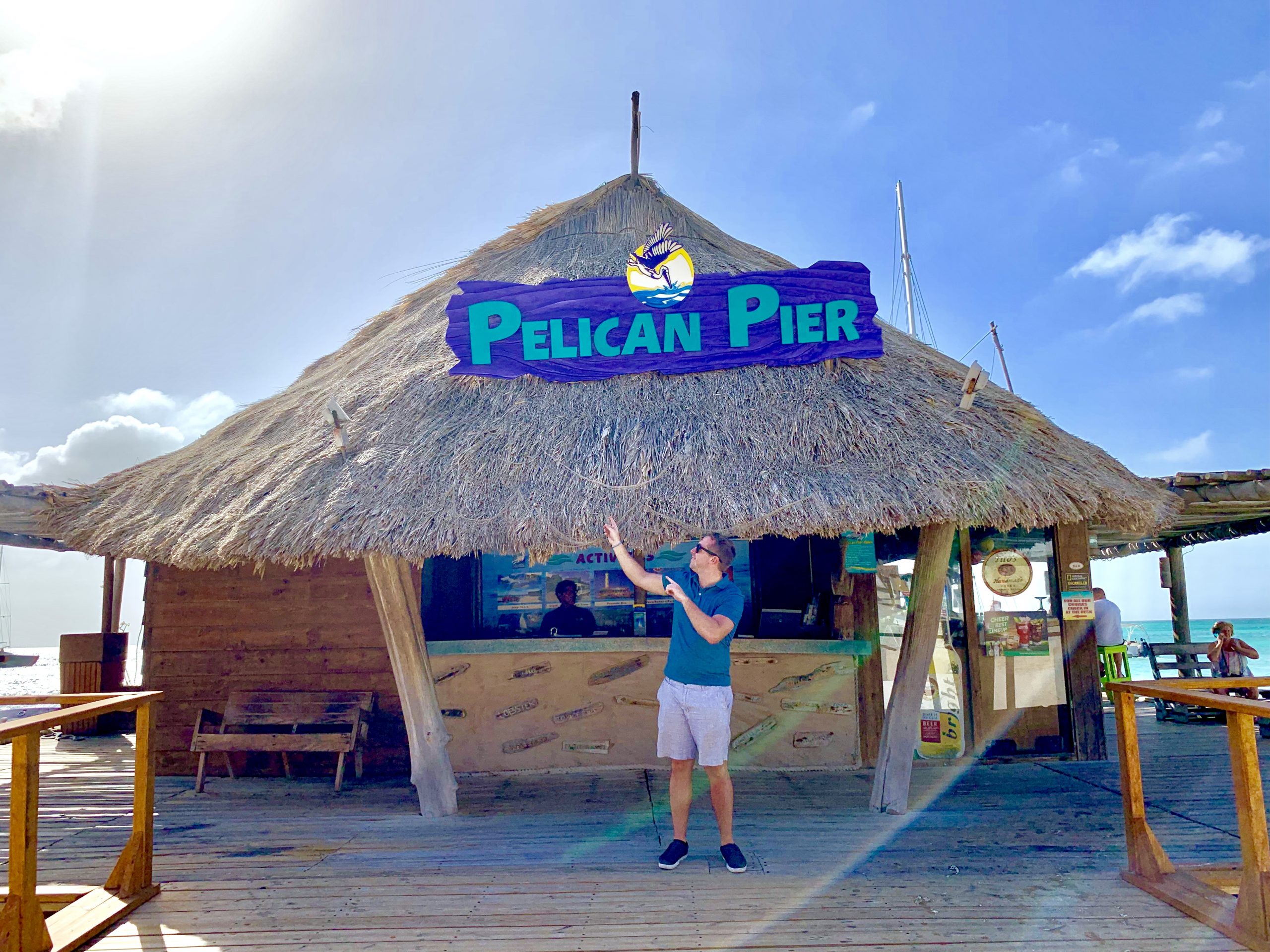 7- It's Easy to Find

It was no problem at all finding the Octopus Aruba check-in station directly in front of Pelican Nest Seafood Grill and behind the Holiday Inn. Pelicans Nest Seafood Grill is an easy landmark as it is a bar and restaurant on a deck overhanging onto the water. Once you are in the general vicinity, look for the Octopus!
fter spending $4,000 within 3 months from account opening
fter spending $4,000 within 3 months from account opening
6 – Meeting New People

We love meeting new people and swapping tales of our adventures. When we arrived, we checked in and were instructed to wait in the waiting area on the beach. We met a couple who was reliving their honeymoon. They were taking the same sunset sail on the Octopus that they took when they got married 10 years ago. Everyone else that we met while taking in the sunset was so great to talk to. Hearing stories of people coming back year after year to Octopus Aruba really solidifies the experience they provide. Hopefully someday we will all meet again to relive the experience back on the Octopus!

5 – Food and Beverages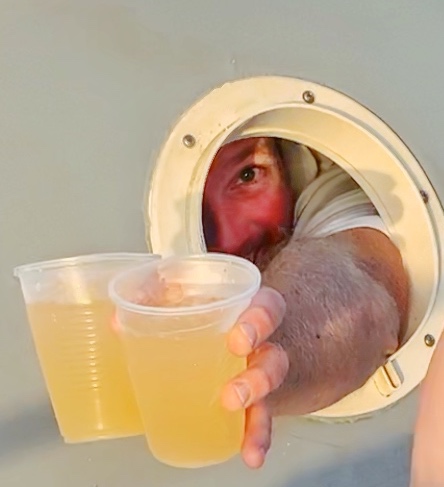 While Sailing the staff kept us well hydrated with an open bar stocked with unlimited sodas, waters, fruit juices, and our favorite, the famous "Octopus Cocktail"! In addition to all of the fantastic drink options, we received turkey and gouda sandwiches, sliced cheese, and fruit. These snacks came in just the right portion to curb our appetite before we headed to a post-sunset dinner at Madame Janette's.
4 – Those Spectacular Views

The views were fantastic! We have been on many sailing trips throughout the world and Octopus Aruba certainly ranks right at the top for us. Captain Jethro took us to all of the great spots for photos and we were able to see the beautiful coastline of Aruba from the water. We even passed by the stunning Californian Lighthouse which is found on the northern tip of Aruba!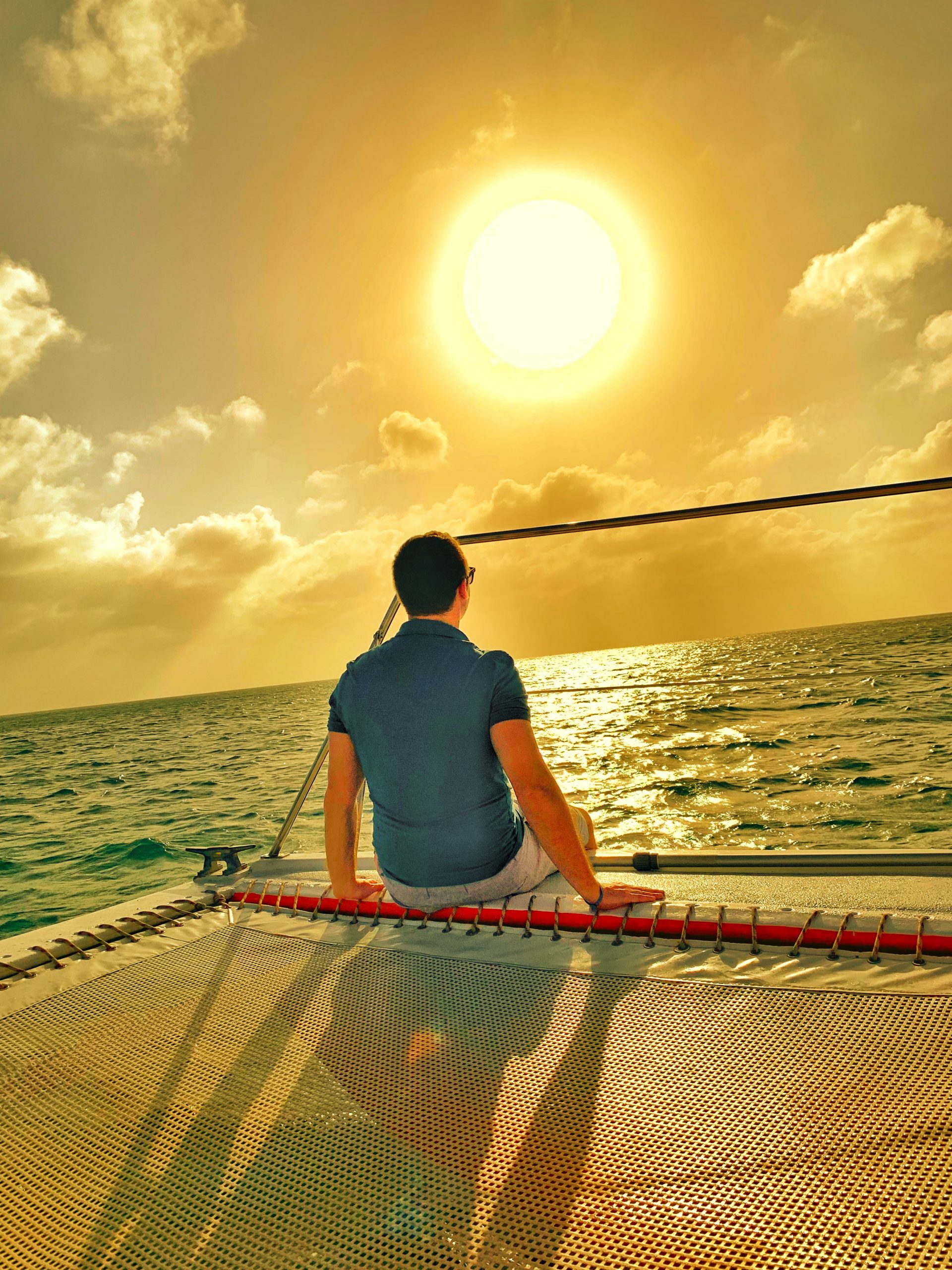 3 – The "Octopus"

The Trimaran Sailboat was 41 Feet long. This certainly was the perfect amount of space for us to spread out and relax. There were loads of different seat options spread around from the back to the front of the sailboat. On the back end, you'll find lounge sofas wrapped around. Running up both sides of the sailboat you will find comfortable cushion seats. At the front of the sailboat are two mesh seats that you can fully lay down on! The Octopus also provided lavatories onboard. Mind you, these were typical sailor bathrooms. No toilet paper in the toilet!

2 – Fantastic Hospitality

Captain Jethro and the rest of the crew were so fantastic from start to finish! Everyone went above and beyond to provide us with a unique and memorable experience. It started the moment that we arrived to check-in. We were greeted with a warm welcome and a thorough explanation of the boarding procedure. Once aboard the "Octopus", Captain Jethro talked about the history and the rules of the boat. We also discussed travelers from Buffalo, NY who he has taken on his boat before. Most people we meet while traveling have no idea where Buffalo NY is located. It was impressive that he recalled all of the people who have enjoyed a beautiful Aruba sunset sail with him! In addition to the great conversation, Captain Jethro and his staff were always checking in with us to see if we needed anything. Whether it be the famous Aruba Aribas, a snack, or if they could take a photo for us. I really appreciate that extra effort and know that customer service is certainly what sets them apart from the other options out there!

1 – THE SUNSET! (Of Course)

What does a sunset mean to you? How do you feel as it slowly goes down towards the horizon? Shining with brilliant yellow and orange hues spilling into the water? No matter what you think or how you feel about a sunset, it's hard to fathom a world without them. I could go on and on about how much I loved this Sunset. The meaning that I took away from it certainly was the farthest thing away from being Basic! It will be a memory that Dave and I will share forever and I am so grateful to have gone on this adventure.

We appreciate you taking the time to read our review of Octopus Aruba's Sunset Sail! If you enjoyed reading this you may like some of our other articles.