Galapaguera Tour
Our last free day in San Cristobal, we decided to head to Galapaguera Tour to see a bit of the National Park. Hailing for the next cab driving by to start our day, a guy named Carlitos stopped. Cabs are easily spotted throughout Galapagos Islands as they are a 4×4 pickup truck. They will often beep at you to see if you want a ride. Typically cabs anywhere around town are $3 or less. Carlitos asked where we wanted to go and we told him to the highlands to see the tortoises. He told us it would be $60 round trip and we would make stops along the way. We took a better part of the morning, from about 8 am to 12:30 and felt like Carlitos did an excellent job showing us around.
El Junco Lagoon
Our first stop along the way was to El Junco Lagoon. It was a pretty easy, but foggy, walk up steps to get to the top of the lagoon which is 700 meters above sea level. This is one of the few freshwater lakes in San Cristobal that is actually a crater of an extinct volcano. There are often birds diving in the lake to clean all of the salt water off of their feathers.
Hiking Paths
At the top, there was a sign pointing to another path that led to a little viewpoint dock. As we carefully walked to the dock, we could hear birds in the background splashing in the water. The closer we got, we could see the frigate birds flying momentarily as they disappeared back into the fog. Admiring the view for a few minutes before deciding to leave Dave suddenly shouted to look as we watched the fog clear over the lake! It gave us 10-15 minutes of a beautiful lake!
We saw another hiking path sign, so decided to walk to it. It took us about 20 minutes and seemed to have looped around the entire lake. Unfortunately we couldn't really see the lake as it was foggy almost the entire time, except for about 5 minutes towards the end when we got another quick glimpse of the lake and got a few more photos!

Centro de Crianza de Tortugas Terrestres
The tortoise stop is always a highlight of any trip we are on! We love seeing these giant animals roam around freely. When we got to the stop, Carlitos came with us and became our tour guide. He even took photos for us and was sure to point out all the different birds, as well as the flora and fauna.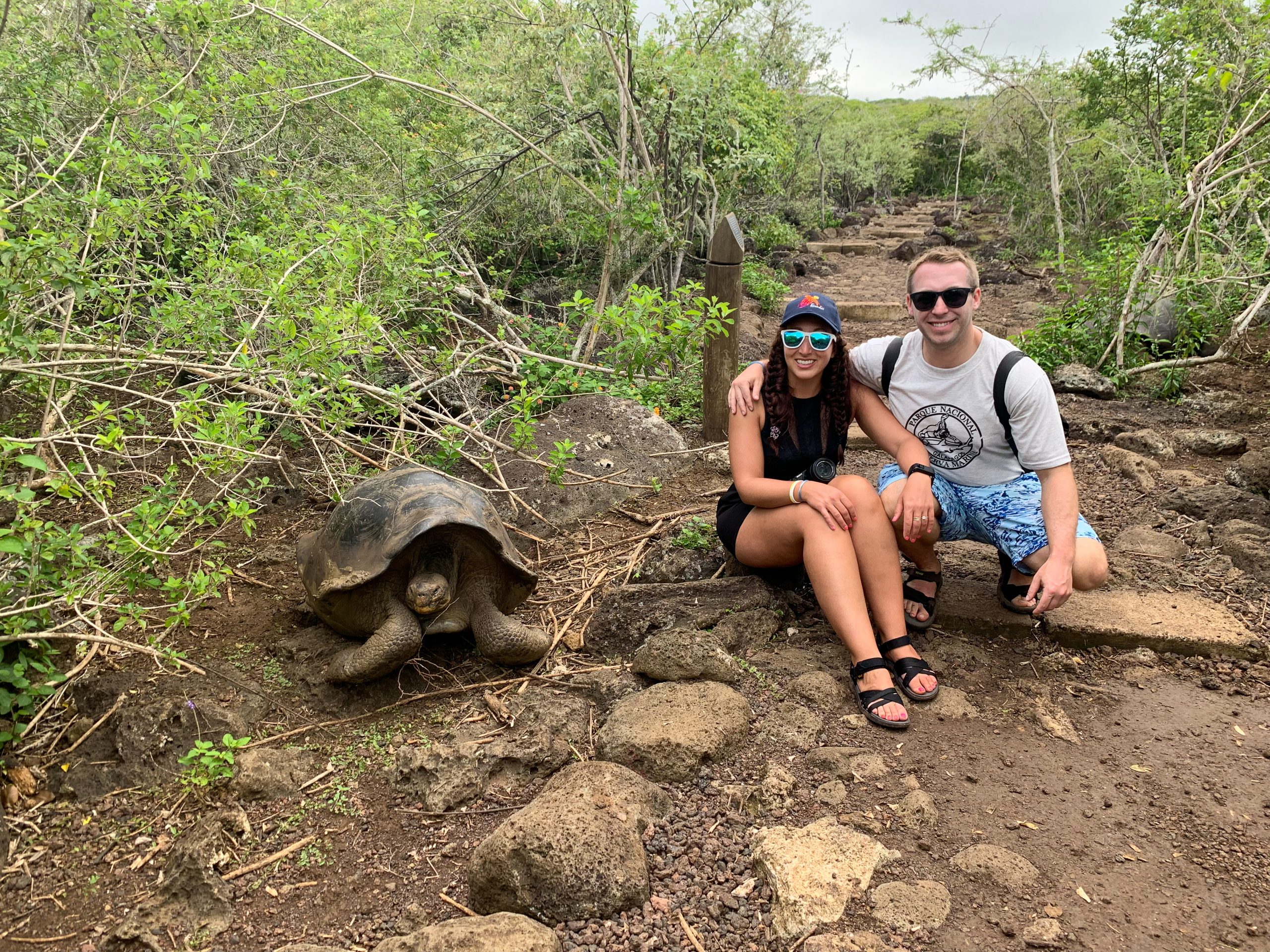 Species
In the Galapagos Islands, there are 11 remaining species of the Galapagos Giant Tortoises. Originally there were 15 species that inhabited 10 of the islands of Galapagos. Up until 2011, there were 12 species remaining. However, In June of 2012, the last Pinta tortoise, known as Lonesome George, passed away, leaving only the last 11 species remaining. Many of the islands are now working to preserve these species.
Rehabilitation
San Cristobal is trying to rehabilitate the Geochelone Chatamensis species by providing a habitat similar to their natural state. After a female lays eggs, they are immediately collected by rangers for their protection. Then transported to a dark room for 30 days followed by incubated for 90 to 110 days. One hatched the baby turtles transfer to growth pens for a period of two years. This helps them grow in a protected state to offer a higher survival rate. Upon maturity of two years old, tortoises are transported back to their natural habitat, which is northeast of San Cristobal.

During the Galapaguera tour, you get to see all the different sized turtles in the growth pens. It is a unique experience knowing what they are doing is to preserve the life of this species.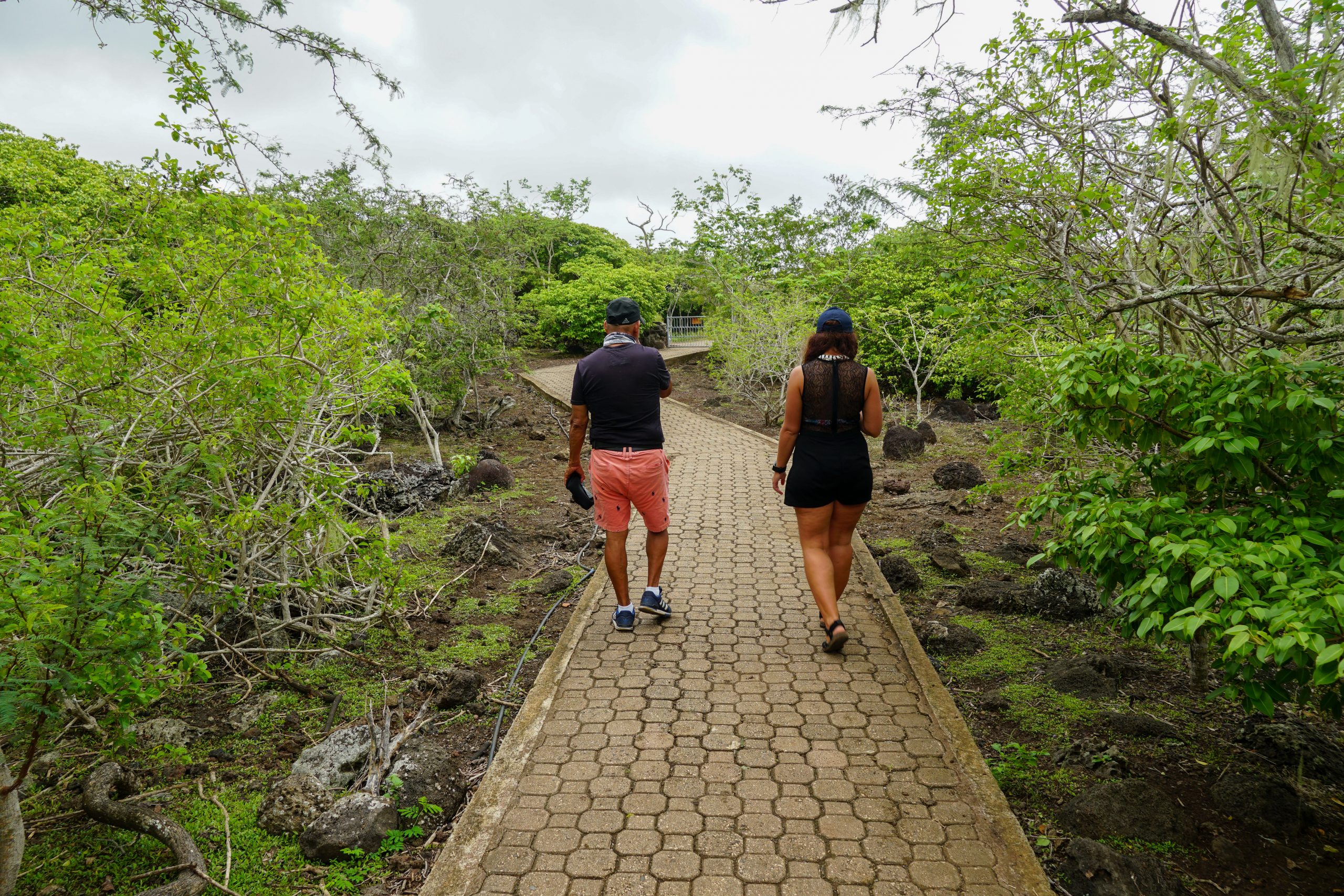 Puerto Chino
Our next stop along the Galapaguera Tour was Puerto Chino Beach. The trail took us about 15 minutes to walk down. We were greeted with a beautiful beach cove with nobody in sight! A Sea Lion was basking in the sun and swatting away horse flies. We got to enjoy this spot for 15 minutes before others arrived. Soon the beach was flooded with people who immediately hopped in the water to snorkel and enjoy the peacefulness of the ocean breeze.

We snorkeled and explored, climbing on the right hand side viewpoint to get a higher vantage point view. Looking below into the water, we could see turtles swimming by! There was a lot of wildlife- some Frigate birds, Blue Footed Boobies, and baby Sea Lions playing on the docks. A neat thing we learned is that Frigate birds often sit with their wings perched out. This is due to them wanting to dry their feathers after being in the water. There were quite a few sitting on the rocks with wings outstretched.

The House of the Ceibo
Along our drive up to see the tortoises, we kept seeing signs for the "Treehouse." We asked Carlitos about this and he said we can stop on the way back! After spending some relaxing time at Puerto Chino, we were excited to play in the trees! There is a lot to offer here. First, there is a suite that is nestled in a tree. Second, you can go underground inside the tree to the 'cave' basement. Thirdly, there is even a RESTAURANT that is made out of 22,000 glass bottles!

The treehouse repurposed a lot of materials to create what it is today. Even the bridge in the treehouse was recycled tires to walk on. It really shows how we can all pitch in and reduce waste in our lives! Some of the other fun features included a rope swing (which we definitely jumped on) and even a rock climbing wall! Was a cool stop for a couple of dollars a person.

The End of the Road
Carlitos asked if we wanted to be dropped off in town or back to our hotel. We opted to check out a pizzeria called Guiseppe's. We heard great reviews of this place saying it was the best pizza some people have ever had! Turned out the owner was from Toronto, our neighboring city. After a delicious and filling lunch, we were off to check out the interpretation center.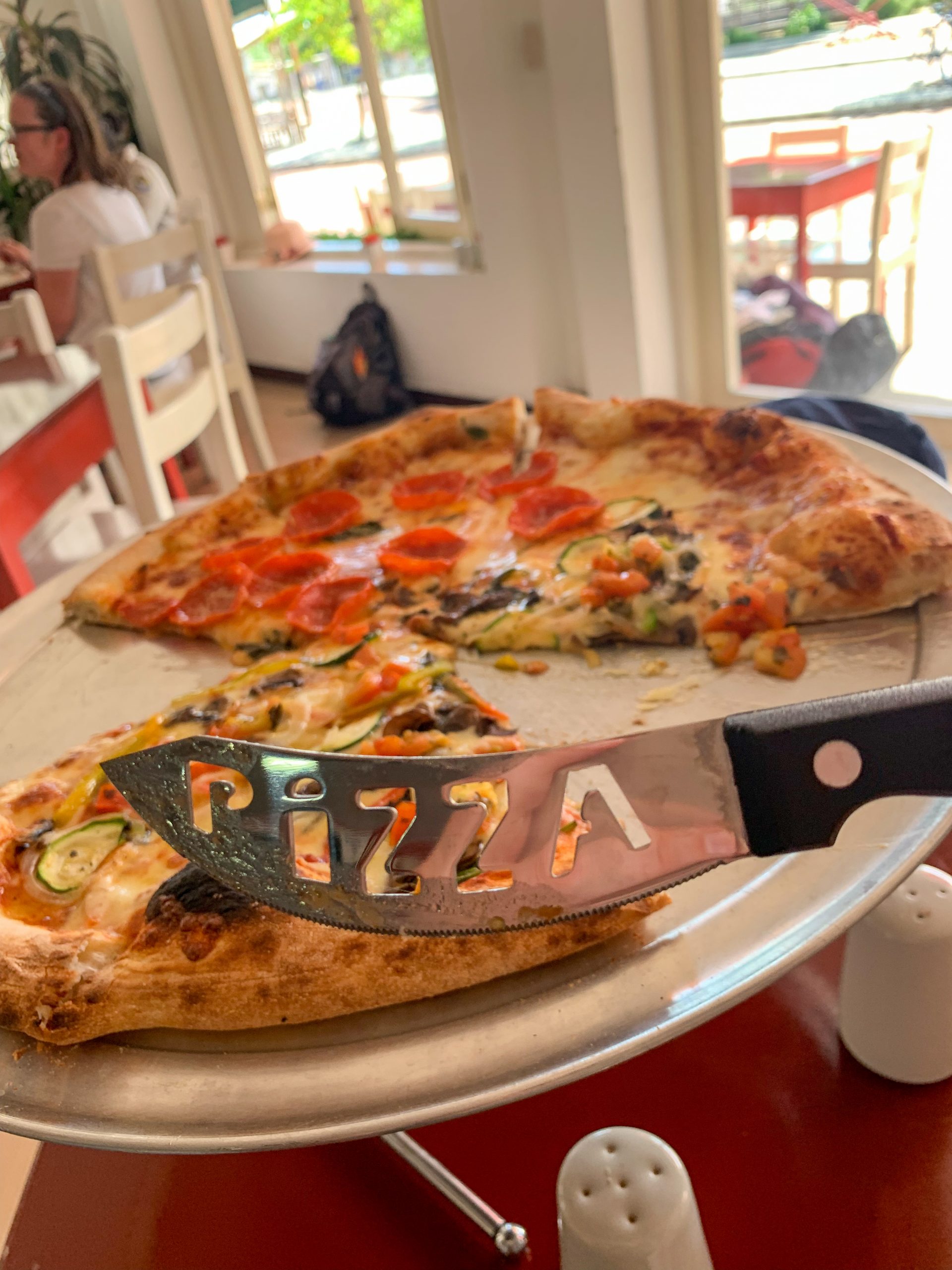 Final Thoughts
If you see 'tours' for visiting Galapaguera, they are a lot more money when you can just hop in a cab for $60 roundtrip. I would try to find one that speaks a little English to help get through it (unless you speak Spanish also!). We had a great time on the tour and definitely recommend checking it out when you are in San Cristobal!
Looking to travel the world for less? Check out our TOP credit card offers!
Check back for our next article on HOW I broke my leg in Galapagos at the Interpretation Center!