Traveling to Japan has been at the top of Dave's travel list for quite some time. Hearing of all of the uniqueness of the culture, cleanliness, as well as attention to detail, further confirmed why we wanted to visit such a beautiful country. Since we had already saved over $40,000 dollars with our airfare on ANA flying first class to Japan, now we wanted to see how much we could save on some nice hotels. Continue on to see how we saved over $3,400 on hotels in Japan, and how you too can save money on hotels in Japan utilizing credit card points!
Every summer we try to go on an extended vacation (due to Dave's School Schedule) All in all, our summer of 2019 trip we traveled for 25 days and stayed in 14 different hotels for a total of 22 nights. Some of the nights we slept on flights which helped save on the cost of a hotel for a night!
Points Bookings
Since we had started utilizing credit card reward points in 2015, we had acquired quite the collection of Credit Card Points between the two of us. This enabled us to have an abundance of not only hotel award points, but also free night certificates. First, we got organized to figure out exactly HOW many points or free nights we had to make it easier to save money on hotels in Japan. We had accumulated:
6 Hilton Certificates
2 $250 resort credits from the Hilton Ascend Card that could only be used at specific resorts in the world. (The list can be found here)
2 IHG Property Nights
2 Marriott Bonvoy $250 Credit
A lot of these free night credits actually expire within one calendar year, so we made it a mission to use all of them as it was going to be our last big trip for the year. We first looked up where we could find some of the exclusive credits like the Hilton Resort Credit. We also wanted to try to maximize our spending, so for IHG and Hilton, we looked up the top properties such as Hilton Conrad and the Intercontinental in Osaka.
During our trip, we actually visited Singapore & Philippines as well, but we were flying in and out of Tokyo. For the purpose of this article, I am only going to focus on the Japan portion of the trip and will have another article tie into this one for Singapore & Philippines.
Tokyo
Starting our trip in Tokyo was super exciting to start a new adventure in a new country. When we were looking for hotels, we decided to check out our options for the 'harder to book' places. We knew this was the first step in saving money on hotels in Japan.
Hilton Honors Bonus Points
once you spend $4,000 on purchases within the first 3 months from account opening. All information about Hilton Honors American Express Aspire Card has been collected independently by basictravelcouple.com
We absolutely LOVE this credit card. As stated before, we had to check out the Hilton Resorts that we could visit to use our $250 resort credits. We only found a select few that would work at the time, and two were in Tokyo. We went with the Hilton Tokyo Odaiba for two nights.
The last night we were in Tokyo we wanted to be sure to check out the famous "sleeping pods" at Nine Hours in Shinjuku- North.
Hilton Tokyo Odaiba
Hilton Tokyo Odaiba was a beautiful hotel with many amenities to offer. They also had a great water view of Tokyo Bay and Tokyo Skyline. The rooms were quite spacious and all of the rooms have their own private balconies.
Location
Hilton Tokyo Odaiba was not centralized to the Tokyo downtown area at all. This typically made our commute about an hour into the city. Some of the famous places like Shibuya Crossing and Tokyo SkyTree took 45 minutes to an hour to get to.
It is located about 15 minutes driving from Haneda airport, and about an hour's drive from Narita Airport. We were able to hop on a bus that had a few stops before dropping us off at the door of Hilton Tokyo Odaiba.
The Hilton Toyko Odaiba is however close to Tokyo Disney and does offer free shuttles to and from the park. So it might be a good option if you are planning on going to Tokyo Disney at some point!
Cost
Using our resort credit to stay at the Hilton Tokyo Odaiba saved us over $500 for two nights on hotels in Tokyo, Japan. Since we are Diamond Hilton Members (Thanks to the Hilton Aspire Card), we also had lounge access. Lounges in hotels are always great as they typically give you free soft drinks throughout the day, and food or appetizers at certain times. This included Breakfast, "afternoon tea" and Happy Hour. Happy Hour included alcoholic beverages as well. We love loading up on water and snacks to save money before venturing out for the day!
Hilton Odaiba Tokyo was about $230 a night. We also charged food to the room to add an extra $20 each, so we each could fully utilize our $250 resort credits.
Hilton Tokyo Odaiba breakdown:
Cost: $500
Paid: $0
Card Used: Hilton Aspire – 2 $250 resort credits
Final Thoughts
I would definitely stay here again. If I were to visit Tokyo on a time crunch, I'd probably opt for staying closer to the city center. If I were to visit Tokyo Disney, I would definitely pick the Hilton Tokyo Odaiba.
Nine Hours Shinjuku-North
Dave had heard about these elusive "Capsules" that you can sleep in and was determined to stay in them. Each person is assigned a number which correlates to a locker as well as a sleeping capsule for the night. You are also given a towel, slippers, and some PJ's. Men and Women are split up into separate sleeping quarters. They do have a common area that everyone can hang out in. Staying in these single pods was a really great way to save money on hotels in Japan, especially if you were short a few points!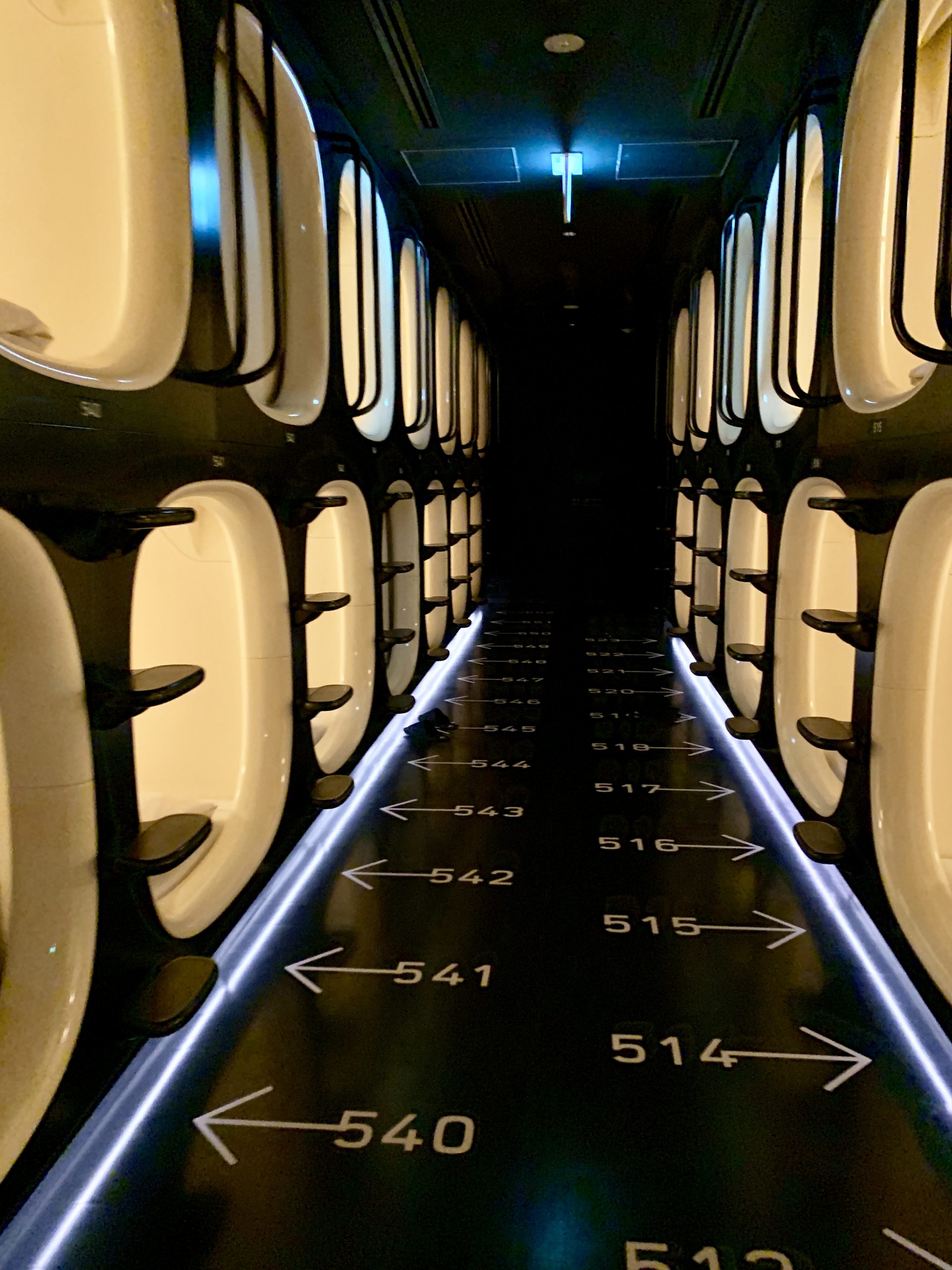 Location
Nine Hours is located in Shinjuku. This is about a 30-minute drive to Haneda airport and an hour drive to Narita airport. Some of the close attractions to Nine Hours are Meji Jingu Shrine, Robot Resturant, Tokyo Dome, and Tokyo Tower.
Cost
Nine Hours Shinjuku-North is more of a hostel-style hotel for single travelers. The costs vary from about $40-$80, per person per night, depending on when you book. Each Capsule is booked per person.
Nine Hours Shinjuku-North breakdown:
Cost: $80.34
Paid: $0
Card Used: Capital One Venture Rewards Credit Card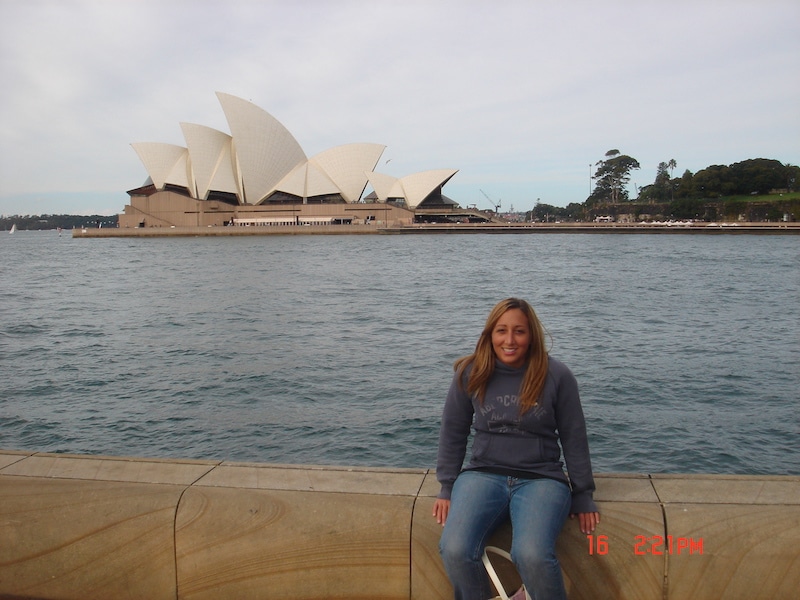 Final Thoughts
Nine Hours would be great for individual travelers. This was a very different experience than I am used to, but it was quite unique to sleep in a pod! It was a little tough being on my own with a crutch and trying to carry my belongings around. This is something that was definitely fun to try but I personally enjoy being in a hotel room and being able to have my own space and security of my own room.
To enter Nine Hours, you go up a main elevator to the floor. From there, there are two other elevators. One goes to the men's floors and the other to the women's floors. Anytime you wanted to change floors, you had to wait for the one elevator in the main lobby area (for security purposes).
Osaka
Hilton Conrad Osaka
This was BY FAR my FAVORITE hotel we stayed at on this trip. It is absolutely beautiful from the moment you walk in. The lobby is impeccable and the food is phenomenal. The rooms were incredible, with outstanding views. Hilton Conrad Osaka is referred to as "your address in the sky" as the hotel is located on all of the top floors of the Nakanoshima Festival West Tower.
Location
Just under a half a mile walk from JR-Osaka Station. There is also a local train that you can take the underground tunnels right to the Conrad Osaka- Higobashi Station. We were also able to walk to the building to see the highway running through it! Okay, I know that is not the main attraction but I saw it in an article years ago and have always wanted to see it. It was worth the walk.
This location is also convenient to get to Kyoto or Nara, which are both about an hour in different directions. While I wouldn't recommend it for visiting Kyoto (as there is SO much to do in Kyoto and the hour to hour and a half train rides take up a lot of time), I would absolutely recommend for Osaka and visiting Nara.
Cost
We spent 3 glorious nights here and used our Hilton Certificates we had acquired from various Hilton Credit Cards. Each night was about $650 per night.
Since we are both Diamond members, we also had access to the lounge and free breakfast. Again the lounges included afternoon tea around lunchtime, as well as Happy Hour with hot foods and drinks! On Saturdays night they had music during happy hour, which also has an amazing view of the city skyline.
We ate here many times at the lounge which also saved us money from going out to eat. I'd estimate Breakfast at $25 a person, so $150 total for the 3 days. Also dinner and drinks we probably saved another $50 a person per meal so another $300 or so. I am not including these costs into our final numbers, but we definitely saved at least another $450 or more.
For breakfast, we actually got to eat it in one of the many restaurants, Atmos Dining. Breakfast was a huge beautiful assortment of buffet foods as well as ordering specialties from the menu.
We saved over $1,950.00 just on the nightly rate.
Hilton Conrad Osaka breakdown:
Cost: $1,950
Paid: $0
Card Used: AMEX Aspire card (2) and AMEX Hilton Honors Business Card (You can also use the AMEX Hilton Honors Surpass Card instead of the Business Card. Both get you 1 Free Weekend Night Certificate after spending $15,000 in 1 calendar year)
Final Thoughts
This place is seriously incredible and I would absolutely stay at this location again. The staff is outstanding, the food is impeccable and the views are spectacular. Seriously I could not rave about this place more and it is definitely top favorite places I've actually ever stayed at. I highly recommend Hilton Conrad Osaka, especially if you have Free Weekend Certificates.
Sadly we eventually had to leave the Hilton Conrad Osaka. We were out of free nights and therefore we were onto the next place! This was definitely one of my favorite ways to save money on hotels in Japan.
Hilton Honors Bonus Points
once you spend $4,000 on purchases within the first 3 months from account opening. All information about Hilton Honors American Express Aspire Card has been collected independently by basictravelcouple.com
InterContinential Osaka
The room was quite nice and spacious, and they provided some nice sleepwear to wear! We also had a really great view of the city from the room. Unfortunately, Dave's status did not grant us Lounge access, and we were super disappointed with that. Turns out we needed to book a Club Intercontinental room rate, which is not included in award booking. (Bummer).
Location
Intercontinental Osaka was conveniently attached to the Grand Front Mall. You could walk through the hotel into the mall and check out a variety of shops and restaurants! We were able to grab dinner here at a delicious Sushi Train spot. It was also super close to the JR- Osaka Train Station. Maybe about a 5-minute walk to the JR station, so if you are using the JR Rail Pass, this is the better option for hotels in Osaka.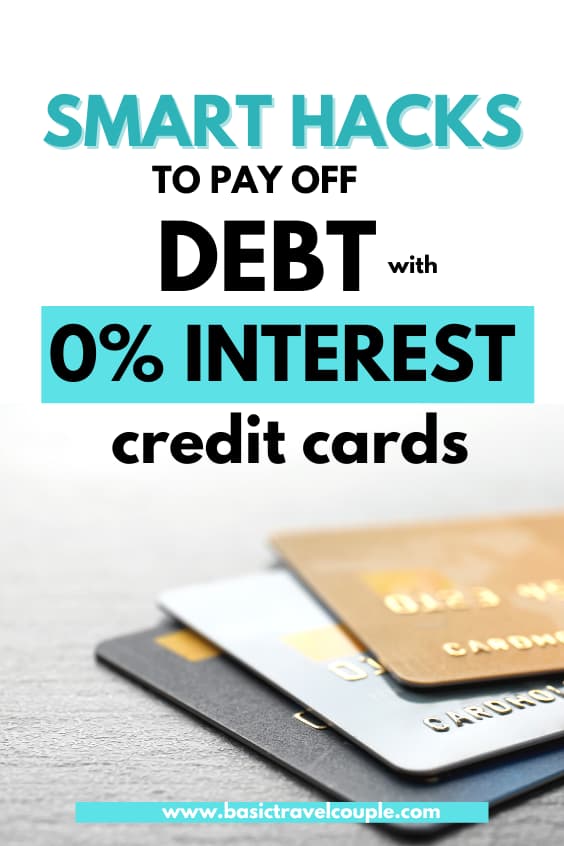 Cost
The Intercontinental Osaka was about 60k IHG points per night, or $367, but we used Dave's Free night Certificate.
Intercontinental Osaka breakdown:
Cost: $367
Paid: $0
Card Used: IHG Premier Card- free night certificate
Final Thoughts
The location for Intercontinental Osaka was perfect. Close proximity to the JR Train Station which means easier access to Kyoto or Nara. The hotel was also beautiful and the staff was great. I would definitely stay here again. If I had to choose though, between this and the Hilton Conrad, I would go back to the Hilton Conrad.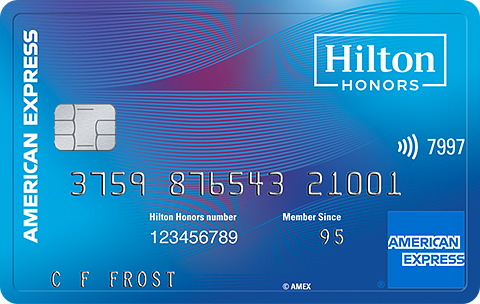 Hilton Honors Bonus Points
After you spend $1,000 in purchases on the Card in the first 3 months of Card Membership.
Hiroshima
Sheraton Grand Hiroshima
We wanted to make sure to maximize our time in Hiroshima, so we got there super early on the JR Train from Osaka. It is super beautiful and spacious.
Since Dave had Platinum Status (that he got by Paying $150 to sit in a hotel conference room), we got a super nice upgrade to a two-bedroom suite, which included some goodies upon arrival! Free upgrades for hotel statuses are also a great way to save money on hotels in Japan.
Being platinum members also got us lounge access. Like the others, it included breakfast, afternoon tea, as well as happy hour. We enjoyed all of the amenities throughout the day.
Location
This hotel was an ABSOLUTELY PRIME location. Literally steps off of the JR Railway station, and bullet trains, which was SUPER convenient.
Sheraton Grand Hiroshima also has numerous attractions nearby- including the Atomic Bomb Dome, Kokuzenji Temple, Onaga Temmangu Shrine and Hiroshima Castle.
Cost
Sheraton Grand Hiroshima cost about $150 a night when we went. Since I had my Bonvoy Marriott Card, I was able to use some of my $300 travel credit that I had! This again, made the night totally free. Another #basictravel win to save money on hotels in Japan!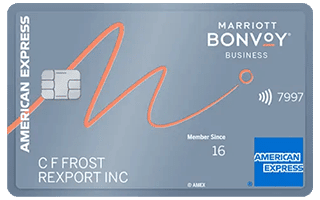 $125 annual fee. (Rates & Fees)
Marriott Bonvoy Bonus Points
after spending $3,000 on eligible purchases within the first 3 months from account opening.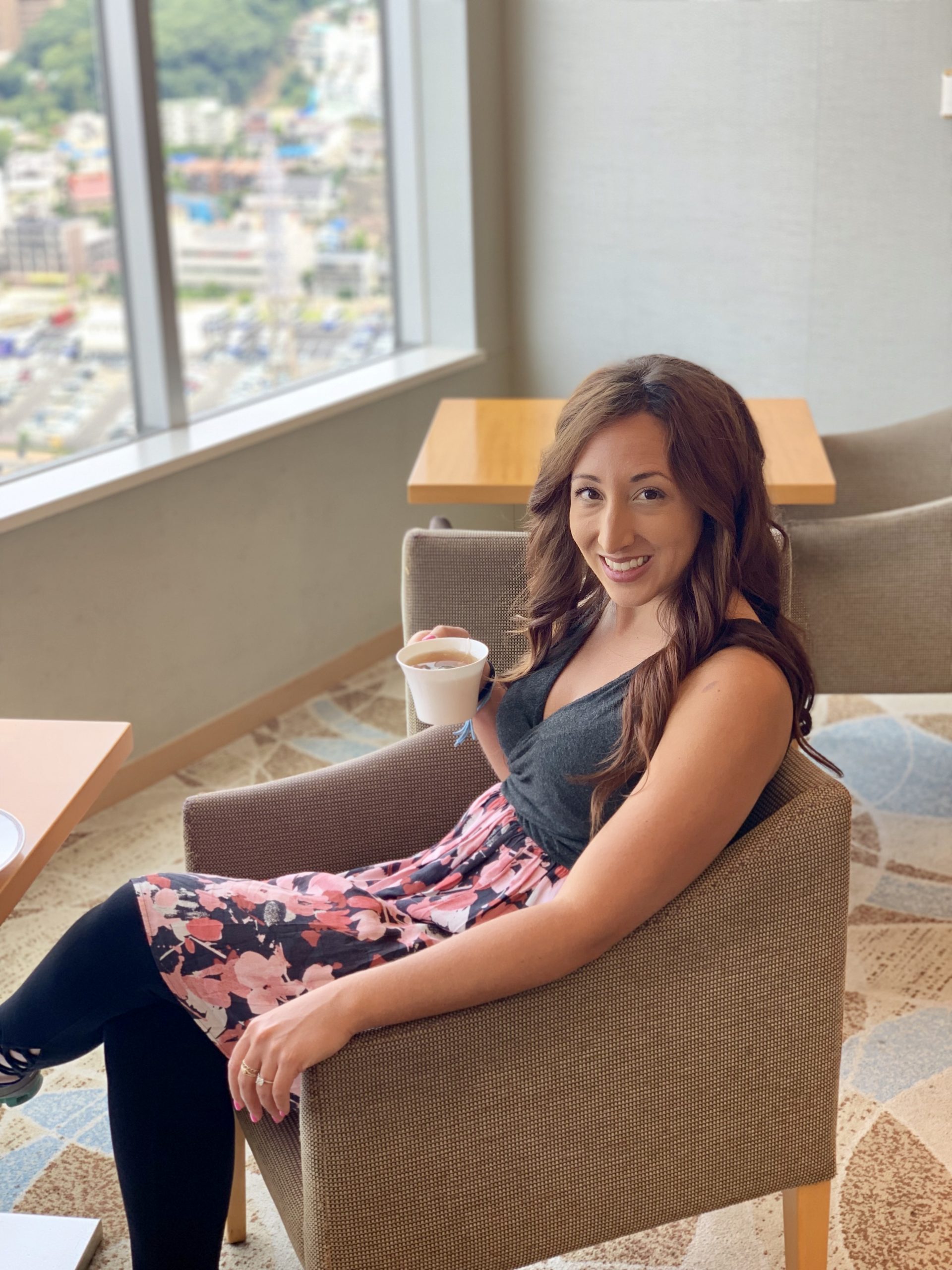 Sheraton Grand Hiroshima Breakdown:
Cost: $150
Paid: $0
Card Used: Marriott Bonvoy – $300 Travel Credit
Final Thoughts
Prime location, great hotel, and lounge. We loved this location. We only had one night stay here which seemed super quick. Even if we had to pay for a hotel and didn't have the free credit, this hotel would have absolutely been worth it. We love being able to save money on hotels in Japan and get free extras and upgrades!
Mt Fuji
Fujisan Onsen Hotel
This is the ONE hotel we actually 'splurged' on a bit by using our points. This hotel was unique because it was known for the Onsens in the area, and had amazing views of Mt Fuji. I wouldn't say this is the best way to save money on hotels in Japan, but it definitely gives you a real experience.
This hotel also included an amazing 7-course Japanese dinner for the two of us, as well as the breakfast buffet.
Location
Fujisan Onsen hotel was probably the most difficult to get to. We were arriving from Hiroshima and had a rough time with all of the different train transfers. It might have been easier to come in from Tokyo than it was Hiroshima. Fujisan Onsen Hotel does offer free train station pick up, it is only for certain hours though and you cannot check-in late.
Luckily when we stayed here, our friend stayed also and was able to pick us up from the one train station to avoid having more train stops along the route.
Cost
The cost when we went was about $440. We got the package that included breakfast & dinner. I believe there were cheaper options if you did not get dinner.
This room had a variety of Onsens that were male or female only. I got to check out the rooftop Onsen in the morning to get a few quick photos with Mt Fuji.
Unfortunately, Dave could not go to the rooftop as it was female only in the AM and Male only at night.
Fujisan Onsen Hotel Breakdown:
Cost: $440
Paid: $0
Card Used: Capital One Venture Card
Final Thoughts
Fujisan Onsen Hotel is beautiful. With plenty of gardens to walk through, hot springs on-site, pool, breakfast buffet and drum show in the evening- I'd highly recommend it here. It was a breath of fresh air being in the resort as you felt like you were in another world. Super relaxing and peaceful. I'd suggest spending more than one night if you both want to check out the rooftop Onsen in the morning.
Tokyo
Sheraton Miyako Hotel Tokyo
After we spent some time visiting Singapore and in the Philippines, we headed back to Tokyo for one last night before flying home to the States. We had two activities we did not get to complete when we first visited in Tokyo and we were determined to do them.
The first was MariKart where you can drive a go-kart around the streets in Japan to see popular tourist sites.
The second was Sumo Wrestling Lunch.
Staying at the Sheraton Miyako Hotel Tokyo was a quick visit, but as always, the hospitality at any of the hotels in Japan was always impeccable. Anything you asked for was delivered right away, and we also got lounge access. This was another quick and easy way to save money on hotels in Japan.
Location
We picked the Sheraton Miyako Hotel Tokyo to be closest to Go-Karting as we had an early morning then were heading off to Sumo Lunch. Some other main attractions near the Sheraton though were Tokyo Tower, Roppongi Hills, Tsukiji Fish Market, Imperial place and more.
Cost
Since we needed to be close to an activity with a tight schedule the next morning, we opted to pay a little bit more. We knew we still had some money left on our Marriott Bonvoy credit so we picked the Sheraton. The rate was about $198 for the night but we were able to erase the fee completely with the Marriott Bonvoy Credit Card!
Sheraton Miyako Hotel Tokyo Breakdown
Cost: $198
Paid: $0
Card Used: Marriott Bonvoy $300 credit
Final Thoughts
This hotel was really nice and we'd definitely stay there again. The lounges had a great happy hour, as well as food and snacks during happy hour. Breakfast was also really good in the lounge
Overview
There are so many hotels in Tokyo to choose to save money on hotels while in Japan. We always suggest that when booking, especially with award booking, start out with how many points or free nights that you have. Then you can figure out where you can stay for each of these points. Once you have that figured out, research locations.
Sometimes with points booking, you don't have a choice on location. If you want to go as cheap as possible though, the location might not be a big deal. Just make sure to research all of your options before booking!
Final Overall Costs
Our final 'bill' for hotels in Japan should have been $3,5684. This was just for the room cost only and did not include food. The only points we actually used were 52,000 from the Capital One Venture card. All of the other nights were credits from a credit card or free night certificates.
All in all, we paid $0 for hotels in Japan. Combine that with our $650 flights for first class, and for 10 days in Japan, I'd say we did pretty good!
Replicate this trip
We used whatever free nights and points we had to make this trip work. However, you could open fewer cards than us by using free nights and points. So an example is the Hilton Aspire card gives you 1 $250 Resort Credit as well as 150,000 Hilton Honors Bonus Points. Hotels in Tokyo ranged from 28,000-95,000 Hilton honors points. So depending on the hotel you choose, you could get up to 5 nights in a hotel that is cheaper. Combine that with the Resort Credit, and you'd have 6 nights easily from 1 card!
But, to go with our example of what hotels we stayed at and what cards we used, you can find the links below. We did each have the Hilton Aspire to get 2 $250 Resort Credits. We also had the Hilton Honors Business Card, but you can use the Surpass card instead and I linked them both below.
The total number of credit cards we used was 5.
Capital One Venture (1)
Marriott Bonvoy Card (1)
Hilton Aspire (2)
Hilton Business or Hilton Surpass card (1)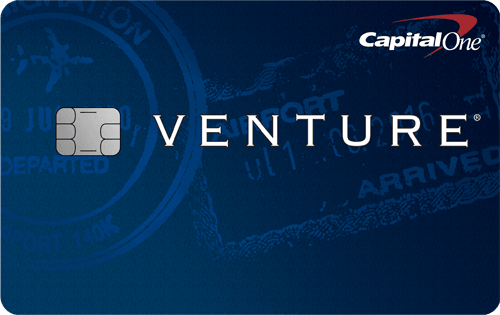 fter spending $4,000 within 3 months from account opening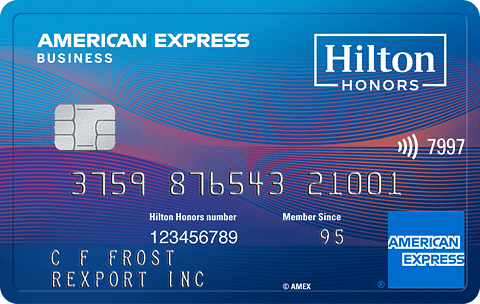 $95 Annual Fee. (Rates & Fees).
Hilton Honors Bonus Points
once you spend $5,000 on purchases within the first 3 months from account opening. Plus you can earn a Free Night Reward after you spend $10,000 in purchases on the Hilton Honors Business Card in the first 6 months of Card Membership. Offer ends 12/21/22
Let us know if you have any questions on what cards to get, or any other advice on hotels to stay at!
New to Credit Card Rewards Points? Check out the BASICS Below!