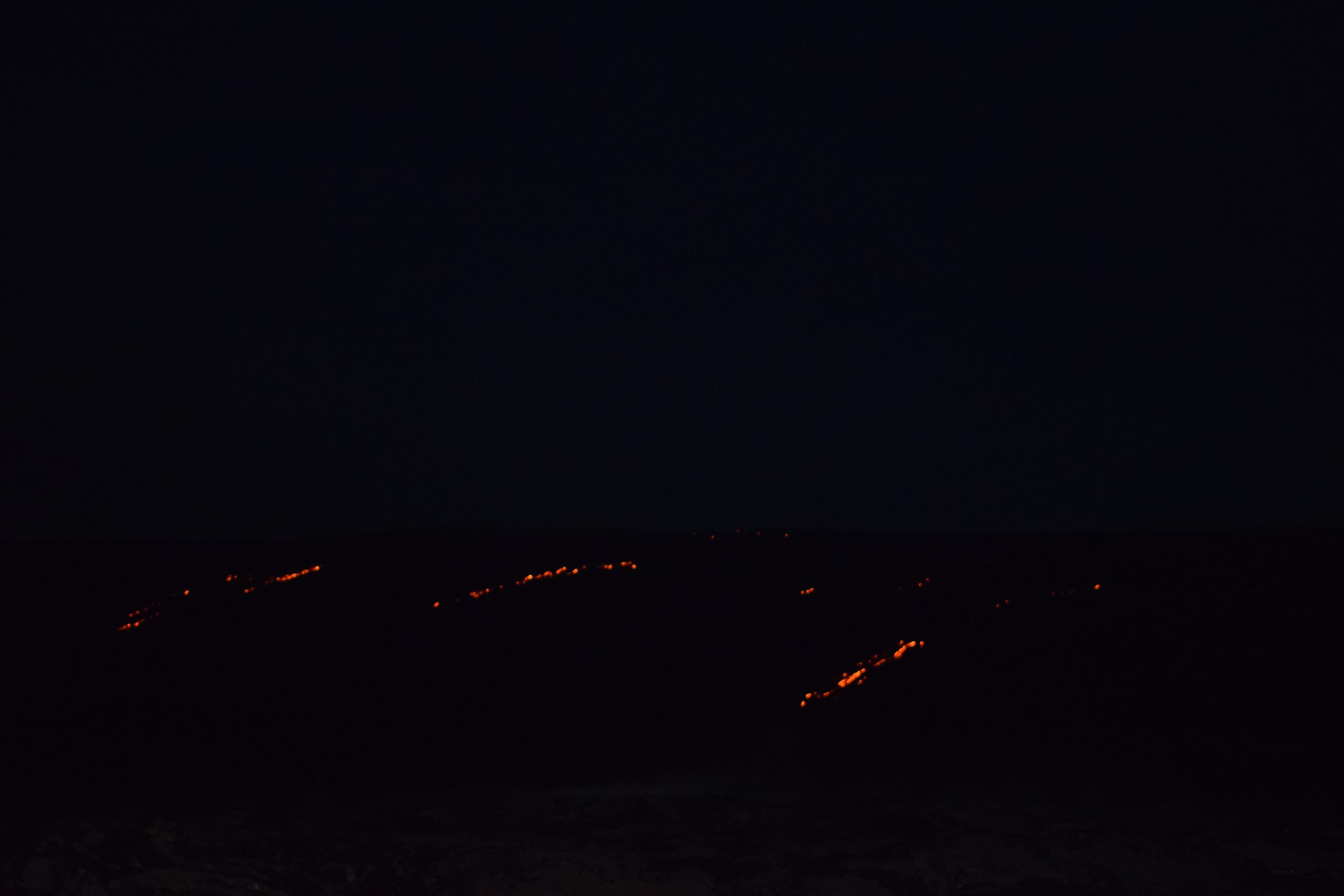 If you told me two years ago that I would be waking up at 3 am (Yes, 3 in the morning) to hike a volcano, I'd say you're out of your mind. Life for us has taken an unexpected and welcoming turn of adventure and traveling. We are so grateful for these opportunities that when traveling we try to take advantage of every opportunity. When thinking of planning a trip to Hawaii, we always think of Volcanos. Since Hawaii is made out of volcanos, we figured we HAD to hike one and see Lava.
The Meeting Point
Fast track to February 2018. Lisa and I are driving through the middle of the night en route to our 4-am meeting point. Epic Lava Adventures was waiting for us on the Hilo side of the Big Island, Hawaii. Coffee in hand and the twinkling lights from the stars above, we trekked through the island roads. We eventually came to a quick stop at a remote Shell Gas Station. Immediately greeted by our tour guides, John and Jessica, who excitedly introduced themselves. Quickly handing out hiking gear to each of us which is included with the Active Lava Sunrise Hike. In each backpack, there was water, snacks, gloves, a rain poncho, and a flashlight.
The Adventure
John & Jessica explained we were going to consolidate vehicles to drive up to our starting point. This was due to having fewer vehicles at the lava fields. We hopped back on the road a remote street that was certainly off of the beaten path. The drive was bumpy. I felt an excited and nervous rush of energy overcome me that I hadn't quite felt before. The closer we got, I could start to see a faint red glow from a distance. It appeared as if it were a fiery eye on the side of a mountain.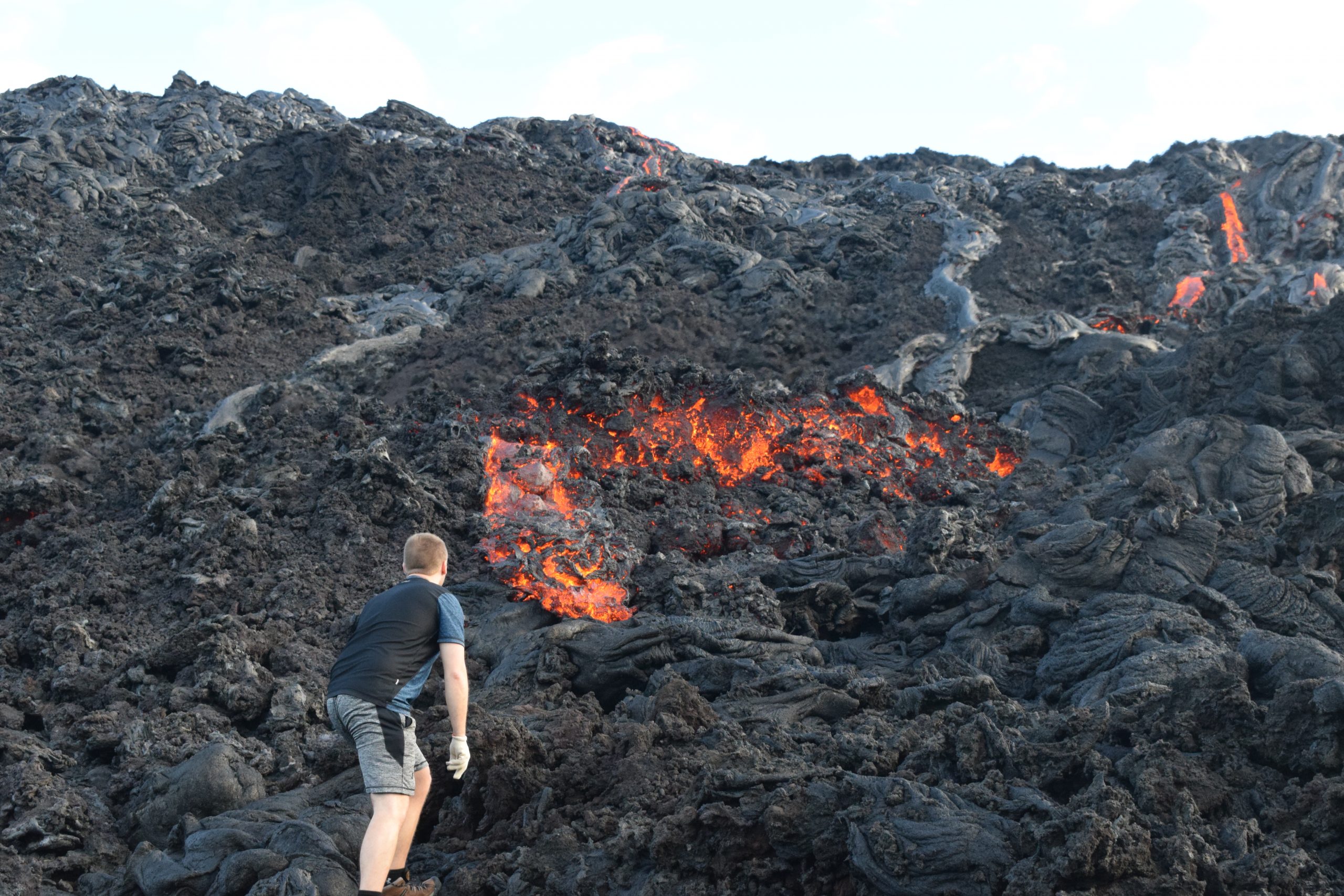 Epic Lava Tours
After parking and getting a good stretch, John and Jessica led us by foot further down the paved street in the direction of the lava that I had spotted during the drive. After about a 15 minute stroll, we stopped and John gave us an overview of what to expect during the actual hiking portion of this adventure. He stressed safety, hydration and to move at your own pace. The weather surrounding the volcano can change in an instant which could lead to potentially dangerous hiking conditions. John also reminded us to wear the gloves that were provided to protect us from the razor-sharp lava rocks that we will be hiking over. Acknowledging John's warnings and recommendations we immediately placed the gloves on.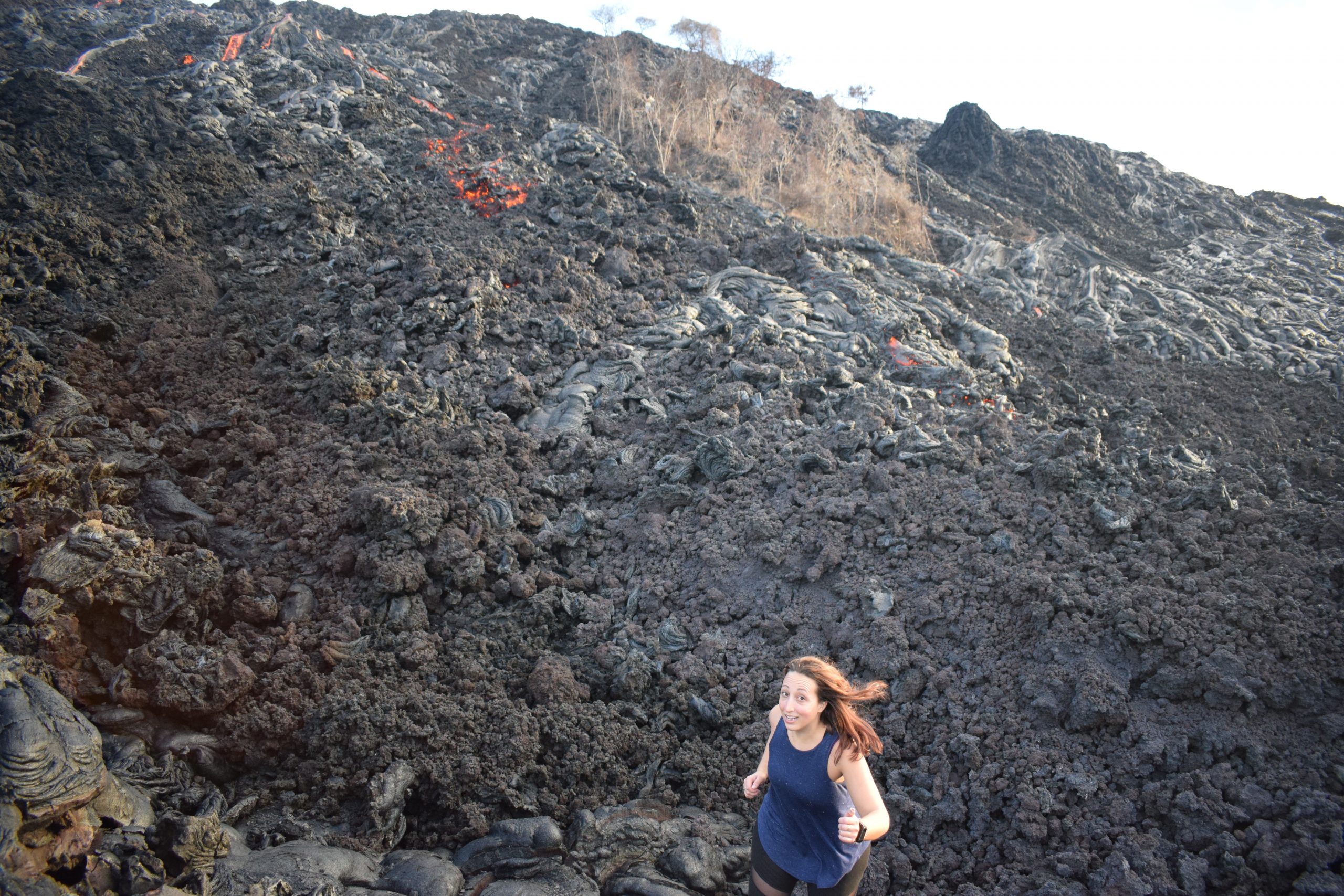 The Hike
We forged onto the very jagged and uneven lava fields. After a total of 2 steps, I was truly glad I had my trusty Keens Hiking Boots on. Providing extra ankle support over this challenging terrain was key during this hike. Walking single file, with only a flashlight to see the person ahead of you. We walked slowly, step by step, for what seemed like hours in the dark. The red glow was becoming bigger and brighter with each step. The sun slowly began to creep out against the horizon. Steam began to exit the cracks below us and an overwhelming whiff of sulfur slapped me across the face! John explained that volcanic smoke is a mixture of water vapors, carbon dioxide, and sulfur. When it is released in the cracked vents in the ground, we smell the sulfur.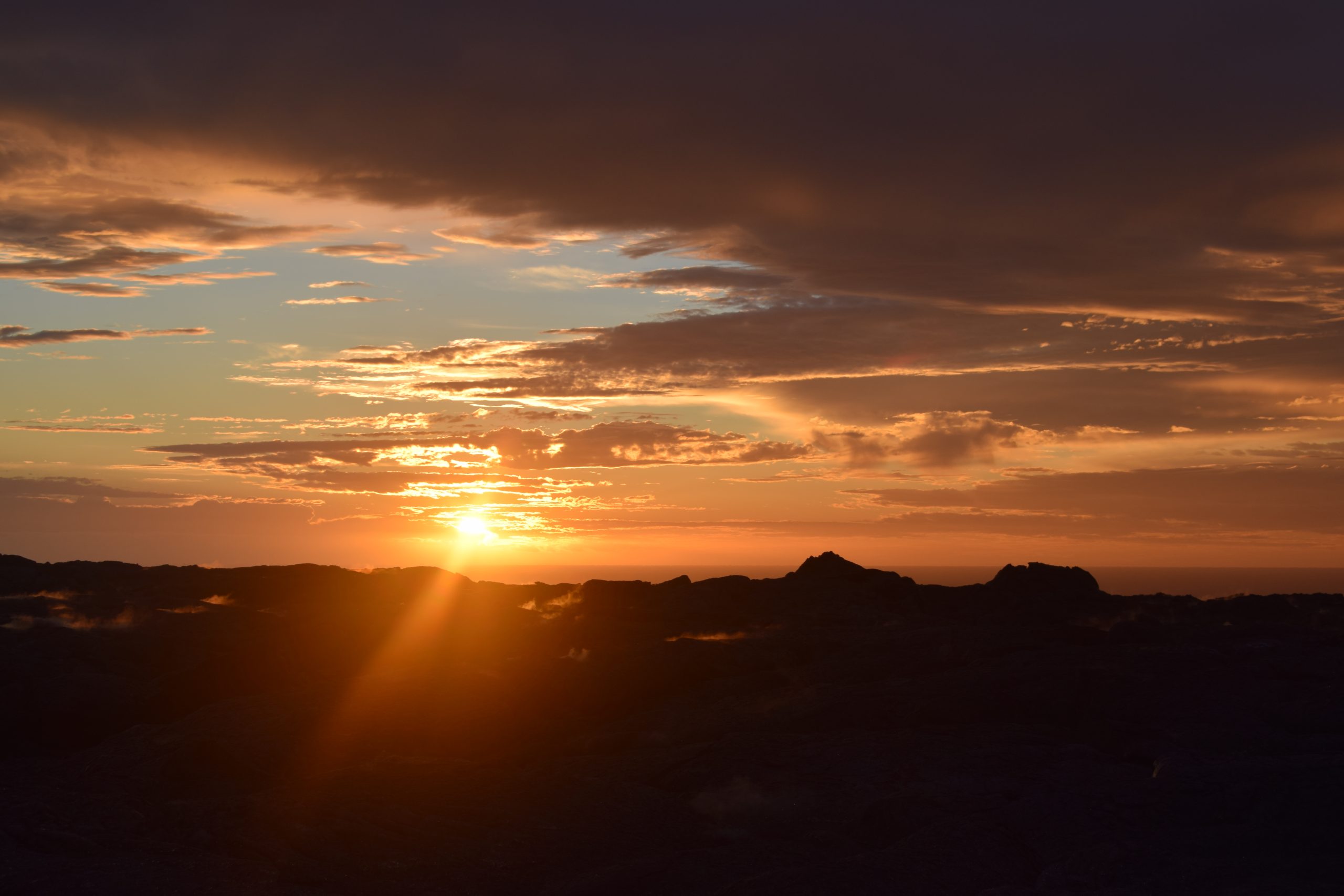 Sunrise
A deep exhale and a quick wipe of perspiration across my forehead. This was the result of a 3 ½ mile trek to the sunrise lava access point. The amazing sight in front of my eyes gave me goosebumps. Directly behind me was a beautiful sunrise which provided light to see the lava flow in front of my feet. The day prior was an insane thunderstorm and we actually weren't sure if the hike would be canceled. Luckily though, the rain stopped before our hike and we were cleared for departure. When the clouds cleared, we saw an amazingly beautiful sunrise over the horizon of lava fields.
Lava
In front of us, we saw lava flowing fiercely. It was extremely hot the closer we got to it. We stared in awe of the uniqueness of lava. To think that Lava actually creates Islands over thousands and thousands of years. It was breathtaking to see. There is really nothing like it to compare it to. It was like a mixture of water and sand. Remember when you were a kid building sandcastles by the ocean? The wet goopy sand would quickly release the water and harden a bit? This seemed similar. Molton Lava flowing quickly down the mountain of previously hardened lava. Lava would continue along its fiery path until it met its final resting place and quickly hardened. We spent time just being present. Never forgetting to be thankful for the opportunity to be a part of this beautiful creation of the world.
The return
It felt like I could have spent the rest of my life admiring the lava flow. Unfortunately, all good things must come to an end. We reluctantly had to begin the 3 ½ mile journey back to our car. I knew that this memory would be with me for many years to come. The walk back was much quicker and easier in the daylight. It was definitely warming up and I would not have wanted to start that hike with the hot Hawaii sun beating down on us.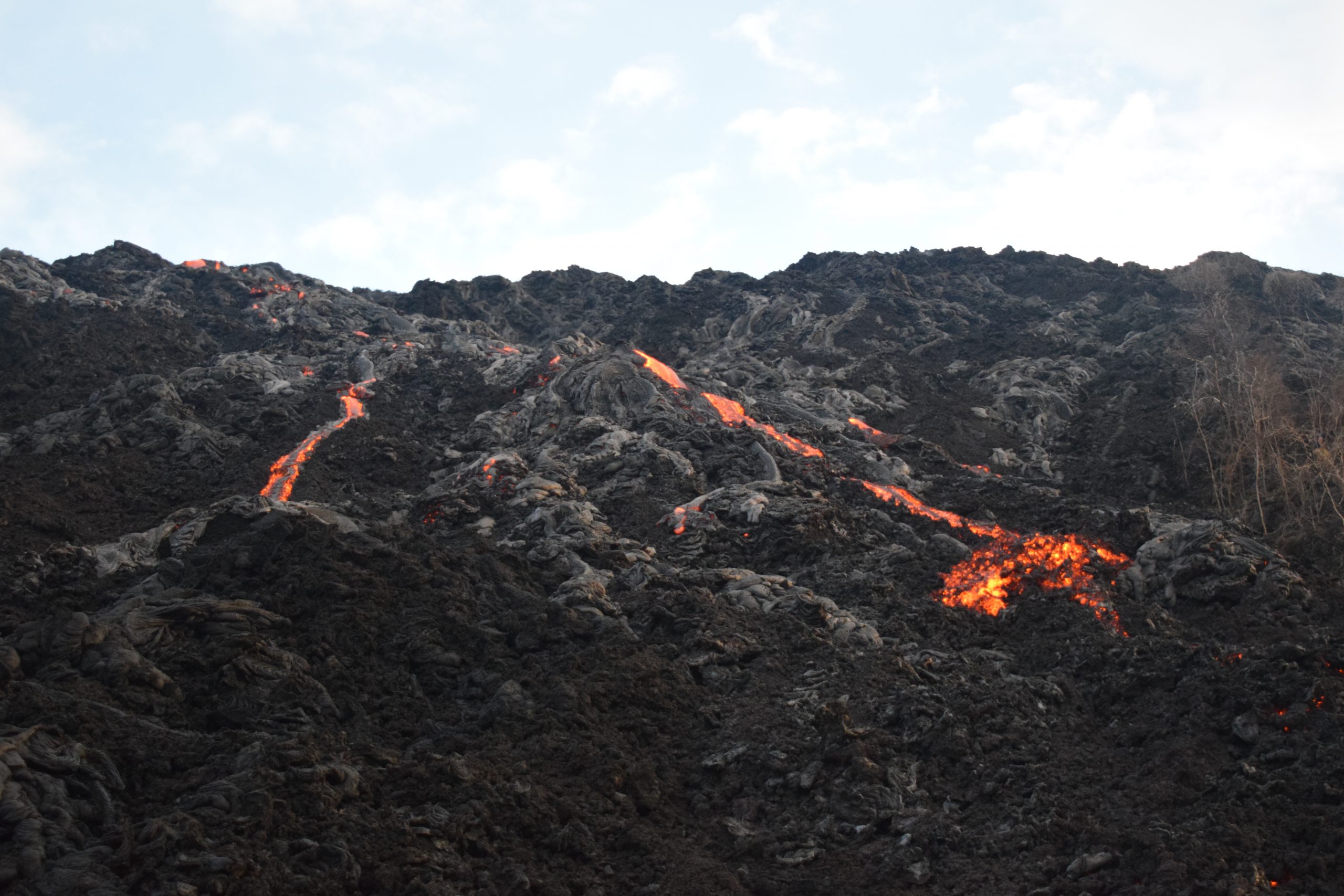 John and Jessica provided cold beverages when we arrived back to the starting point and we all said our goodbyes. Not if, but when I return to the Big Island I will surely reach out to them for another epic experience.
Conclusion
In concluding our hike, we were super grateful that we had an experienced and knowledgable tour guide for this hike. Lava is unpredictable and we do not suggest hiking the lava fields alone. There have been people who have died doing this, including an experienced tour guide who had the weather turn unexpectedly. Please do be careful if you decide to venture into the lava fields.
Interested in seeing how we travel hacked to Hawaii? Check out our 2018 year in review!