We just returned from a fantastic trip to Aruba and spent quite a bit of time exploring Renaissance Island and the beautiful Flamingo Beach. From breathtaking white sand beaches, giant iguanas frolicking around, and taking those Instagram worthy selfies of yourself with a Flamingo. This island has many fun opportunities to offer you an unforgettable vacation. Our hope is that this Basic Travel guide will help answer any questions you may have about visiting Renaissance Island. We have provided some tips so that you can have the best vacation with our favorite pink friends on Flamingo Beach! So let's get to it!

What is Renaissance Island?

Renaissance Island is home to Aruba's only 3 private beaches. Which are made up of Coral Beach, Flamingo Beach, and Iguana Beach. There are over 40 acres spread across Renaissance Island to explore. In addition to those three beaches, you will find multiple amenities. These amenities include a restaurant, beach bar, beach tennis court, gym, private cabanas, nature trail, hammocks, beach chairs, and both Adult and Baby Flamingos.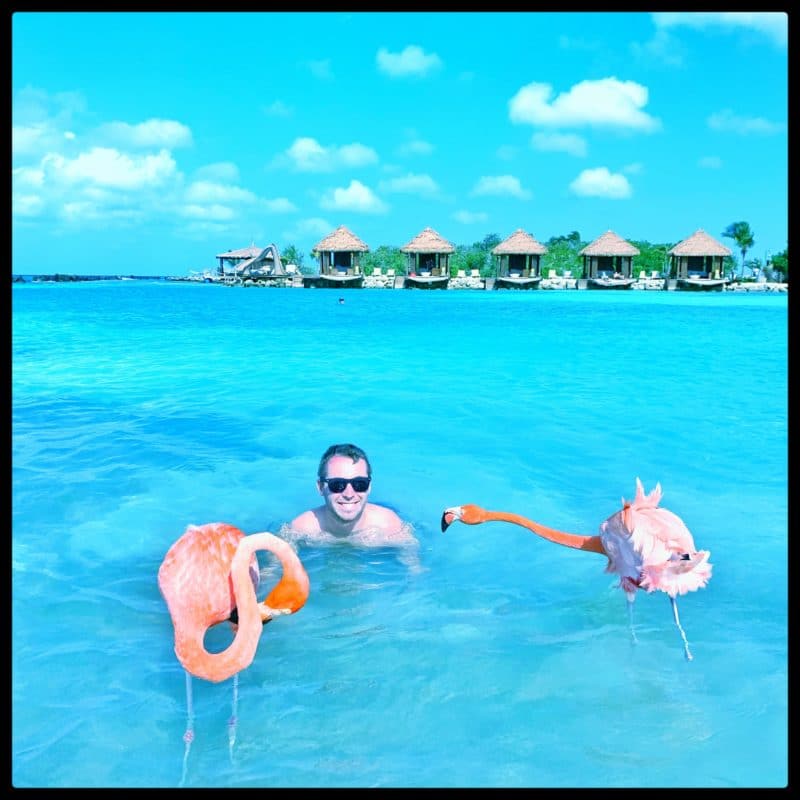 What is the cost to visit Renaissance Island?

Renaissance Island is available to guests who stay at the Renaissance Aruba Resort & Casino. This resort is HUGE and broken up into 2 separate properties; the Marina Hotel (Adults Only) and Ocean Suites (Kid Friendly). If you are not a guest of the hotel, there is a chance that you could still visit the island. You can do so by purchasing a day pass. These passes are only available if the Renaissance is not booked to 80% capacity. Passes are sold on a first come/first serve basis. When we stayed at the Renaissance in February 2019, they did not sell passes at all due to being over capacity the entire time. When I spoke to the concierge about the day-passes he told me that when they are available, people will begin lining up outside of the hotel at 6:00 am! They sell tickets between 7:00-7:30 AM. The price of the day pass is $99 and includes a drink and lunch on the island.

We used Marriott Bonvoy points for our 5 night stay at the Renaissance Marina Hotel and had guaranteed access to the island the entire time. If you have your heart set on visiting the island, staying on the resort would be your best bet. Check out our Basic Travel Strategies article which outlines the strategies we used to cut our hotel cost from $2,600 down to $17.50 for a 5 night stay.
Marriott Bonvoy Bonus Points
after spending $5,000 on eligible purchases within the first 3 months from account opening. Offer Ends 5/3/2023.
Marriott Bonvoy Bonus Points
after spending $5,000 on eligible purchases within the first 3 months from account opening. Offer Ends 5/3/2023.
$125 annual fee. (Rates & Fees)
How do you get from Aruba's mainland to Renaissance Island?

Everyday Renaissance Island is open from 7:00AM-7:00PM with a free water taxi transporting guest back and forth every 15 minutes. There are two departure points; one in the lobby of the Marina Hotel and the other on the pier next to the Ocean Suites Hotel. In order to access the water taxi, each guest must have their own room key (or purchased day pass) that the captain will swipe in a card reader to verify that they are authorized to board the boat. We witnessed a few people who were denied access by the captain due to their cards not working and watched as they did the slow walk of shame out of the boarding area. You can check to see if your card works by sliding it in the card reader ahead of time to ensure that everything is good to go! We actually locked ourselves out of the room early on and had to get two new room keys and interestingly all 4 worked on the Water Taxi reader throughout the rest of our stay so we always had a backup.

What is included on the island for FREE?

Nature Trails
Don't forget your bug spray! You can access the Nature Trails via the Flamingo Beach side of Renaissance Island. Walk along the paths. Take in the sounds of the birds. Spot all of the different colored lizards scurrying by you. After approximately a 10-minute walk, you will arrive at the end with a little beach area. You will also find some seats that are facing the water and airport. Lisa and I loved watching the planes landing from there. The best part about it was that we didn't see a single person over there. We had it all to ourselves which makes it seem like it was our own private island!!
Flamingo Beach
So beautiful and perfect! This beach has dozens of lounge chairs and a handful of hammocks (two of them being over water) for your use. This is also an adults-only beach which certainly comes with the added benefit of being calm, quiet, and serene. One interesting fact from our stay is that out of the six days that we visited the Island, the Flamingos were only on "Flamingo Beach" one of those days. The rest of the days we found them relaxing on Iguana Beach on the family side of the island. Who knew that the Flamingos loved children?! A Basic Pro Tip is that if the Flamingos are on their own beach and you are with your children, kids can access the island every day from 9:00-10:00 AM.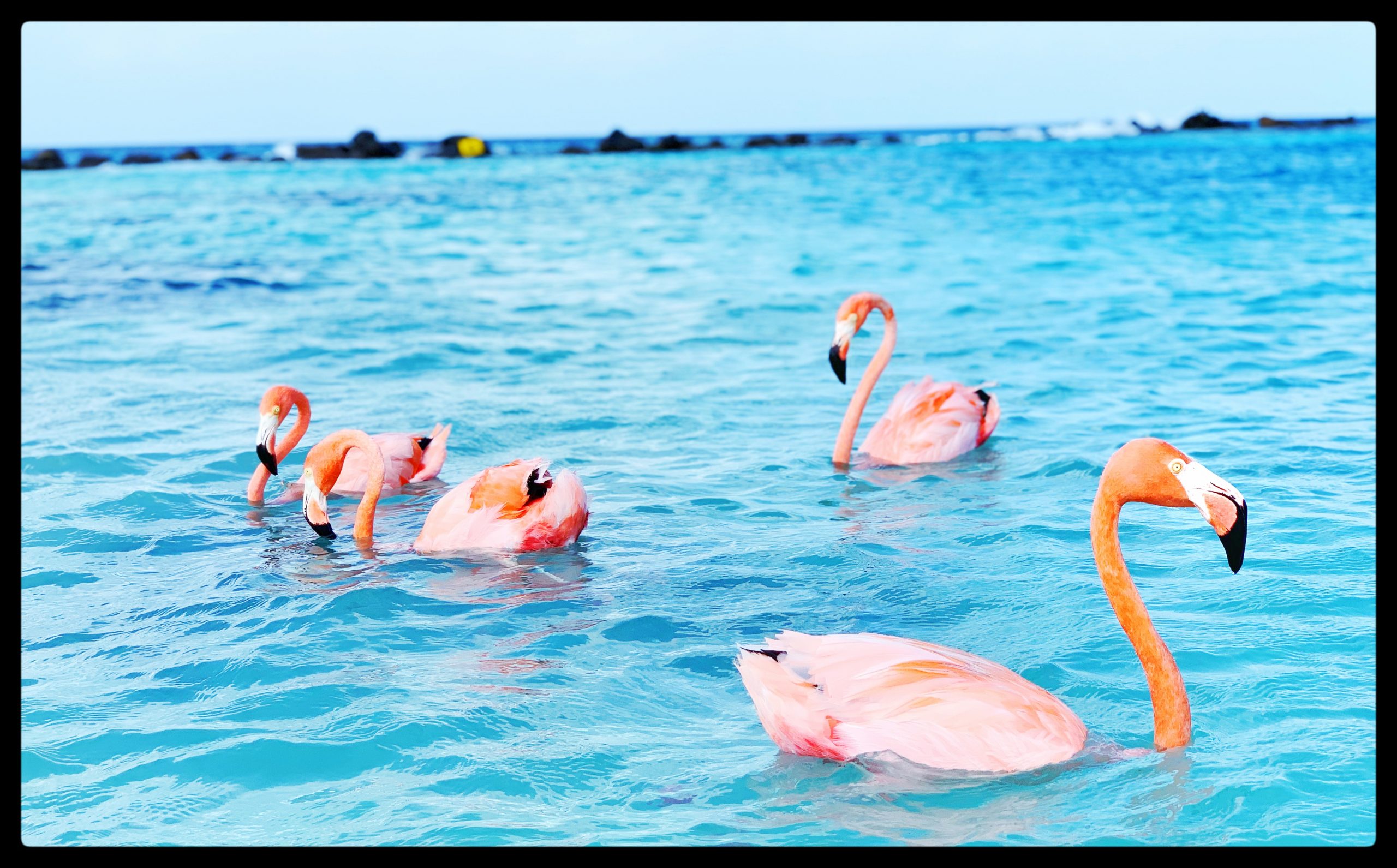 Iguana Beach
Iguana beach is much larger than the Flamingo beach with many lounge chairs spread around for your use. Despite being called Iguana beach, we actually found more Iguanas relaxing on Flamingo Beach and more Flamingos relaxing on Iguana beach while we were there. Maybe they traded territory?! A Basic Pro Tip is to take the first boat over in the morning at 7:00 AM and claim a beach chair close to the water! We often found the flamingos hanging in the front row of the chairs around noon each day.
Coral Beach
This beach actually isn't on the map above, but is most certainly there! On Coral Beach, they hold special events like weddings and you can also find the baby Flamingos hiding out. They are a bit shyer than their adult counterparts but do enjoy treats which you can purchase for 25 cents via the gumball machine-like devices found throughout the island.
Fitness Center
If you are looking to get your cardio on or pump some iron while on vacation then you'll find it past Iguana beach on Renaissance Island. Funny story is that we both brought our fitness gear with us to Aruba and it remained stowed away in our luggage during our whole stay. I suppose it's the thought that counts right?!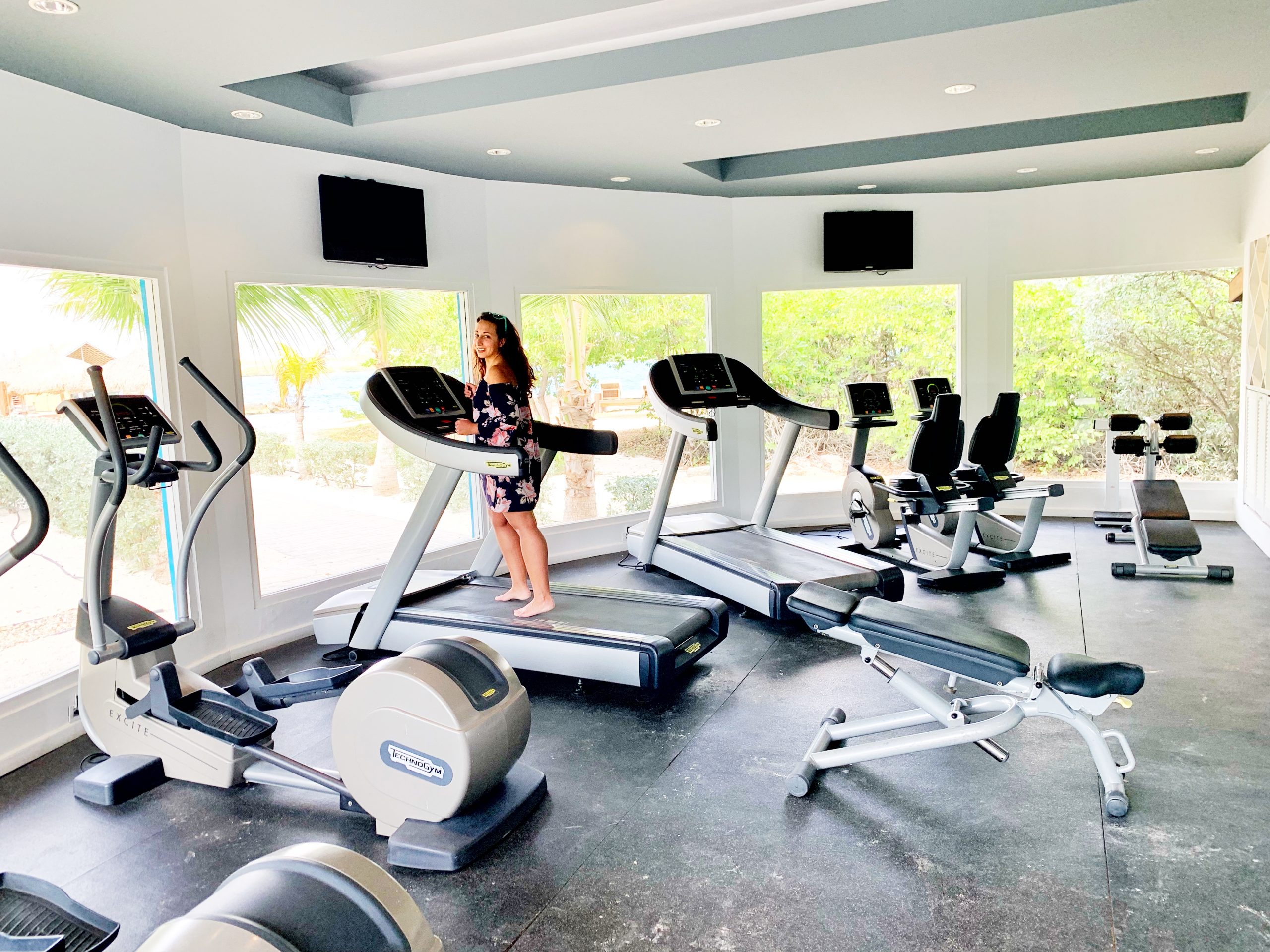 Beach Tennis Courts
You can find these tennis courts near the fitness center. We didn't see anyone playing while we were there but it looks like it could be a fun game to play. Although with the sun shining and how windy it can get in Aruba you'll only find us on the beach with the Flamingos!
What can you Purchase on Renaissance Island?

Flamingo Food!
Don't forget your American quarters for the flamingo food machines. These are like the old gumball machines where you insert a quarter and turn the lever clockwise to release the treat. A Basic Pro Tip is to bring a coffee cup from your hotel room to place the food into and have on hand for easy access!
Human Food and Drinks!
You have two places to choose from if you are looking to grab a bite to eat or sip on a frozen tropical drink. On the Flamingo Beach side of the island, you will find Mangrove Beach Bar. They have a few tables and chairs set up for guests. Alternatively, for more of a sit-down meal, you can visit Papagayo Bar & Grill located on Iguana Beach. They have the same food menu as Mangrove. However, they offer many more shady seats to relax and escape the sun if you're overheating on the beach! The breakfast at Papagayo was fantastic and offered a great variety of fruit, bread, and classic American options. For lunch, we enjoyed a Burger and Grilled Grouper Sandwich which were both delicious. A Basic Pro Tip is that between 11am-12pm all Pizza's are only $14 each. One day we enjoyed the Veggie Pizza near the beach which was also delicious and quite large.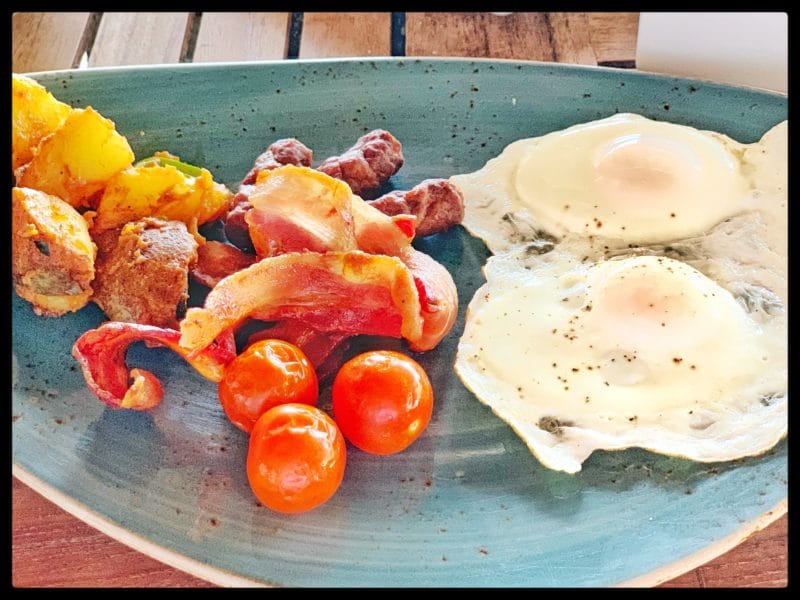 Watersports Booth
This book is actually operated by RedSail Watersports which is where we booked our scuba diving trip out of. In addition to Scuba Diving, they offer some variations of day and sunset sailing and other water excursions along with all of the other basic equipment you'd find to rent on a beach like kayaks and snorkels. Basic Pro Tip – This is also the booth that hands out complimentary towels. Be sure to grab a few when you first get to the island so you don't have to go back and forth!
Private Cabanas
You can rent cabanas on both Flamingo Beach and Iguana Beach. We actually looked into renting one for a day but both sides were already booked for our entire stay before we even arrived! If you are interested in a cabana definitely reach out well in advance to confirm a reservation. As for the prices of these Cabanas, they were around $300 for the day.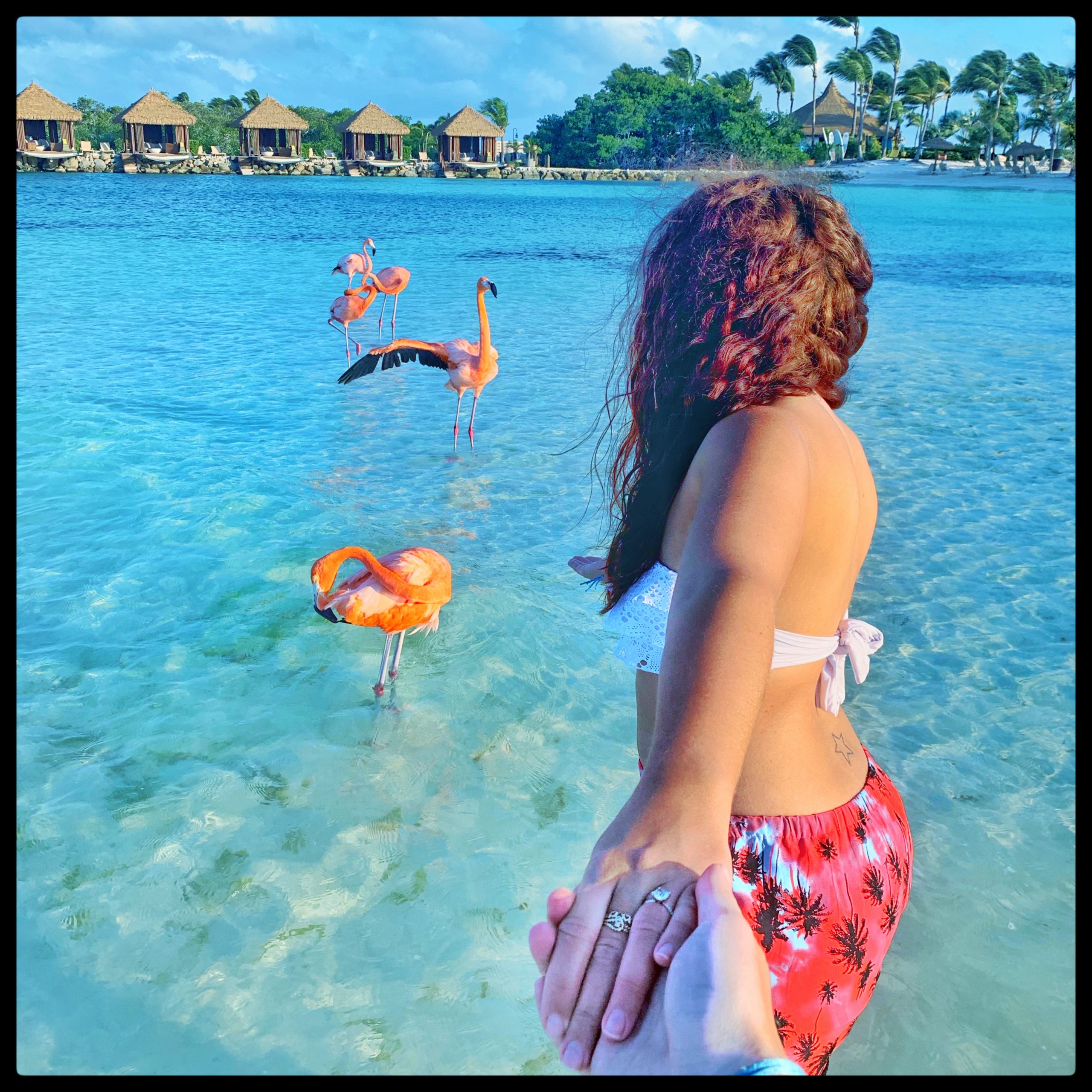 Dinner under the stars!
This actually can be booked in the lobby of either the Marina or Ocean Suites Renaissance Resort properties. The 4-Course Dinner takes place right on Iguana Beach every Wednesday evening from 7-10pm. The cost of the dinner is $65 Per Person plus a 15% service charge. We LOVED the dinner under the stars! Everything about it was so magical and romantic. From starting at Lucy's Retired Surfers bar for our tropical welcome drink (Located Across from the Marina Hotel) to eating the delicious salmon on the beach while taking in the beautiful live music. It's important to note that you do not need to be a guest of the hotel to book this dinner. This is a nice way to get on the island if you can't secure the day pass. The only downfall is that if you were hoping to see the Flamingos, often they sleep way out in the water at night. This was the case when we had our dinner. So we didn't see them up close while we were having our dinner on the beach.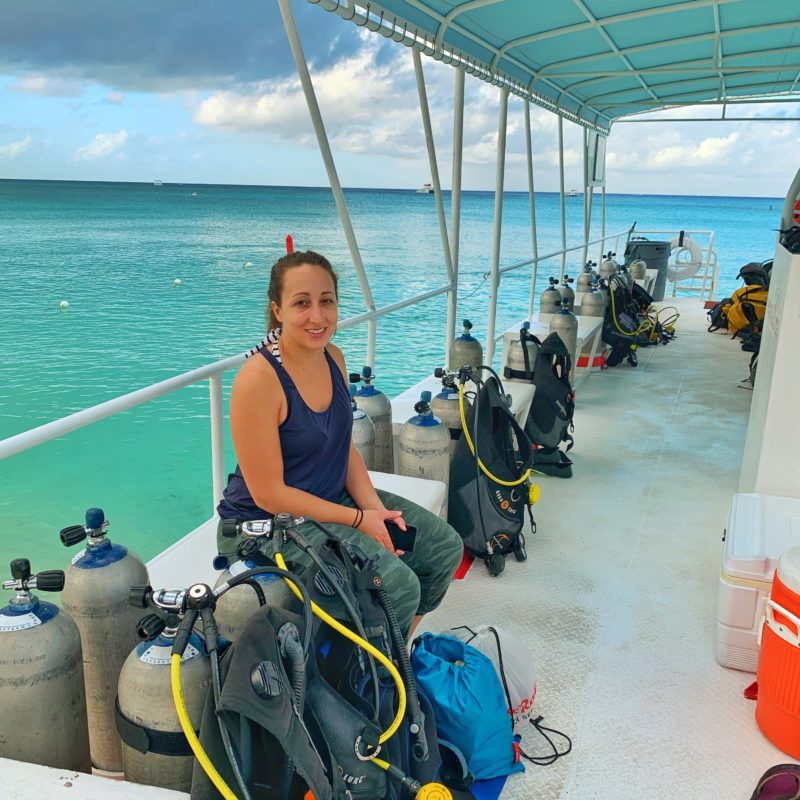 Spa Cove
Getting a massage on a private island is definitely something of a fairy tale but you have the option to make that dream come true on Renaissance Island. You will find the access point to Spa Cove to the left of Flamingo Beach past the showers. A 50-minute massage for two people will run you approximately $290. Prices go up from there with various food, drink and add-on options that you can choose from.
Beach Store
You will find all of the classic supplies here. Including bathing suits, sundresses, sunglasses, sunscreen, stuffed flamingo toys, magnets, books, and more. The one thing that we always purchase when we visit a new country is a new magnet for our fridge at home. This trip was certainly no exception and we found the perfect Pink Flamingo magnet at this beach store!
Basic Recap of making the most of your time on Renaissance Island

Arrive Early and take the 7:00 AM Boat! This will ensure you get to choose your favorite spot on the beach for the day and get great photos of the flamingos before everyone else gets to the island!
Bring your sunscreen – It's Sunny Aruba and don't be fooled by that Caribbean breeze!
Quarters for the Flamingo Food – Flamingos get hungry!
Take lots of selfies – Because why not?! Lol
If you like this guide to Renaissance Island and Flamingo Beach you may like our article on how we only paid $17.50 for a 5-night stay at the Renaissance Marina Hotel! Let us know if you have any questions about the island below! You can also reach out to us directly for help planning your very own trip the beautiful Renaissance Island!