Apple Picking at Becker Farms and Vizcarra Vineyard
Fall is one of the greatest times of the year. Enjoying the last little bit of the great outdoors before the bone-chilling winters come along. When I think of autumn, I think of Pumpkins, Apples, fall leaves, and cozying up next to a fire, sipping on some hot apple cider. This year, Dave & I decided to make a fall bucket list and start crossing off items. After heading over to The Greatest Pumpkin Farm, our next logical step was to go Apple Picking! We chose Becker Farms for a full day of fun. I'll give you a breakdown of everything you need to know while visiting the farm.
About Becker Farms
Becker Farms is set on 340 acres, about 30-40 minutes outside of Buffalo, NY. It is a fruit and vegetable farm that sells primarily to the general public. They have been around for over 130 years. Not only is Becker Farms a fully functioning farm, but they have a variety of other events and activities throughout the year. Hosting private events (such as weddings), educational tours, winery, and brewery on-site. They also offer apple picking in the fall, as well as a haunted forest!
There have been some changes for the 2020 year due to COVID, and I will include those changes below.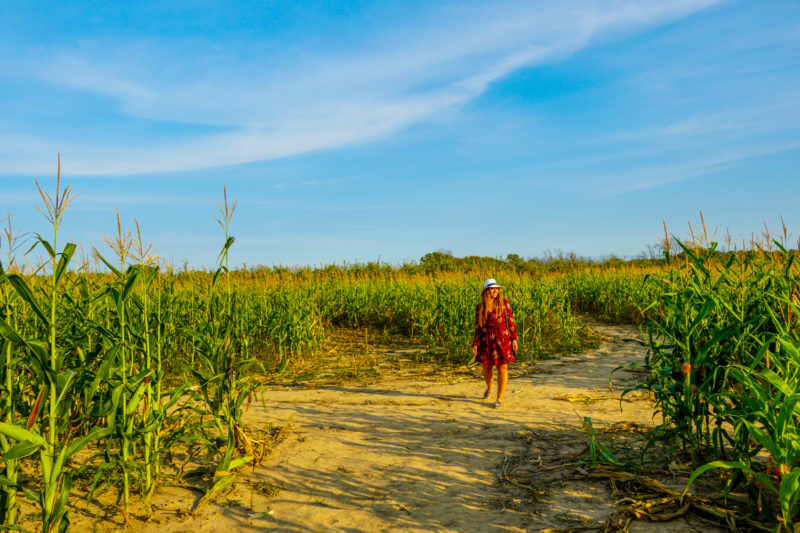 Cost of Admission
Apple Picking:
You can enjoy less crowds during the week, as well as cheaper prices. Due to social distancing regulations, you must purchase a ticket for the weekends to minimize crowds. We highly recommend going during the week.
Monday-Friday:
$6 for adults
$5 for children
Each person will receive a 4 quart bag for their apples. You can also purchase by the bushel:
½ bushel is $18
Full Bushel is $25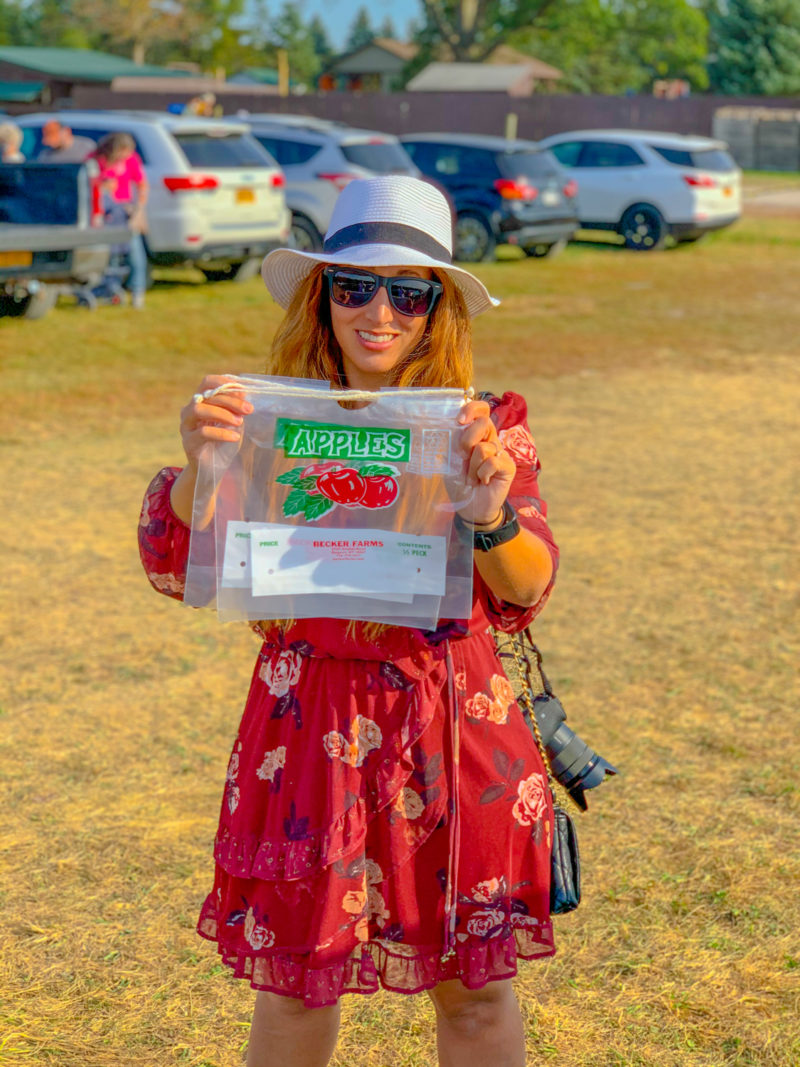 Fall Fun on the Farm
Apple Picking on weekends is an all inclusive event called Fall Fun on the Farm!
Tickets range from $8 per child, $12 per adult up to $20 depending on times for weekends. This is to limit the number of visitors to be in state regulations. Fall Fun on the Farm ticket sales start at 10 am and go until 5 pm. The bakery and farm market close at 6 pm, but the Brew Pub is open until 9 pm and you can also enjoy live music outside. More details below.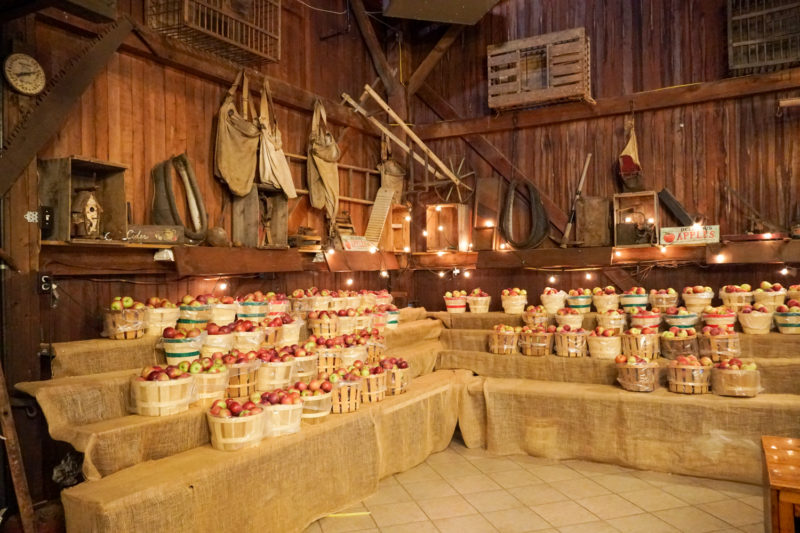 Other Fall Activities
Becker Farms has more than just apple picking and a bakery. They also offer all inclusive retreats where you can stay right on the farm, haunted drive throughs, campfires, and other seasonal fruit picking! Here are a few other favorites:
The Haunted Forest
Enjoy a drive through the haunted forest at Becker Farms! Ages as young as 7 (depending on the child) can enjoy this event. Ticket prices are $40 per car, up to 8 people. There are still dates available through the end of October. You can even add a 2-hour campfire afterward!
2-hour campfire
Inclusive for 15-20 people
Hot dogs
Pizza
Potato chips
S'mores
Hot Apple Cider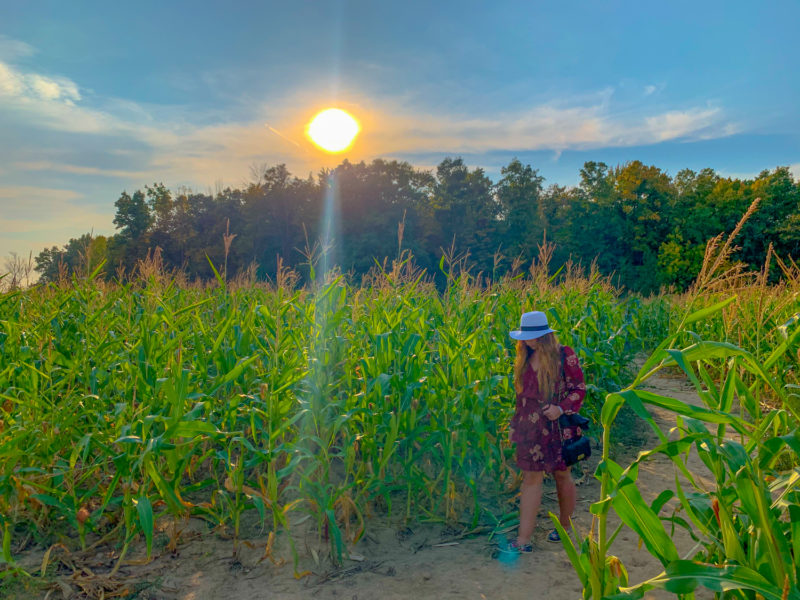 Free Activities included with the cost of entry
Exploring the acres and acres of Becker Farms is an experience in itself. There was so much to walk around and see. I enjoyed walking through the corn maze and finding the clues to figure out the apple riddle!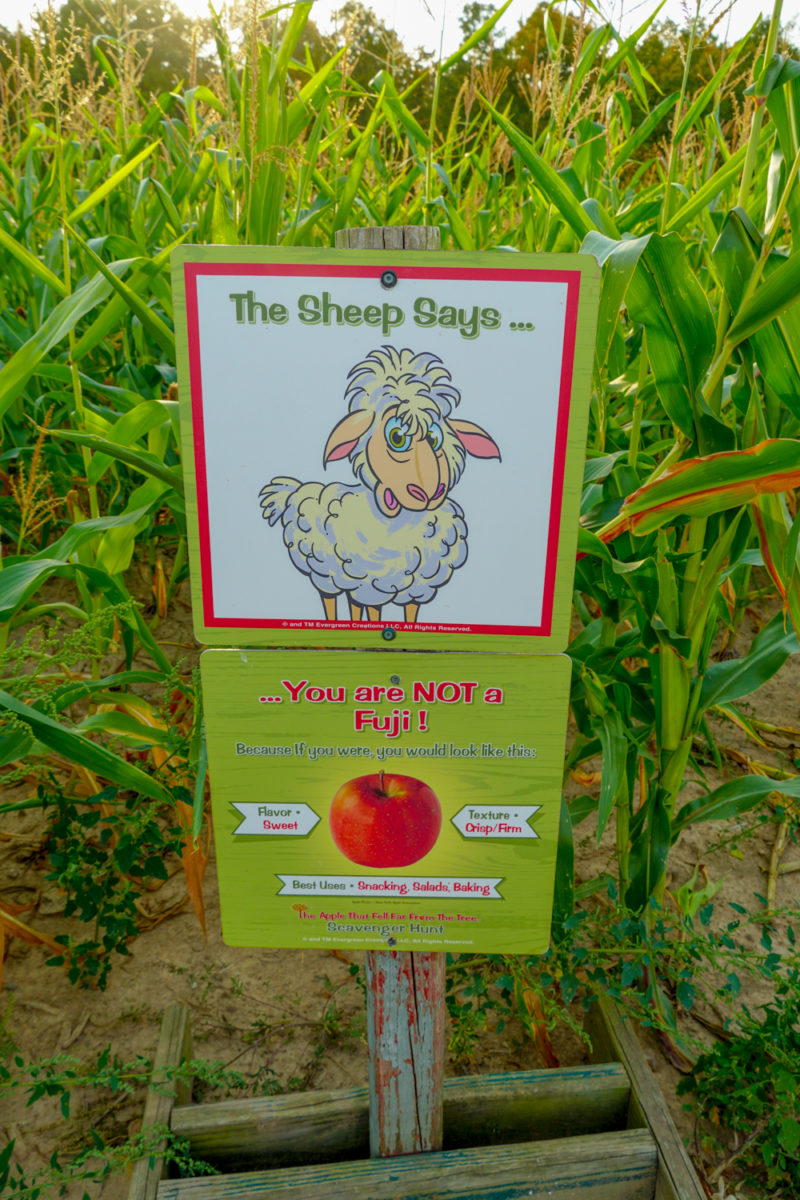 Apple picking of course is next on the list for favorite activities at Becker Farms. You can also walk through the Farm Animal exhibits and feed them. Whether you are a couple, friends, or a family, there is a lot of fun to be had at Becker Farms. Be sure to get there early so you have enough time to explore the grounds, play, and pick apples!
Fall Fun on the Farm includes:
Parking
Apple Picking – 4-quart bag
Live Music
Access to the Brew Pub, Garden Market, Beer Garden, and Apple Barn
Corn Maze
Rope Maze
Playground
Farm Animal Exhibits
Hiking Trails
Barn Yard Twister
Pedal Carts & Tricycle Track
Jungle Gym
Jumping Pillow
Apple Picking at Becker Farms
Apple picking varieties vary on the week of which ones are ripe and ready for picking. You will be directed towards the vineyards, where rows are labeled with which variety is in that row. There are ladders throughout the area so you can even get some of those hard-to-reach apples. Make sure you snap a few apple picking photos in action!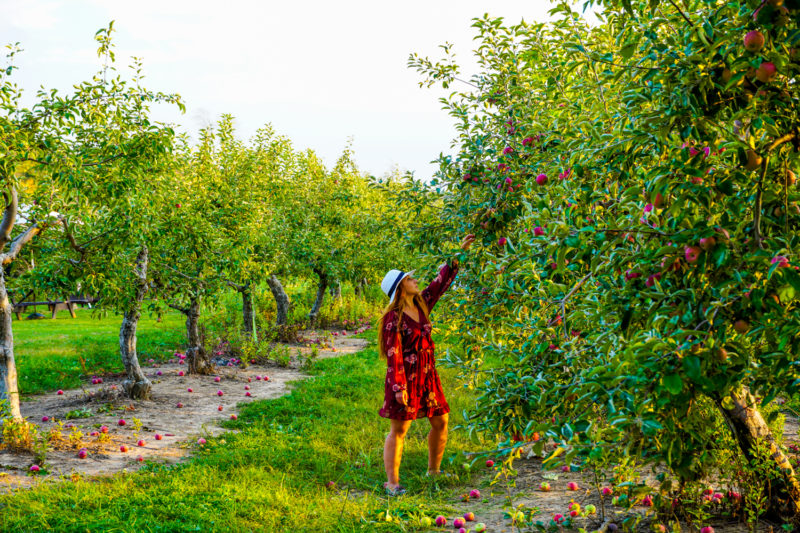 Activities for Purchase
Most activities are included with your ticket purchase upon entry. The only additional things you will pay for are food and beverages. We highly recommend donuts (or even pre-ordering them) as they were sold out of the cinnamon sugar ones when we arrived. The Apple Cider is also a must, and you can purchase hot or cold.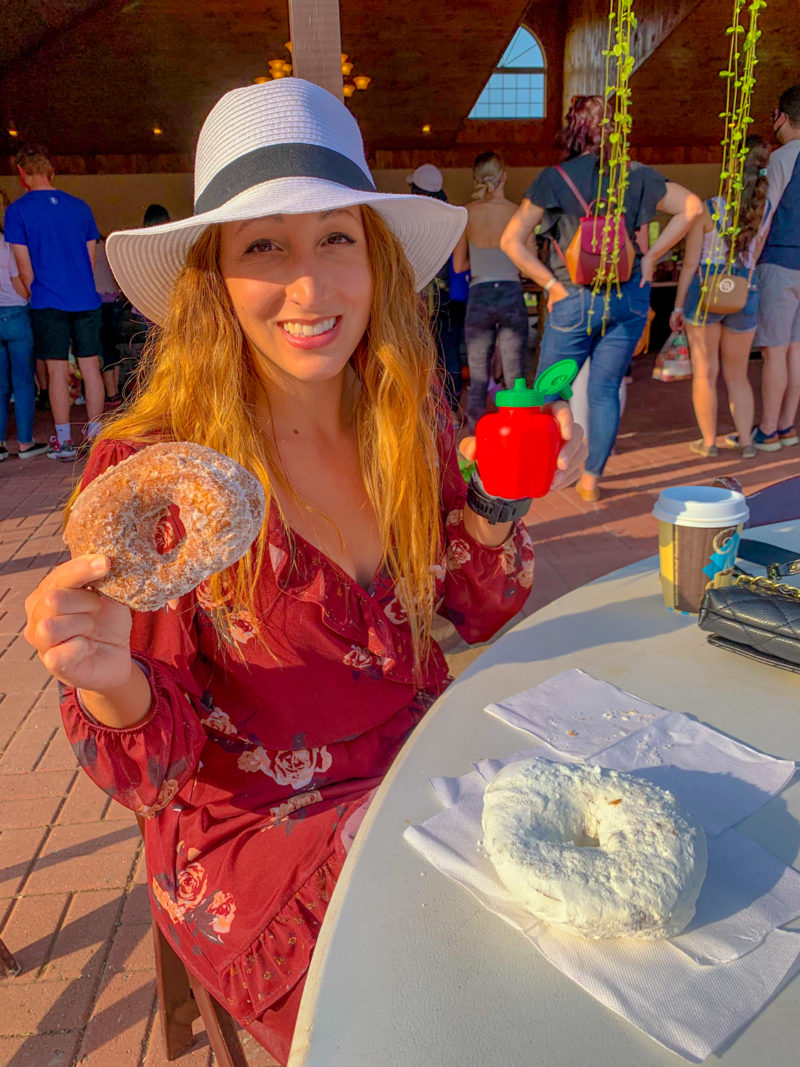 Social Distancing Retreat
If you want to spend more than one day at Becker Farms, you can now book a weekend retreat. Two nights all-inclusive in cute little Cabins that are right alongside the apple grove. Enjoy some tranquility with your loved ones and get free access to the farms at your will for 2 nights! All meals are included in a farm to table style food made right on site. These cabins looked so cozy I wished we booked a stay with them.
To book a retreat, you can check out their website at beckerfarms.com.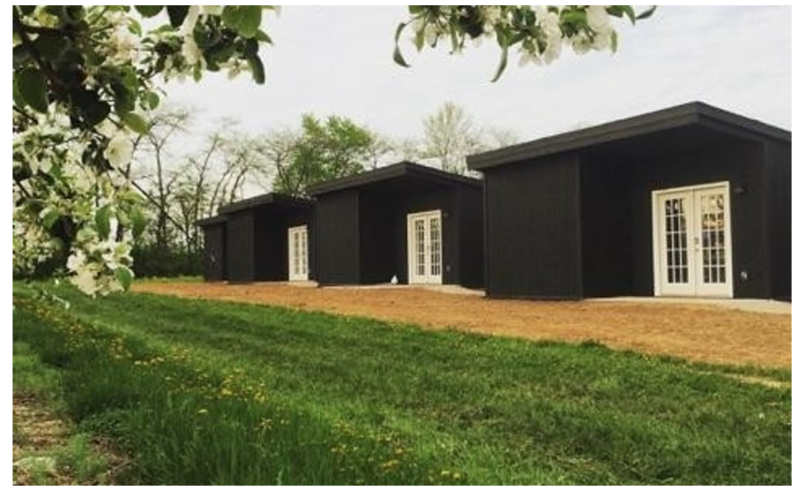 Food and Drinks
Becker Farms offers a variety of food and drinks onsite that is handmade from products on the farm or sourced locally. We enjoyed some baked goods as well as a beer at the end of our day.
Becker Farms Bakery and Farm Market
The bakery is a MUST visit. The smell of fall baked goods hits you when you walk in. Baked goods are all handmade. Their pies typically sell out quickly and are recipes that had been passed down from generation to generation. Pre-orders are recommended. You can also purchase jams, jellies, fudge, donuts, handmade soaps, trail mix, and more.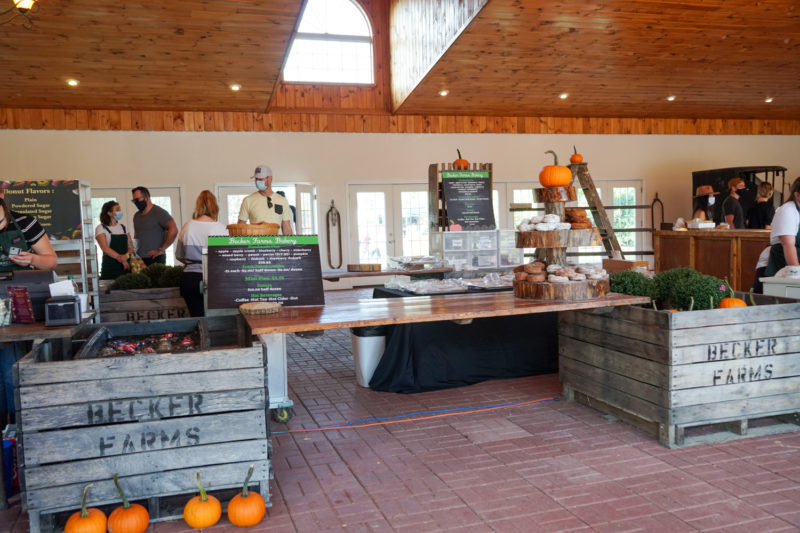 The Brew Pub
Open 7 days a week where you can enjoy house made wine, beer and cider.
Hours:
Sunday – Wednesday 11 – 6
Thursday – Saturday 11-9 (Kitchen Close 8pm)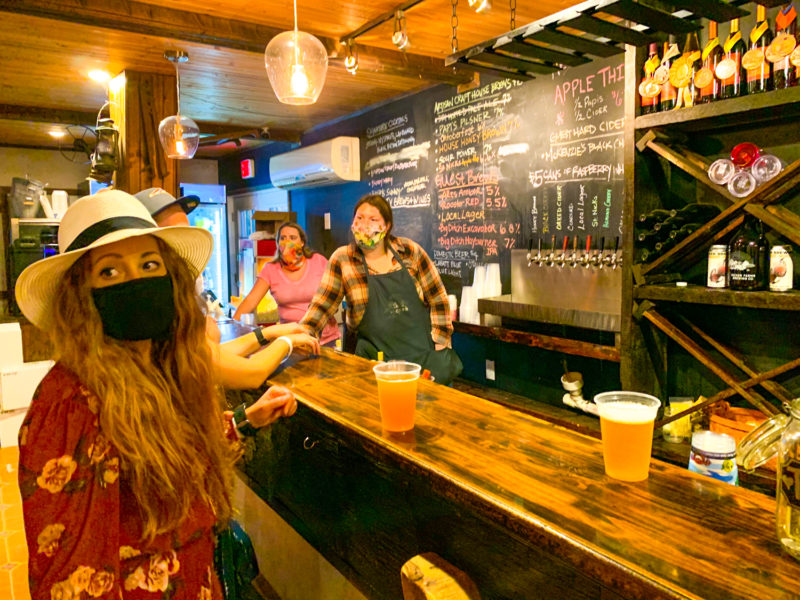 Online Store
On weekends, you can pre-order food that will be put into a picnic basket and you can take anywhere on the farm to enjoy. Food options include BBQ chicken, Pulled Pork Sandwiches, Farm Mac & Cheese, veggie & hummus platters, and more. Everything looked amazing online.
Photo Ops
If you don't take a photo, were you really there? Becker Farms is one of the most picturesque fall places to visit. We found plenty of spots for photo ops, including at various decorations locations. The corn maze and apple picking also offered for some great photo ops!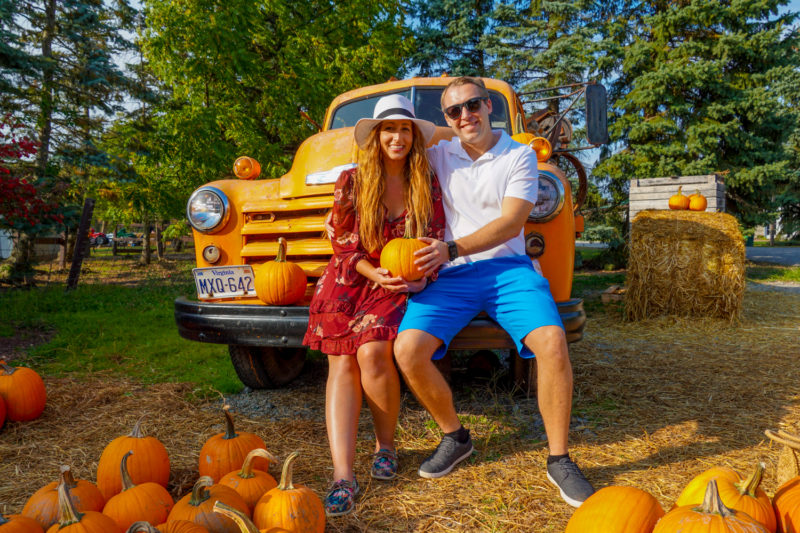 How to Save Money at Becker Farms
One of our favorite ways to save money is by utilizing credit card reward points. One of our favorite ways is to use cash back credit cards on your purchases. You can cash your points out right away for cash back in your pocket, or even save them up for a big trip! We typically try to save them up. You can also check out our Top Credit Cards Page for more information on which card might be right for you. One of our favorite no annual fee cash back cards is Chase Freedom Flex or Chase Freedom Unlimited.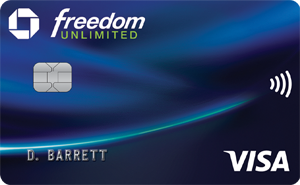 on everything you buy (on up to $20,000 spent in the first year) – worth up to $300 cash back
Basic Breakdown
Sometimes you find a gem of a place and just never want to leave. Our time at Becker Farms seemed to FLY by and we really wished we had some more time to enjoy it. From apple picking, to pumpkin picking, and eating delicious donuts and drinking a nice cold beverage afterwords- Becker Farms did not disappoint. If you are looking to save money, we highly suggest going on weekdays to have less crowds and free entry. Simply pay for your apple picking bag and be on your way!
What is your favorite thing about Becker farms?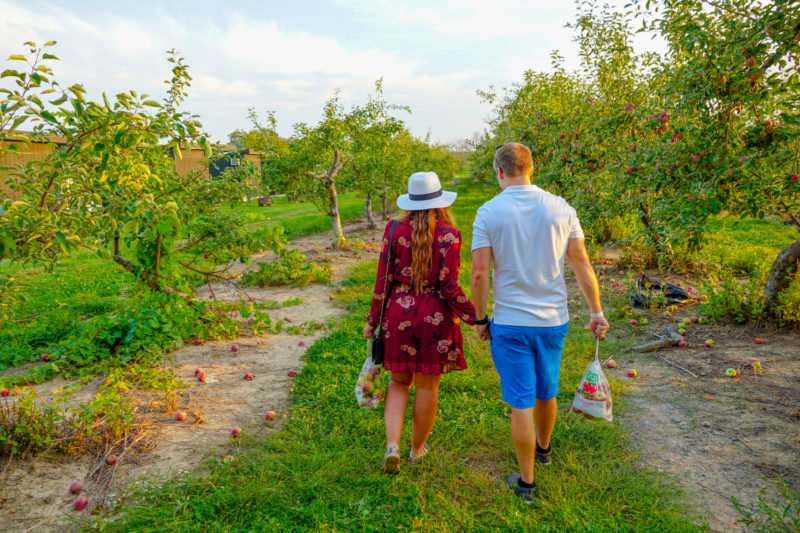 Until Next time, Basic Travelers!
Other Related Articles