Who is excited about pumpkin season? The leaves are changing colors, flannel is back in style (sort of), the smell of that crisp fall air, and pumpkin spice lattes are in hand. Every Fall, two of my favorite activities come back to town – apple picking at Becker Farms and exploring one of the best pumpkin farms in Buffalo- The Great Pumpkin Farm in Clarence NY. Continue reading for my basic review of Clarence NY's The Great Pumpkin Farm!
About the Great Pumpkin Farm
The Great Pumpkin Farm opened its doors in 1996 and ended up in the Guinness Book of World Records for the first 1,000-pound pumpkin. As a result, one weekend every year people come from all over to see if the record is broken at the World Pumpkin Weigh-Off in Clarence NY.
In addition to the Pumpkin Weigh-Off, from September 19th through November 1st, 2020 there is much pumpkin fun to be had. From apple cider to pumpkin pie to a corn maze to a haunted hayride. The Great Pumpkin Farm is fun for all ages. Even those basic couples who are trying to snap a basic fall profile pic (see below). The best pumpkin farm in Buffalo has to have the most picturesque spots. You and your boo, (or families), are sure to come home with a shiny new profile pic.
Cost of Admission
The cost of entry to the Great Pumpkin Farm is $10 per person on the weekends and Columbus Day. All the other days, it is free to enter! Also, children 2 and under are free to enter. It is important to note that the cost of entry includes some free activities listed below. Additional activities may be purchased.
COVID Note – The Great Pumpkin Farm will be limited capacity and is encouraging visitors to pre-purchase tickets online here.
Free Activities included with the cost of entry
Magic Show with Mike & Annie at our Outdoor Stage (Weather permitting)
This show is located in the Pumpkin Palace and offers four showtimes every weekend. Saturdays and Sundays the show takes place at 11:30 am, 1:00 pm, 3:00 pm, and 4:30 pm.
Boo Barn
This is fun! Basically, it is a haunted house for kids. We did see one kid screaming and leaving at the 'scardy cat exit'. However, Lisa and I had fun walking through it. After all, we are just big kids at heart. I've got to admit that the "Vortex Tunnel" really makes you feel like you're walking in outer space.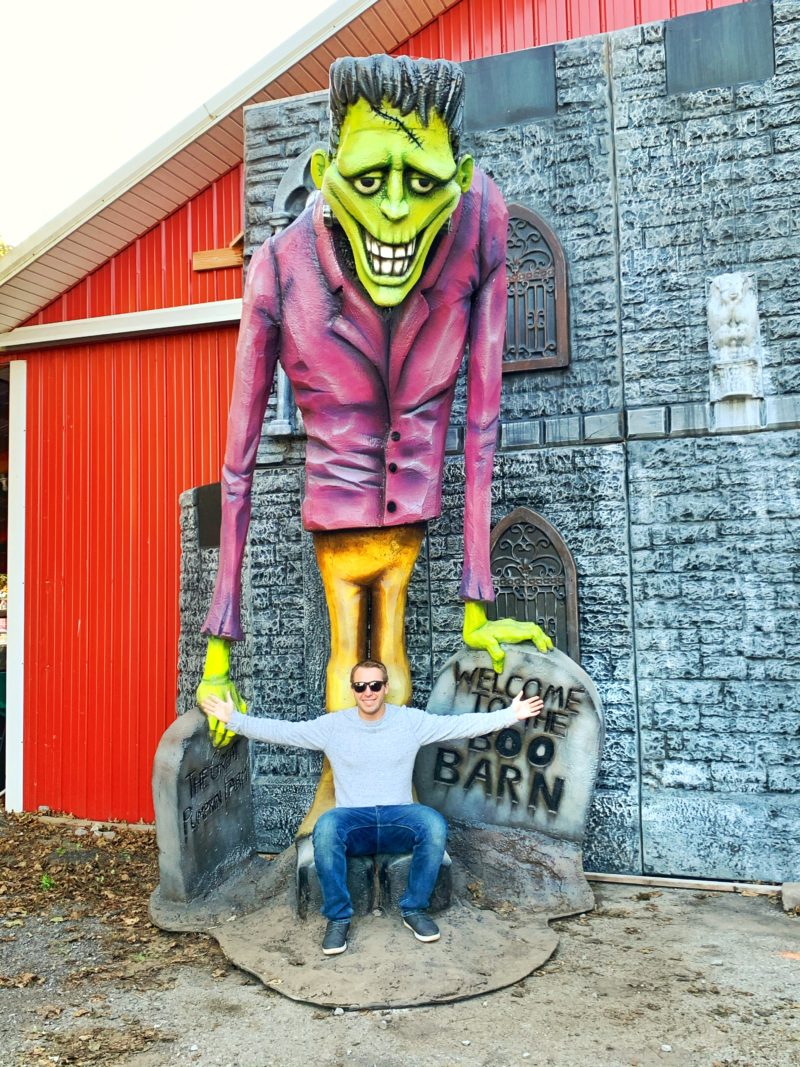 Cow Train
The Cow Train is a fun ride for small children. Parents get to take some cute photos and the children are even socially distanced between the train seats. I only wish I had an iconic Cow Train picture from my childhood. I don't think you can go to the best pumpkin farm in Buffalo without having a cow train picture.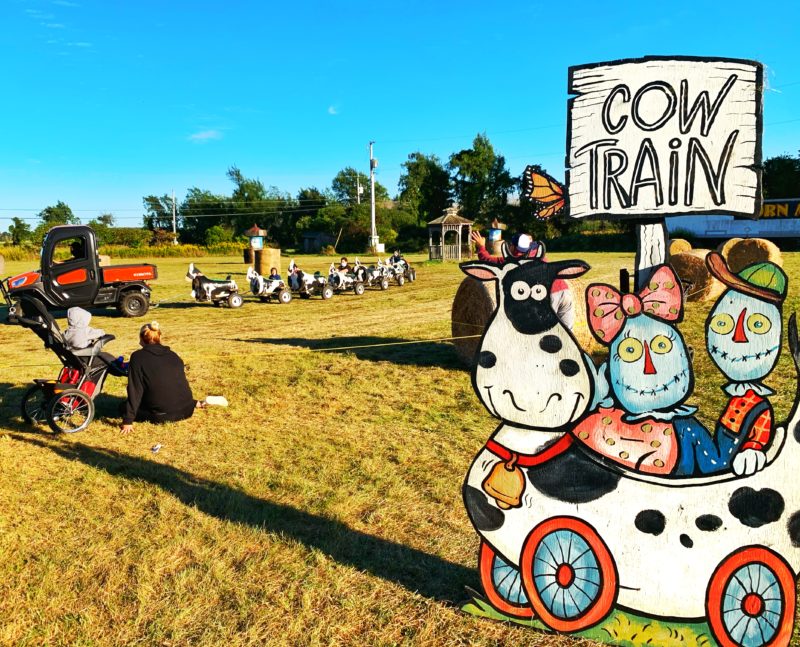 Contests & crafts
Kids can have fun creating fall-themed crafts and even compete for prizes.
Farm Animals
There are different animals on the farm that can be seen in designated areas. Typically, visitors would be able to feed and pet them. However, activities are limited this year due to COVID restrictions.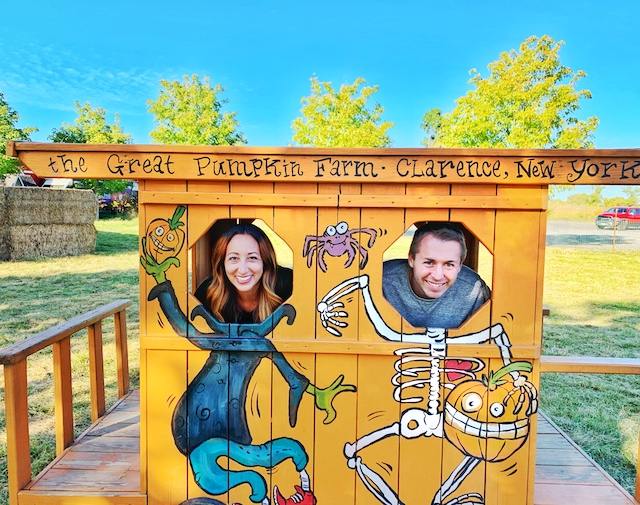 Kids Playground
The kids love the Great Pumpkin Farm playground. There are slides, climbing contraptions, and plenty of room to run around. I even took a ride down one of the slides (why not?).
Looking to save some money? Our Top Cash Back Cards can earn you up to $200 cash back as a welcome bonus.
Activities for Purchase
5 Acre Corn maze ($7 per person)
This is your traditional corn maze with a twist – dinosaurs and zombies! If you like a little excitement in your mazes, be sure to take note of the below weekends. On certain dates throughout the fall season, there are life-size dinosaurs and zombies wandering around the corn maze to keep visitors on their toes.
Dinosaurs will be present on weekends #2, 3 & 6
Zombies will be present on weekends #1, 4 & 5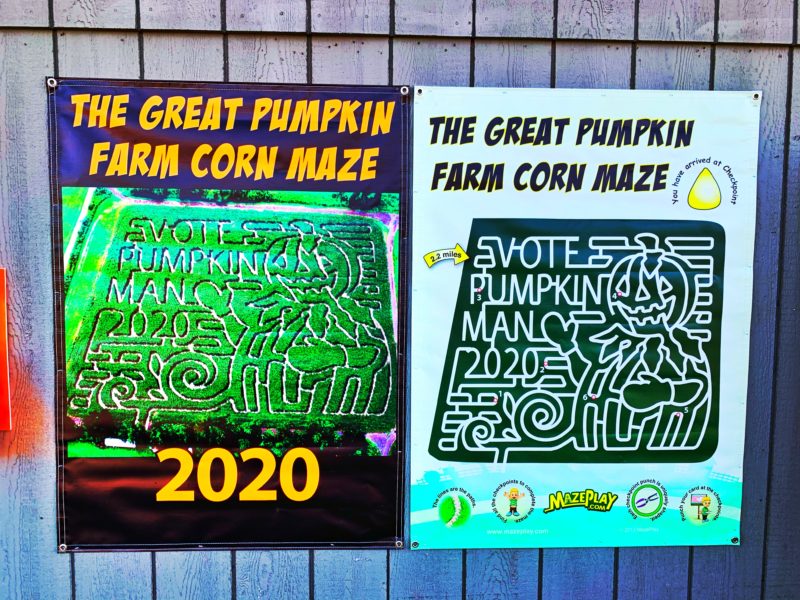 Panning for gems ($6 per bag)
Essentially treasure hunting for kids and adults! You can purchase a bag for $6. After that, you sift through the bag and match gemstones to the key provided. Does anyone remember high school Earth Science? It certainly gives me a throwback to the good ol' days.
Haunted Hayride ($5 per person)
This is a Great Pumpkin Farm staple and one that I've enjoyed many times. Hop on to the cart and get pulled around the open land via a tractor pull.
The Best Pumpkin Farm Weekend Events
Throughout the Fall season, the Great Pumpkin Farm has various events each weekend. The most popular event by far is the Pumpkin weigh-off which is taking place on October 3rd starting at noon. Did you know that If you bring a pumpkin that breaks the world record, the Great Pumpkin Farm will pay you $10,000?!
Another great event is the World Pumpkin Pie eating contest. This iconic event takes place on September 26th at 1:00 PM. Professional eaters come from all over to try and claim the coveted first place pie trophy. I'm sure some of our friends from the World Chicken Wing Eating Contest will be in attendance.
Full list of events
Weekend #1 (September 12th and 13th 2020)
Opening Weekend!
Dinosaurs in the Cornmaze!
FREE Admission to Military, Police & Fire Personel (with 1 guest)
Happy Hour Bands at the Witches Brew
Weekend #2 (September 19th and 20th 2020)
Zombies in the Cornmaze!
"Oinktoberfest" BBQ Cookoff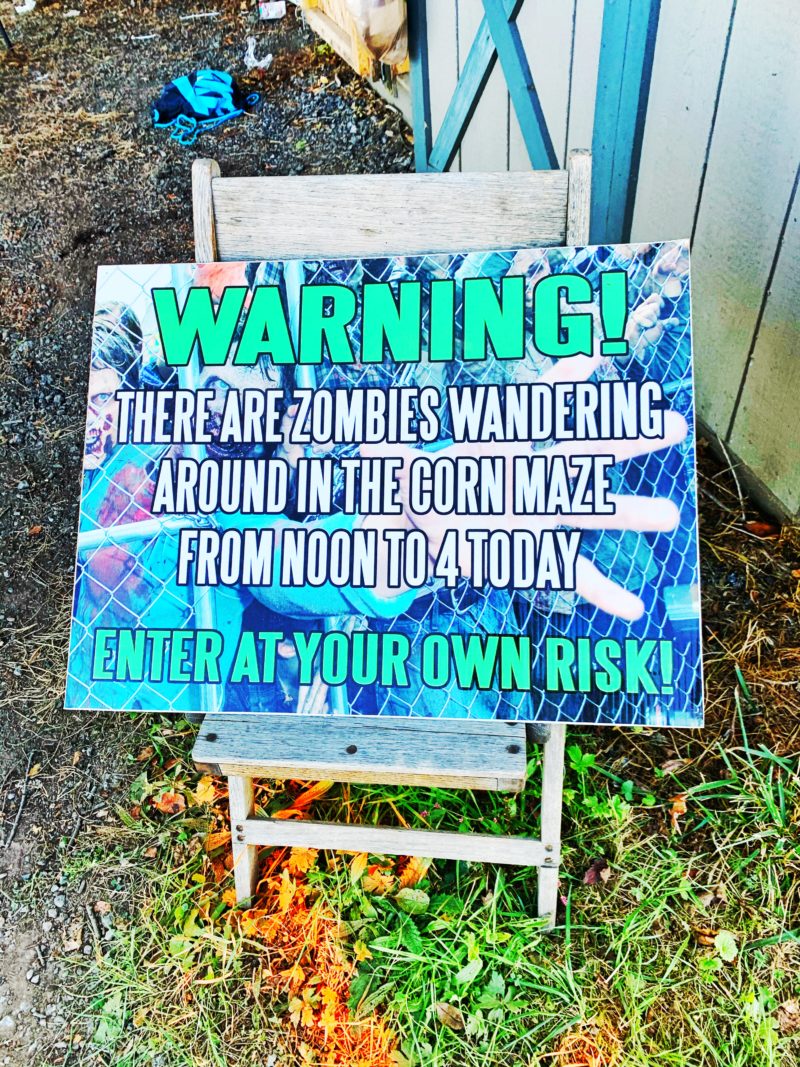 Weekend #3 (September 26th and 27th 2020)
Pumpkin Pie Eating Competition (1 PM- 9/26)
IndePumkins (Blowing them up! – 5 PM on 9/25)
Weekend #4 (October 3rd and 4th 2020)
World Pumpkin Weigh-Off (12 PM – 10/3)
Dinosaurs in the Cornmaze!
Live Music during happy hour
Weekend #5 (October 10th, 11th, and 12th 2020)
Columbus Day Weekend!
Pumpkin Olympics (All three days!)

Pumpkin Relay
Pumpkin Dash
Pumpkin Guts
Skeleton Hunt

Pumpkin Drop on Columbus Day

Watch a 1,000-pound pumpkin dropped from 100 feet in the air

Zombies in the Cornmaze!
Weekend #6 (October 17th and 18th 2020)
Trebuchet Competition between local highschools

Catapult Pumpkins using technology skills!

Zombies in the Cornmaze!
Live Music during happy hour
Weekend #7 (October 24th and 25th 2020)
Final Weekend
Costume Contest Both Days (Win $)

Children 1:30 PM
Adults 4:00 PM

Live Music during happy hour
Bakery at the Great Pumpkin Farm
We love visiting the bakery every year for some delicious fresh treats. Some of my favorites include the pumpkin and apple pies, pumpkin spice cookies, and fresh cider. There is also a huge assortment of candy that is made the old-fashioned way!
Pumpkins (And fun photo ops!)
You cannot visit the Clarence NY Great Pumpkin Farm without stopping for a basic fall photo with the pumpkins! What's awesome about the Great Pumpkin Farm is that they are known to have "Zillions of Pumpkins". The pumpkins come in all sorts of shapes and sizes which makes for a fun time exploring the options. There are some designated areas for visitors to snap their perfect photos and even wheel barrels for bringing home some pumpkin souvenirs.
Basic Breakdown
In conclusion, one of my favorite aspects of living in NY is being able to experience the different seasons. Fall in New York is not complete without a visit to a Pumpkin Farm. Why not go to one of the Best in Buffalo- The Great Pumpkin Farm. For me, I love the events, treats, and snapping photos with the pumpkins.
Let us know!
What's your favorite thing to do on at the Great Pumpkin Farm? I'd love to hear from you down in the comments or over in the 4,000+ Member Basic Travel Facebook Group!
More Basic Reading