This article is submitted by readers Chelsea and Elizabeth Howard-Lopez, from Madetwowander.com. Chelsea and Liz traveled to Mexico and write about their experience with flying and the safety/precautions of the resort. We hope this helps answer some questions you might have about traveling during a pandemic.
As most of you are aware, the travel industry has been hit hard due to the current coronavirus pandemic. Airlines have gone out of business; cruise ships remain docked and countries have closed their borders. However, the Global Health Advisory has lifted and health and safety conditions are improving in some countries. Travel is slowly beginning to increase, leaving the majority of people asking, "is it safe to travel, and if so, where to?". I will admit we asked ourselves this very same question. We were extremely hesitant to commit to any type of travel. However, after much consideration, we decided to book an all-inclusive stay in Quintana Roo, (Cancun) Mexico over Labor Day weekend. We want to share our experience with others who might be on the fence about traveling during a pandemic to an all-inclusive resort.
Why Mexico?
Well, for starters, it's one of the few countries welcoming US citizens. In addition, it's close enough to home. If the borders close for any reason, we have a better chance of being able to get home. At the time we booked our travel, Mexico had seen a sharp increase in Coronavirus illness and death as well. The travel advisory remained at a Level 4: Do Not Travel due to Covid-19. It also had an additional advisory of Level 2: Exercise Increased Caution in Mexico due to crime and kidnapping. This is a relatively normal travel advisory for Mexico. It didn't spike any major concern for us, so we made the decision to move forward.
Editors Note: Don't forget to check out our trip to Cancun for only $297 at an all-inclusive resort, only minutes away from Dreams Playa Mujeres!
Booking Flights
The next step was booking our flight. We typically book flights based on price and NEVER fly strictly one airline. However, we had previously flown with Southwest and traveled during the pandemic. We knew that we weren't interested in finding the best deal. Our biggest concern was flying with an airline that was implementing the best health & safety measures. We ultimately ended up booking with Southwest again.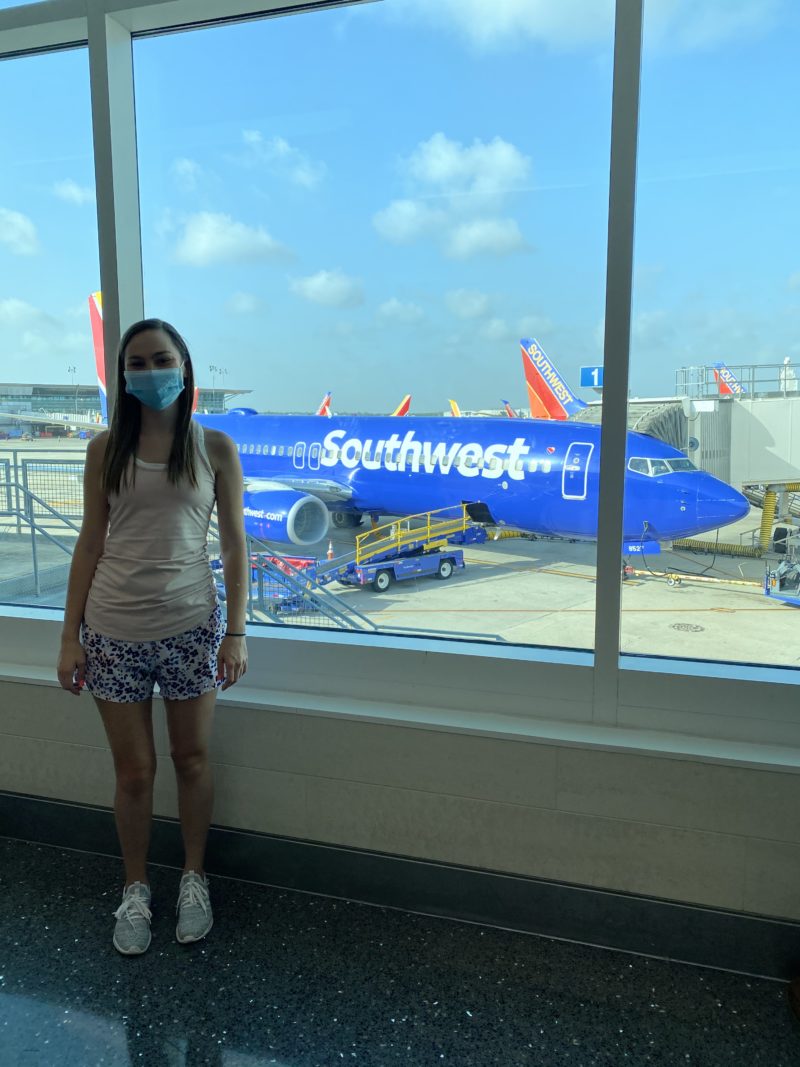 What we learned traveling during a pandemic with Southwest Airlines:
1. There is an extra step during check-in!
All travelers will need to fill out a health declaration form when checking in. This new form asks travelers to acknowledge:
They agree to wear a face mask for the entire duration of their flight.
To avoid travel if they exhibit symptoms, have been diagnosed, or had exposure to Covid-19 in the past 14 days.
Check their temperature before flying to make sure they do not have a fever.
This is all taken at the traveler's word so keep in mind that you are still traveling at your own risk
2. Airports
The airports are ghost towns (compared to non-pandemic days). TSA pre-check/Global Entry is not available at every airport as it is not currently needed. This shouldn't be a major concern as going through security was a breeze for us.
3. Mask Usage
Mask wearing was universal in the airport and on the flight with the exception of removing the mask to eat/drink. We did not experience anyone who appeared to have an issue with this policy. The flight attendants made regular announcements to remind passengers to keep their face covering over their mouth and nose.
4. Social Distancing
We have read mixed reviews on social distancing at airports. We flew out of Houston (HOU) and luckily did not experience any situation where we felt crowded. However, there was no social distancing during the boarding process. Southwest does board in groups of 10. This helps with crowding but, when you are antsy to get on a flight, and so is everyone else around you, social distancing goes out the window. Expect people to stand up before it is their turn and expect lines to form in the aisle. You always have the option to wait to board assuming you are willing to take any available seat.
5. Middle Seat
The middle seat on Southwest will remain empty through October 31, 2020. This is great if you are traveling in a couple! It allows you to have the entire row to yourselves minimizing the risk of exposure from fellow passengers.
6. In-Flight Service
The in-flight beverage/snack service is simple: water and a bag of snack mix. You can always buy food/beverage at the airport and bring it on your flight. We recommend bringing an empty reusable water bottle (we use our Hydroflask) to stay hydrated.
7. Exiting the aircraft
Some people will choose not to social distance when collecting their luggage. However, it is possible to social distance if you aren't in a huge hurry and are willing to be patient.
After landing and getting off the plane, we reached our transportation. We were the only passengers to be on board. Our driver provided us with hand sanitizer and informed us that he would be sanitizing our bags too. There were signs in the vehicle asking that we please keep our mask on. Plastic partitions separated the back seat from the driver's seat.
---
Don't quite need Airline or Hotel credit cards just yet? If you are looking for a Cash Back Credit Card, 0% intro APR or a Balance Transfer Card, we've got you covered with our Top Credit Card Offers.
---
Where we stayed
Now, moving on to the fun part!
Quintana Roo, a state on the Caribbean side of Mexico is a tourist hotspot. It is also home to some of the most beautiful beaches in the world! We had our choice in dozens of hotels and resorts. Ultimately, we decided to stay at Dreams Playa Mujeres, an all-inclusive resort. Hearing the sounds of the ocean is just what we needed to get away from traveling during a pandemic.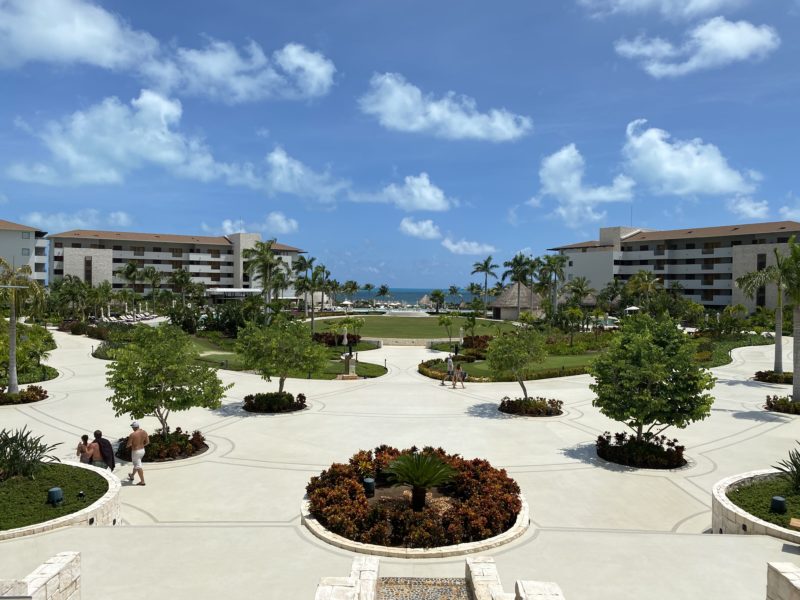 Checking into the resort
Upon reaching the resort, we were again given hand sanitizer. Our temperatures were checked before moving further into the lobby. We were immediately impressed with the health and safety protocols in place. We were asked to scan a barcode that pulled up a health declaration form to fill out. This was similar to the one we filled out prior to flying. The lobby had three other families in it. Due to measures in place, we all were able to socially distance. Every staff member wore masks and these weird plastic glasses (not sure what that was all about). We were checked in promptly and the bellman brought our sanitized bags straight to the room.
The Room
We entered the room the bellman brought our bags in. He showed us that everything, and I mean EVERYTHING was sealed to prove it had been properly sanitized and untouched. The remote control, refrigerator, mini-bar, toiletries, etc. were sealed in plastic. They also provided the hotel's stamp of approval for proper sanitization. There was an iPad in every room that had the hotel's daily activities, restaurants, spa menus, and more. The resort featured 10 dining experiences. Room service was also available for all meals and could be conveniently ordered on the iPad for a contactless option.
The room even featured a "dream box" which is a built-in compartment designed for contactless room service drop-off/pick-up. The dream box is accessible from both inside and outside the room to allow for contactless delivery.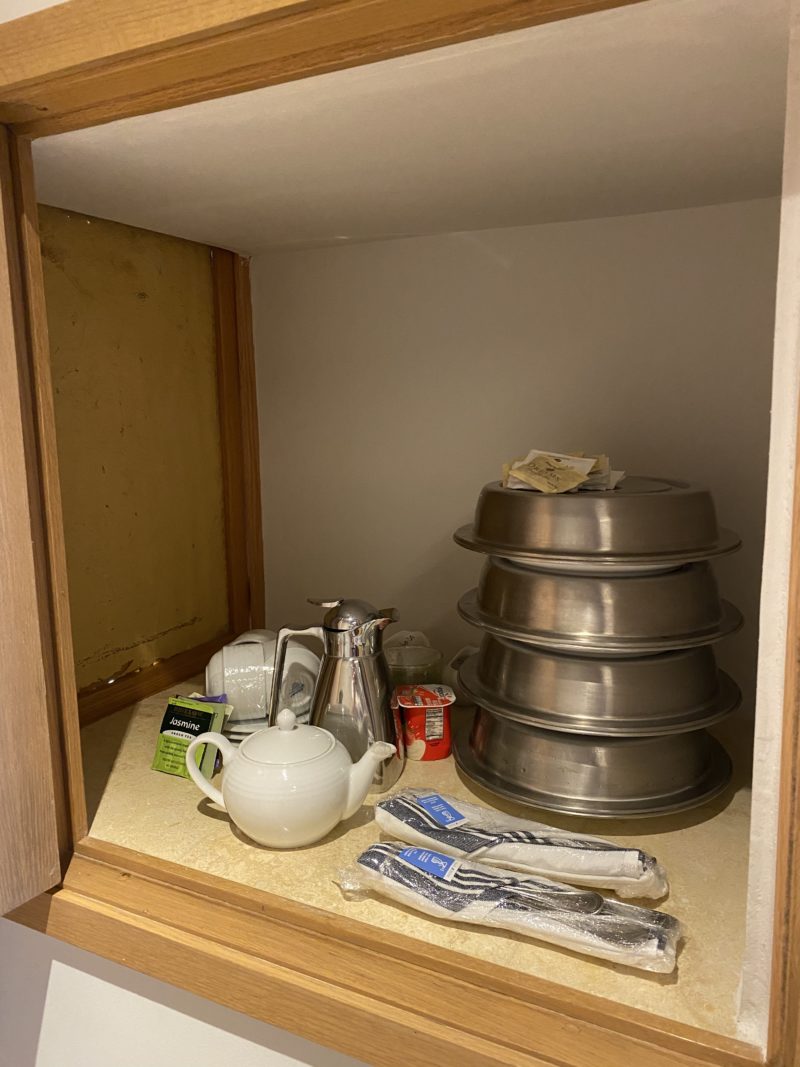 Restaurant Dining
If you dine in one of the restaurants, you can simply pull up the menu by scanning a barcode. Then you ordered through the server who wore proper PPE and of course, had hand sanitizer for everyone. The tables were much more spread out than we are used to seeing in Texas. Indoors or outdoor seating was available. We did not experience any overcrowding in the restaurants and did not have to wait to be seated…with the exception of breakfast which was much busier so there was a small wait.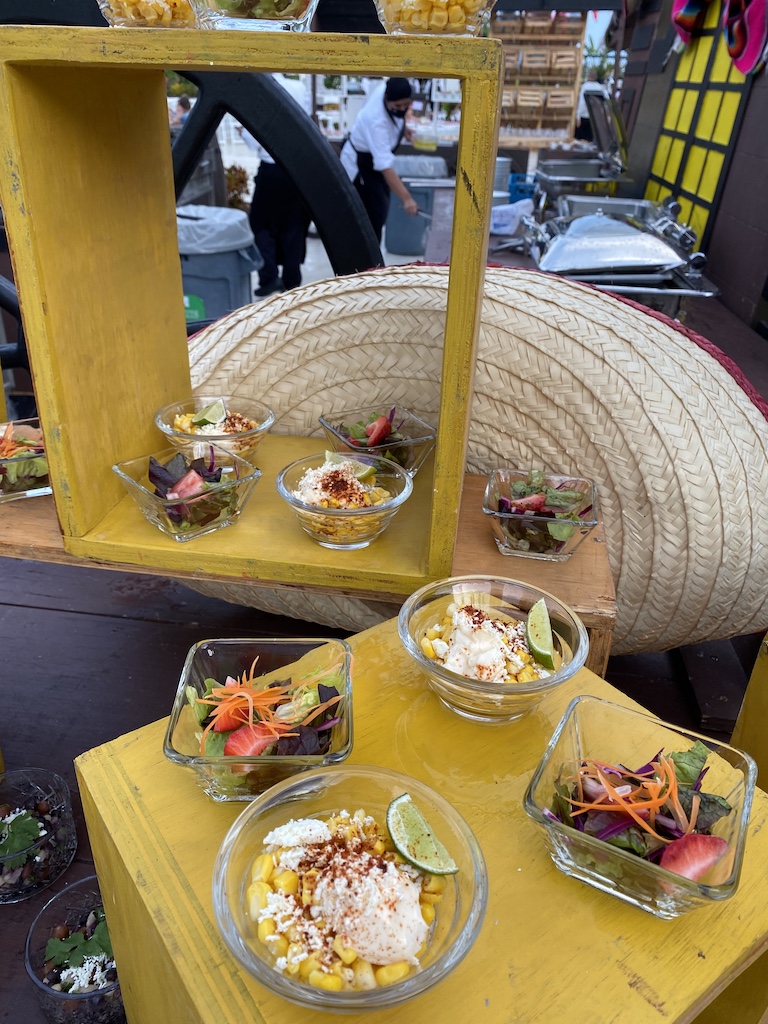 The Resort
The resort features two infinity pools, six whirlpools, two children's pools, and a waterpark (for all ages). Poolside food and beverage were available. We also received hand sanitizer promptly upon entering the pool and before eating/drinking. They even went as far as to scan our temperature before we headed up to the water slide. Extra hand sanitizer was provided right before we slid down too (this had us laughing, but better safe than sorry, I guess). The "main" infinity pool closest to the ocean was overly crowded. We did spend some time at this pool so we could soak in the experience and capture a few photos. After that, we stuck with the other pools which we practically had to ourselves the majority of the time.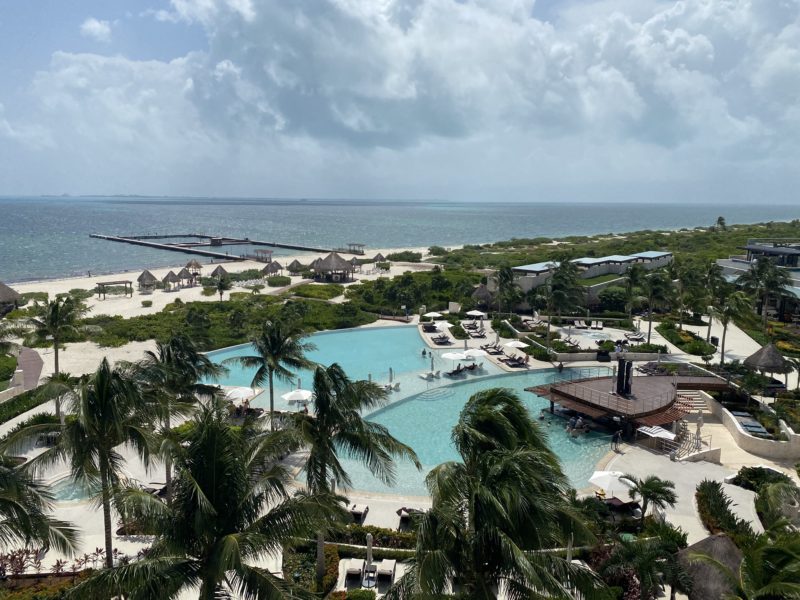 Activities
There is an abundance of activities on site. Included were beach/pool volleyball, live musical performances, Spanish lessons, fitness classes, golf, etc. The resort also features "The Delphinus" which is a world-class interactive program allowing resort guests to observe dolphin's close-up, right in their natural habitat of the ocean. We were able to swim and interact with Dolphins for 60 minutes in an unforgettable experience.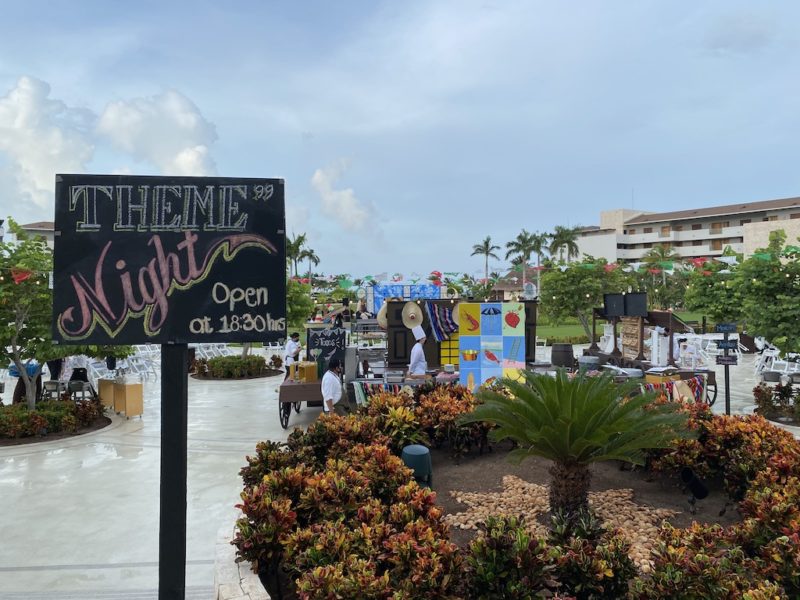 Basic Review
Overall, the resort had over the top, five-star procedures in place to help stop the spread of Coronavirus and keep us safe traveling during the pandemic. For the first time in MONTHS, we found ourselves not even thinking about the virus. It was a breath of fresh air as well as a much-needed break from the chaos that is consuming so much of our lives lately. If you are on the fence about traveling right now, our recommendation is JUST GO FOR IT! We both felt safer on this trip than we feel daily at work, the grocery store, local restaurants, ect. Take precautions, take vitamins, wear your mask, social distance, and don't stop living your life!
Editors Note: Don't forget to check out Travel Insurance if you are traveling. This might help protect you if something were to happen along your travels.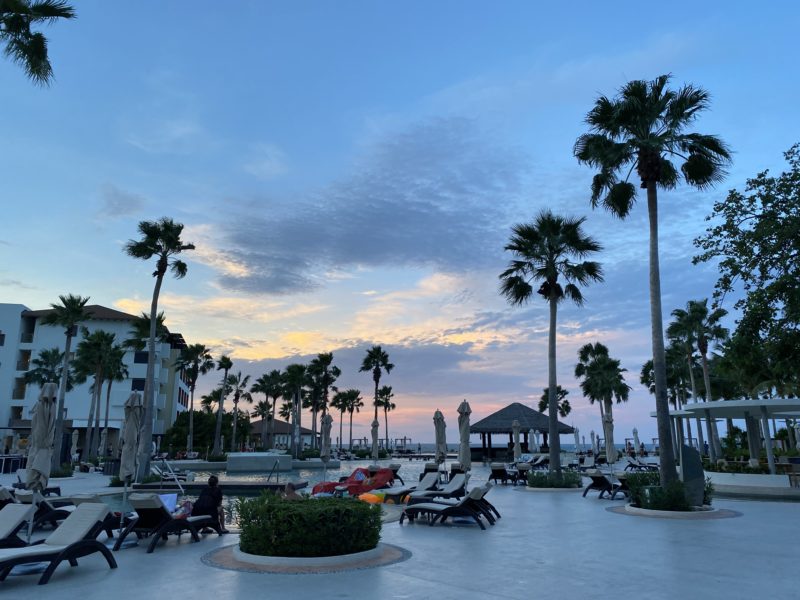 For more details on our experiences and activities outside of the resort, check out our website madetwowander.com for information regarding tour operators, pricing, and more.
New to Credit Card Rewards Points? Check out the BASICS Below!