Who doesn't want to visit one of the Top US National Parks? One of the biggest deterrents to travel is money. Let's face it, travel can be expensive – from the accommodations to transportation to food costs. I learned long ago that with a little creativity and organization the cost of travel can be subsidized. Use the best 10 ways to Save Money on a US National Park Trip below to make your trip happen!
1 – Purchase an Annual US National Parks Visitor Pass
This is a no-brainer if you're considering visiting more than two US National Parks in a 12-month timeframe. The America the Beautiful Pass provides entry to all 62 US National Parks and over 2,000 Federal recreation sites. It provides unlimited entries for the pass holder and guests traveling in a personal vehicle. The pass costs $80 plus $5 for shipping. A US National Park entry fee is on average around $30. After two visits, the National Parks pass will start saving you money!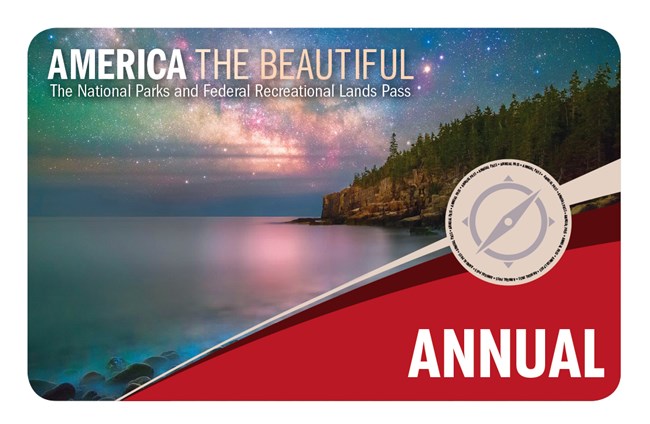 2 – Try Camping versus Traditional Hotels inside a US National Park
For an average of $20 per night, you can rent a Campsite at a US National Park. Of course, this means that folks who camp will need to invest in all of the traditional camping gear like a tent and sleeping bag. A good tip is to see if any friends or family members are willing to lend equipment for a trip. Facebook marketplace and Craigslist are also great places to look for discounted camping equipment.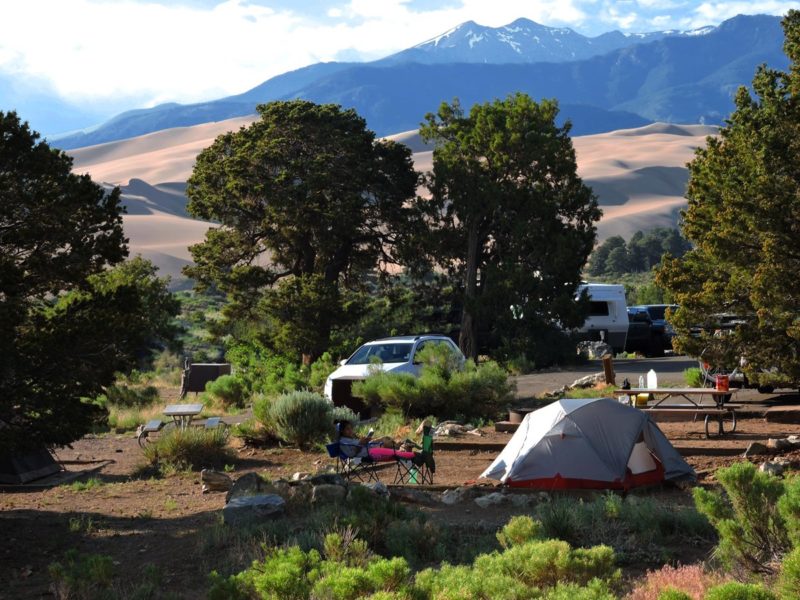 3 – Use AirBNB or VRBO to save and stay somewhere unique
Not only can you save money using vacation rental services like Airbnb or VRBO – but there are often some VERY unique places that will not be listed anywhere else. A great example is this "Tiny House" located outside of Arches National Park. I personally LOVE spending nights in unique places as they always make for a more memorable overall trip! Join Airbnb and get up to $35 off of your first trip! (New Users Only)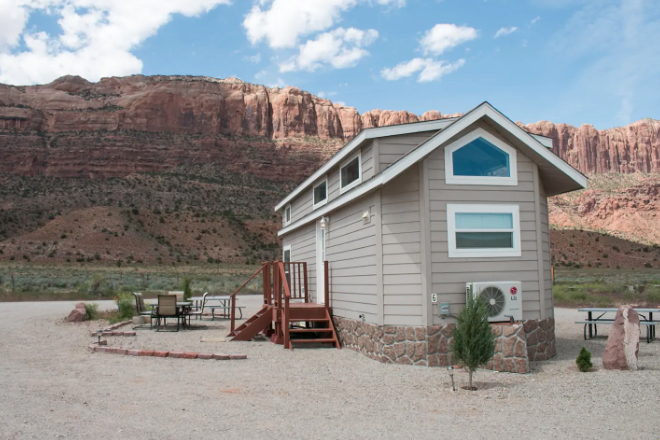 4 – Take time to plan a good route and Itinerary for a US National Park Trip
This is can save you money by not creating unnecessary backtracking or additional hotel nights. One of the best methods (and most cost-efficient) is to book an open-jaw trip if your flying and renting a car. To do this, fly into one city and then drive a rental car to another city to fly home from while stopping at National Parks along the way. This is the best strategy for visiting the Big Five Utah National Parks!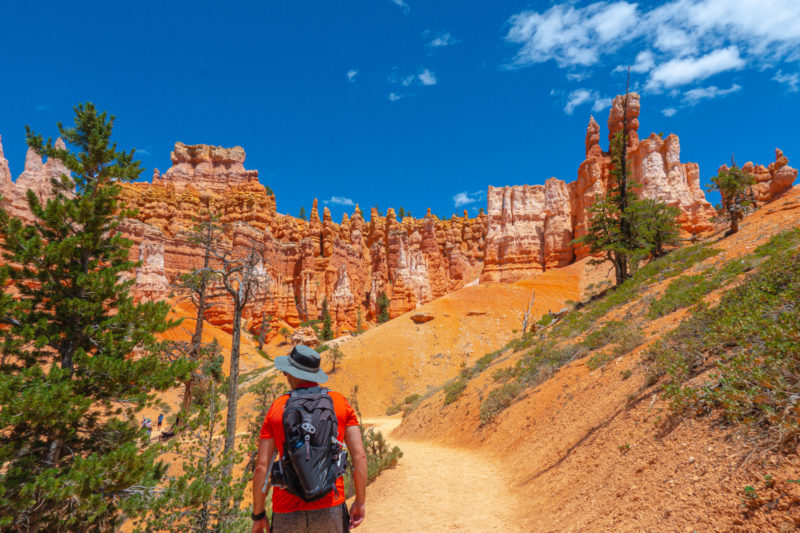 5 – Open a Cash back Credit Card to Save Strategically
There are thousands of credit cards out there that offer all sorts of bells and whistles. We've broken down the Top Credit Card Offers based on promotional offers and overall value. A great option for a US National Park Trip is the Chase Freedom Unlimited. Some of the top perks include no annual fee and unlimited 1.5% cash back. You can also see the latest offers below. The last perk being the next great way to save money on a US National Park Trip!
on everything you buy (on up to $20,000 spent in the first year) – worth up to $300 cash back
on everything you buy (on up to $20,000 spent in the first year) – worth up to $300 cash back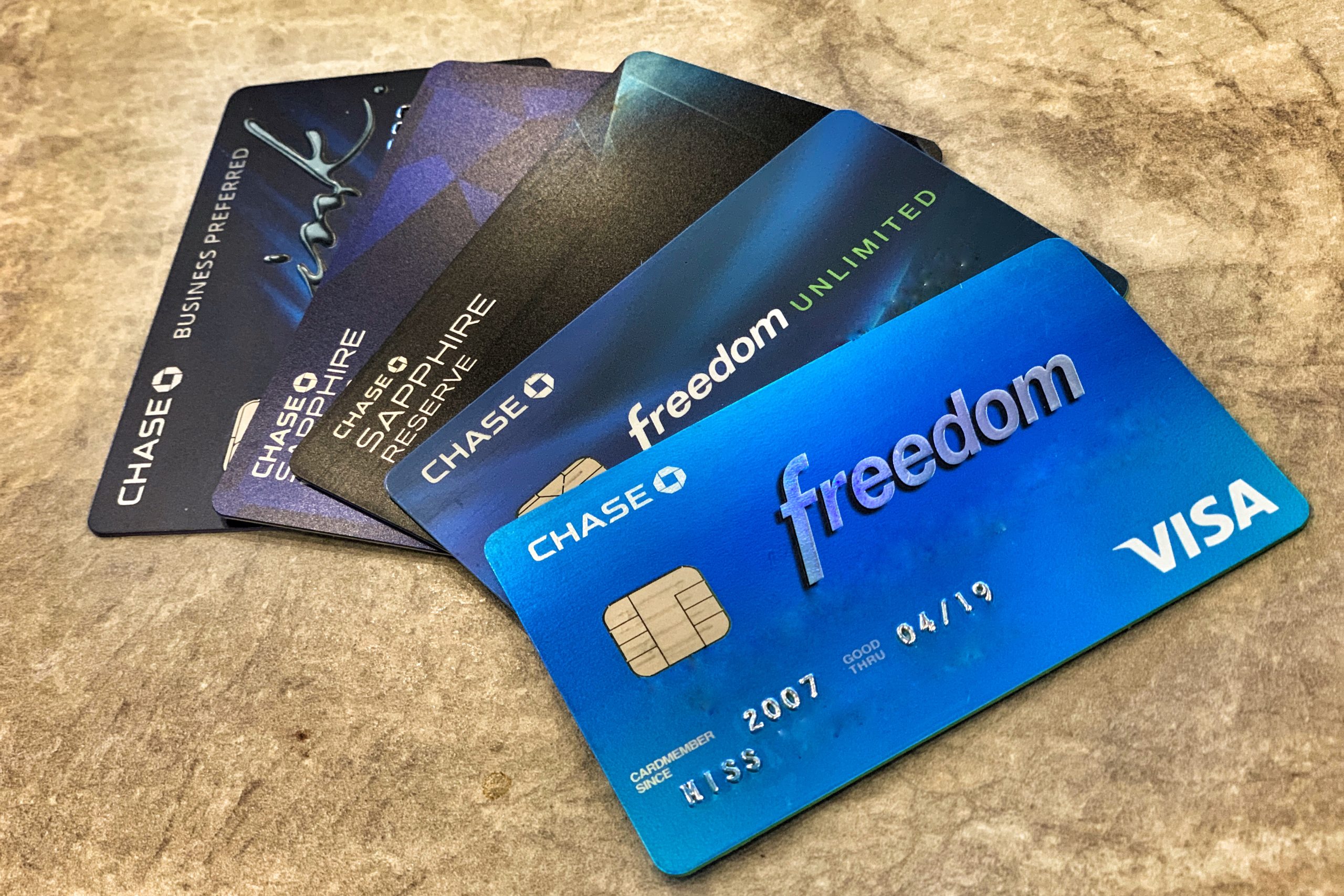 6 – Go Grocery Shopping to Save Money inside a US National Park
Preparing your own food when traveling to a US National Park can result in some major savings, especially for families. If you're camping, most sites are equipped with a grill. For hikers, preparing sandwiches ahead of time is always ideal for a nice lunch break with some beautiful scenery. Beware though that the stores located within the parks are typically much more expensive than the grocery centers in nearby towns. Don't forget to double down on savings by using a cashback credit card from the 5th tip above!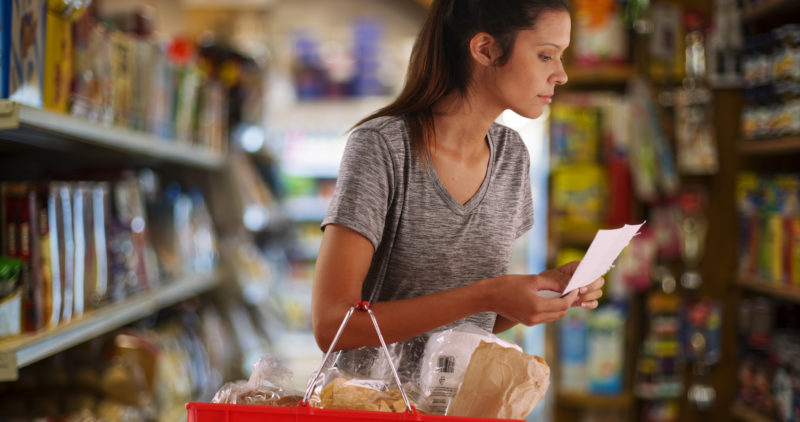 7 – Rent a Car (or drive your own) to visit a US National Park
For me, it doesn't get any better than road tripping through a national park in a car that I have control over. Organized tours are great and do have their perks but I LOVE being able to pull over at any given moment when something beautiful catches my eye. Renting a car is typically my preference for long drives versus taking my own car in order to save on wear & tear. Plus there are loads of great deals to be found via websites like autoslash.com or discounts directly from the car rental agencies.
Hot Tip – There are a ton of Credit Cards that come with car rental coverage. Declining pricey car rental coverage can certainly be a huge money-saver!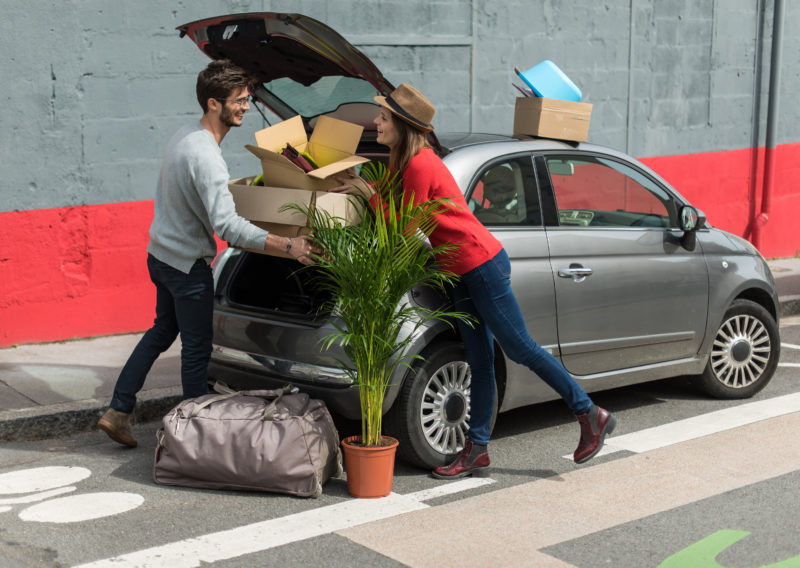 8 – Use Points & Miles to Subsidize Airfare, Car Rentals, and Hotels
I could write a whole book on the various strategies out there for using points and miles to subsidize travel (oh yeah, we already have one!). The most basic approach to this money-saving strategy is to book travel via Credit Card Travel Portals. There are three major ones – Chase Ultimate Rewards, American Express Membership Rewards, and Citi Thank You. Each bank has multiple credit cards that earn points that can be used for travel in each portal. A recent example of this is a "hotel" I booked outside of Yellowstone and Grand Teton National Parks. The Tipi pictured below only 7,500 Chase Ultimate Rewards Points per night!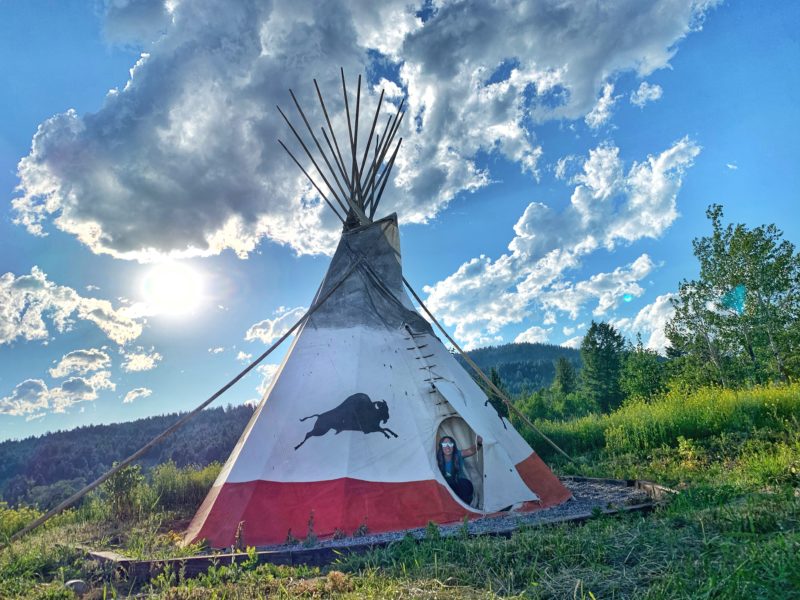 9 – Earn Cashback by linking your Debit and Credit Cards
There are a handful of cash back apps out there that give customers money back on purchases. Dosh is one of my favorites due to its simplicity. All you have to do is make an account and link a debit or credit card. Anytime that the card is used to make a qualifying purchase cashback will be added to your account.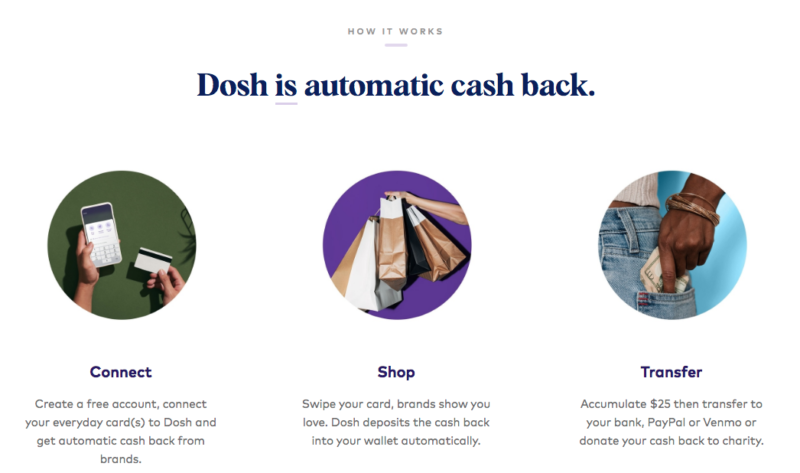 10 – Take advantage of Free Entry days at US National Parks
Every year the US National Park's Service selects a handful of "FREE" days. All US National Park sites that typically charge an entry fee will be completely free on these select days. In 2020, the following qualify for Free Entry into US National Parks.
January 20th (Martin Luther King JR Birthday)
April 18th (First day of National Park Week)
August 5th (Celebrate the Passage of the Great American Outdoors Act)
August 25th (National Park Service Birthday)
September 26th (National Public Lands Day)
November 11th (Veterans Day)
Let us Know
What's your favorite tip for Saving Money on a National Park USA Trip?
More Basic Reading