With more than four million visitors every year, there is something for everyone at Yellowstone National Park. Geysers, hot springs, canyons, waterfalls, lakes, and animals at every corner provide zero Basic moments. Did you know that Yellowstone National Park is spread across three states with almost 3,500 square miles of land to explore? Given its size, planning is key to crossing off all of the top things to see at Yellowstone. Use the Basic Guide to Yellowstone National Park + Sample Itinerary to plan the best trip to one of the top national parks in the world!
History
Yellowstone is famous for many things – the most important being the first park to ever receive the designation of National Park. On March 1st, 1872 President Ulysses S. Grant signed off on Yellowstone to receive this title which would allow the land to be protected and preserved indefinitely.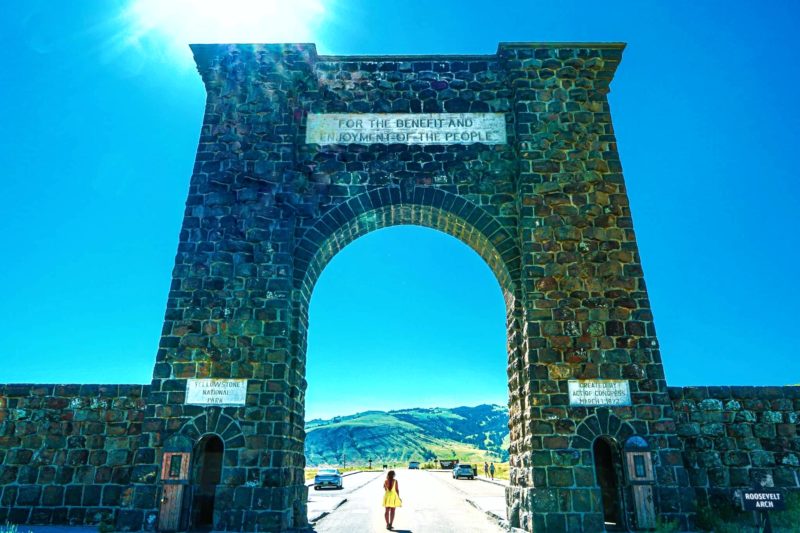 Location
Yellowstone National Park is located in three distinct US States. The park spreads 3,468 square miles across Wyoming, Idaho, and Montana.
How to Enter Yellowstone National Park
Yellowstone National Park has five distinct entrances to the park. There are two entrances up north, one to the east and one to the west, and a south entrance which leads into Grand Teton National Park.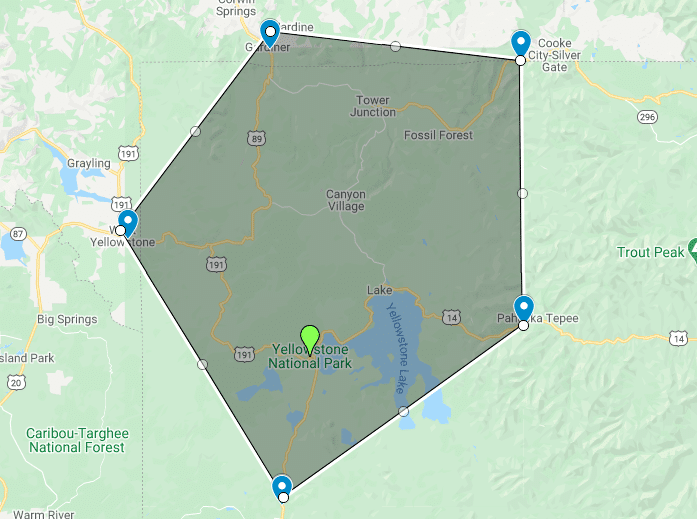 How much does Yellowstone National Park cost to enter
It costs $35 per private vehicle to enter Yellowstone National Park. The entry fee is good for seven continuous days. For travelers visiting multiple National Parks within the same 12-month span, I'd suggest saving some money with an annual National Parks Pass. Save some more money with these Ten Tips!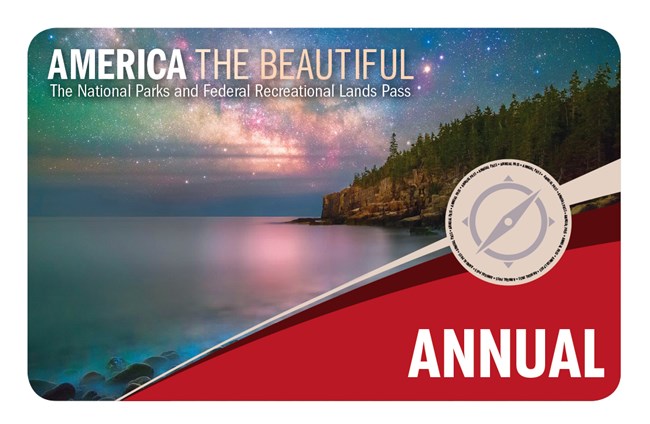 Where to sleep in Yellowstone National Park
Depending on your basic budget, there are both low and high-end options for overnight accommodations. Below is an overview of all three.
Camping at Yellowstone
For budget travelers, Yellowstone offers 12 campgrounds with over 2,000 campsites. These campsites go for as low as $15 dollars per night. Some campsites need to be reserved ahead of time while others are first-come-first-serve. The latest information on camping availability can be found here.
Lodges at Yellowstone
On the other end of the price spectrum are the Yellowstone National Park Lodges. The most popular lodge at Yellowstone is the Old Faithfull Inn (opened June 1st, 1904) which costs an average of $550 per night. People who choose to stay in a Yellowstone lodge are positioned in a prime location within the park. This allows for cutting out any unnecessary driving from the towns located outside of the park. Folks who have stayed in a lodge within the park boasts about the history and elegance of all nine different options.
Sleeping Outside of Yellowstone
This is the option that I chose when visiting Yellowstone National Park. The towns located directly outside of each Yellowstone entrance offer a wide variety of accommodations. You'll find chain hotels like Super 8 & Raddison, bed and breakfast boutiques, and even Airbnb's.
I used credit card points (Ultimate Rewards) to book via the Chase Travel Portal. My first hotel I stayed at was actually a Tee Pee near the south entrance of Yellowstone for only 8,500 points per night. The second hotel I booked was a Super 8 located near the north entrance in Gardiner Montana for 15,000 points per night. Using those points for accommodations provided me the financial cushion to actually make this trip happen. For more information about subsidizing travel with points & miles, check out our Free Guidebook here!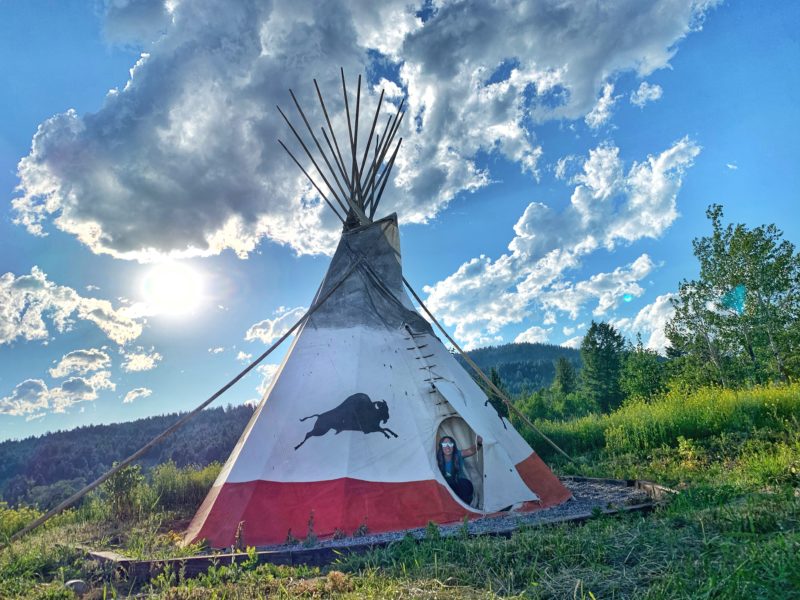 Top things to see in Yellowstone National Park
There is so much to see and do in Yellowstone National Park! To give you some inspiration for your trip, check out this list along with photos.
Animals of Yellowstone include Bears, Wolves, Elk, Moose, Deer, Bobcats, Fox, Otters, Eagles, Osprey, Falcons, Bison, and more. You'll find animals spread throughout the park but for the best viewing head to either Lamar Valley or Hayden Valley.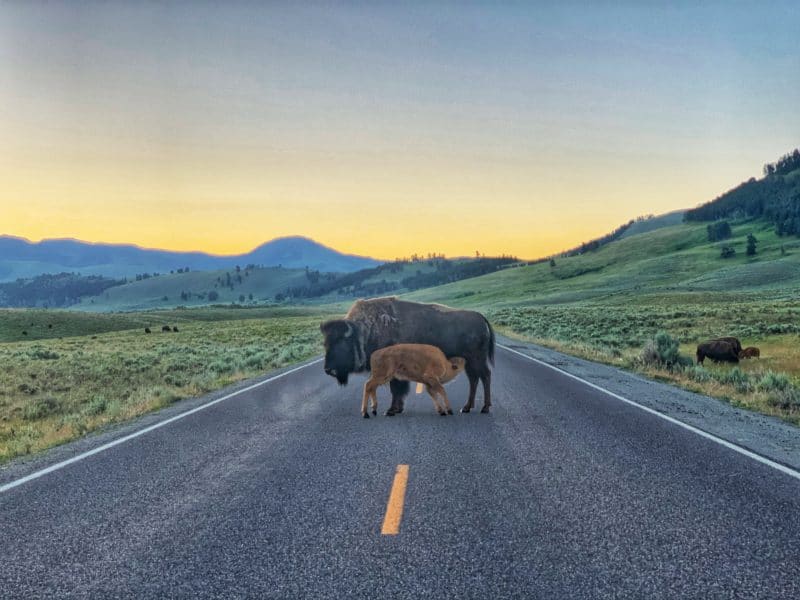 Geysers including the famous Old Faithful and hundreds of others spread around the park.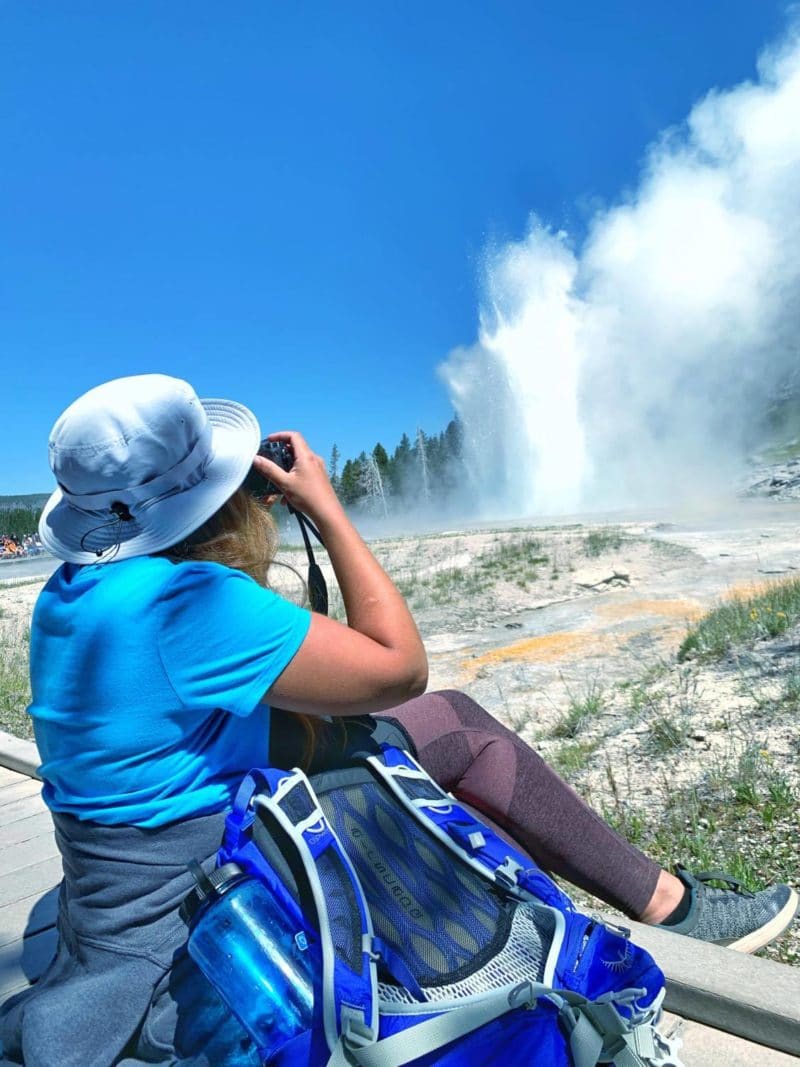 Hot springs including the Morning Glory Pool and Grand Prismatic. Up north don't forget to take a stroll through the Mammoth Hot Springs trails.
Grand Canyon of Yellowstone is full of tremendous views. There are tons of hiking trails spread around the Canyon which offer views of the Yellowstone River and Yellowstone Waterfall. One of my favorite trails is Uncle Tom's which takes hikers down 300 steps to the lower falls.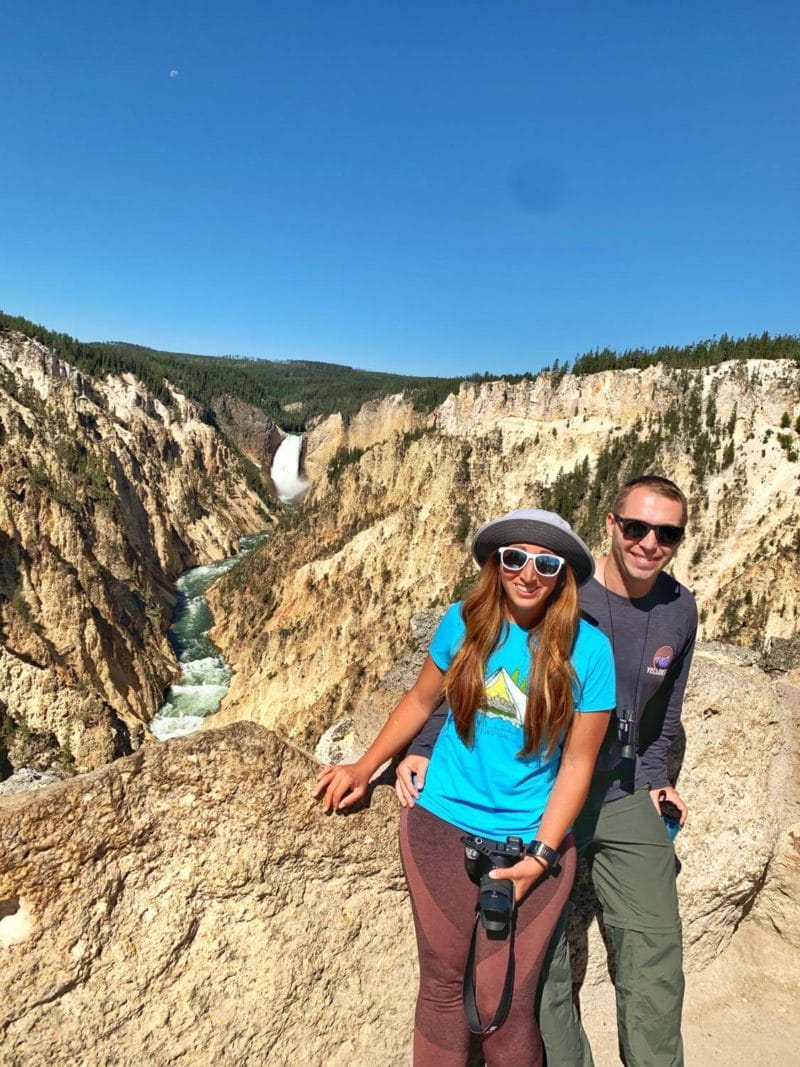 Yellowstone Lake is a must-see. At over 7,000 feet in elevation, Yellowstone Lake is the largest high elevation lake in North America. Popular activities here include hiking, renting a kayak, or taking a boat on to the river.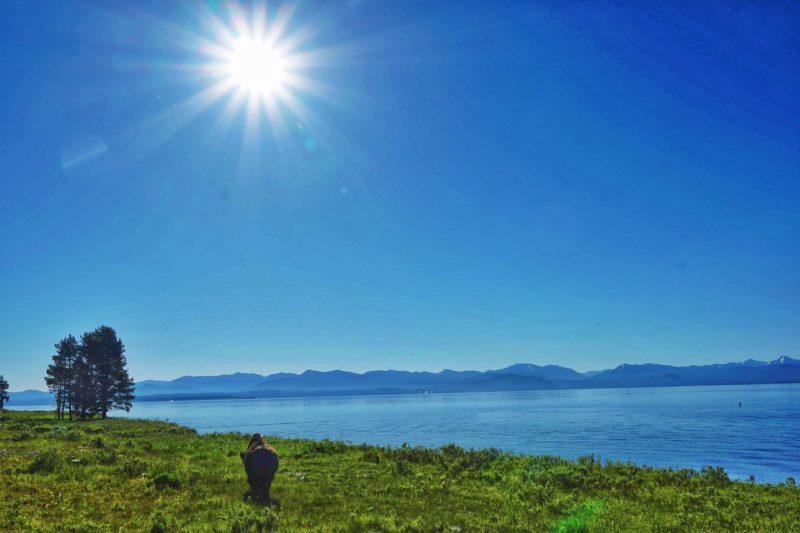 Sample Itinerary for Yellowstone (and more!)
I preface this itinerary with my own personal bias, but I do believe it is the best way to experience Yellowstone National Park along with the surrounding area. The trip starts in Salt Lake City Utah with an early morning rental car pick up from the airport. Driving north from Salt Lake provides plenty of scenic views and great pit-stop opportunities.
You can either drive back to Salt Lake City to fly home or rent a one-way vehicle and depart from a city up north like Boise Idaho or Billings Montana.
Day 1
Salt Lake City to Idaho Falls for lunch
Idaho Falls to Jackson Hole to explore
Jackson Hole to Grand Teton National Park

Take a Dinner Raft Tour down the Snake River for an amazing finish to the day.

Spend the night in Jackson Hole (or up north closer to Yellowstone)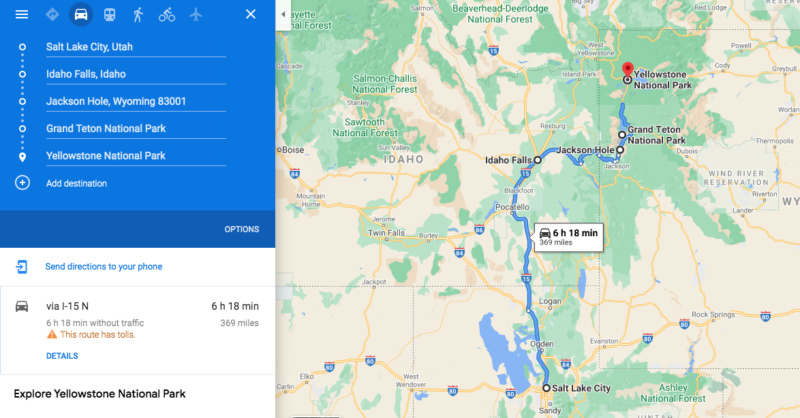 Idaho Falls, Idaho – Grab lunch and snap a photo in front of the falls!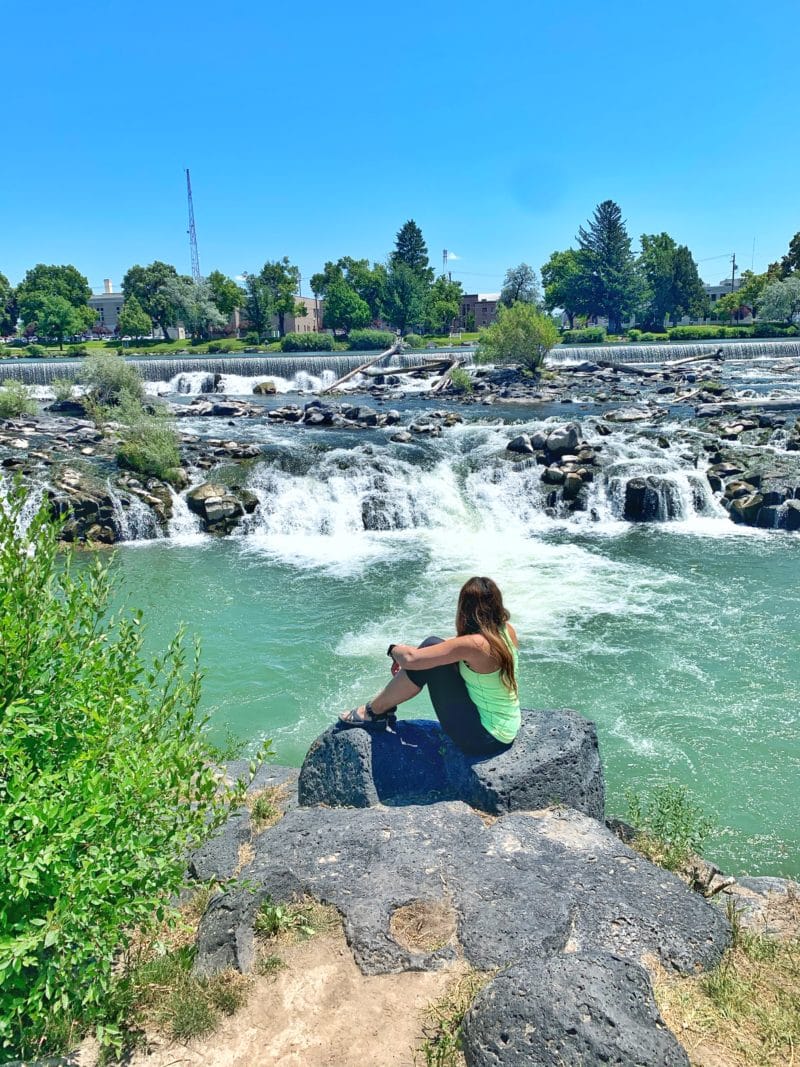 Grand Teton National Park – Book a Snake River Raft Tour (We booked through Triangle X) and learn about the park, see some animals, and take in the views!
Jackson Hole Wyoming – This town is unique! Grab a bite to eat and grab a photo in front of one of four antler arches found in the town square.
Day 2
Wake up early and drive to Old Faithful
Explore the Upper Geiser Basin and see the Morning Glory Pool
Grand Prismatic and the Fairy Falls Hike
Norris Geyser Basin
Day 3
Hayden Valley
Mud Volcano & Surrounding Area
Yellowstone Lake
Grand Canyon of Yellowstone
Day 4
Lamar Valley
Mammoth Hot Springs
Swim in the Boiling River
Dunraven Pass to Hike Mount Washburn
Petrified Tree
Drive back to Salt Lake City to fly home. Alternatively, rent a one-way car and fly home from a nearby city like Boise Idaho or Billings Montana.

Don't forget to grab some coffee for the ride after a long (4) days of exploration!
Click here for a Map of Yellowstone National Park to help with planning!
Let us Know
What's your favorite thing to do at Yellowstone National Park? I'd love to hear from you down in the comments or over in the 4,000+ Member Basic Travel Facebook Group!
More Basic Reading