The Atlantic City status match has been on my Basic Travel bingo board for years. I finally was able to find some time over Thanksgiving to take the trip down to New Jersey and make it happen. Thanks to status matching, I received comped nights, food vouchers, and free play. Learn how to complete the Atlantic City Status Match below in this basic guide!
In this Basic Guide
Status Match 101
Wyndham to Caesars Rewards

Options to Earn Caesars Rewards Diamond
Caesars Rewards Benefits

Caesars Rewards to Atlantic City

How to Redeem a Caesars Rewards Celebration Dinner Voucher

Hard Rock
Ocean
Borgata
Bonus Hyatt Explorist Status Match
Basic Breakdown
Status Match 101
A Status Match is basically taking an elite status that you have from one particular brand and matching it to a competitor or partner. Status Match opportunities can be done in a variety of ways including: in person at customer service, online, or over the phone. Sometimes a Status Match is offered by invitation only while others are promoted offers. A key component of the Status Match Travel Strategy is that often all it takes is earning one status to start up a chain of matching across hotels, airlines, casinos, and cruise lines. The best part is that status can be earned simply by opening credit cards!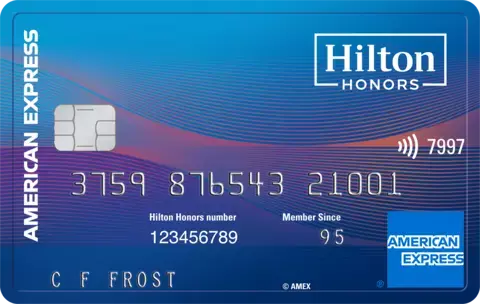 $0 intro annual fee for the first year, then $95 annual fee.
once you spend $2,000 on purchases within the first 3 months from account opening
Wyndham to Caesars Rewards
Prior to being able to complete the Atlantic City Status Match, you'll need to earn Caesars Rewards Status. This use to be a whole lot easier when Wyndham Rewards offered the opportunity to status match to Wyndham Diamond from a variety of Hotel Partners. When Wyndham Rewards reopens the status match, all it takes is Hilton Gold which comes with the Amex Hilton Surpass Card to start the chain. This is detailed in the following Guides: Wyndham Rewards Status Match & Caesars Rewards Status Match.
Options to Earn Caesars Rewards Diamond
Caesars Rewards Diamond Benefits
Caesars Rewards to Atlantic City Status Match
Once you have the Caesars Rewards Diamond Status you'll be ready for the Atlantic City Status Match. If you play it right, you can end up with multiple comped nights, food vouchers, and free casino play. Below, I'm going to break down each separate option you have to redeem rewards in Atlantic City.
Caesars Rewards in Atlantic City
First up is Caesars Rewards! With Diamond Status, the most important perk that you'll be able to redeem in Atlantic City is the annual $100 Celebration Dinner. I typically like to use my annual celebration dinner in Las Vegas, at places like Ruth's Chris or Nobu. Don't get me wrong, there are plenty of good options in Atlantic City. On our most recent trip, we used our Celebration Dinner Vouchers at Gordon Ramsay Steak which was a top-notch experience.
How to Redeem a Caesars Rewards Celebration Dinner Voucher
The Caesars Diamond Celebration Dinner Vouchers are pre-loaded to your Rewards Card. In order to redeem your Celebration Dinner, you need to stop by a Caesars Rewards players desk at any of the partner hotels to verify that it is on your account: Harrahs, Caesars, & Ballys. You'll need a valid Caesars Diamond Players Card so be sure to grab a new one prior to asking about the dinner. Finally, be sure to make a reservation at one of the restaurants located within one of the three partner hotels since the time slots often fill up quickly!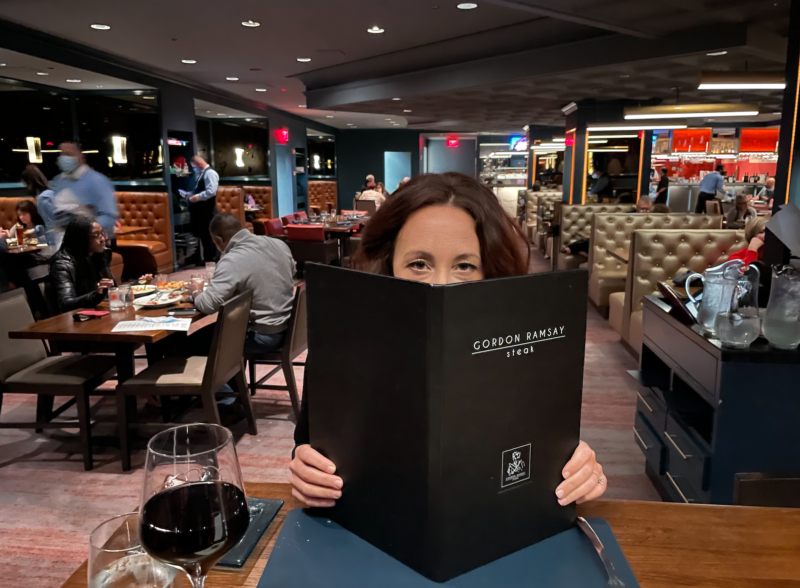 Hard Rock Hotel Atlantic City
The Hard Rock is what makes the Atlantic City Status Match worth making the trip. The status match offers the most generous freebies out of all of the options in Atlantic City and should be your first stop. Matching is easy, simply provide your Caesars Rewards Diamond Card to the Hard Rock players desk in order to earn Rock Royalty Status.
What do you get with Rock Royalty?
Two Comped Nights (Call to book 1-(609)-449-1000)
Two $25 Food Vouchers (Swipe card at players machine to print voucher)
$50 in Casino Freeplay (Redeem at Slot Machine)
Access to Premium Beverages while playing (Order from the Slot Machines)
Free Parking
Waived Resort Fees
Free Car Wash Voucher (Swipe card at players machine to print voucher)
My Experience – Lisa and I arrived without a hotel booked for the night and immediately did the status match. Then we called the Hard Rock Players Number to book our free nights and headed to the slot machines. One basic tip is to cash out winnings as you win to maximize profits. We each ended up with over $50 in cashback! For the food vouchers, we redeemed them at the YouYo Noodle Bar, Hard Rock Cafe, & the Flavor Tour Food Court (Acai Bowl and Salad Restaurant).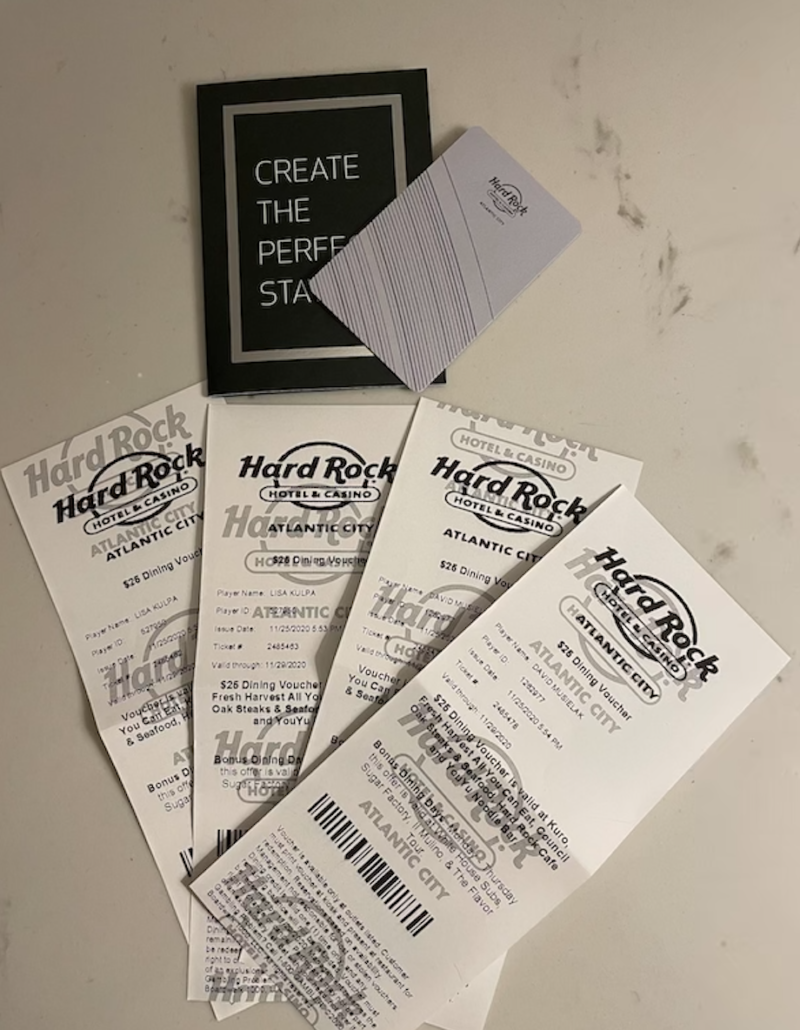 Ocean Casino Resort
The Caesars Rewards to Ocean Casino Atlantic City Status Match didn't actually provide us with much. I was matched to Ocean Platinum Status and received a Free T-Shirt. In the past, I've heard that the Ocean Status Match has gotten people complimentary nights and freeplay. I'm assuming that they pulled back benefits due to the coronavirus and hopefully they will return as travel picks up again.
The Borgata
The Caesars Rewards to M Life Gold at the Borgata was certainly better than the Ocean. This Atlantic City Status Match resulted in $25 in Casino Freeplay which was better than a T-Shirt! I was able to turn that freeplay into $26.88 at the Sharkweek slot machine. In the past, I've heard that people have received up to $100 in casino freeplay and a complimentary night!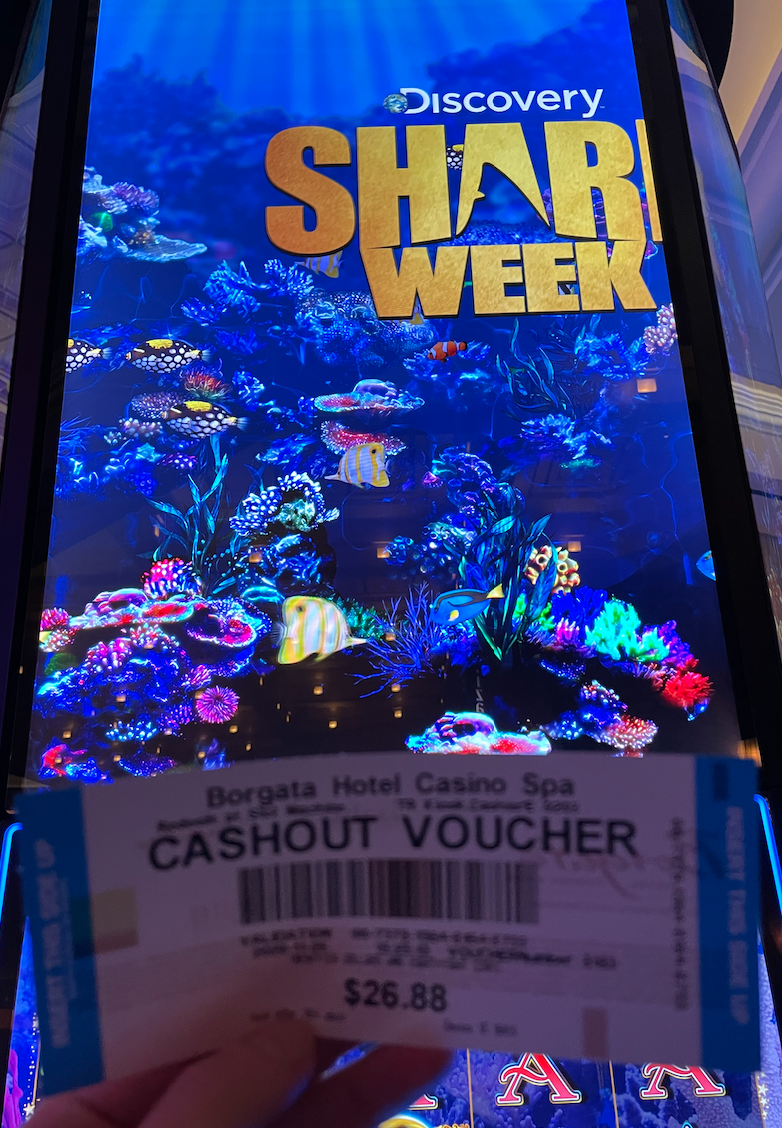 Bonus Round – M Life Gold to Hyatt Explorist
Now that you have M Life Gold Status you can status match to Hyatt Explorist. Hyatt Explorist comes with some great benefits like Room Upgrades, Late Checkout, Bonus Points on Paid Stays, & More. Follow the steps below to complete the M Life Gold to Hyatt Explorist Status Match!
Create both an M Life and World of Hyatt Rewards Account
Once logged in, click this link and then "Click Here Opt-In" located halfway down the webpage
You're now officially a Hyatt Explorist!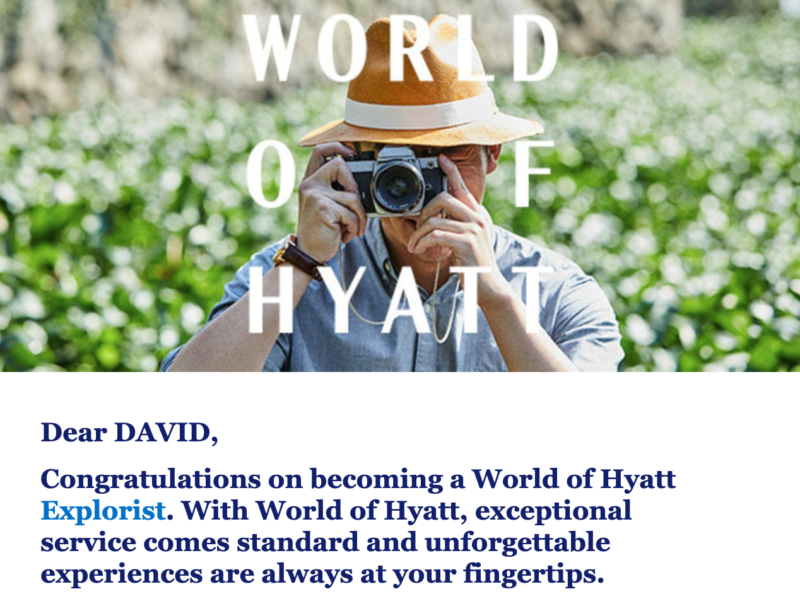 Status Match Merry-Go-Round
One of the best reasons to complete the Atlantic City Status match is so that you can join in on the Merry-Go-Round. Let me explain, since the statuses expire/reset at different times, it's possible to keep re-matching online every year. This is possible during the small window of time when one status is expired while the other one is not. Take a look at the recommended timeline below!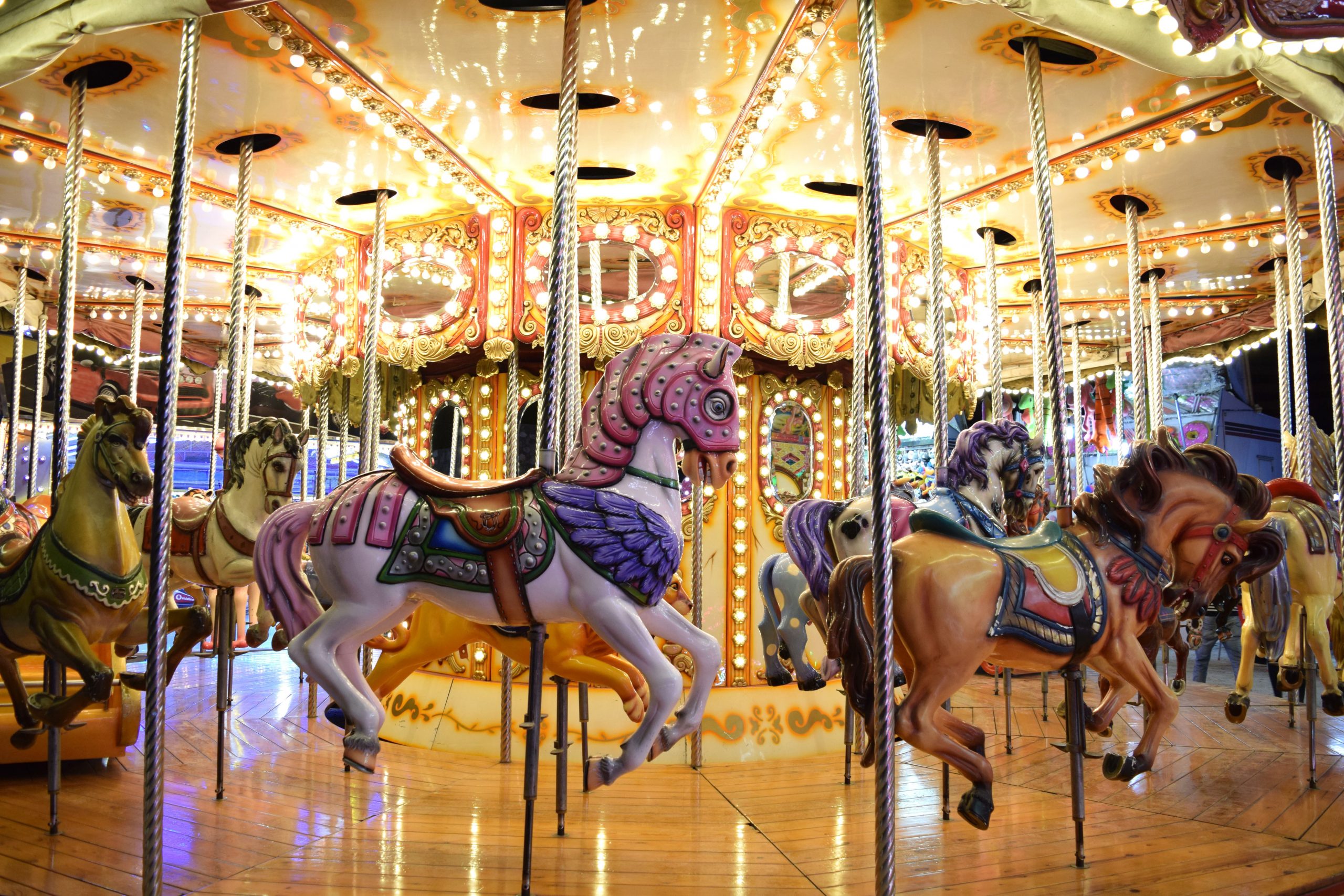 Caesars and Wyndham Merry-Go-Round
Wyndham Diamond Expires December 31st
Match Caesars Rewards Diamond to Wyndham Diamond after January 1st but before February 1st.
Caesars Rewards Diamond Expires January 31st
Match Wyndham Diamond to Caesars Diamond after February 1st
M Life and Hyatt Merry-Go-Round
Basic Breakdown
It's pretty amazing what you can do with only one Elite Status. It's like a secret society that once you break-into, you can remain part of the group under the radar indefinitely. By my count, if you play this right, you can end up with Wyndham Diamond, Caesars Diamond, Hard Rock Royalty, Ocean Platinum, M Life Gold, and Hyatt Explorist thanks to the Atlantic City Status Match!
Let us know!
Have you completed the Atlantic City Status Match? I'd love to hear from you down in the comments or over in the 4,600+ Member Basic Travel Facebook Group!
More Basic Reading