It is needless to say that 2020 put a lot of our travels on pause this year. When Sebastian found an insane deal to stay at Miraval Arizona, a highly rated all-inclusive resort, for next to nothing, we made our very first spontaneous travel booking! This booking should have normally cost over $4,000, but we only paid $50. Utilizing points and miles gave us an incredibly relaxing weekend getaway that was just what we needed.
Hyatt Miraval
Hyatt acquired the Miraval brand of wellness resorts in 2017 and has allowed Hyatt members to take advantage of their beautiful properties using member reward points ever since. To be able to use points at a resort-like this is a dream, but the current promos that Hyatt and Miraval are running, independently of each other, are bar none! The Miraval Arizona far exceeded our expectations.
after you spend $3,000 on purchases in your first 3 months from account opening.
after you spend $3,000 on purchases in your first 3 months from account opening.
The Points Breakdown
The baseline points for this hotel is 45,000 points per night for a single occupant, and an additional 20,000 per person, per night. That breakdown comes out to 130,000 points for 2 people to stay 2 nights.
Current promotions that made this redemption so valuable:
Hyatt is currently running a promo for 25% back on any redeemed points through January 4, 2021, for World of Hyatt credit card members. Just being a Hyatt member (free account) is a 15% discount. Miraval is running a separate promotion of BOGO night redemptions through the end of the year. Buy one night with points, get one free. Miraval stays also come with $175 resort credit per person, per night paid with points. The full breakdown comes down to:
Miraval 2 Night/2 People Baseline = 130,000 points
BOGO Promo = 65,000 points
25% off Hyatt Promo = 16,250
Total for the stay: 48,750 points*
*You need to have 65,000 points in your account to make the booking, but you will receive a points credit back to your account after your stay. In this case, you would receive 16,250 points.
For Hyatt members, without a Chase Hyatt credit card, the 15% discount would come out to 55,250 points.
You can find details on both of these promotions, and all other Hyatt is currently running through this link.
So Where Do I Get These Points?
For this particular booking, you do not need to have the Chase World of Hyatt card. Having the card does give you a higher 25% points back. It could also help you with potentially getting a free upgrade as you are given the first level of status by being a cardholder. You do need to have Hyatt points already. You can get these points by utilizing the Chase World of Hyatt Card, or by transferring points from another card. Our favorite points transfer partners are with the Chase Sapphire Preferred Card or Chase Sapphire Reserve. The sign-up bonus for the Hyatt, CSP, or CSR will help get you close to the points you need for 2 nights at Miraval with these current promotions.
after you spend $4,000 on purchases in the first 3 months from account opening.
after you spend $4,000 on purchases in the first 3 months from account opening.
Our Experience
Now that we have broken down what a STEAL this redemption is, let me tell you why you should jump on it before the end of the year! I would be lying to you if I said we weren't absolutely excited about going to Miraval Arizona. This was our first all-inclusive experience and our best travel redemption to date. I am here to tell you that all of our expectations were blown out of the water from the moment we called for our booking. Yes, you read that right. Even the booking experience was so accommodating, warm, and friendly.
Booking
As noted in the screenshot up top, Miraval Arizona bookings require calling the hotel directly. They warned that it would seem a little sketchy because our points would immediately be pulled from our account, but our stay would not show in the app or online. This has something to do with the partnership between the brands that we don't completely understand. We knew our booking was in safe hands and we did receive email confirmation shortly after our call. After booking, we were asked to look at the activities we would like to book. A concierge desk associate then called us to assist in booking the classes.
Activities booking at Miraval Arizona
Miraval Resorts strive to create a life in balance. Your stay includes a private custom wellness experience and has daily activities for hiking, fitness classes, yoga, meditation, and more.
We were easily put into all of the classes we wanted and initially waitlisted for the 2 that were full. The waitlist process is exactly how it sounds. Each morning we were sent a new schedule to our hotel room. If there were any classes that we decided we no longer wanted to take, we were asked to give notice the day before. If you didn't, there would be a cancellation charge for no-shows. The philosophy is similar to your gym membership that charges if you miss the class you signed up for. Someone is losing that seat because you did not make it, so you are charged the fee. I think it's fair, especially since classes are half capacity due to COVID. Don't overschedule yourself if you don't plan to do it all!
In addition to scheduling our classes, we also set up a van pickup upon our arrival. We were originally planning to get in the night before our stay. Miraval Arizona actually had a list of hotels they could pick us up from. However, we had a flight delay out of Cincinnati. So instead we spent a night at DFW and flew to Tucson the next morning. Miraval could not be more accommodating to this change. They were able to meet us right at the arrivals escalator with a Miraval sign, an experience I had only seen in movies up to this point, lol!
Arrival
A gentleman met us at the arrivals/baggage claim. There was another couple starting their stay as well. Off we went to the nice, cool, air-conditioned van in the 95 degrees Arizona heat. He had ice-cold water and reusable tote swag bags with all kinds of goodies inside!
The drive from the Tucson International Airport to Miraval is about 45 minutes to an hour. This makes the pick-up option all the sweeter! No need to rent a car or worry about ground transport upon arrival. You are in relaxation mode the second you get off that plane.
We never had to touch or carry our bags after getting in the van either! Room tags were placed on our backpacks (we travel light on weekend trips). Upon arrival, we were escorted to the check-in desk. They then squeezed into lunch 10 minutes before the restaurant closed. After lunch, we were given a private golf cart tour of the property. Lastly, we arrived at our *surprise* room upgrade.
Can't beat this start, right?
Wrong, it just keeps getting better!
The Miraval Motto
Life in Balance.
Miraval's mission statement is all about balance and well-being. The goal of the guest experience is to unplug, be present and live life in balance. This is something that is taken very seriously and comes with a strict digital device-free policy. Photos are allowed to be taken to bring memories home. The goal of a stay at Miraval is to truly disconnect from technology and connect with yourself and others in a way that many of us have not done in a very long time. We came into this weekend with the intention of fully observing and respecting ourselves by living in the moment. It was so refreshing.
Miraval Arizona was truly the mental reset we needed in such a tumultuous year like 2020. It is definitely something I think we need to do more often from home as well. I would have never known just how healing it was without this experience.
The Room
Going into this trip we were a little skeptical about the room we booked. A few reviews stated that the standard rooms were outdated. Yellows and browns for the room colors, older furniture, outdated bathroom, etc. We were ecstatic to see we were upgraded from the Dreamcatcher King to the Sunrise King. A room that was $1,000+ more for our 2-night stay, and for a reason!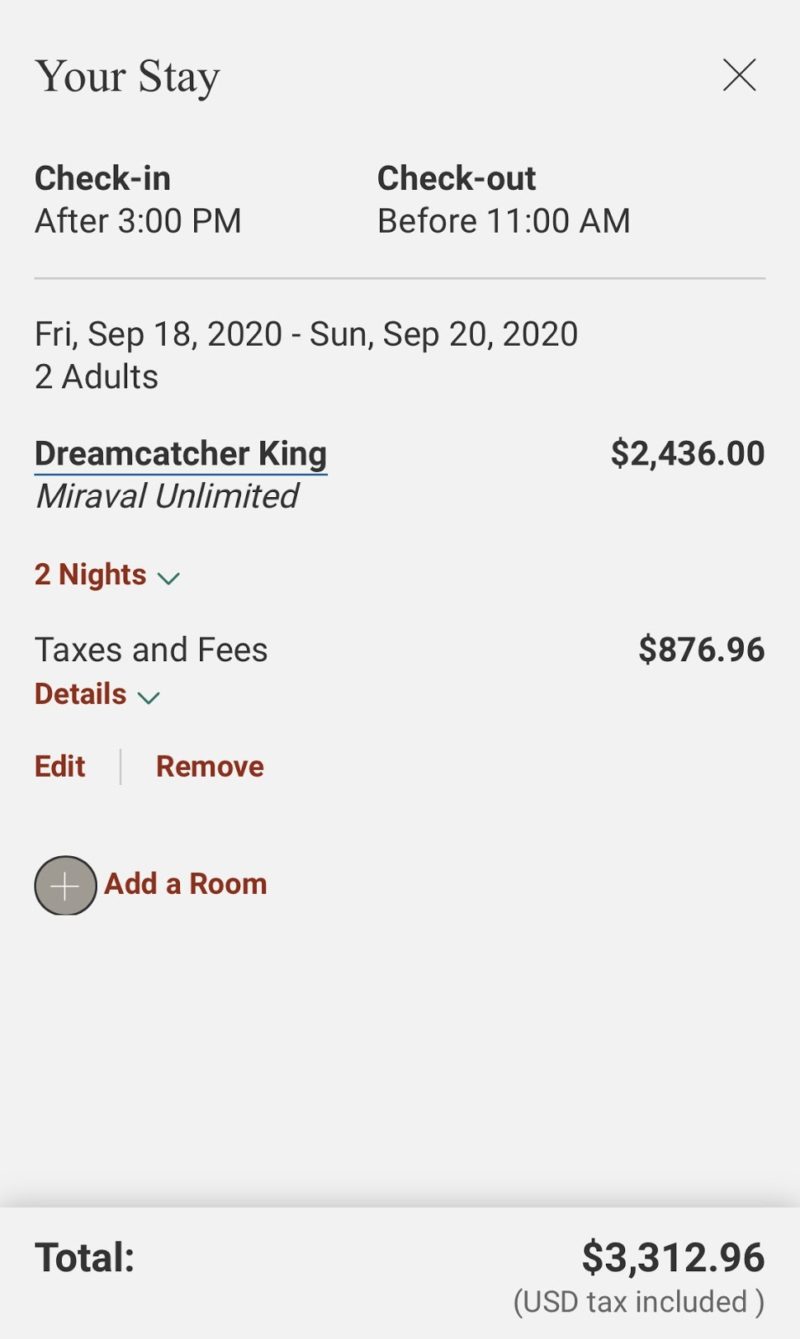 Sunrise King Room
The Sunrise is located in a private block of rooms facing the Catalina Mountain range. The rooms are also secluded from the rest of the guests. Sunrise King Rooms at Miraval Arizona rooms are much larger and updated than the rest. Included is a killer bathroom with an outdoor shower and large soaking tub. For a video full room tour, check out our Instagram post!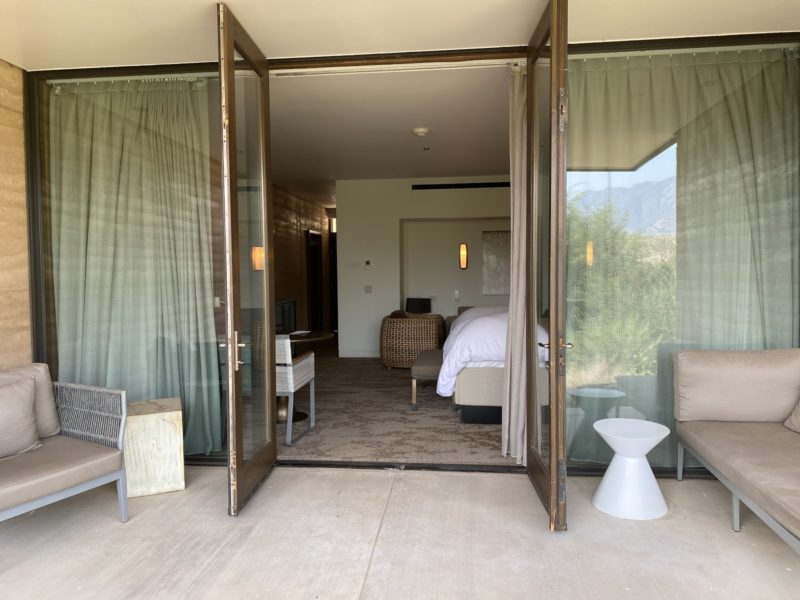 An extra bonus to our rooms being more secluded, more wildlife! We saw more wildlife at Miraval than we did in any of the National Parks we have been to, to date. I don't know how we got so lucky. We were able to spot tons of deer, a few javelinas (wild desert boars), wild desert cattle, Gamble's quail, a roadrunner (MEEP MEEP), and heard what sounded like a pack of (Wiley) coyotes. Couldn't help myself with the Looney Tunes reference. 🙂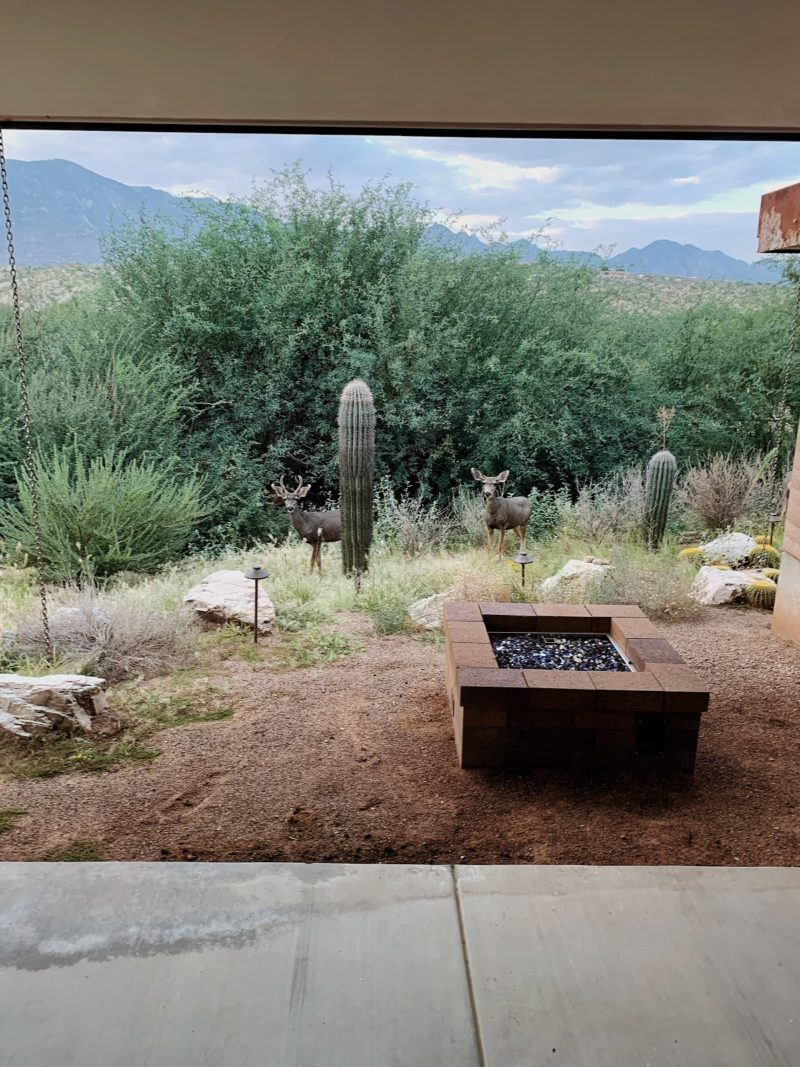 The Grounds
We had so much fun just walking around the grounds, enjoying the sounds of the desert. Due to COVID, guest capacity is way down and we rarely passed anyone walking around the property. It was as if we had the whole place to ourselves, except at feeding time!
Miraval offers so many areas to relax and explore on their grounds. It is so beautifully kept. Dozens of varieties of cacti and desert plants are so well curated and joined by a man-made water feature that runs right down the middle of the property.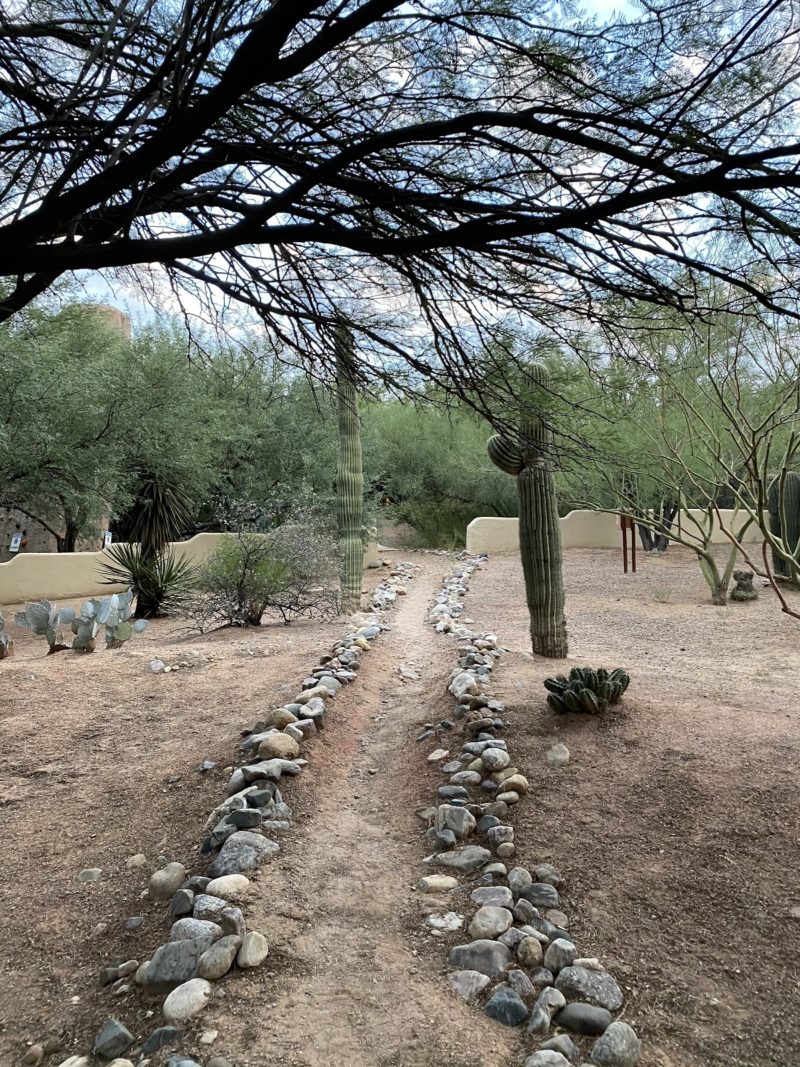 We spent our evenings walking around and lounging in the hammocks. I think between the room, food, and this, we would have honestly been happy with our stay. Adding on the activities made it over the top!
The Food
You can't say all-inclusive without unlimited FOOD. I'm having a Pavlovian response just thinking about what we ate at Miraval. If I could use any one word to describe the food situation, it would be fresh. Miraval has a small self-sustained farm on property that they get most of their fresh produce from. It was some of the best fruits and veggies we've ever had.
Breakfast and lunch are a breeze with set hours that you can walk-in to the restaurant for a sit-down meal. For dinner, you have to go to the restaurant each morning to make a reservation between 5 pm and 8:30 pm. We had no issue getting the time we wanted.
Menu
All menus are pre-set because of COVID. Typically lunch involves a self-serve buffet. We liked the more personalized experience of having the set menu and were excited to hear what the daily changes were to the menu. There is something for everyone with salads, vegan options, and classic burgers among the standard menu items. Our personal favorite food or beverage we had our entire trip was the seasonal hibiscus lemonade. We had one with every meal! The best part was that every single one tasted a little different. That's how you know it's fresh!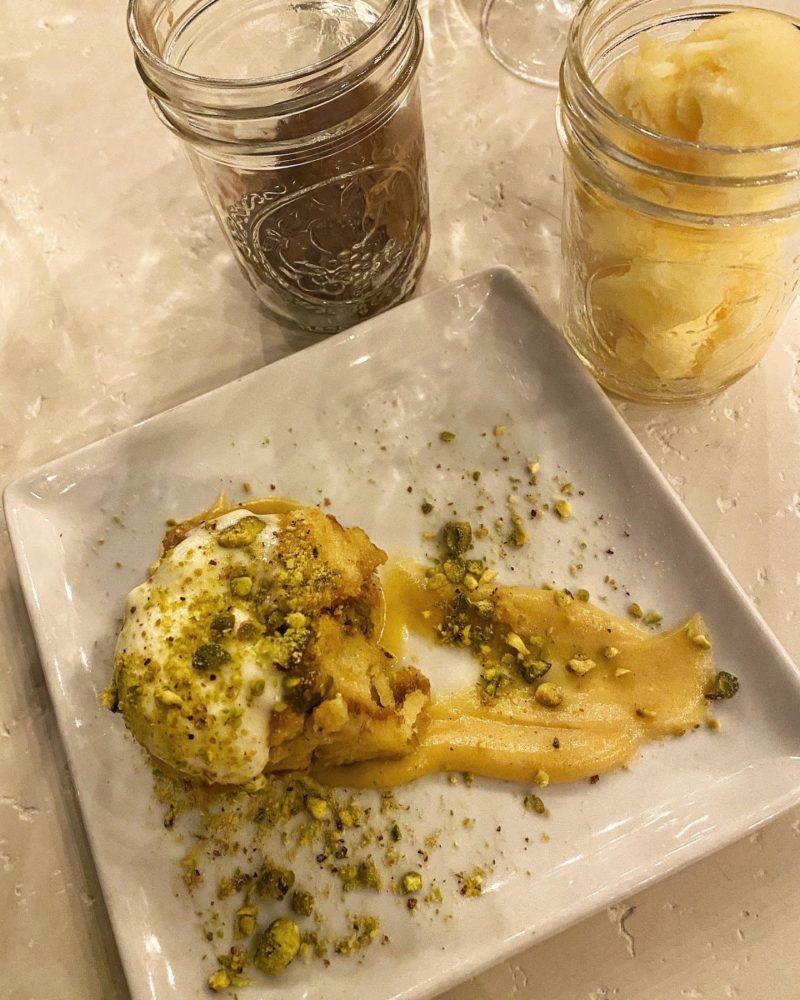 Scared you'll be hungry between meals? Have no fear! You can order as much as you want during all meals. There are also 2 other places to go for food pretty much all day. There is a cafe open from 6 am-2 pm with coffee, smoothies, breakfast sandwiches, and healthy pastries, to snack on. Although they close at 2 pm, they fill up the fridge with to-go snacks like a parfait, fresh fruit, and small sandwiches. The second option is that bar, that's open 2 pm-9 pm and has small bites that you can order from.
Disclaimer: Alcohol is not included in all-inclusive. There is a full bar with a great selection of craft cocktails, wine, and spirits if a drink with dinner or by the pool is your style. In normal circumstances, we do have a drink or 2 with dinner. However, we were on a journey to make this trip as cheap as possible!
What to do at Miraval Arizona
Taking classes is where we were really excited because there were so many options! On a typical vacation, we usually allow ourselves one splurge activity because they tend to be so expensive. With that comes compromises of what we are both interested in. Not at Miraval! We had the free will to choose classes that interested each of us. I liked that we could choose as individuals, and as a couple, with no guilt or regrets.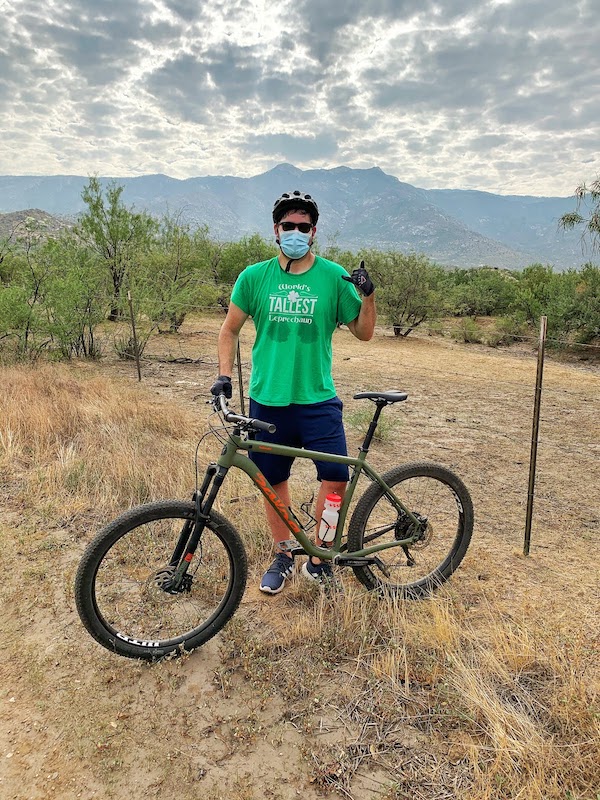 There are a variety of classes offered. Classes range from no additional fees to over $100 a person. In the spirit of making this trip as low-cost as possible, we chose all of the "free" classes. It honestly didn't feel like we were missing out on anything with the paid classes. The schedules are different every day. Your stay could be completely different than ours based on what schedule they are on. When you are looking to book, make sure you look at the classes offered on the dates as well. This will ensure you there is something for you on those dates! You can find the daily schedule here.
Our Activities
The instructors for all of our classes were experts in the areas they worked in. They often taught multiple classes so you had the opportunity to get to know them a little bit. Sebastian had a blast getting to know his instructors through hiking, mountain biking, and rock climbing classes as they overlapped quite a bit. It's needless to say, every experience felt very personalized to us.
I chose to take the more "zen" route with yoga, meditation, and HIIT class. Sebastian went full outdoor man with mountain biking and rock climbing. We both took a guided 4-mile hike as well!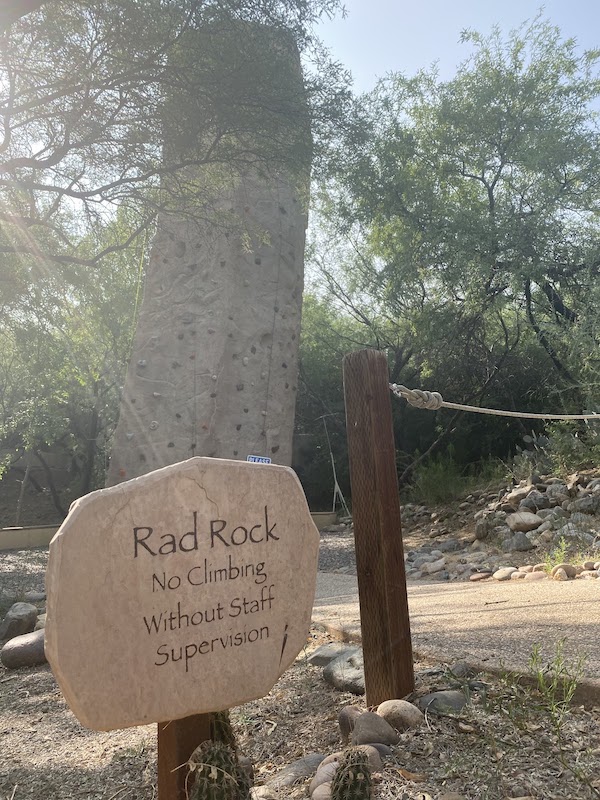 Resort Credit
This may have been the best part of this whole deal, a $175 resort credit for each of us! This can be used towards anything in the resort. From the paid classes to the spa. Typically it's $175 resort credits a day, but since we had the BOGO deal, we only got one $175 credit. Still fine with us!
The spa is the only place we spent money because the massages were more than the credits we had. We ended up spending a grand total of $50 for our entire stay because we had amazing massages. I'll take that bill any day 😉
The Spa and Pool
The Life in Balance Spa offers many different treatments like any other spa with mani/pedis, facials, massages, etc. We both chose to do 60 minutes massages as our treat for the weekend. It was such a balanced and relaxing experience. We have only had a few massages in the past and 2 were not the best experience. Massages at Miraval Arizona far exceeded our expectations. The facility is gorgeous and so restful. There is a clothing-optional soaking tub in the locker rooms, as well as a quiet room with views of the Catalina mountains at the lobby (pictured below).
I personally appreciated my massage therapist. She was able to help me work through the multiple chronic neck and back issues that previous massage therapists have not.
If you stay at Miraval Arizona, we highly recommend you use your resort credit to treat yourself to a nice spa treatment!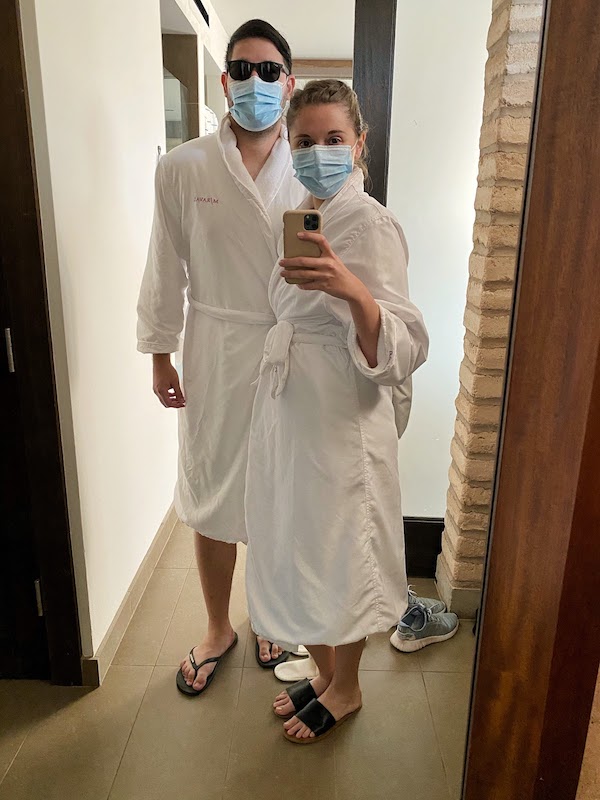 Basic Review of Miraval Arizona
All-in-all, we 100% would like to return to this Miraval property or test out their Austin and Berkshires locations. Even at the normal redemption rate of 130,000 points, the value offered with all that is included is worth the points. We only wish we could have stayed another 2 nights!
Side note: As far as COVID-19 precautions go – they take it very seriously. Masks are required. Even during all activities and when not seated at the restaurant or pool.
Please let us know if you have any questions about our stay, booking logistics, or recommendations on what to do!
More Basic Reading