Did you know that SoFi Bank gives away loads of free money? I know that is a STRONG opening question but hear me out. Since discovering this bank a little over a year ago, they have offered their customers a ton of money for completing various tasks. From taking surveys to checking interest rates to funding a new checking account – these Sofi Bank promotions really add up. Learn how to earn money with Sofi Bank in this breakdown below!
SoFi Money
SoFi Money is a combined checking and savings account that offers members fee-free ATM withdrawals from over 55,000 locations worldwide, opportunities to earn cash back, and zero monthly maintenance fees. New SoFi Money customers can earn a cash bonus for opening an account.
Sofi Money Offer – Earn $50 for opening a new SoFi Money account and funding it with at least $500.
Refer SoFi Money
After opening a SoFi Money account, you can then refer friends and family members to open their own accounts. For each person that you refer, you'll earn a $50 cash bonus.
Basic Pro Tip – To find your personalized referral links, login to the mobile app, and click on the person icon in the top lefthand corner of the screen.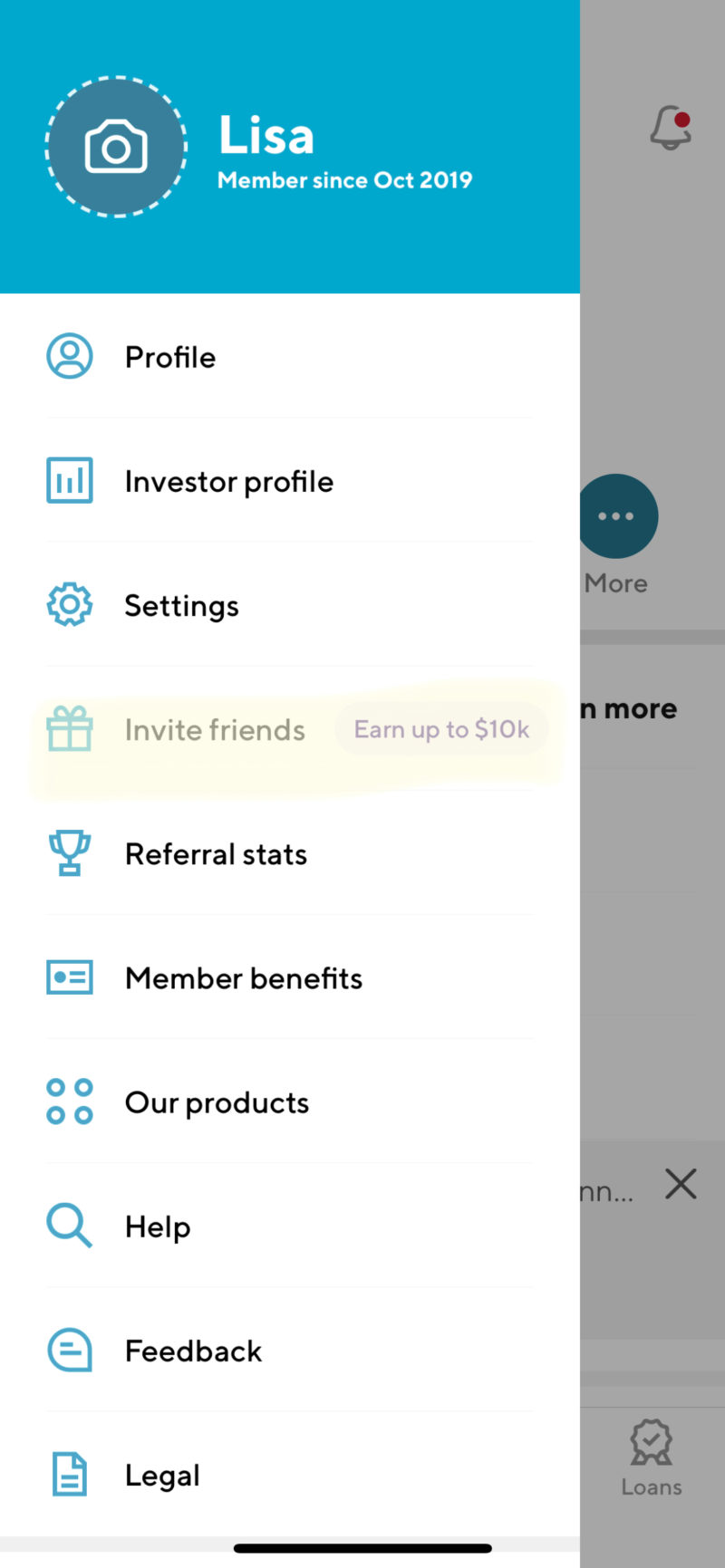 SoFi Invest
SoFi Invest is a brokerage account that offers users the opportunity to purchase whole stocks or stock slices. It's easy to use and offers great information on each company that is publicly traded. New SoFi Invest users can a free stock for opening and funding a brokerage account.
Sofi Invest Offer – Earn a $50 Stock for opening a new SoFi Invest account and funding it with at least $1,000.
Basic Pro Tip – If you are hesitant about investing, the opening deposit does not need to actually go into the stock market. You can leave it in the brokerage account and withdraw it after earning the $50 stock bonus.
Refer SoFi Invest
After opening a SoFi Invest account, you can then refer friends and family members to open their own accounts. For each person that you refer, you'll earn a $50 stock bonus.
SoFi Personal Loan & Student Loan Refinance
SoFi offers competitive rates for both personal and student loan refinancing. For each Personal Loan and Student Loan refinance, new users will receive a $300 welcome credit when using a promotional link. This promotion can be even more lucrative which I will break down in the referral section.
Sofi Personal Loan Offer – Earn a $300 Cash bonus for taking out a new personal loan of at least $5,000
Sofi Student Loan Refinance Offer – Earn a $300 Cash bonus for refinancing student loans.
Refer SoFi Personal Loan & Student Loan Refinance
If you take a strategic approach to the SoFi Personal Loan promotion you can earn most of the $300 bonus without actually needing a loan. In a nutshell, take out a personal loan of at least $5,000 by clicking through a $300 promotional link. After the bonus is applied to your account, immediately pay off the loan with the money you took out. Afterwards, you can refer your spouse and friends to earn a referral bonus!
SoFi Crypto
SoFi Crypto allows users to purchase various currencies including Bitcoin, Ethereum, Litecoin, and more. New users can earn a $25 Bitcoin slice after purchasing $10 in Bitcoin. In order to receive this promotion, you must first have an open SoFi Invest Account. I'd recommend strategically opening SoFi Money and SoFi Invest to earn both of those bonuses before moving onto the SoFi Crypto Bonus. If you do all three, that will net you at least $125!
SoFi Money Spending Offers
After opening up a SoFi Money account you will then have access to the different promotions they offer. Some of the recent ones include 10% back up to $50 on both Streaming Services and select Grocery Merchants. I spent $500 at Whole Foods to earn the $50 cashback bonus which posted immediately after I made the purchase.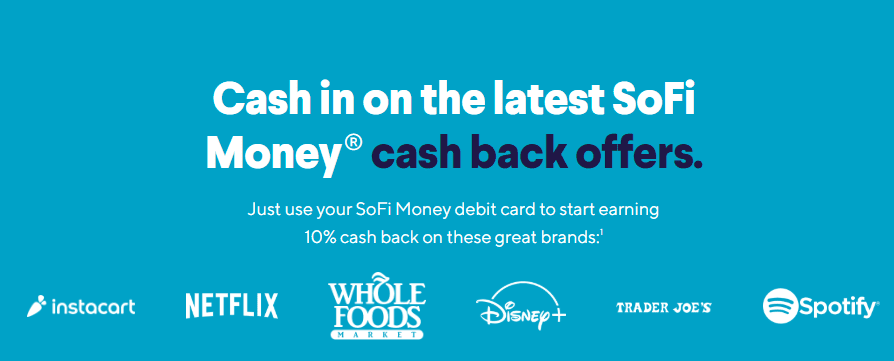 Switch Direct Deposit to SoFi Money for a $100 bonus
After opening a SoFi Money account, most users will be targeted for this direct deposit offer. It will come via email and require you to deposit at least $500 via direct deposit in order to earn a $100 cash bonus.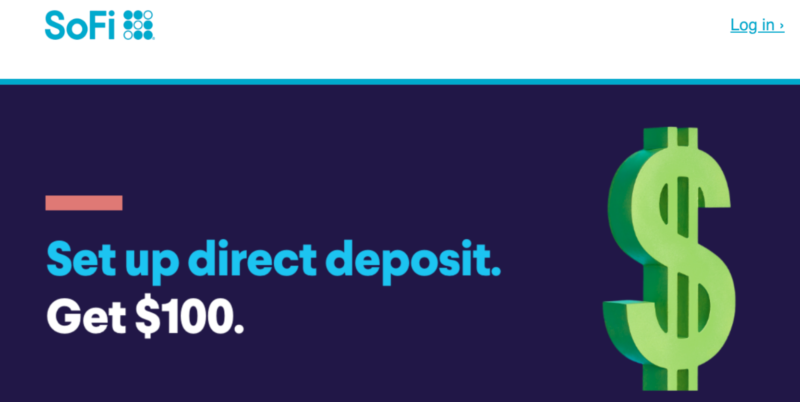 Check SoFi Rates and Earn $10
This SoFi promotion is as easy as it sounds. Basically, log in to a SoFi Money account and check your rates for one or more of the four different lending options. After doing so, you will receive an email to redeem a code for a $10 gift card. I checked two different rates back-to-back and received two promotional bonus emails.

Basic Pro Tip – It's important to note that checking these rates WILL NOT initiate a hard pull on your credit score! I was worried about this but after doing all four there has been no change to any of my credit reports.
Earn $50 via the SoFi Roundups Promotion
Through December 24th, 2020, SoFi will match money deposited into a savings "vault" via roundups. For every purchase made using the SoFi Money Debit Card, the money will be rounded up, matched, and deposited into a savings vault. The maximum amount of money that can be matched is $50.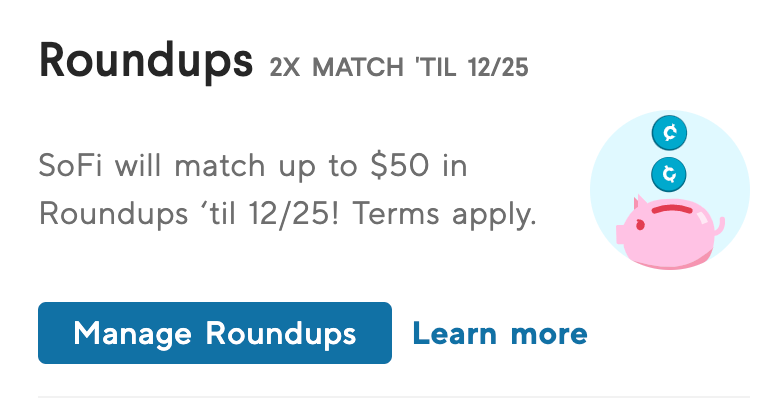 Basic Breakdown
If you were to of all of the SoFi Bank Promotions listed above you'll earn a couple hundred dollars on the low end. There's even more upside if you have any friends, family, or player two's that are open to referrals. Earning money via bank bonuses is one of my favorite finance hacks. For more, check out the Top Bank Account Bonuses and Top Brokerage Account Bonuses.
Let us know!
What has been your favorite SoFi Bank Promotion? I'd love to hear from you down in the comments or over in the 4,500+ Member Basic Travel Facebook Group!
More Basic Reading