The Wyndham Rewards Program is one of our favorite Hotel Programs on the market! This is because Wyndham Rewards is very straightforward when it comes to redeeming points for FREE nights. Their rewards can be redeemed in hotels or condos worldwide. You can also redeem their rewards at All-Inclusive hotel properties! How cool is that?
We love these points because of how basic they make it. Recently, we went to the Dominican Republic and stayed at an all-inclusive and absolutely loved it! Be sure to check out our article at the Dominican Republic Viva Wyndham V Samana for tips on how to get a FREE all-inclusive stay! Now, back to getting those Wyndham Rewards Points yourself!
You can earn Wyndham Rewards Program Points by
Booking Nights at any of their worldwide properties

Purchases made using the Barclays Wyndham Rewards Credit Card

Booking Business or Social Meetings at Participating Hotels

Completing Surveys via Opinion Rewards Panel

Booking Rental Cars through Avis or Budget

Purchasing Points directly from Wyndham Rewards

Participating in a Wyndham Vacation Club Timeshare Presentation
Free Nights
The best part of the whole Wyndham Rewards program is that Free Award Nights can be redeemed for only 15,000 Wyndham Rewards Points/Night. And as you can see, there are a ton of ways to earn Wyndham Points. Our favorite though is through credit card points by utilizing those signup bonuses! More about this later.
Wyndham Member Levels

Wyndham Rewards has 4 different Member Levels within their program. These levels are typically earned by the number of nights accumulated with the hotel brand. The Member levels each come with different perks. This should go without saying, but the higher the level, the better the perks. Included in the perks are late check-out, a welcome amenity, early check-in, Suite Upgrade, and Caesars Total Rewards Status Match. To be eligible to Match your Wyndham Rewards Status to Caesars Total Rewards, you need to have at least Platinum or Diamond Status with Wyndham Rewards.
Level up
There are a couple of ways to move up the member levels with Wyndham. The first way, we already know is to stay at Wyndham properties. To qualify for Diamond, as shown above, you'd have to stay 40 nights in a Wyndham Property! This way is a bit more cumbersome and time-consuming. However, there are alternate ways to get higher status without actually staying at one of their properties. Second, you can open up the Barclays Wyndham Rewards Credit Card. This card provides an automatic upgrade to the Platinum Member Level. If you are considering going this route, make sure that you choose the right Barclays Wyndham Rewards Credit Card. One of the cards has an automatic status and one doesn't. Third and easiest, is the Wyndham Status Match, which we will get to in a minute.
Barclay Wyndham Reward Credit Card
The Barclays Wyndham Reward Credit Card typically comes with an offer of 45,000 Wyndham Rewards Points. This could equal 3 free nights at any Wyndham property. Lisa and I used our 3 free nights in 2018 in Oahu, Hawaii. Because of our Diamond Status, we were upgraded to an AMAZING one-bedroom studio! Included in the studio were a fully furnished kitchen, living room, and balcony! Another perk of the Barclays Wyndham Rewards card is you get 3,000-anniversary points on your card anniversary! These anniversary points will help you get to a free night quicker too!
Now, just to note, on the second option, the problem with the Barclays Wyndham Reward Credit Card option is that you only end up with Platinum Status. If you are considering trying to pursue a Caesars Rewards status match, you might already know that the best perks of that program come with having Diamond Status. Luckily, you can still receive a 3 Free Night Stay at the Atlantis in the Bahamas with Platinum Status. So that is something to keep in mind if you can't reach Diamond. For people who are aiming for that Diamond status and already have a high-level hotel status with another hotel chain, you may qualify for a Wyndham Rewards Status Match. Fortunately, there are multiple programs that work with the Wyndham Rewards Status Match.
Wyndham Status Match
You can match your Hotel Status to Wyndham Rewards from any of these Participating Programs.
I was able to match my Hilton Diamond to Wyndham Diamond via the status match. It was a very straightforward process. I've broken down the steps below for you to try and complete your own status match.
Basic Pro-tip: You can receive automatic Hilton Diamond Status by opening the American Express Hilton Aspire Credit Card.
Hilton Honors Bonus Points
once you spend $4,000 on purchases within the first 3 months from account opening. All information about Hilton Honors American Express Aspire Card has been collected independently by basictravelcouple.com
Hilton Honors Bonus Points
once you spend $4,000 on purchases within the first 3 months from account opening. All information about Hilton Honors American Express Aspire Card has been collected independently by basictravelcouple.com
Basic Steps to Complete the Wyndham Rewards Status Match

1. Go to the Wyndham Hotels Website and Either Create a New Account or Log-in to your Existing Account
2. Click on Explore Programs at the Top of your Screen and then Click on Member Levels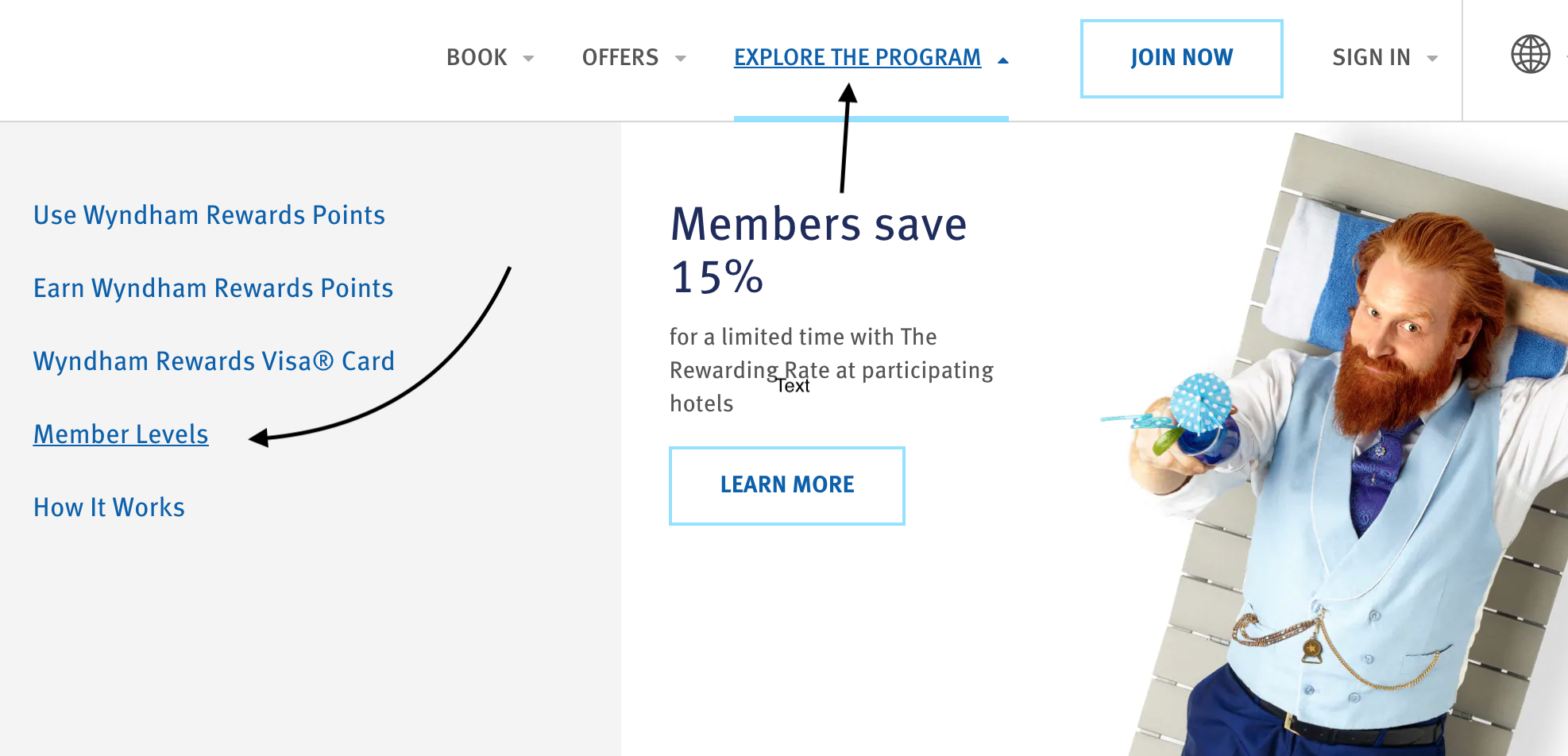 3. Scroll Down and Click "Match Your Status"
4. Fill out the Loyalty Program Information and Upload a Picture or ScreenShot of your Membership Card from that Program
5. Once everything is completed, click "Match my Status." Once submitted, Wyndham Rewards will Start Processing your Request. You should hear back within a few days.
In conclusion, once your Wyndham status is matched, you will want to continue on to the Caesars Rewards Status Match article. Once matching with both programs, you will be eligible to get the many perks from these brands. These perks include comped rooms, food vouchers, and more!! Be sure to drop us a comment or post in our Facebook Group about how you utilized your Caesars Rewards Status Match!
Basic Pro-Tip: You can easily find a Digital Copy of your Membership Card with many of the Programs listed above on their Cell Phone App. For me, I logged onto my Hilton App on my phone. Then, I took a screenshot of my Diamond Status and uploaded that to qualify for the Status Match.