Southwest Companion Pass Season is now in full swing. If you don't know what the Southwest Companion Pass is, it is essentially buy-one-get-one-free flights as long as there is a seat available. We have used this 'pass' dozens of times since 2017 and it has saved us thousands of dollars. If you want to see examples of how it works, read to the end of the article and we linked a bunch of trips/examples we have taken.
Let's dive into how to get the amazing Southwest Companion Pass.
What is Southwest Companion Pass?
The Southwest Companion pass, according to Southwest's website is "the benefit that allows you to choose one person to fly with you, free of airline charges (does not include taxes and fees from $5.60 one way) every time you purchase or redeem points for a flight."
Once you earn the Southwest Companion Pass, you can use it as many times as you want for the remainder of the current calendar year you are in, as well as the entire following calendar year.
Earning the Southwest Companion Pass
There are two ways you can actually earn the companion pass.
Fly 100 qualifying one-way flights (this is A LOT OF FLYING)
Earn 135,000 qualifying Rapid Rewards points in a calendar year. (Starting in 2023)
Unless you fly every week already, option one is going to be a little more challenging, not to mention expensive.
Option two, however, is much faster and easier to obtain. You can earn Southwest Rapid Rewards Points quickly by opening two Southwest Credit Cards for the sign-up bonuses. Welcome offers on Southwest Credit Cards can range from 40,000-100,000 Rapid Rewards Points. The best time to open a new card is when they are higher bonuses, but also you want to make sure you can maximize the time of year you are opening.
Types of Southwest Credit Cards
There are currently 5 Southwest Rapid Rewards Credit Card Offers. Three of them are personal, and two of them are Business. You are only allowed to receive ONE bonus on personal cards every 24 months, and you can only have one Southwest Personal Credit Card in your possession at a time. What this means is you would have to open ONE Personal Card and ONE Business Credit Card. A second option is to get TWO of the Business Cards. (Check out our overview of the latest Southwest Rapid Rewards Performance Business Card.)
Southwest Personal Credit Cards:
Southwest's three personal cards all currently have the same welcome offer. There are a few main differences, one being the annual fees. The second is the other perks you can get with each card. Personally, I suggest going with the Southwest Rapid Rewards Priority card as it comes with a $75 Southwest Travel Credit each year. This brings the net annual fee down to $74, which is $5 more than the Plus card. You also get 4 Upgraded Boardings per year, and 7,500 anniversary points earned every cardmember anniversary. The perks definitely outweigh the higher fee.
Southwest Business Credit Cards:
You might be surprised to find out that you can actually qualify for a Business credit card if you have some sort of side hustle or side income. Driving for Uber, Lyft, or selling items on the side could qualify for a business card. Be sure to check out 16 Side Hustles that Qualify for a Small Business Credit Card to see some ideas that could qualify you. We also have a Basic Guide To Small Business Cards to learn more about these types of cards. Then, be sure to read the Step-By-Step guide for completing a Small Business Credit Card Application
Chase 5/24
In order to apply for both cards, you MUST be under 5/24. Read the Chase 5/24 rules if you don't know what that is. If you qualify for this, then you are good to go.
To learn more to apply for either of the cards, you can click here.
Companion Qualification
Your companion is essentially whoever you choose it to be. Even if you don't have a 'companion' such as a spouse/boyfriend/girlfriend/child. Your companion can be a parent, your friend, or your neighbor! Its up to you to choose.
You can change your companion up to 3 times per calendar year and travel with your 'companion' as many times as you'd like!
There are no blackout dates. The ONE limit is you cannot book a companion if you are already a companion on someone else's ticket.
So let's say Dave and I both have the Companion Pass. If I book him on a flight as my companion. He cannot then add someone to his flight as his companion.
How long does it last?
This pass lasts the entire rest of the year you earn it, PLUS the ENTIRE FOLLOWING YEAR!!!
So if you earn it in November 2022, you'd have the companion pass from November 2022 through December 2023 (14 months). BUT, if you earn it in January 2023, you'd have it for the remainder of 2023 AND all of 2024. This gives you 23-24 months of Southwest Companion Pass.
How often can you use it?
Another great thing about the companion pass is you can book a companion fare as long as there is an available seat on the flight.
It does not matter if the fare is a wanna get-away fare, a business fare, or an anytime fare that is available.
You can also book AS MANY flights as you want with no restrictions as to how often you use the pass.
Basic Southwest Companion Pass Overview:
Step 1:
Open a Southwest Business Card. Come close to meeting minimum spend but leave about $500 prior to January 1. After January 1, 2021, meet the rest of the spending requirement. 
Step 2:
30 days later, open a Southwest personal card OR the other Southwest Business Card. If it is in the new year, you can hit the spend. If not, spend up to $500 left and then wait until after January 1 to hit the remainder of the spend. Note: make sure you open the 2nd card when you are able to hit the first credit card's spend otherwise you could lose out on the welcome offer.
Step 3:
To get the Southwest Companion Pass, you must earn 135,000 Southwest Rapid Rewards Points (starting 2023). Depending on which card combinations you go with, you could easily get it with 2 cards bonuses. I would go with the Southwest Rapid Rewards Performance Business card for the higher welcome offer of 80,000 points with a $5,000 spend. Then you can apply for any of the Southwest Personal cards as they have the same offer of 75,000 points after a $3,000 spend. So for $8,000 total spend, and a minimum of $168 in annual fees, you can have 163,000 Southwest Rapid Rewards Points. 75,000 + 80,000 + 8,000 in spend. This would earn you a companion pass.
Step 4:
You will see on Southwest.com on your account once you've earned the pass.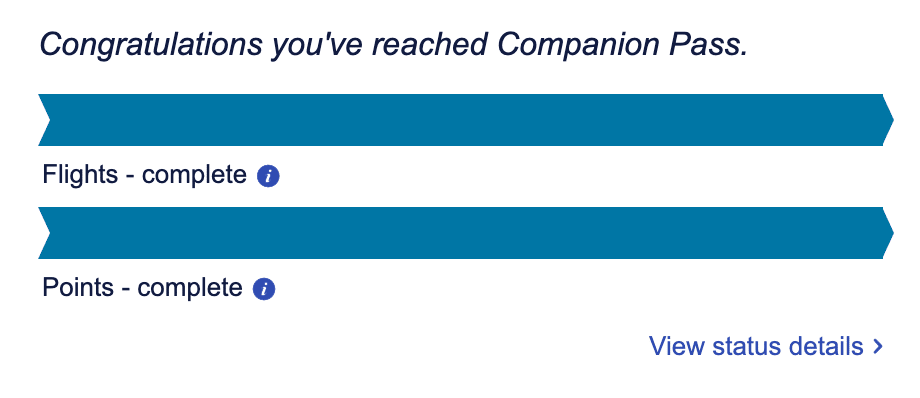 Step 5:
Once you earn the Southwest Companion Pass, you can now book your companion on any flight that has available seats, and only pay taxes & fees. Companions can be booked on cash fares or Southwest Rapid Reward points tickets.
Congratulations, you and a companion can now travel roundtrip somewhere for X number of Rapid Rewards points, and $11.20 each! Be sure to keep up to date with our latest Southwest Fare Release Schedule.
Other ways to Earn Rapid Rewards Points
Switch all monthly recurring bills to your new Southwest Rapid Rewards Credit Card. You can pick one or the other to make it easier. Those monthly recurring bills add up. Think Cell Phone, Internet, Cable, Gas, Electric, etc.
2. Refer your Southwest Rapid Rewards Credit Card
You will earn 20,000 points per approved referral. These can add up quickly and help you reach those last-minute needed points!
3. Earn with Southwest Partners
Visit Southwest's "Earn with Partners" page to see the ways you can earn points with their partners. They are broken down into 5 categories.
Credit Cards- we already covered this above. We appreciate it if you use our links to learn more about applying at our Top Credit Cards Page or any of the links in this article.
Travel- Southwest Hotels, Rental Cars, Ground Transportation, and experiences. Basically, book through Southwest's website for popular travel options and get rewards with extra RR points!
Shop & Dine- Southwest Rapid Rewards Portal. This is similar to Rakuten eBates or BeFrugal. Log in to the portal and do your normal online shopping, get rewarded with extra RR points.
Home & Lifestyle– Change over your electricity to NRG and get extra points! This one is unfortunately not available in all states but if it was available in NY I would have already switched over.
Specialty– this includes other offers such as taking surveys for points!
Promotions– this is where I will look to see the best of the best for promotions. Sometimes you can find some hotels that you can book at 10,000 points per night.
4. Check to see if you are targeted for bonus offers
Every now and again Southwest comes up with certain targeted bonus offers. Log into your Southwest account, and click on the main page.
Recently they came out with a 25% bonus based on a certain amount of spend. I had a promotion to earn 10 points per $1 at gas stations, and 5 points per $1 spent at Amazon and grocery stores, up to $1,500 in combined purchases from 10/1-12/31/2022.

How we've used Southwest Companion Pass
The companion pass for us has been a huge game-changer!
We have taken it to Chicago, Houston, Dallas, Las Vegas, San Jose, Cancun, Jamaica, Dominican Republic, Nashville, and so much more!
Some Trips include:
The best thing is a lot of times we booked my fare with points, then added Dave as my companion. It has allowed us to save over $4,000 in ONE YEAR alone, and we had the pass for two years. I would have to do the math for total savings, but I wouldn't doubt that the savings have surpassed over $10,000 over the years.
Basic Review
For anyone who travels with at least one other person, the Southwest Companion Pass is absolutely worth it. Being able to utilize the 135,000 points for booking your flights will give you a year or two of almost free travel (excluding taxes & fees). There are seriously no limits which makes this one of our favorite hacks over the last few years. Lastly, be sure to check out our FAQ's on earning the Southwest Companion Pass.
Do you have any questions on the Southwest Companion Pass?
Be sure to check out some of our other Southwest Articles: