Top Caesars Rewards Free Show Tickets in Las Vegas

One of our favorite perks of being a Caesars Rewards Diamond Member is the 2 FREE Show Tickets we receive each month. Looking through all of the options takes time and can leave you long debating on which one to see. To help you out, we've reviewed and ranked the top 10 Caesars Rewards Show Options. This Ranking encompasses our own experiences, the reviews of Basic Travelers in our Facebook Community, and TripAdvisor.

Be sure to scroll to the bottom for the Basic Breakdown of every Caesars Rewards Free Show Option following the top 10!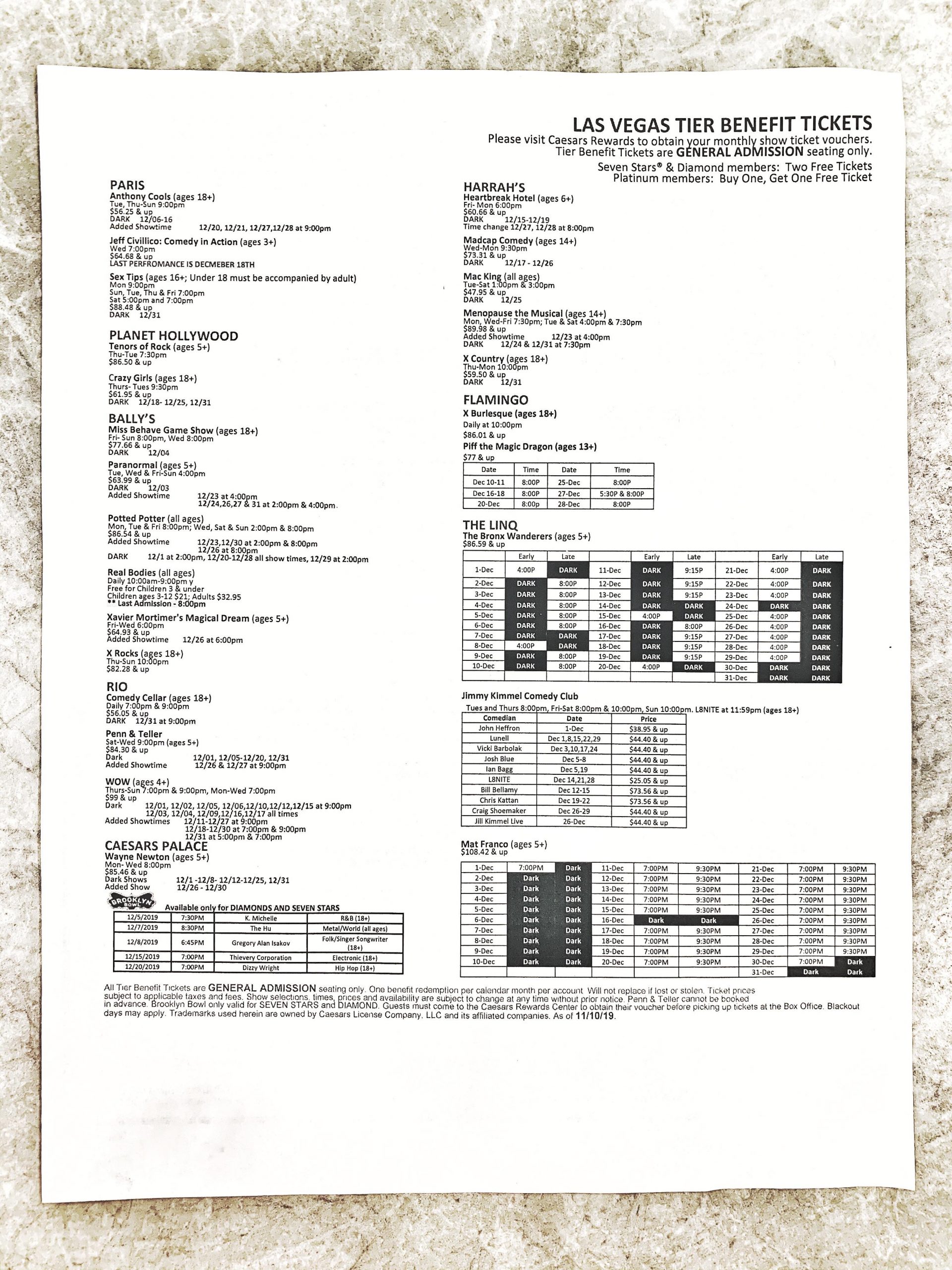 10 – Madcap Comedy

Known as the "under-dressed everyman", John "Cap" Caparulo is known for this impeccable comedic timing. Cap presents a sarcastic and often self-deprecating view on such topics as fatherhood and marriage, and a quick-witted approach to reflections on daily life.
9 – Jeff Civillico: Comedy in Action

Blending physical comedy, action-packed stunts and world-class juggling. Jeff incorporates family-friendly audience interactions and insane amounts of energy in each show. With razor-sharp wit and a contagious smile, Jeff juggles everything from bowling balls to chainsaws!

8 – Miss Behave Gameshow

Grab onto her golden, sequined coat tails and hold tight! You're about to enter the wonderfully chaotic world of Miss Behave. Changing lives one game at a time in a show with no rules and where everyone's a winner. #MBGS will bring out our best and worst with a host of prizes and a variety of acts. This show is a blast from start to finish. Enjoy our short clip below!

7 – Mat Franco

America's Got Talent season 9 winner offers a fresh, fun, and feel-good twist on magic that defies all expectations. With his signature brand of breezy humor, Mat mixes his amazingly inventive and always stunning magic with crowd-guided improv. Mat works hard to create a unique and unforgettable experience for each audience. 

6 – Tenors of Rock

Formed with five of the best male rock voices in the United Kingdom, Tenors of Rock brings a new sound to familiar rock hits. Tenors of Rock offers a full-production show featuring classic and contemporary hits.
5 – Piff The Magic Dragon

Fresh from his success on America's Got Talent and record-breaking ticket sales throughout North America on his first tour. Piff and Mr. Piffles, the world's only magic performing Chihuahua, perform a selection of their greatest hits. Piff's performance includes material from his last six critically acclaimed shows. Each routine features a new twist on the traditional magic show.
4 – Wayne Newton

Mr. Las Vegas makes his return to the stage after more than five years with his all-new and original production! Newton sings crowd favorites including the platinum record hit, "Danke Schoen". A great aspect of this show is that Wayne gets up close and personal with the audience through engagement and takes questions.
3 – Mac King

Caesars Rewards Shows also includes a unique act that contains an unusual combination of quirky humor, visual gags, astounding sleight of hand, quick wit, and extensive audience interaction! Known as the premiere comedy magician in the world. Mac has consistently been ranked in the top 5 shows over the last 10 years!
2 – The Bronx Wanderers

With superlative vocals and musicianship, dynamic enthusiasm, and a genuine love of the music they perform, The Bronx Wanderers recreate the magic of an era. All of the reviews rave about their take on the "Bohemian Rhapsody"!
1 – Paranormal

The mind-reading magic show features internationally known mentalist Frederic Da Silva, showcasing the powers of this mind! Experience an afternoon of mystery, magic, hypnosis, and mind-reading that will leave you astonished and amazed. This show is at the top of many visitors who make their way to Vegas for a show and for good reason. Frederic incorporates the audience through engagement and participation which includes magic that will leave you asking "is this real life?".

Full Basic Breakdown of All Caesars Rewards Restaurant Options Using TripAdvisor
More Basic Travel