Some hotels in North America go all out for the holiday season. Some say, there's no place like home for the holidays. We know this year has been a little different, with limited travel. We are hoping next year to be able to get back on the travel train, but for now, these hotels are great to add to your bucket list experience next holiday season. With food, decor, and holiday experiences, you might enjoy a trip away from home. In this article, we detail some of the nation's (and our friends to the north) best hotels, and a few reasons to get you there.
Aria Resort & Casino- Las Vegas, Nevada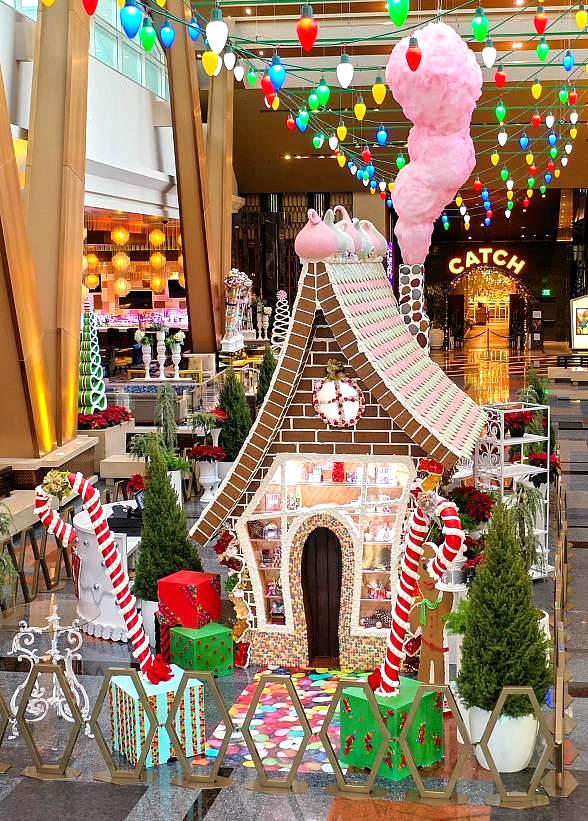 Las Vegas lodges pull out all of the stops for the holidays, and the Aria is kicking issues up a notch with this year's "Winter Wonderland" foyer display. The Sugar Palace was created by the Aria pastry workforce, and made scrumptious vacation presents to associate with the experience. You can enjoy chocolate espresso cups, sugar cookies, and extra festive treats.
Fairmont Banff Springs – Banff, Canada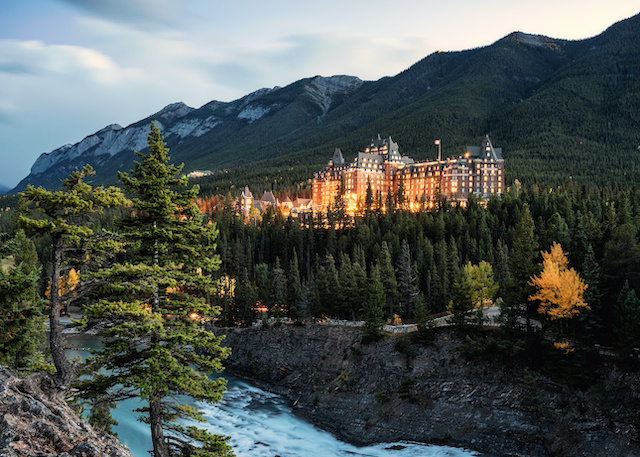 Located in Banff National Park and known as "Canada's Castle in the Rockies," the already looks like something out of a winter fantasy. During the holidays, a towering tree, poinsettias and other greenery decorate the hotel's Mt. Stephen Hall, whose stained-glass windows and oak beams might make the kiddos feel like they're at Hogwarts.
Families can fill their stays here with seasonal cheer by partaking in afternoon Christmas teas, snowflake scavenger hunts and Christmas caroling. Want to help the kids draft a letter to Santa? You may not even need to since he shows up at the hotel.
Families can see where he gets ready for his around-the-world voyage by touring the hotel's Santa Suite, then gather on Christmas Eve to send him off on around the world journey.
This hotel is bookable through the Chase Ultimate Rewards travel portal if you have access to it by utilizing cards such as one of our favorites- the Chase Sapphire Preferred. You can also check out our Top Cards Page for the best sign up bonuses per month.
The Roosevelt New Orleans, A Waldorf Astoria Hotel- New Orleans, Louisiana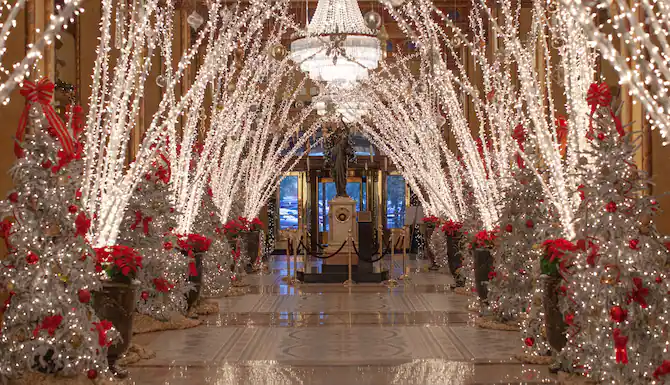 The Roosevelt New Orleans is a beloved Christmas Tradition. Early 2020, Basic Travel Couple got visit NOLA for Mardi Gras on points & miles. New Orleans has a different feel, and Christmas is no different. Each year, the Roosevelt New Orleans hotel decks its halls — and the whole city block — with thousands of lights, bows, and garlands. Festive cocktails, including the Candy Cane and Mrs. Claus' Cookie, are on the menu for adults. The annual Teddy Bear Tea is a favorite tradition amongst visiting guests (especially kids). A visit from Mr & Mrs. Claus can also be expected. The hotel lobby is filled with over 130,000 trees that climb to the ceiling,
This Hilton property can be booked utilizing Hilton Honors Points. Points redemptions vary in rates but generally fluctuates between 40,000 and 70,000 points per night. This is a mid-range redemption and still an excellent value.
Hilton Honors Bonus Points
Earn 150,000 Hilton Honors Bonus Points once you spend $4,000 on purchases within the first 3 months from account opening.
Earn 150,000 Hilton Honors Bonus Points once you spend $4,000 on purchases within the first 3 months from account opening.
Gaylord Opryland Resort- Nashville, Tennessee
Nashville is famously known as the Country Music Capital as it has the Country Music Hall of Fame and museum, Grand Ol' Oprey, as well as several great bars & restaurants to get your honky-tonk on. While visiting Nashville, you can't forget to visit the famous Gaylord Opryland. There are several Gaylord resorts around the country that offer plenty of holiday cheer during the annual Christmas at Gaylord Hotels program. At the hotel, guests can see live performances, go shopping, tubing, ice skating, and ice bumper cars. Guests can also check out the Rockin' Christmas on Ice skating show, among other holiday activities. Love holiday movies? You can see your favorites during the pop-up Christmas movie specials, held throughout the month of December.
Currently, you can stay at the Gaylord Opryland by utilizing Marriott Bonvoy Points. A night at Gaylord Opryland can be redeemed for 35,000 Marriott points per night, making this a low to mid-end excellent value redemption.
Disney's Grand Floridian Resort & Spa – Orlando, FL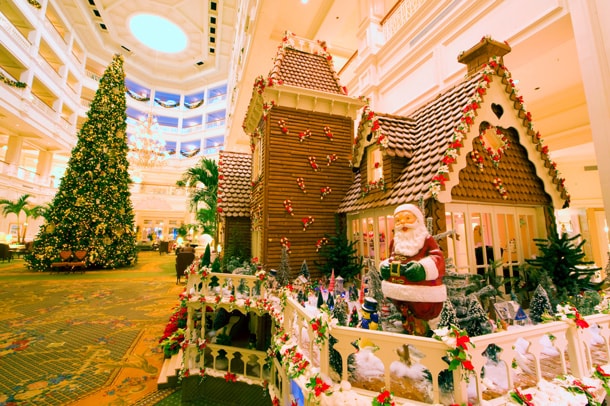 For some of the Northeastern folks, getting out of the cold snow over the holidays might be a great break from the cold winter. Disney theme parks are always magical, but they become a little more magical! Orlando, Florida boasts a little more magic this time of the year, think "snow" falling on Main Street! Disney hotels also get a magical holiday transformation. One of the best is the Grand Floridian, located on the boardwalk. This hotel is impressive of itself, but during the holidays, you will be greeted with a life-sized gingerbread house in the lobby. The house is so large that it features a bakery selling all things gingerbread. There's also a giant tree, and an orchestra performs in the lobby nightly.
There are no points programs other than Disney's Vacation Club that can be used to book this hotel, and the rates are generally high coming in at $400+ around holidays. You could also utilize Chase's Pay Yourself Back program, or perhaps Capital One Venture's points to 'erase' some of the cost from your stay.
Hotel del Coronado- Coronado, California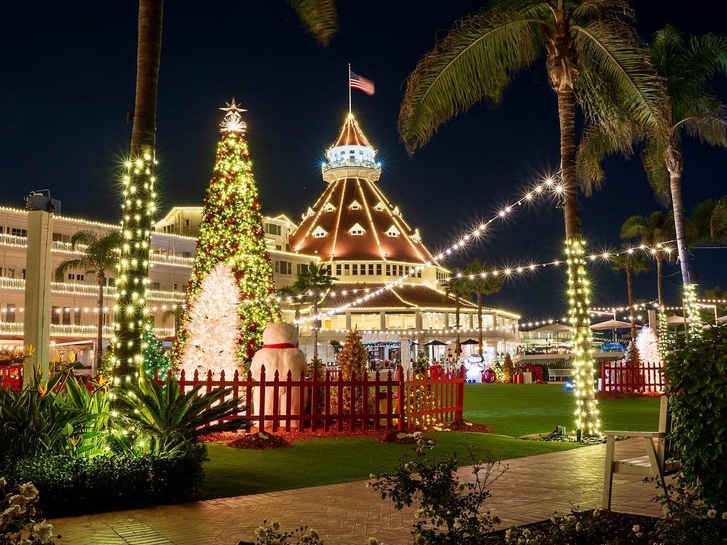 Hotel del Coronado opened in 1888 and was at the time, the single largest resort hotel in the world. Located just across from San Diego Bay in California, Hotel del Coronado, or The Del as it is sometimes called, is one of the last wooden Victorian Beach resorts. It still currently holds the second largest wooden structure in the United States. If that isn't impressive of itself, then I don't know what is.
During the holiday season, this Hilton-branded beachfront property becomes a beautiful holiday dream each year. Featuring iconic red turrets covered with lights and a 35-foot Christmas tree. Guests can take "socially distant" photos with Santa, make s'mores on the beach, watch holiday movies under the stars, and more during the holiday season at Hotel del Coronado.
As of today, you can stay at this property for 95,000 Hilton points per night. Looking for a way to earn more Hilton points? Check out the 11 reasons why you should get the Hilton Aspire Card.
Hilton Honors Bonus Points
Earn 150,000 Hilton Honors Bonus Points once you spend $4,000 on purchases within the first 3 months from account opening.
Earn 150,000 Hilton Honors Bonus Points once you spend $4,000 on purchases within the first 3 months from account opening.
JW Marriott San Antonio Hill Country Resort & Spa- San Antonio, TX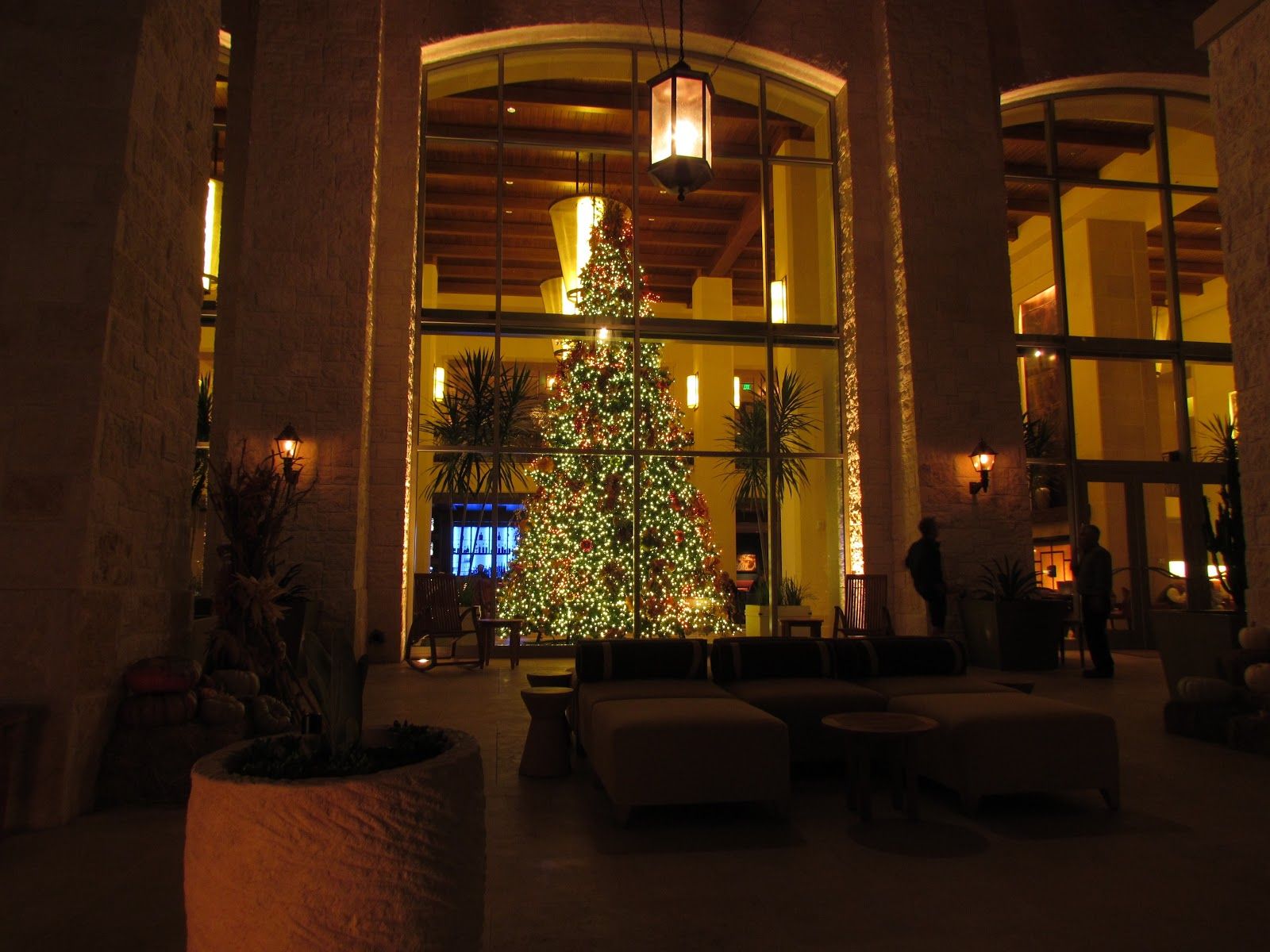 Why freeze at the North Pole when you can enjoy the holiday in Texas Hill Country at the JW Marriott San Antonio Hill Country Resort & Spa. From mid-November through December 31st, the resort's annual "Light up the Night" holiday show will brighten and dazzle guests and visitors with more than 250,000 twinkling lights choreographed to holiday music in an outdoor wonderland.
Other activities include Breakfast with Santa, JW Elf Tuck-Ins with a bedtime story and a special keepsake from the JW Elves, Sandy the Snowman building contest, and a life-sized gingerbread display. Of course guests can also enjoy the resort's nine-acre River Bluff Water Experience featuring heated pools, two body drop slides, three water slides, and a 1,100-foot-long lazy river.
You can visit this Marriott property for only 50,000 points per night. Need a boost on points? Check out the Marriott Bonvoy Boundless card. You can also learn how to earn Marriott Bonvoy points here.
Basic Breakdown
Hopefully, this breakdown of these seven awesome holiday destinations will help you get a jumpstart on planning for 2021 Christmas. What's your favorite hotel to stay at over the winter holidays?
More Basic Reading