Marriott Bonvoy points can be some of the most powerful points in the travel industry when used correctly. You may think that when you earn hotel points, that they are only applicable to use for redeeming on free stays. However, Marriott provides a myriad of redemption options that give you a great deal of flexibility. In this article, check out the many ways you can use these points!
Best Ways to Redeem Marriott Bonvoy Points
1. Free Nights
Marriott has an incredible 7,200 + locations and 30 brands worldwide. This means that when you go to research your next vacation, you can be fairly sure that there is a redemption opportunity near you!
When Marriott and SPG completed a merger several years back, they also implemented a slightly more confusing award structure chart, shown below. Many in the program felt that this was a devaluation, but there are still plenty of sweet spots around this chart. If you can pair up off peak with the 5th night free promotion, you can really stand to gain a great value! My go to category on this chart, and the first one I usually look for when researching anew reservation is a Category 5.
This category usually offers a good mix of value hotels with high end brand in the more expensive cities (think New York, Chicago, Paris, etc)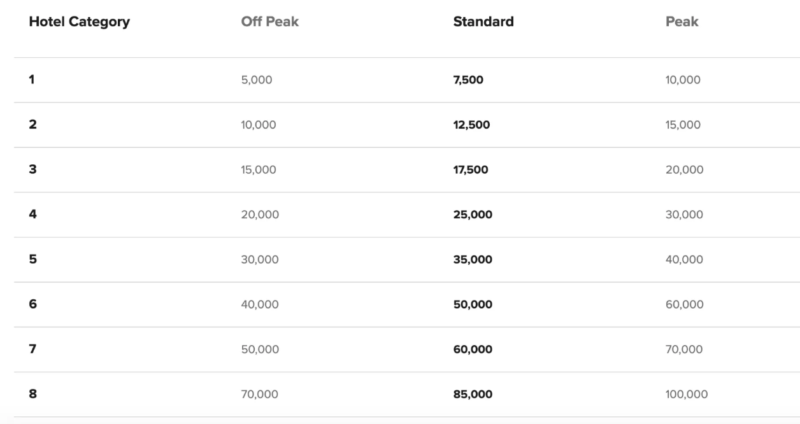 2. Free 5th Night
Marriott offers an extremely generous perk that when you book four consecutive nights, the fifth night is FREE! This perk, however, can only be used with points. This helps tremendously when you go to book higher category stays, as it brings your average cost per night down and helps keep your points safe for future redemption's. What is even better about this perk is that you can use this more than once on a long reservation. (i.e. 10 nights = 8 paid) It should also be noted that, if the points vary from your stay, it will eliminate the LOWEST cost night as the free night.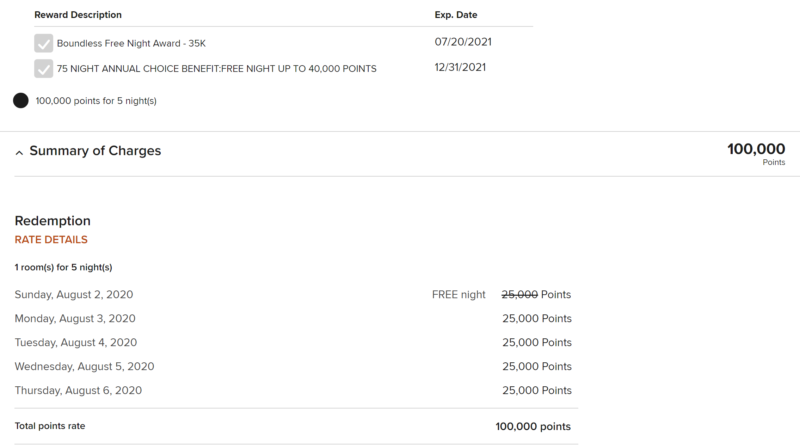 3. Points Advance Feature
A unique feature that is offered by Marriott Bonvoy, is that of the Points Advance Feature. Simply put, if you do not have enough points available to you to complete a future reservation you can put it on points advance hold. There are a few caveats to this feature, however. Given that Peak / Off Peak points pricing changes monthly, this only guarantees your space at the hotel for the specified dates, not an actual points price.
Example: I book an upcoming trip at the St. Regis Maldives for 85,000 (Standard) a night price, 12 months out. 30 days from my booking, I finally have the points ready to go, and I notice that the pricing is now 100,000 (Peak) per night. In this case it would have been advisable to book immediately when I had the points available to fully lock in the better deal.
You will have up until 14 days, to earn these points needed to complete the reservation, or it could be cancelled, or converted to the best available cash rate. If you do forget to order the certificates for any reason, Marriott will pull the points needed automatically 7 days before your reservation begins.
4. Free Night Certificates
Several Marriott Co-branded Credit Cards (Chase & Amex) offer free night certificates as part of either the sign up bonus or annual card member anniversary gift.
The currently available Marriott cards that award this up to 35k point-certificate at each account renewal include the Marriott Bonvoy Business AMEX Card, and the Marriott Bonvoy Boundless Credit Card, from Chase.
If you maximize the annual 35k award for a property selling for $200 to $300 per night (or more), you've likely more than offset the annual fee for these cards each year. These fall squarely into the Category 5 sweet spot, so they offer exceptional value in some cases. Try to maximize these whenever possible, as it's possible to redeem for a category lower than they are worth.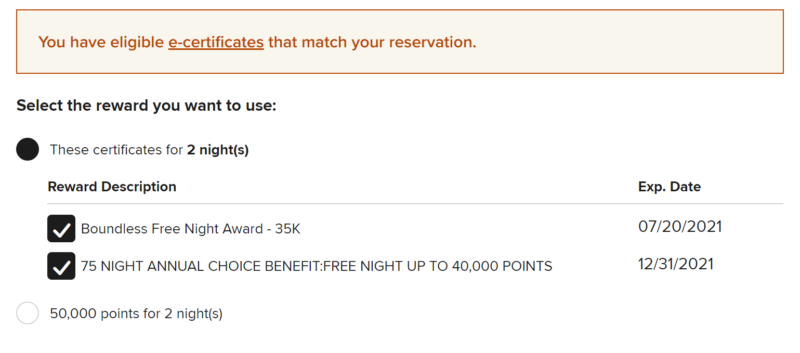 5. Marriott Bonvoy Moments (Experiences)
So maybe you someone who stays in hotels so often that, staying in another one (even for free) is far from your cup of tea. Marriott has a great program called Bonvoy Moments that target unique experiences that frankly are tough to find with even cash.
The categories range from culinary experiences like exclusive dinners with chefs in some of the world's greatest restaurants, to sports experiences like meeting pro athletes and watching a professional event up close and personal.
6. Gift Cards & Merchandise
You can also redeem your Marriott points for gift cards and merchandise through their shopping portal for popular retailers like Amazon, Best Buy and Nordstrom, or purchase merchandise in various categories like entertainment, apparel and dining.
With this redemption option you may not get the best value out of your points. Redeeming points for a $25 Amazon gift card, for instance, requires 10,000 points. While Marriott points are typically valued at 0.8 – 1.0 cents per point, this would give you 0.025 cents in value. Still, if you have a surplus of points and need a great gift idea, this could be a good move for you.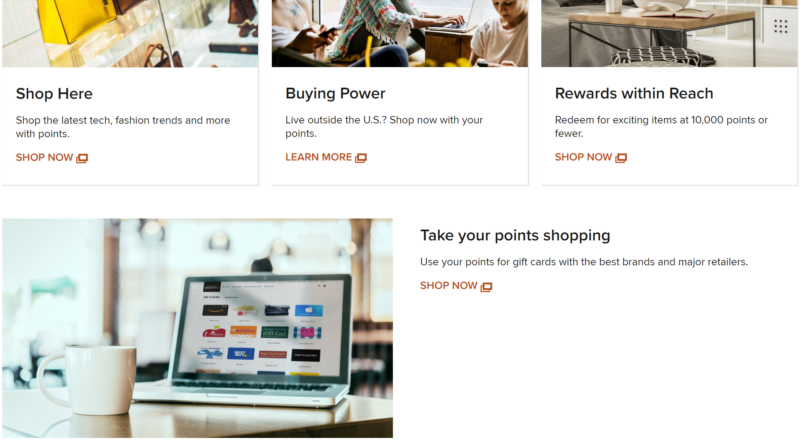 7. Transfer Marriott Bonvoy Points to Airline Miles
Although you won't see the best value out of this option, it is possible to transfer your Marriott Bonvoy Points to a wide variety of airline partners. The transfer rate varies across all of the options which are provided below. Note that United offers a 10% bonus when you transfer miles to them, as United and Marriott Bonvoy team up for a lot complimentary perks across their two programs.
Addtionally, Marriott offers an extra 5,000 point bonus, for every 60,000 points you transfer to airline partners. An example of a transfer would look like this.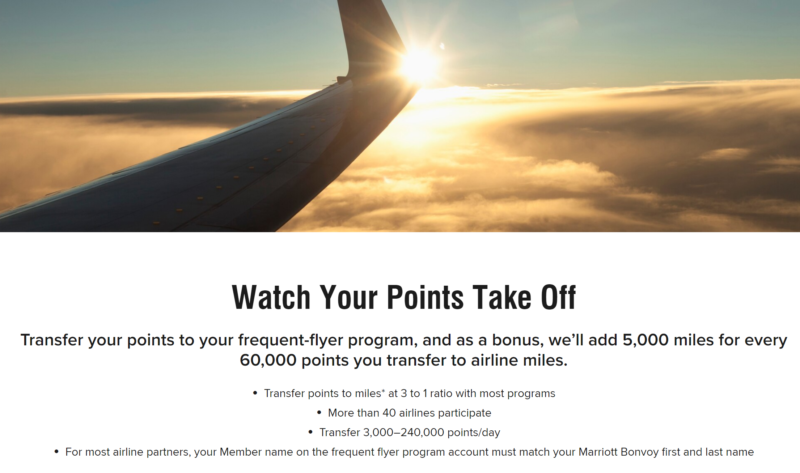 I need 25,000 Advantage miles for an upcoming round trip I am planning. and i'm running low. I can transfer 60,000 Marriott Bonvoy points to my American Airlines account, with Marriott making up the additional 5,000 points for me. This is a nice and tidy example, and the math might not work out easy every time like this.
Click here to Exchange Hilton Honors Points for Airline Miles or Amtrak Points
| FREQUENT FLYER PROGRAMS | POINTS : MILES |
| --- | --- |
| AEGEAN Miles+Bonus | 3:1 |
| Aer Lingus AerClub | 3:1 |
| Aeroflot Bonus | 3:1 |
| Aeromexico ClubPremier | 3:1 |
| Air Canada Aeroplan | 3:1 |
| Air China PhoenixMiles | 3:1 |
| Air France-KLM Flying Blue | 3:1 |
| Air New Zealand Airpoints | 200:1 |
| Alaska Airlines Mileage Plan™ | 3:1 |
| Alitalia MilleMiglia | 3:1 |
| American Airlines AAdvantage® | 3:1 |
| ANA Mileage Club | 3:1 |
| Asiana Airlines Asiana Club | 3:1 |
| Avianca LifeMiles | 3:1 |
| British Airways Executive Club | 3:1 |
| Cathay Pacific Asia Miles | 3:1 |
| China Southern Airlines Sky Pearl Club | 3:1 |
| Copa Airlines ConnectMiles | 3:1 |
| Delta SkyMiles® | 3:1 |
| Emirates Skywards® | 3:1 |
| Etihad Guest | 3:1 |
| FRONTIER Miles | 3:1 |
| Hainan Airlines Fortune Wings Club | 3:1 |
| Hawaiian Airlines HawaiianMiles® | 3:1 |
| Iberia Plus | 3:1 |
| InterMiles | 3:1 |
| Japan Airlines JAL Mileage Bank | 3:1 |
| JetBlue TrueBlue | 6:1 |
| Korean Air SKYPASS | 3:1 |
| LATAM Airlines LATAM Pass | 3:1 |
| Multiplus Fidelidade | 3:1 |
| Qantas Frequent Flyer | 3:1 |
| Qatar Airways Privilege Club | 3:1 |
| SAA Voyager | 3:1 |
| Saudia Alfursan | 3:1 |
| Singapore Airlines KrisFlyer® | 3:1 |
| Southwest Rapid Rewards® | 3:1 |
| TAP Air Portugal Miles&Go | 3:1 |
| Thai Airways Royal Orchid Plus | 3:1 |
| Turkish Airlines Miles&Smiles | 3:1 |
| United MileagePlus® | 3:1.1 |
| Virgin Atlantic Flying Club | 3:1 |
| Virgin Australia Velocity Frequent Flyer | 3:1 |
| Vueling Club | 3:1 |
Marriott has many airfare transfer partners, with varying degrees of redemption amounts
Basic Breakdown
Given that Marriott Bonvoy gives you so many avenues to earn and redeem points it's no wonder they are one of the world's most popular brands. If you are new to Marriott, and in a place where you think a co-branded card might be good for you, you can get a great start to your journey of earning points. Make sure to check out the Basic Guide to Earning Marriott Bonvoy Points for tips on how to create your stockpile!
What's your favorite strategy for redeeming Marriott Bonvoy Points?
More Basic Reading