The City of New Orleans is one of the most unique cities that we have had the opportunity to visit! The "Big Easy" has much to offer from the fun and vibrant nightlife, endless foodie spots to curb any hunger, and dozens of historical remnants dating back to 1682. Words like Voodoo, Beignet, and Hand-Grenade take on a whole new meaning in the French Quarter of Louisianna. To top this basic destination off, every year thousands of people take to the streets dressed in their finest and often most revealing costumes to celebrate the New Orleans Mardi Gras!

Check out our Basic List of the Top 16 Things to Do in New Orleans Below

16 – Relax and Unwind at "The Club" Lounge
The Louis Armstrong New Orleans International Airport recently got a huge upgrade which has become a fan favorite from day one. Be sure to stop by the New "The Club MSY" Airport Lounge for delicious food, creative cocktails, and the most comfortable seats you'll ever find in an airport. We had such a great time relaxing here before catching our flights home!

15 – Dress the Part ~ Beads, Masks, & More!

A trip to New Orleans is not complete without donning a fresh set of beads around your neck. Luckily for us, it didn't take very long to earn our very own colorful new necklaces. Immediately after exiting the New Orleans Airport Terminal we were greeted by the best welcoming party of all time. Our new friends gave us an energetic NOLA welcome which included a handful of beads flying through the air!

To complete our outfits, we found some colorful masquerade masks while exploring the French Quarter! There are shops spread throughout this area selling a wide variety of beads, masks, t-shirts, and even voodoo dolls. The masks we purchased ended up costing around $10 each which was pretty reasonable.
14 – Enjoy a delicious Beignet and Chicory Coffee at Cafe Du Monde
Cafe Du Monde has been serving up deliciousness in the French Quarter of New Orleans since 1862. It's no surprise that this local favorite is continuously busy 24/7 with folks coming from near and far to get their hands on a famous Beignet. This tasty fried dough treat is paired well with a cup of Cafe Du Monde's Chicory Coffee!
13 – Experience the vibes at Lafitte's Blacksmith Shop

Known as the oldest structure in the United States to be used as a bar, Lafitte's Blacksmith Shop is a great place to stop for a cold beverage while exploring Bourbon Street. I personally enjoyed the basic vibes taking place at Lafitte's. In the back of the bar, I found a dimly lit room filled with patrons gathered around a piano. The musician played hits on-demand while these folks used the piano as a makeshift drumset. The energy here was through the roof!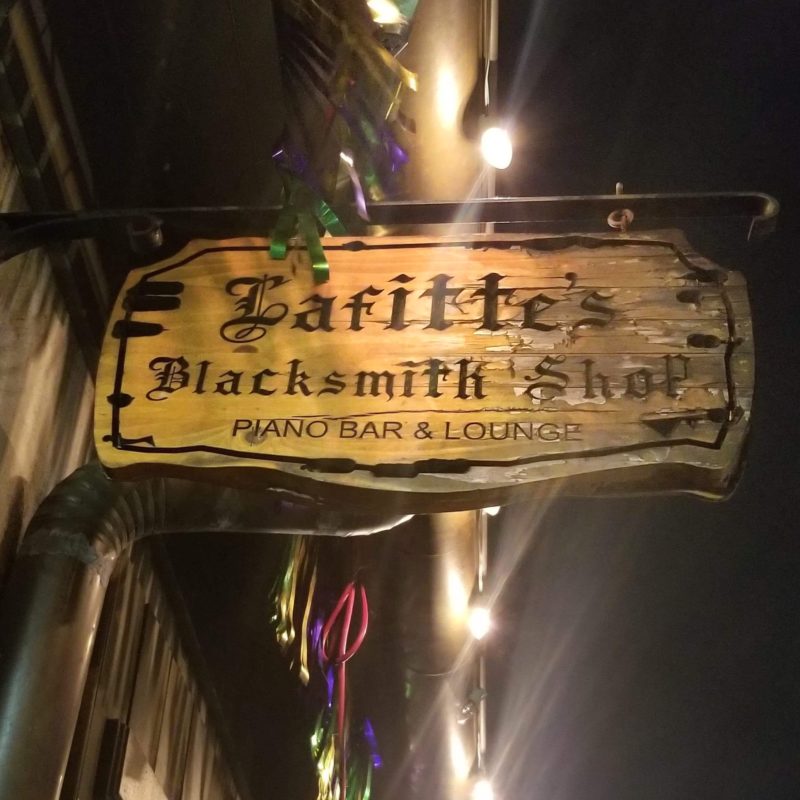 12 – Take a Spin in the Dentist Chair

If you're looking to take in the full NOLA experience, taking a spin in the Dentist Chair at Spirits on Bourbon is the fastest route I found! This bar is not hard to miss as folks line up outside to take a seat in this unique chair. Pairing this chair ride with a famous "Ressurection" drink while taking in the melodies from Spirt's dueling pianos makes for a fun evening out on the town. Don't forget to bring your Light-up Skull Mug home with you to show off during your basic travel house parties!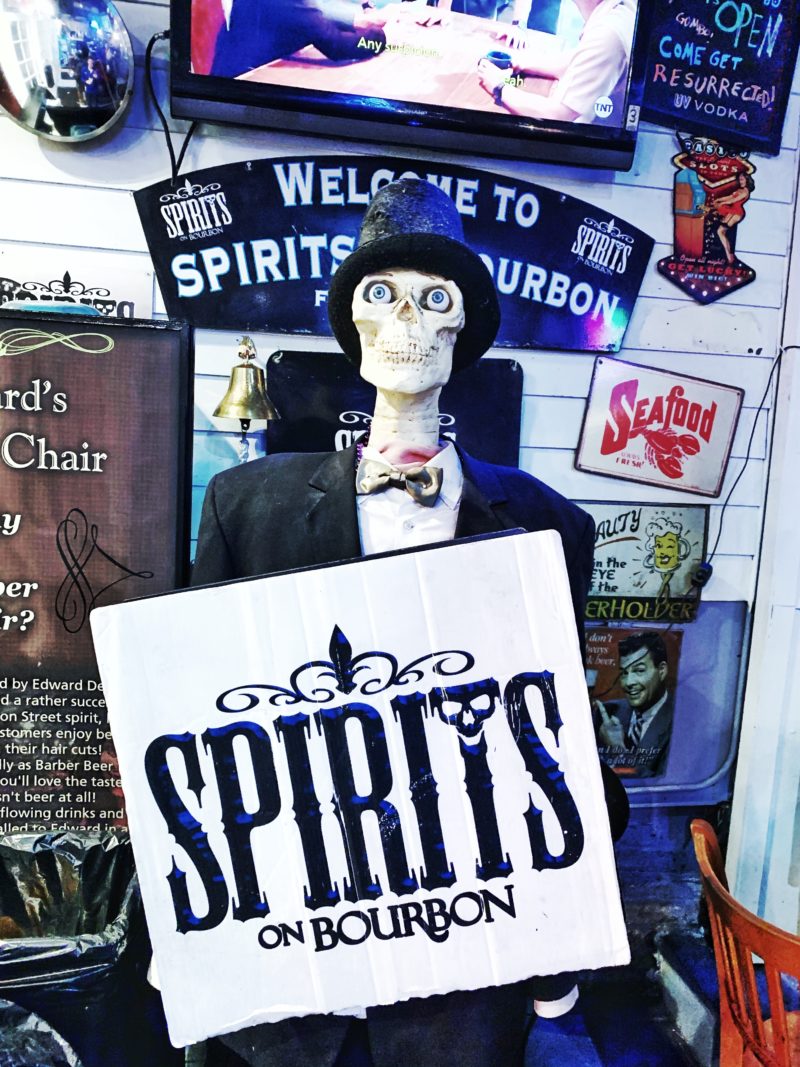 11 – Grab a drink at the Carousel Bar

Found within the elegant Hotel Monteleone, the Carousel Bar has been going round-and-round since 1949. Every 15 minutes, the Carousel Bar completes a full rotation where you'll be greeted by a number of the best bartenders found in the New Orleans French Quarter. Be sure to try one of their signature cocktails, including the Vieux Carre which has been perfected over the past 70 years!

10 – Take a Ride on the Streetcar

There are four separate streetcar lines that transfer it's passengers around New Orleans for only $1.25 each way. The St. Charles Streetcar line is one of the most popular routes which has been passing through the French Quarter since 1835. A full ride from end-to-end on the St Charles Streetcar will take approximately 40 minutes. I recommend taking some time to experience those Basic Views of New Orleans from inside a historic streetcar!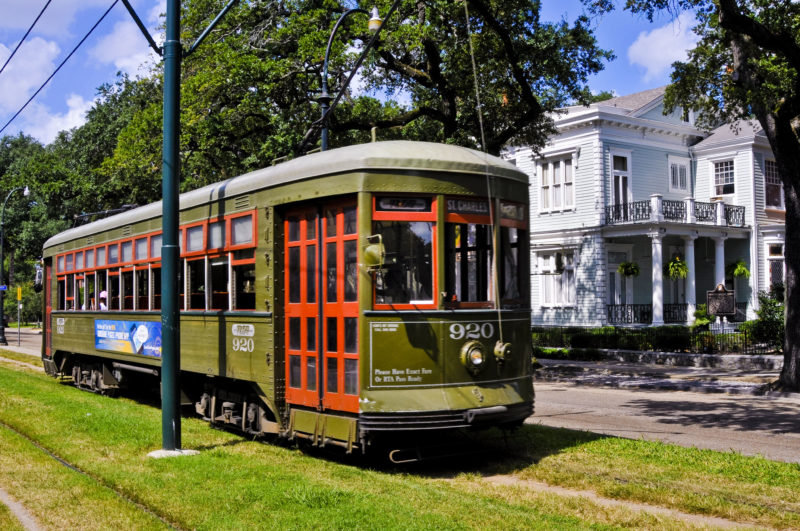 9 – Stop into Marie Laveau's House of Voodoo

New Orleans has been associated with Voodoo since the early 1700's and there's no better place to take in those spiritual vibes then Marie Laveau's House of Voodoo. At Marie Laveau's you'll find an assortment of items for purchase including Voodoo Dolls, Charms, Oils & Insense, Statues, Home Blessings, Jewelry, and Books. In addition to the merchandise, at 12:00 PM it's possible to purchase a psychic or spiritual reading performed by a Voodoo disciple!

8 – Enjoy some Gumbo at…where else? – The Gumbo Shop

The Gumbo Shop is a popular New Orleans Restaurant serving up a variety of traditional Creole dishes. Most popular, you'll find the Chicken Andouille Gumbo and Seafood Okra Gumbo served readily every day. I enjoyed pairing my Gumbo with the Creole Combination Platter which included Shrimp Creole, Jambalaya, and Crawfish Etouffee. This was certainly one of my favorite meals that I had while visiting the Big Easy!
7 – Go on a Haunted Pub Crawl

Even if you don't care to drink, the Haunted Pub Crawl Tour is a must-do while visiting New Orleans. You're led on a guided walking tour of the French Quarter which includes many unique stops that I surely would have never made it to otherwise. In addition, passionate guides provide an overview of the history of New Orleans along with detailed stories that pertain to the establishments visited. I really enjoyed our guide's energy and enthusiasm. It was apparent from the start that he had a true love of the city and it's controversial history!

6 – Eat a Muffaletta at Central Grocery

A trip to New Orleans is not complete without indulging in the world-famous Muffaletta Sandwich. Central Grocery opened it's doors back in 1905 began to quickly grow a cultish following after Sicilian Owner created the very first Muffaletta. This GIANT sandwich is comprised of fresh deli meats sliced in house every day, freshly baked bread, and a delicious Italian olive salad. The Muffaletta comes as either a whole or a half. I personally could only eat half of a half sandwich, which should give you an idea of how large a Muffaletta is!

5 – Enjoy some Live Music at Pat O'Briens

Pat O'Briens is a bar & restaurant famous for inventing the Hurricane Cocktail. I really enjoyed visiting Pat O'Briens and taking in the Irish vibes. When visiting, be sure to take a walk through the entire restaurant and check out the Flaming Fountain found in the connecting outdoor patio. I was also impressed with the musicians who were going back and forth on their dueling pianos!

4 – St. Louis #1 Cemetery Tour

This is one of the most popular tours that you'll find in New Orleans. Our walking tour began outside of the Supreme Court of Louisiana and continued through the French Quarter. William, our tour guide provided a detailed overview of the architecture and history of New Orleans. From there, we explored the St. Louis #1 Cemetery, which is famous for its above-ground tombs, the resting place of the Voodoo Queen Marie Laveau, and the future tomb of Nicholas Cage. Following the St. Louis #1 Cemetery Tour, we visited Congo Square which is located in Louis Armstrong Park. I definitely recommend doing a tour while your visiting. We booked through the WitchesBrewGhostTours Website!

3 – Grab a Hand Grenade and Explore Bourbon Street

You'll be hard-pressed to escape Bourbon Street without seeing the Famous New Orleans Hand Grenade drinks. They are passed around on the streets as if they are going to explode! The Tropical Isle has five different locations spread throughout Bourbon Street which offer the specialty drink, known as New Orleans most powerful. This green drink is both delicious and strong!

2 – Charbroiled Oysters at Dragos

Dragos has been perfecting its unique take on Charbroiled Oysters since 1993 when the restaurant manager created this New Orleans fan-favorite dish. The Charbroiled Oysters are seasoned with a combination of garlic, butter, and herb sauce. Next, the Oysters are topped off with Parmesan and Romano cheese before being cooked in the oven. Paired with a side of bread that is perfect for soaking in the sauce between oysters, this meal is perfect. I even threw in some Aligator tacos as a side which made this experience 10X better!

1 – Attend a Mardi Gras Parade!

Mardi Gras takes place every year on Fat Tuesday. This Tuesday always precedes Ash Wednesday, which marks the first day of Lent. The Mardi Gras festivities begin taking place about a month or so before the final celebration. Typically, parades will begin taking place in January and steadily increase in frequency each weekend. As the weeks pass by, the parades become larger and attract greater numbers of people. Some of the most popular parades that take place are Krewe of Chewbacchus, Krewe du Vieux, Muses, Tucks, Bacchus, and Endymion. I highly recommend the 4WWL Mardi Gras Parade Tracker App. We used this to track the parades in real-time which helped us navigate New Orleans to find the best vantage points. Attending a Mardi Gras Parade is definitely a bucket-list worthy event and I hope that everyone has a chance to take in the amazing energy of one!

I'd like to give a special shoutout to our friend Shawn who helped us plan this fantastic trip to New Orleans. He's a seasoned Basic Traveler who shares our passion for unique experiences and Shawn's Instagram is plastered with them!

Have you been to New Orleans? What's your favorite thing to do while visiting? I'd love to hear down in the comments below or in our Basic Travel Facebook Group!
More Basic Reading