One of my favorite things about a travel day is exploring a new airport lounge. I love being able to relax, getting a drink, catching up on some emails, or reading. It really beats the hustle and bustle of waiting at the gate in the main terminal. I recently had to go on a work trip and was able to experience The Club DFW. Find out everything you need to know in this review of The Club DFW!
How to access The Club DFW
To enter The Club DFW you can either pay for entry which is typically about $45 per person. Our favorite way to enter however is by utilizing complimentary Priority Pass access with various credit cards. You can read our full review of which cards give you access to Priority Pass Lounges. Some of my favorite cards for access are the Chase Sapphire Reserve, The Platinum Card® from American Express(Enrollment Required), or the Hilton Honors American Express Aspire Card (Enrollment Required) for unlimited access. You could also check out the Hilton Honors American Express Surpass® Card (Enrollment Required) if you don't travel frequently but still would like 10 visits per year.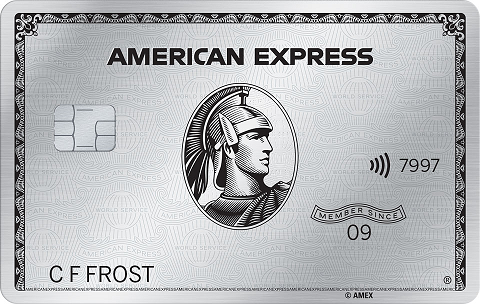 $695 annual fee (Rates & Fees
After spending $6,000 on your card in the first 6 months
Check-In and Seating
You can find The Club DFW in Terminal D (International Terminal) near Gate 27. If you aren't in this terminal for your departing flight, no worries. Terminal D is easily accessible anywhere from the airport within 10 minutes via the Sky Link Train at DFW.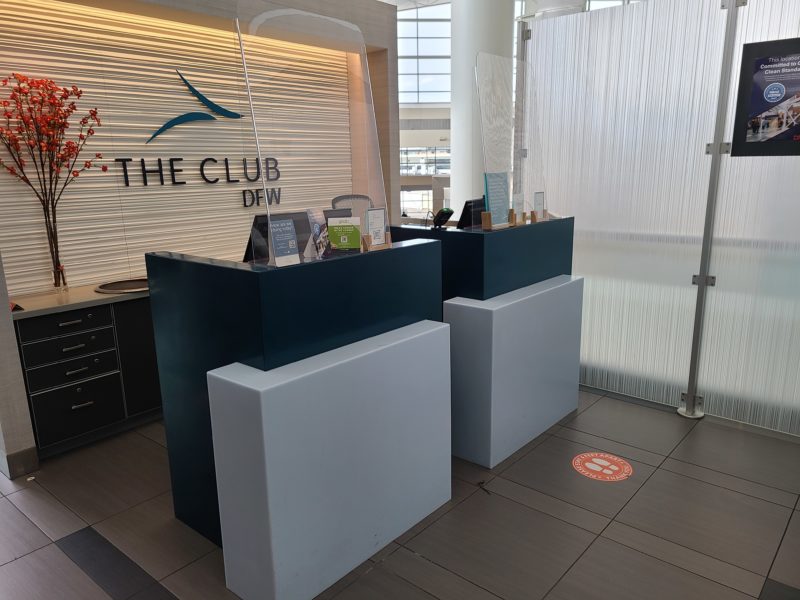 To assist with over-crowding and COVID compliance, there is a digital waitlist system in place at check-in. Be sure to check in right away to get access to The Club DFW. You will give your phone number to be alerted when you can enter, and be asked to wait outside in the terminal. Once there is availability, you will receive a text message on your phone to come back into the club. It only took me about 10 minutes to get in.
COVID Compliance
Upon check-in, there is a clear plastic barrier protecting you and the employee when interacting. Walking through the club you can see seats blocked off to comply with WHO and CDC social distancing measures. If you are traveling with a group, however, you are permitted to sit together. There are various areas that have had tables removed or even chairs marked off with a 'do not sit' sign to enhance social distancing.
Masks are required in the Club DFW for guests, and similar to our The Club LAS visit, hand sanitizer is located throughout the club for guest use. You will also notice all employees wearing masks as well as gloves. Employees at The Club DFW are given temperature checks for each shift. You can also find the most up-to-date details on hours of operation and COVID protocols here.
Hilton Honors Bonus Points
once you spend $4,000 on purchases within the first 3 months from account opening. All information about Hilton Honors American Express Aspire Card has been collected independently by basictravelcouple.com
The Club DFW offers both hot and cold food options. While potentially not as vast as pre-COVID – it is still more than enough to help tide over a quick snack craving. Options included were mini sandwiches, soups, cheeses, and fruit. As far as COVID procedures go, you are not allowed to serve yourself at this time. An employee of the lounge walks with you and helps you choose your food from the buffet line. As you would hope and expect, they also boast a great espresso-making machine and water station as well.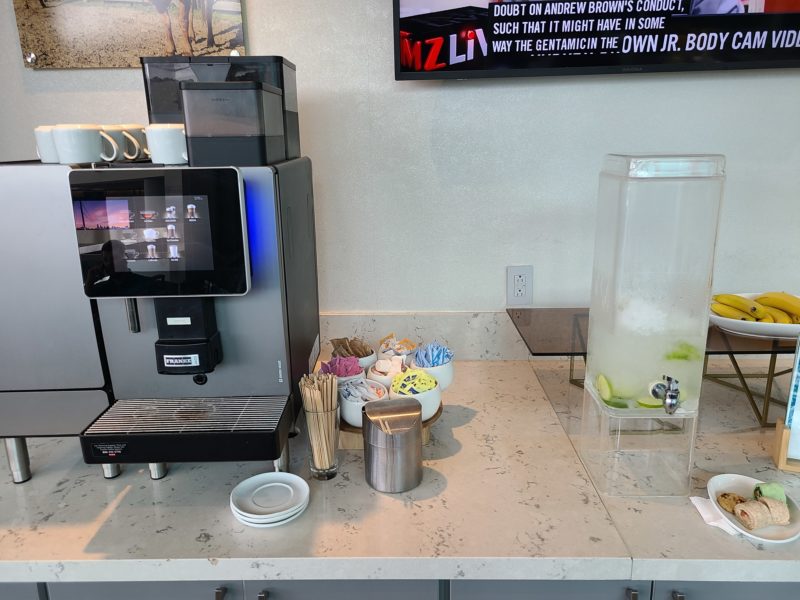 Drink Options
The bar is where in my opinion this lounge really shines. This is almost always my favorite part anyway, isn't it? They don't go cheap with either the liquor or wine selection, and also make excellent specialty cocktails. My favorite was the specialty Blackberry Whiskey Crush.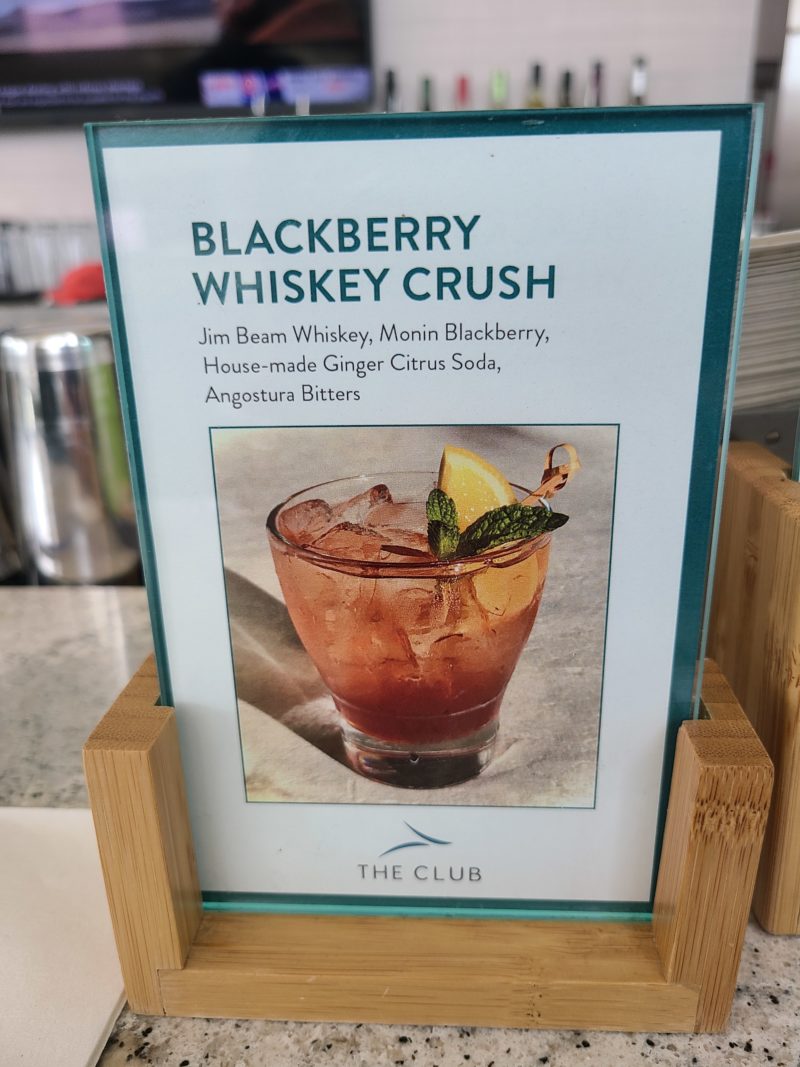 Facilities of The Club at DFW
Open Air Business Center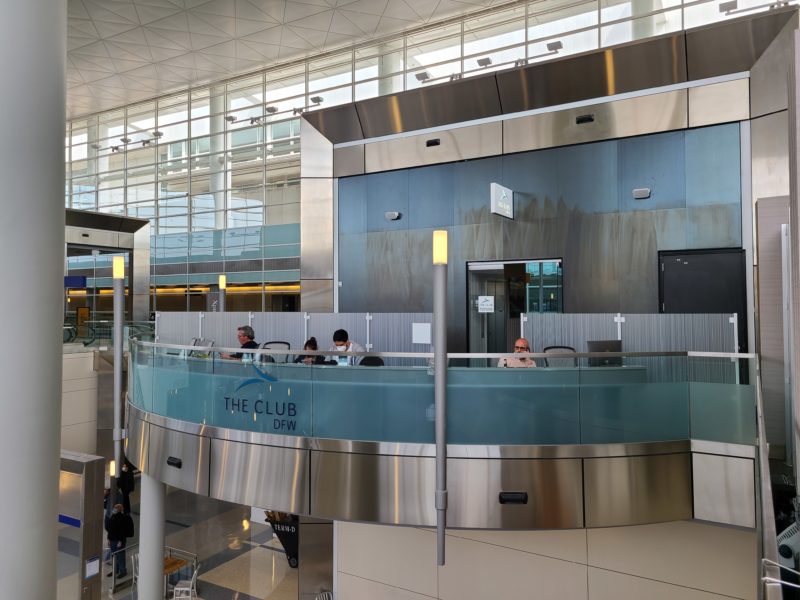 A bit of a unique feature here is that of the "open-air" concept business center. It's only interesting because typically business centers are secluded and small and generally quiet. While it isn't necessarily loud, it is subjected to the noises of the terminal. If you need to take an important call, you might need to rethink this area. What I loved about this is that the open-air concept was refreshing and relaxing. The WiFi in my experience was fast with no interruptions. This is not an overall large lounge so it was consistently strong throughout the whole layout.
Shower & Restrooms
The Club DFW is one of the only Priority Pass facilities I can think of that have showers, so this is a really nice touch. I didn't get the opportunity to try these out as this is my home airport, but the facility looked very nice. If you have a long layover, sometimes a nice shower to refresh is worth it. The shower is located in the restroom in the Relax section.
If I had to think of one drawback of this lounge it would that of the restroom situation. The only restroom is combined with the shower. So, if the shower is occupied and you need to use the facilities, you'll need to exit the lounge. On the opposite side of the escalators are additional airport bathrooms. When you do access a lounge facility the last thing you want is to have to do this, but it's a minor thing in my opinion.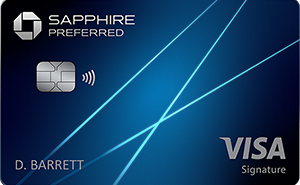 after you spend $4,000 on purchases in the first 3 months from account opening.
Basic Breakdown
I love being able to save money at the airport or even grabbing a snack before heading out to the city. If you are traveling, don't forget your face masks as they are required in most places you go. Have you visited an airport lounge since travel restrictions have started lifting? I would love to hear about it!
New to Credit Card Rewards Points? Check out the BASICS Below!