Updated December 16, 2019
If you've read Basic Travel 101 and Basic Travel 102 you are off to a good start in your Basic Travel Journey. One important aspect of Basic Travel 102 is understanding the In-House Rules the Banks and Credit Lenders use. These rules will help to determine your eligibility for opening a new credit card. The 5/24 rule became a huge game-changer a few years back. So what IS the 5/24 rule?
What is the 5/24 Rule?
When opening credit cards for sign up bonuses, some banks have changed the rules to minimize who can be approved for a credit card. This is commonly known as the unofficial "5/24 rule"
5/24 Rule refers to the number of "X" of credit cards you have opened in the last 24 months.
Why does X/24 Even Matter?
X/24 is VERY important. There are many premium credit cards that you will be ineligible for if you have opened more than 5 credit cards in the last 24 months. This means from ANY credit card issuer. Store credit cards, AMEX, Bank of America, Citi, and etc are all fair game.
An Example of 5/24 in the Basic Travel World
A great example of the 5/24 Rule in real life would be to look at Chase Bank. Most people in the Basic Travel Community would agree that Chase Bank has some of the most lucrative Credit Card offers on the market. Because of this, you will only be eligible to open one if you are below 5/24. In order to be eligible for a Chase Bank Credit Card then you must have not opened more than 4 credit cards in the last 24 months. Given how selective Chase Bank is, it would be wise to review their options first before looking at other bank cards. Especially if you are under 5/24.
How to Determine your 5/24 Status
Now that you understand 5/24 and why it's important, it's time to figure out what your X/24 status is! The most basic strategy to determine your X/24 status would be to pull up a copy of your credit report (Equifax, Experian, TransUnion). Next, count backward from today to 24 months ago. The total number of cards opened is your x/24 status! Just to note, thanks to the Fair Credit Reporting Act (FCRA) you can actually receive a free copy of all three of your credit reports once per year. These can be viewed at AnnualCreditReport.com One of our favorite ways to check this status is through Credit Karma.
Basic Pro-Tip - Record the opening and closing dates using our Basic Travel Template so that you have your own up-to-date log to review and update regularly. 
Credit Karma
Credit Karma offers a free service to access your Credit Report. An important factor in using Credit Karma's service is that you will be provided with a Credit Score that uses the VantageScore algorithm. Take this Score with a grain of salt. The reason why it's free is that they use it to sell you their services in order to "Help" you raise it higher. Over 90% of Banks and Credit Lenders use your FICO score to make decisions on your creditworthiness. For a more in-depth review of Credit Scores and the difference between your FICO and VantageScore read our Basic Guide to Credit Scores!
Despite the issue regarding Credit Karma's scoring system, it is still a great reference for other factors. Such as, to view your number of accounts currently open, credit inquiries, and when you opened/closed particular accounts.
The best link for Credit Karma you can use is here. Once you log in, click "accounts" then you can sort by open date. You will want to sort for the most recent account opened on top.
Basic Recap to Determine your X/24 Status
Step 1: Log into Credit Karma.
If you need to, sign up for a free account first. We recommend going to this link. This will provide you with the 'old' sorting methods for easily checking the opened dates on 5/24.
Step 2: Click on the second blue tab labeled "Accounts" midway on the screen.
*Note* if you click on the top accounts tab, it will show a different screen. Do not click this. If you do, you have to individually go through EACH credit card opened and then look at the opened date. This will be a lot more time-consuming.
Once on the Accounts Tab, you will want to click the OPEN DATE to sort. Make sure the arrow is facing down.
On this screen, you will be looking at three things.
The Account type, you want to make sure to only count ones that say CREDIT CARD.
Open Date- you want to count the ones from the last two years. So for the below example, today is December 16th, 2019. I have two credit cards that were opened within the last two years (Opened after December 16th, 2017).
You also want to take a look at the status. Remember, cards count if they are opened OR closed.
Based on this data, my 5/24 status is 2/24.
Step 4: Record your Data
We recommend recording all of your credit cards and opening dates on the Basic Travel Template. You cannot edit this template but you can create a copy once opening. You can do so by clicking "File" and then "Make a Copy." This will make it easier in the future to easily sort your credit card open dates and keep track of things like the annual fees.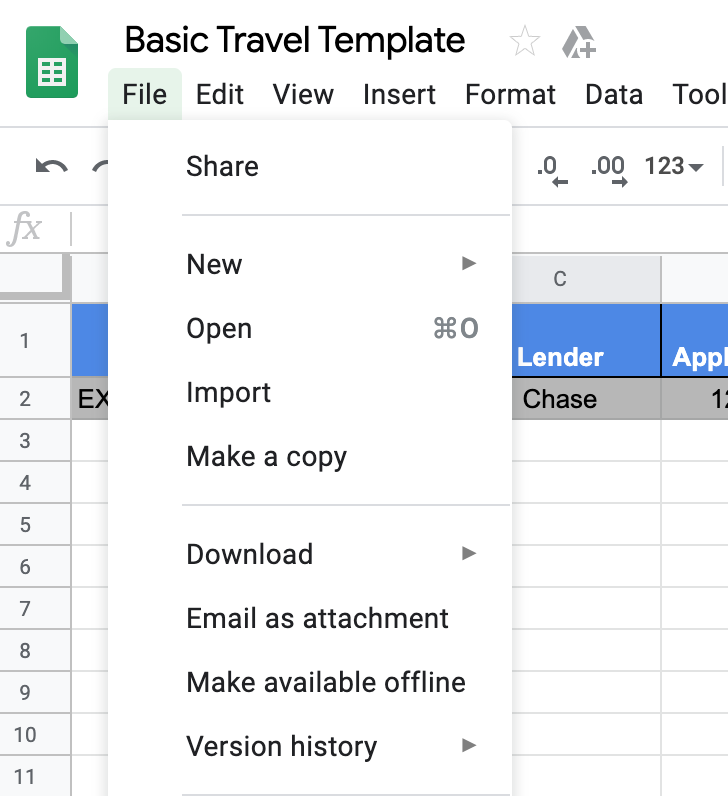 Step 5: Make note of your 5/24 Status!
Now that you know your 5/24 status, understand the Rules to Opening Credit Cards, you can just head straight to our Top Credit Cards page to learn about our favorite credit cards!
You can also send us a quick email at [email protected] to get a FREE customized plan for opening a credit card.
Once you have updated your Basic Travel spreadsheet, we like to keep track of each credit card we open with the dates and information so it is easily accessible the next time you need it.
New to Credit Card Rewards Points? Check out the BASICS Below!
---