The Kimpton Goodland Fort Lauderdale recently opened their beautiful 96-room boutique hotel. Heading out for a quick girls' weekend getaway, this was the perfect spot for us to enjoy, relax, and celebrate my upcoming marriage. Located conveniently just one block away from the beach. This unique boutique hotel was an adaptive reuse of the Escape Hotel, opening on NYE in 1949. Kimpton Goodland provides delicious food at the Botanic Restaurant, daily yoga, complimentary beach chairs on Fort Lauderdale beach, unique cocktails with fresh-squeezed juices, as well as some of the most accommodating and resourceful staff. Learn more about the Kimpton Goodland below!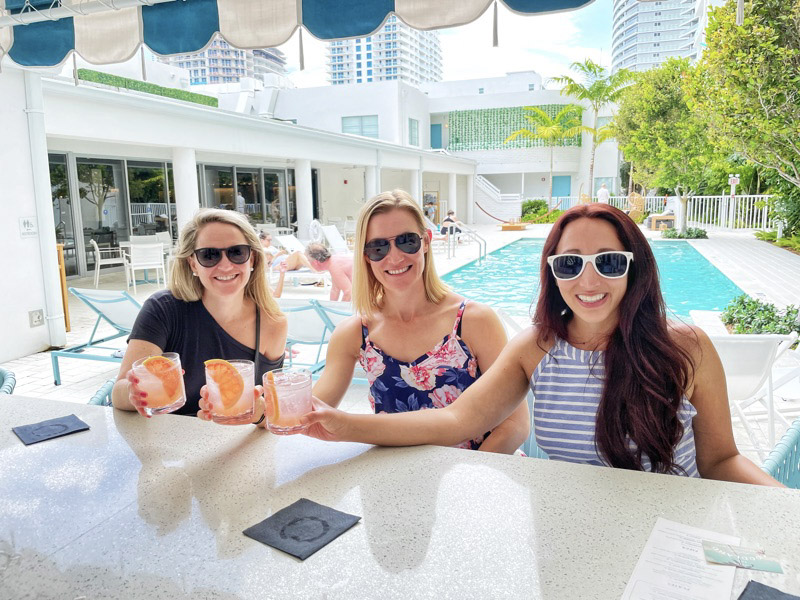 Overview
Kimpton Goodland Fort Lauderdale is one of 77 boutique hotels in the Kimpton portfolio. Staying at these properties will earn you points with IHG Hotels & Resorts Brand. What is unique about Kimpton properties is they all excel in adapting to the original roots of the properties and areas. The Kimpton Goodland Fort Lauderdale has really submerged itself in the original roots of the Escape Hotel with pops of turquoise color, lush greenery, and a laid-back, relaxed vibe. Made up of three 2-story buildings, each Kimpton Goodland building is individually named to give a tribute to the original developer, George Gill Jr., who was known as the father of Broward County Hospitality. Each building is named after some of Mr. Gill's first hotels built in the 1950s-1960s- The Clipper, Jolly Roger, and Trader.
Kimpton Goodland will provide all of your usual Kimpton branded hotel amenities, including morning coffee and tea in the lobby, daily yoga, fitness center, complimentary bike rentals, a wine happy hour, and you can even bring your furry friends at no extra charge!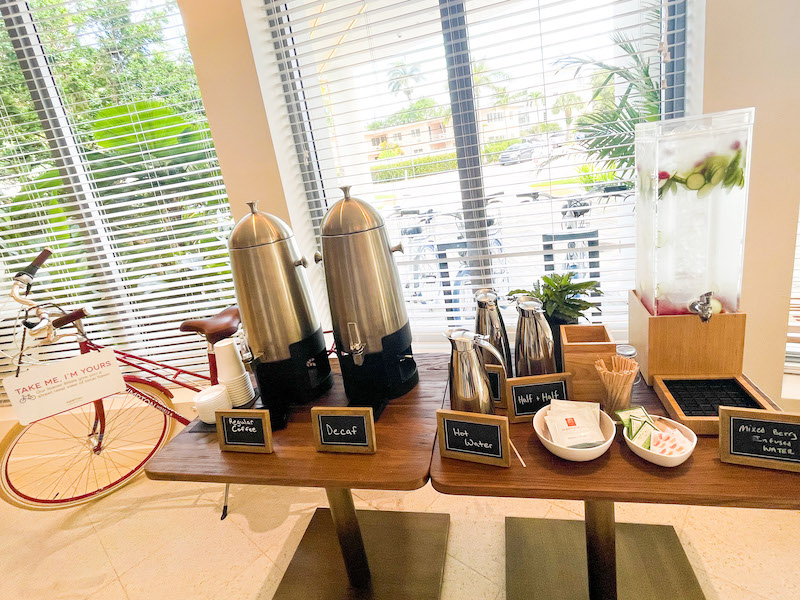 Location
Kimpton Goodland is conveniently located in North Beach Village. It is steps away from Fort Lauderdale Beach, and about 1 mile from the famous Las Olas Blvd. Walking down A1A beachside, you will find plenty of activities, restaurants, bars, and shops. Kimpton Goodland is located right on the Intercoastal Waterway. Coming Fall 2021, you can enjoy a relaxing day on the 8th-floor rooftop terrace and watch yachts float by.
Transportation to Kimpton Goodland
There are a few ways to get to the Kimpton Goodland Fort Lauderdale. Being as it is right in South Florida, there are plenty of airports to fly into. You can easily uber or call a taxi, or rent a car.
Fort Lauderdale Airport (FLL)- Fastest option about a 15 minute ride north.
Miami International Airport (MIA)- about 40 minute drive north.
West Palm Beach (PBI)- about a 1 hour drive south
Kimpton Goodland is located at:
2900 Riomar Street
Fort Lauderdale, FL, 33304
Parking
Valet parking is available for $44 per day, and there is limited street parking where you can pay the meters.
---
Don't quite need Airline or Hotel credit cards just yet? If you are looking for a Cash Back Credit Card, 0% intro APR or a Balance Transfer Card, we've got you covered with our Top Credit Card Offers.
---
Check-In
With our rooms pre-booked, check-in was a breeze. The check-in desk is located either to the right or left of the entryway. We just needed to provide a quick photo ID as well as a credit card for incidentals and we are on our way to our room! We were provided with a Manifest of things to do, walkable dining options, hours of operation for fitness center, pool, restaurants, resort fees inclusive, and weather for the next few days.
You are also able to check-in and out digitally on the IHG app. Select your check-in time, then show your ID when you arrive to receive your room keys.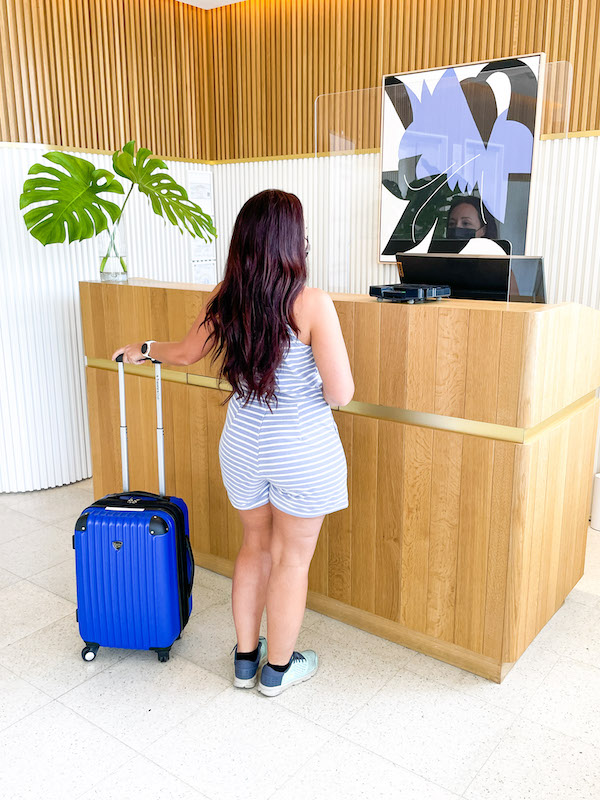 Rooms
We were booked into a Premium Double Queen room that provided ample space for 4 girls to spread out over the weekend. The room included two queen beds, a large walk-in shower, beach bags, a mini turquoise Galanz fridge, yoga mats, premium bathrobes, a wood table, a safe, and a Marshall Bluetooth speaker. I really enjoyed the pops of color and uniqueness to the room such as the turquoise mini-fridge and the cute monkey wallpaper in the closet! The beds were also super comfortable and provided for great sleep the moment my head hit the pillow.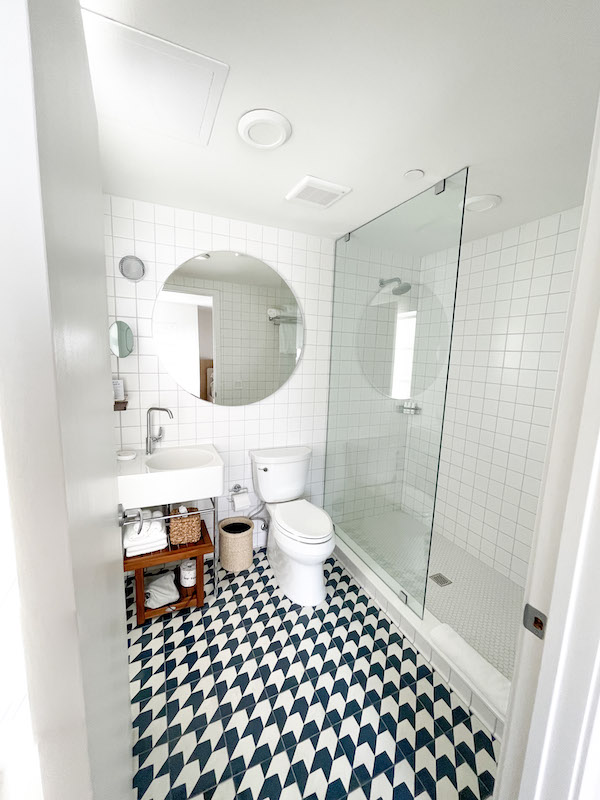 Restaurants and Bars at Kimpton Goodland Fortlauderdale
Botanic Restaurant and Bar
The Botanic is the main restaurant and bar located at the Kimpton Goodland. It is behind the lobby which includes Latin and Caribbean flavors. Breakfast has a delicious assortment of fresh-squeezed juices, eggs, french toast, pastries, fresh fruit, avocado toast, and bowls. Our favorites were the Garden Bowl and The Good Omelette. Dinner featured an assortment of small plates, ceviches, pizzas, entrees including fish, chick, grass-fed steak, and vegetarian dishes. I was very impressed with each and every food choice and I wish I could have tried them all. The Island Guac with the plantain crisps was by far a favorite between all of the girls I was with.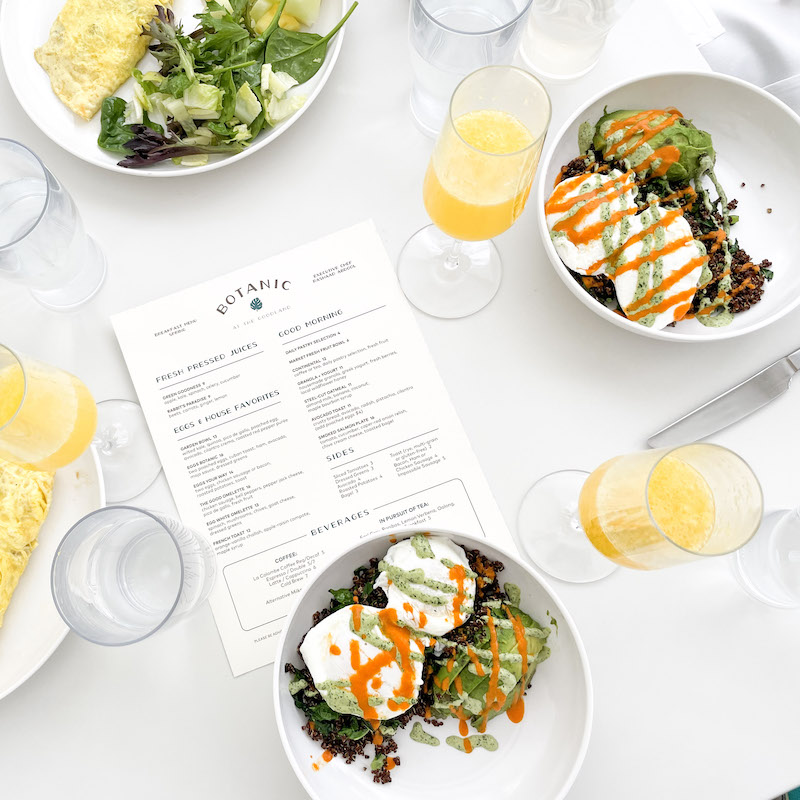 Hours of operation are:
Breakfast Daily: 7:00 AM-10:30 AM
Lunch Daily: 12:30 PM- 3:30 PM
Dinner: Sunday-Thursday- 5:00 PM- 10:30 PM
Friday-Saturday: 5:00 PM-11:00 PM
You can also enjoy your daily complimentary glass of wine from 5:00 PM- 6:00 PM each night when you show your room key. Options are Pinot Grigio or Pinot Noir.
Good Bar
The Good Bar is located poolside and open on Saturdays and Sundays from 11:00 AM- 5:00 PM. They serve some appetizers, toast, small plates, and pizzas. You can also enjoy some custom curated cocktails poolside that include fresh-squeezed juices. Our favorites were curated by Vanessa who incorporated the Botanical Kettle One Botanical flavors. A specialty pink drink made with Kettle One Peach & Orange Blossom Vodka dubbed the "Botanical Vlossom" drink as we named it. This pink drink had refreshing hints of grapefruit and was perfect for sitting in the sun and enjoying the day. We also enjoyed a Cucumber & Mint cocktail that seemed scary good and tasted like a refreshing flavored soda-water with a kick.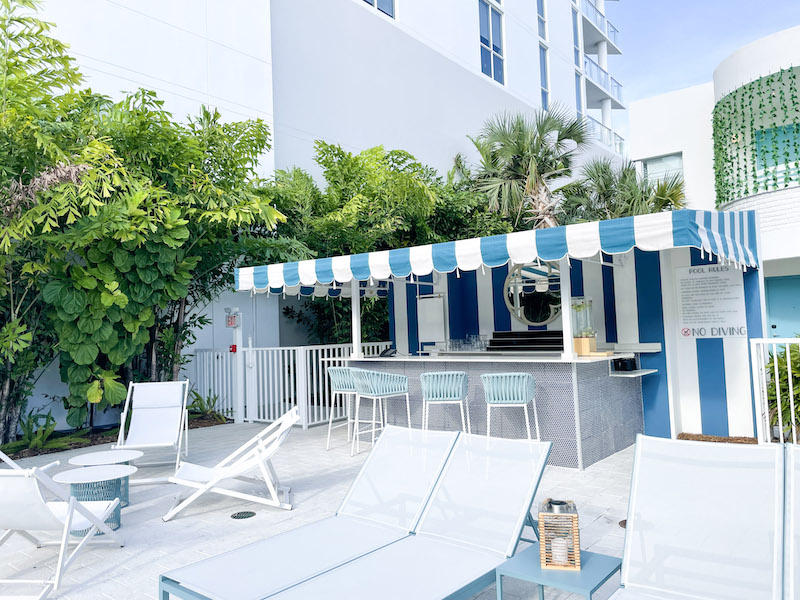 Rooftop Bar
While the rooftop bar and pool are not slated to be open until Fall of 2021, we saw a glimpse of the beautiful palm trees from the pool deck below. I cannot wait to come back and check out the additional pool, bar & restaurant, and coffee station.
Pool
The outdoor heated pool is just steps outside the Botanic Restaurant. There is a wide arrangement of seating including outdoor couches, lounge chairs, bar stools at the Good Bar, lounge chairs, and a hammock to relax in. Surrounded by lush greenery, the open-air courtyard feels like you are stepping into an outdoor oasis, not realizing the hustle and bustle steps outside of the hotel. There is a mixture of sun and shady spots to ensure you can enjoy the outdoors but still have a reprieve from the sun. The pool is open daily from 7:00 AM – 9:00 PM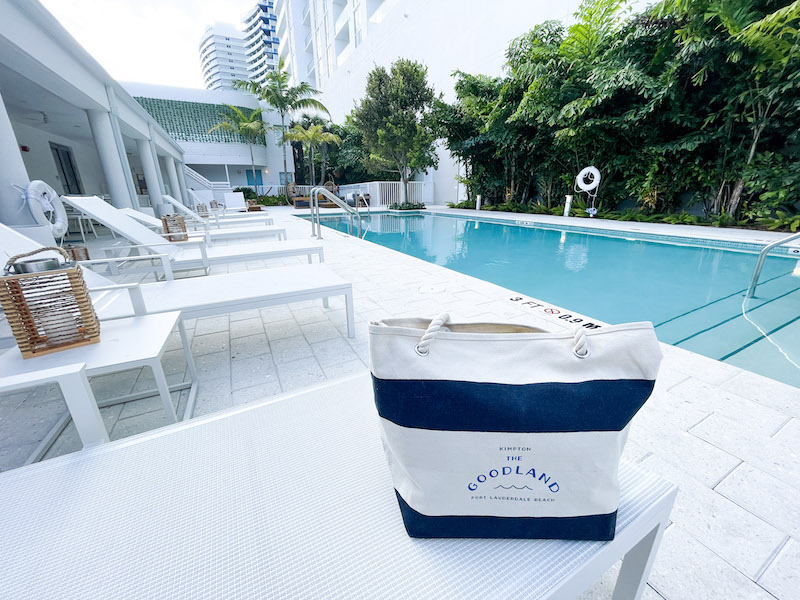 Fitness at Goodland
Fitness is always a priority in Kimpton Hotels, and the Kimpton Goodland is no different. They offer a variety of options to keep your fitness in check while enjoying your getaway.
Fitness Center
Open 24 hours, you can enjoy the floor-to-ceiling mirrored fitness center. Included inside was cardio equipment such as treadmills, bikes, and ellipticals. There are also a variety of dumbbell weights and a pulley system inside the fitness center. Towels and water bottles are also provided. The fitness center is located on the first floor in the Clipper building, through the doors to the left of the lobby.
Complimentary Bike Rentals
You can also use a complimentary bike located just outside the lobby. Bike rentals are available complimentary for 2 hours per person per day.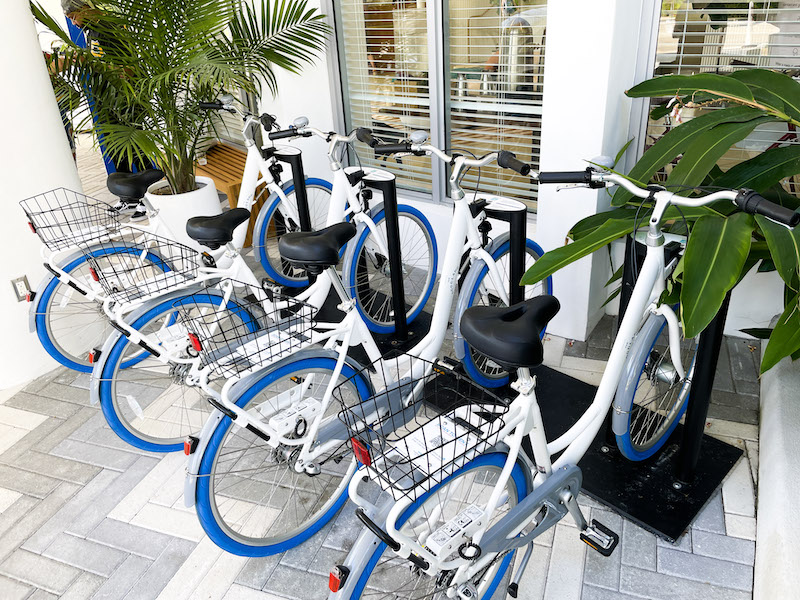 Yoga
Daily yoga is available just outside of the fitness center on the "Deck" in the Clipper building. Yoga mats are provided in the rooms and you can always call for more at the front desk. Yoga is held on weekdays at 8:00 AM, and weekends at 9:00 AM. It is also an open-air courtyard where you can enjoy the warm sunshine while stretching and relaxing. I suggest bringing sunglasses if it is a bright sunny day.
Beach Access
Fort Lauderdale Beach is located just one block outside of Kimpton Goodland to your right. You can get two complimentary beach chairs by showing your room key to the Boucher Brothers. When you walk straight down the beach to Fort Lauderdale beach on Riomar, you will see a blue umbrella stand with a white box to get the beach chairs.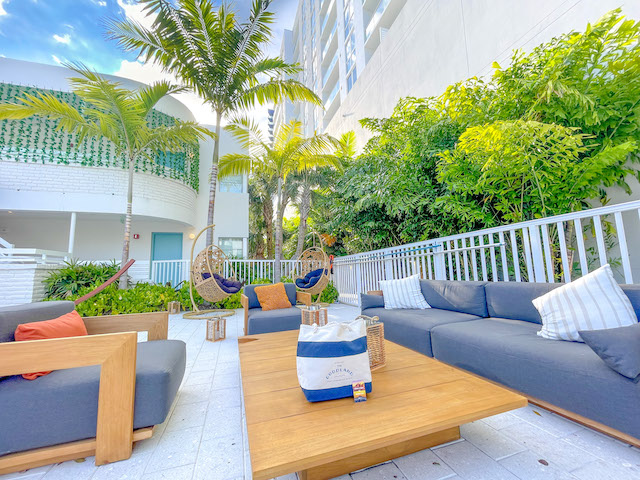 IHG Rewards Perks
If you aren't already an IHG member, I suggest becoming one to earn points on each stay! Points can then be redeemed for free nights at IHG properties. If you want to quickly earn IHG points, you can check out how to book with IHG points in this article (coming soon)! I did enjoy booking my stay on the IHG Rewards Club Premier card which offers up to 25x points on IHG purchases and a free anniversary night. The current offer can earn you about 5 free reward nights at IHG on points, plus a 6th night for the free anniversary night.
Basic Breakdown
I've always loved staying at Kimpton Properties and the Kimpton Goodland definitely blew me away. The uniqueness of this beautiful hotel, the great location, and the amazing food were all things I look forward to visiting again when I come back to Fort Lauderdale. Not to mention the amazing hospitality from each and every staff member- no matter who we encountered they went above and beyond to assist. They also provided surprise balloons and champagne in the room to kick off my bachelorette weekend. Kimpton Hotels will always be a favorite of mine and we always try to stay in them when we travel to locations with Kimpton properties available. If you want to learn more, you can also check out our stay at the Kimpton Seafire in Grand Cayman Island.