A few months back Dave was non-stop about entering this contest for SoFi. The contest was called "SoFi- Get Your Money Right- My Story." Basically, you had to create a video clip of 60 seconds or less on how SoFi has helped you get your money right. The grand prize winner would get $50,000. So in normal Lisa fashion, I cut it down to the wire and on the last DAY of the contest, started getting my submission-ready.
I quickly whipped out my phone to create a video of how SoFi helped with some extra cash when I broke my leg by utilizing the referral bonuses to share the wealth with all of our friends and family. I submitted it on January 31st, 2020 and thought nothing else of it.
The Email
A few weeks went by and I got an email from SoFi, stating that they were going to use my video in upcoming marketing materials! I quickly call Dave to see if he had gotten a similar email. He did not. I was so excited to see what my material would be used for!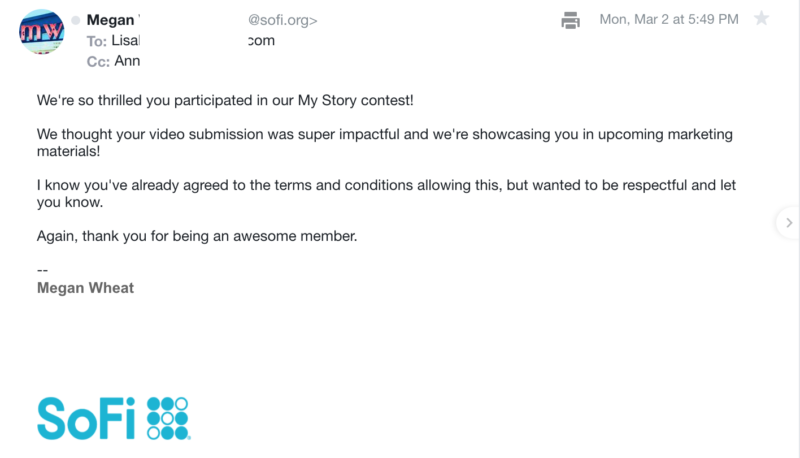 Months later
Dave & I are sitting in a hotel in West Palm Beach Florida, about to drive my car back up to Buffalo, NY for a few months since I am temporarily on unpaid leave from work due to the novel COVID-19. I start hearing on TV about a SoFi commercial so of course, Dave & I both stop and look up and suddenly- THERE I AM!
Then text messages from my friends started rolling in. At first, they were from Buffalo, but then I got a text from a friend living in JAPAN who saw me on TV! I did not think I would ever be in a commercial, let alone one that was international!
I honestly had NO idea what part of my video submission they were going to use, but I do have one thing to say- This Is Amazing. Check out my appearance below!
PS- if you want to sign up for this amazing account, I appreciate you using my referral link! Some of the benefits are:
NO FEES. Literally none. No monthly fees of any sort.
No ATM fees (and they even reimburse any ATM fees WORLDWIDE)
.10% APY on your balance
SoFi Member Benefits
Earn money for referring your friends!
If you want to see the winner's video, you can check that out here.
New to Credit Card Rewards Points? Check out the BASICS Below!