Chase Freedom Quarter 2 is going to be here in just a few weeks. If you haven't already finished meeting your Quarter 1 category bonuses, be sure to do so before Q1 ends on March 31st. Chase Freedom or Chase Freedom Flex Card holders can earn 5x the points on the below categories. If you don't have either card as of yet, be sure to check out our Top Credit Cards page to learn more about getting on the Chase Freedom Flex Bandwagon. It was introduced in 2020 and the Chase Freedom card has since been discontinued.
If you haven't heard of the Chase Freedom Quarterly Challenges yet, be sure to give our overview article a quick review. Each quarter, you can max out up to $1,500 in spending for FIVE times the cashback. What we really enjoy about this card is you can transfer the Ultimate Rewards Points to your Chase Sapphire Prefered or Chase Sapphire Reserve card to use those points for travel!
Chase Freedom/ Freedom Flex Quarter 2 Categories
Quarter 2 which runs from April 1st, 2021 through June 30th, 2021 will provide 5% cash back on the following categories:
Gas Stations
Home Improvement Stores

Gas Stations always seem pretty easy to meet those quarterly spending categories. Whenever I fill up I will make sure to stop at a qualifying gas station and use my Freedom or Freedom Flex Card. Home Improvement stores are nice, especially for springtime. I am always running to the Home Depot or Lowes for gardening and lawn supplies to get my yard in shape.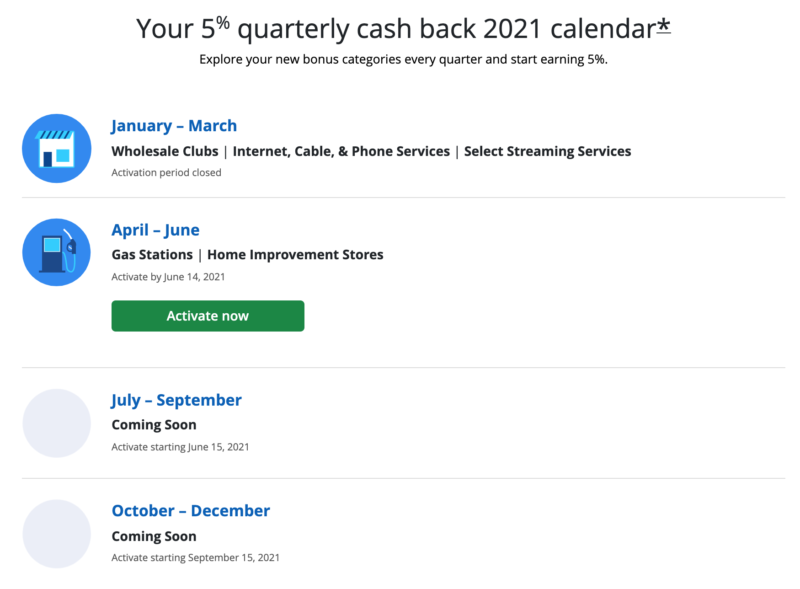 For your convenience, I have included the merchant list for examples and exclusions of gas stations and home improvement stores. For Chase Freedom, you can check here, and for the Chase Freedom Flex, you can check this Merchant List. From a quick review, both lists look pretty similar, just seems as they are in different places.
Activate your Chase Card!
If you haven't activated your 5% cashback categories yet for Chase Freedom Quarter 2, you can do so here. You must activate these each quarter to get the 5% cashback. For Q2 you can activate from March 15th, 2021 through June 14th, 2021. As long as you activate within that time frame, you will get 5% points for that category. I always activate right away as it usually takes 30 seconds and I can move on with my day.
To activate, simply click the link to get to chasebonus.com and fill out your last name, last 4 of your card number, and your zip code. Lastly, just click activate.

Final Thoughts
I enjoy my quarterly Chase Freedom Flex categories. Usually, I am able to find something to earn the extra $75 each quarter. Even if you don't reach the full amount, the extra cash back is nice no matter what amount you hit. Sometimes I will even purchase a gift card for that store- so if I shop at Home Depot a lot (which I tend to do for home renovations and rental properties), I just pre-buy a $500 gift card to use in the future. Just make sure you activate each month so you can easily earn that cash back!
Does anyone have any other advice or tips for reaching the spend on these? Interested to hear your feedback!
More Chase Freedom Quarterly Categories