Lufthansa airlines are known as one of the best when it comes to both the product and experience. Without a doubt, the pinnacle experience being a first-class seat on a 747-8. A seat on this plane costs on average $10,000 which is way outside of my basic budget. Thanks to Points & Miles, I was able to book for much less. Learn how to book Lufthansa First Class using LifeMiles in this basic guide!
Using Points & Miles for Lufthansa First Class
There are a handful of Star Alliance programs that allow you to book a seat upfront on Lufthansa. It's important to note that the required number of miles can vary quite a bit along with the taxes & fees. The most popular programs are Avianca, United, Air Canada, and Asiana. In my opinion, LifeMiles is the best if you have American Express Membership Rewards Points or Citi ThankYou Points. Alternatively, United and Air Canada work great with Chase Ultimate Rewards.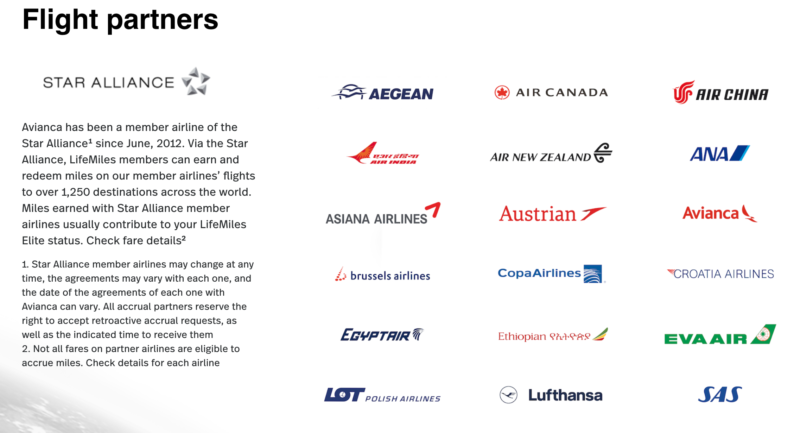 Earning Avianca LifeMiles
LifeMiles can be earned in a variety of ways including flying Avianca, spending money on their or own co-branded credit cards, purchasing miles, and utilizing transfer partners. The last two options are the ones that I'd like to highlight next.
Purchasing LifeMiles
Avianca runs regular promotions throughout the year when customers can purchase LifeMiles for over 100% bonus. Sometimes the promotions run as high as 150% which is a nice discount for folks looking to pad their LifeMiles accounts. For example, using my first-class flight that should have cost $10,000. I could have paid $1,131 for 87,000 LifeMiles with the 150% promotion. That's a huge discount from the cash price of that flight!

Transfer to LifeMiles
This is my preferred method when it comes to utilizing the LifeMiles program. Both American Express Membership Rewards and Citi ThankYou Points transfer directly to the LifeMiles program at a 1:1 ratio. Additionally, Capital One Venture Miles can be transferred at a 2:1.5 ratio and Marriott Bonvoy at a 3:1 ratio. Bonvoy offers an additional 5,000 LifeMiles for every 60,000 Bonovy Points transferred.
Basic Pro Tip – Keep your eyes peeled for limited-time transfer bonus opportunities. Citi ThankYou recently offered a 25% bonus when transferring TY Points to LifeMiles.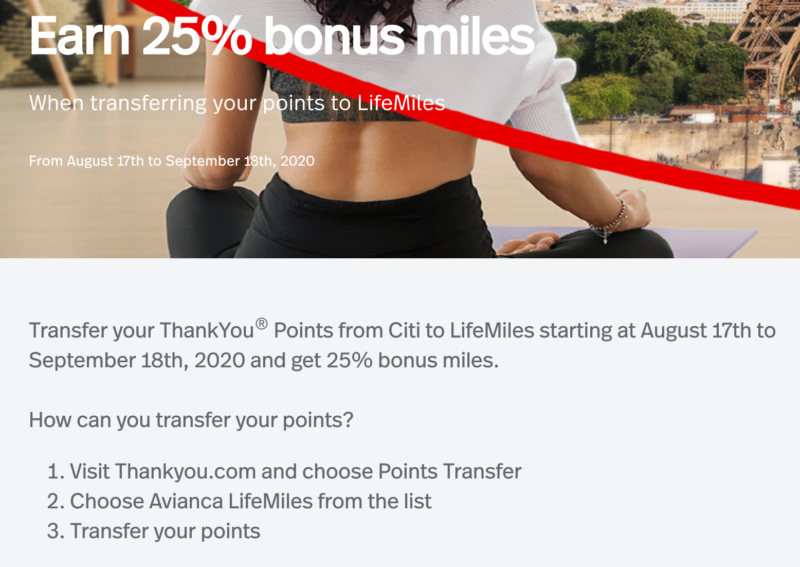 Earning Points
The fastest way to earn American Express Membership Rewards or Citi ThankYou Points would be through credit cards! Our favorite cards for earning would be the American Express Platinum Card or American Express Gold Card. For Citi ThankYou points, you can easily earn with the Citi Premier Card. For more information, check out our Top Credit Cards Page.
Membership Rewards® points
after you spend $4,000 on eligible purchases with your new Card within the first 6 months of Card Membership.
Membership Rewards® points
after you spend $4,000 on eligible purchases with your new Card within the first 6 months of Card Membership.
Lufthansa First Class
It truly is one of the top experiences there are for aviation enthusiasts. Far from basic, every aspect including check-in, the airport welcome lounge, and the flight experience is carefully fine-tuned to give customers something extraordinary. Aboard the 737-8, there are only eight seats to choose from making this one of the most intimate experiences you'll find at 30,000 feet. Be sure to check out my full review of flying Lufthansa First for a more in-depth look!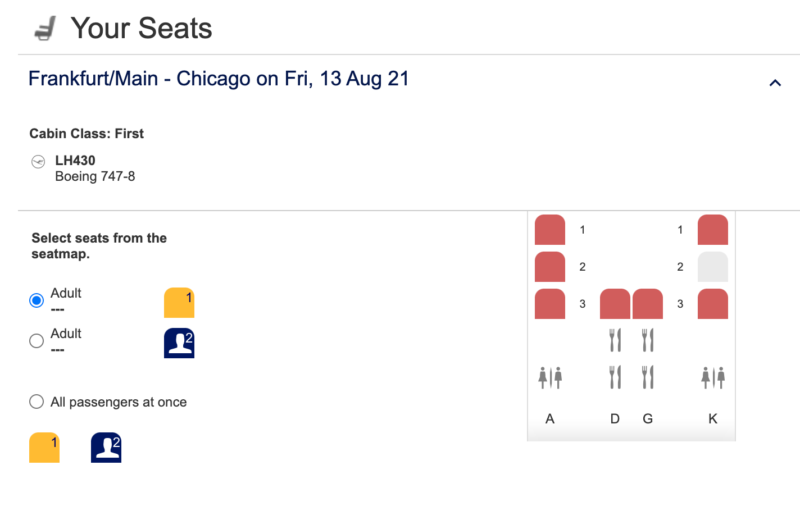 Using LifeMiles to book Lufthansa First
Step One – Find Availiability
The first step in booking Lufthansa First with LifeMiles is to find award availability. I recommend using the United Airlines Award Search portal to search for your desired dates and routes. Use the toggles in the photo below to search month to month which is the best strategy for researching on the United portal. Close-in bookings will be the easiest to find with the best availability coming a few weeks out. You can see in the photos below that Lufthansa First from Frankfurt (FRA) to Chicago (ORD) on United costs 121,000 Miles + $137.65 in taxes & fees.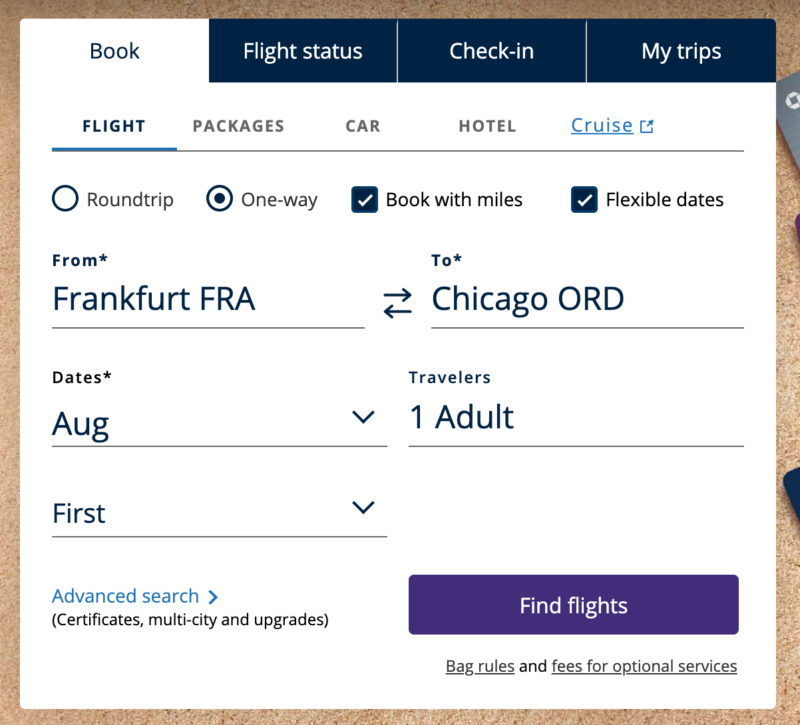 Lufthansa First Class Routes
It's important to note that when searching for Lufthansa First Class availability, there are very select routes that offer this service on the 737-8 aircraft. The full list is below.
Chicago (ORD) & Frankfurt (FRA)
Los Angeles (LAX) & Frankfurt (FRA)
Miami (MIA) & Frankfurt (FRA)
Newark (EWR) & Frankfurt (FRA)
New York (JFK) & Frankfurt (FRA)
Houston (IAH) & Frankfurt (FRA)
Step Two – Transfer Points to LifeMiles
Once you find your desired flights, it's time to transfer points over to the Avianca LifeMiles program. If you don't already have an account with LifeMiles, you will need to create one. Click here to create a LifeMiles Account. Once it's created, go into LifeMiles and ensure that the award space found on United is showing.

After confirming the award space exists, log into whichever program the points will be transferred from. Note the number of miles required and your LifeMiles frequent flyer account number. Both Membership Rewards and ThankYou Points transfer instantly which is ideal when award space is limited.

Step 3 – Book the Flight
Log back into LifeMiles and refresh your account. Once the LifeMiles appear, run another award search with the desired dates. Find the flight you want and book it. To save you time, click here to be taken right to the LifeMiles search portal.
Basic Pro Tip – Use a Travel Credit Card that has Trip Delay/Trip Cancellation coverage to pay for the taxes & fees when booking. Learn more about two of my favorite options here.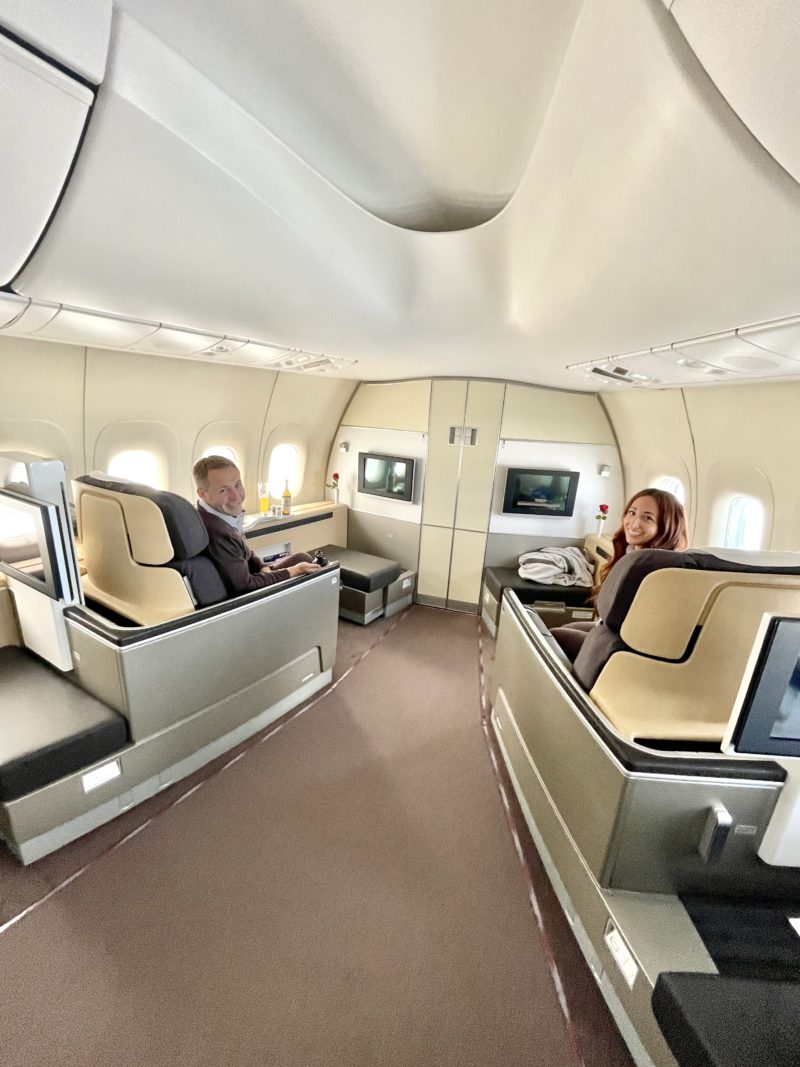 Step 4 – Pick your seat on Lufthansa First
This is my favorite step in the process by far. To choose a seat, you will need to have a Lufthansa frequent flyer account. Click here to create a Lufthansa Miles & More account. Next, log in to Miles & More and click your name at the top of the screen followed by my bookings. On the next screen, use the add booking feature and input the booking code you received from LifeMiles. After the reservation is added to your account you will have the option to select one of the eight seat options located in the first-class cabin.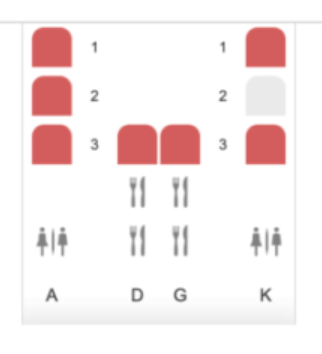 Lufthansa First Seat Selection Tips
You won't find a bad seat in the Lufthansa First Class cabin but there are some subtle differences between the eight different options. Couples or friends who would like a more intimate experience would prefer to sit in Row 3 Seats D & G. These seats are positioned directly together. Another option for couples or friends is seats 1A and 1K which are located closest to the nose of the plane. I sat in 1A and thoroughly enjoyed every second! Lisa sat across from me in 1K which allowed us each to utilize our windows but have the option to get up and walk over to each other without disturbing anyone around us. The seats in the second row are great for solo travelers who would like privacy. The third row is great for two or more people traveling together.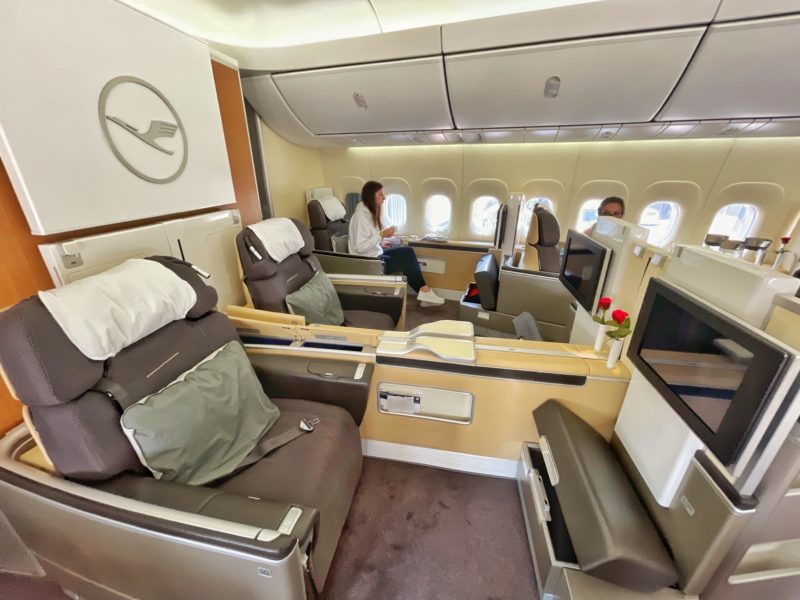 Basic Breakdown
Experiencing Lufthansa's First Class on the 747-8 should be on every AV geek's bucket list and now you know how to book it with LifeMiles. Be sure to take advantage of the full experience by arriving at the airport early in order to relax in the Lufthansa First Class Terminal and First Class Airport Lounge. Finally, while visiting the lounge, don't forget to ask the host for an authentic Lufthansa First Rubber Duck!
Let us know!
Have you flown Lufthansa First Class?
More Basic Reading