An often overlooked transferrable point program is Citi ThankYou points. Despite being in the shadows of Chase's Ultimate Rewards and American Express's Membership Rewards, Citi ThankYou points can offer some tremendous value. From great travel transfer partners to multiple options for earning there are plenty of sweet spots to be found. Learn more about the ins and outs in the Basic Guide to Citi ThankYou Points!
In this Basic Guide
What are ThankYou Points

Transferrable Award Currency

How to Earn ThankYou Points

Welcome Offers
Checking Account
Combine Points

How to Redeem ThankYou Points

Travel Partners
ThankYou Travel Portal
4th Night Free (Prestige)
Cash Back
10% Rebate
Other

Basic Breakdown
What are Citi ThankYou Points
A ThankYou (TY) Point is a form of award currency that can be earned in a variety of ways. The most common being from Citi ThankYou Branded Cards. The base value of a TY Point is 1 cent. However, points are worth more when they are redeemed through a variety of travel transfer partners. Let's dig deeper into this below.
Learn more about our favorite Mastercard to earn points
Transferrable Award Currency
One important distinction of TY points is that they are a transferable award currency. Basically, this means that the points are not locked into a specific use. For example, a co-branded credit card like one of the American Airlines Credit Cards can only earn points that can be redeemed at American Airlines. Since TY points are transferrable, the options for redemption increase tenfold.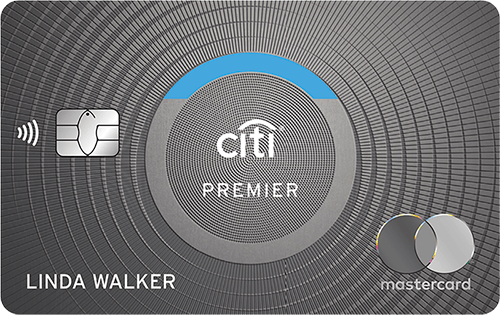 after you spend $4,000 in purchases within the first 3 months of account opening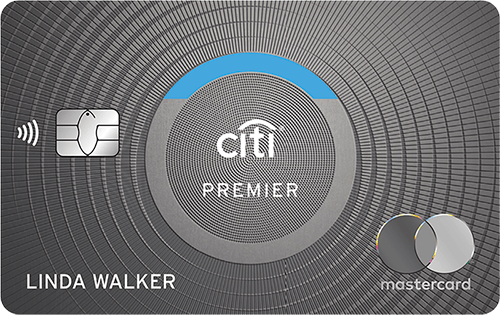 after you spend $4,000 in purchases within the first 3 months of account opening
How to Earn Citi ThankYou Points
Welcome Offers
Primarily, the best way to earn Citi ThankYou points is via one or more of the Citi ThankYou Card options. Therefore, a majority of the cards that earn TY points come with a welcome spending offer. In other words, these offers can generate a large sum of points from meeting an initial minimum spending requirement. Over a period of time, it's possible to open a handful of TY cards in order to accrue a large sum of points for an amazing redemption!
Cards that earn ThankYou Points
| | |
| --- | --- |
| Personal Credit Cards | Small Business Credit Cards |
| Citi Premier Card | Citi Business ThankYou Card |
| Citi ThankYou Prestige Card | |
| Citi Rewards+ Card | |
| Citi Double Cash Card | |
| Citi Rewards+ Student Card | |
Credit Cards that earn Citi ThankYou Points
Checking Accounts
Occasionally, Citi will run a promotion where a new customer can open a checking account and earn ThankYou Points. In my opinion, these offers have traditionally not been very lucrative when compared to the other top bank account options. But with that said, it's certainly something to consider because offers do change quite a bit. It's important to note that the checking offers typically are sent via snail mail.
Combine Points
It's possible to transfer Citi ThankYou Points to anyone as long as they have a ThankYou account established. Cardholders are allowed to transfer a maximum of 100,000 ThankYou Points per calendar year. However, it's very important to note that transferred ThankYou points have their own expiration date. Once a ThankYou Point is transferred, it must be redeemed within 90 days. Lastly, the rule of thumb is don't transfer without a plan for redemption!

How to Redeem Citi ThankYou Points
There are a handful of options when it comes to redeeming Citi ThankYou points. The value of the redemption certainly varies depending on how the points are redeemed with the largest value coming from utilizing the transfer partners.
Travel Partners
Airline Partners
The Citi ThankYou program includes 16 different airlines that transfer at a 1,000:1,000 base ratio. It's important to note that the ThankYou program often runs promotions where they offer a bonus percentage with specific travel partners. We utilized a transfer bonus to Virgin Atlantic in order to book first-class flights to Japan on ANA Airways.
ThankYou Points Airline Transfer Partners
| | | | |
| --- | --- | --- | --- |
| Citi TY Transfer Partner | Minimum Transfer | Ratio | Transfer Time |
| AEROMEXICO | 1,000 | 1:1 | Instant |
| ASIA MILES | 1,000 | 1:1 | Instant |
| AVIANCA LIFEMILES | 1,000 | 1:1 | Instant |
| EMIRATES SKYWARDS | 1,000 | 1:1 | Instant |
| ETIHAD GUEST | 1,000 | 1:1 | Instant |
| EVA AIR | 1,000 | 1:1 | 24-48 Hours |
| FLYING BLUE | 1,000 | 1:1 | Instant |
| INTERMILES | 1,000 | 1:1 | Instant |
| JETBLUE TRUEBLUE | 1,000 | 1:1 | Instant |
| MALAYSIA AIRLINES ENRICH | 1,000 | 1:1 | 24-48 Hours |
| QANTAS FREQUENT FLYER | 1,000 | 1:1 | 24-48 Hours |
| QATAR PRIVILEGE CLUB | 1,000 | 1:1 | 24-48 Hours |
| SINGAPORE AIRLINES | 1,000 | 1:1 | Approx. 24 Hours |
| THAI ROYAL ORCHID PLUS | 1,000 | 1:1 | Up to 6 Days |
| TURKISH AIRLINES MILES & SMILES | 1,000 | 1:1 | 24-48 Hours |
| VIRGIN ATLANTIC FLYING CLUB | 1,000 | 1:1 | Instant |
Citi ThankYou Travel Partners Amount and Approximate Time Table
Limited Time Airline Partner
American Airlines has been added as a limited-time ThankYou airline transfer partner through November 13th, 2021. Hopefully, Citi brings American Airlines back as a full-time partner!

Hotel Partners
As of October 2021, Citi has introduced its first ThankYou hotel partner. Choice Privileges Rewards.

As of November 2021, Citi has introduced it's second ThankYou Hotel Partner: Wyndham Rewards.

Book Travel through Citi ThankYou Travel Portal
Another option for redeeming Citi ThankYou Points is for travel booked directly through their online portal. It's important to note that Citi ThankYou Points are worth the base 1 cent per point via the travel portal. For example, a $100 hotel stay would cost 15,000 Citi ThankYou Points. Finally, the travel portal offers users the opportunity to book flights, hotels, rental cars, and activities.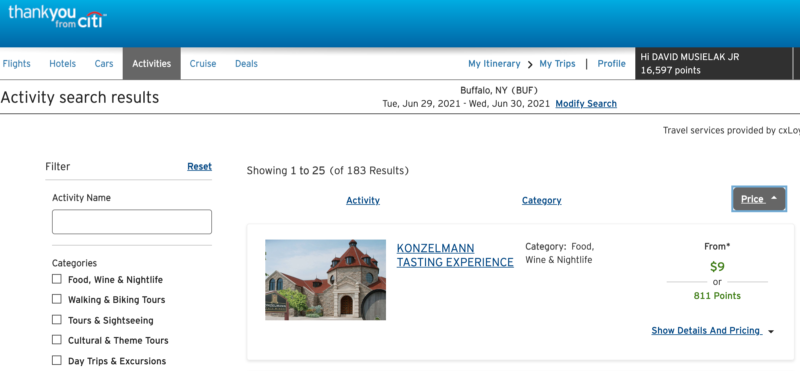 Complimentary 4th Night Hotel Stay – Prestige Only
The complimentary 4th-night hotel stay free is a great perk that comes with the Citi Prestige Card. Prestige cardholders who book a 4-night hotel stay via the Citi ThankYou travel portal will receive the 4th night free. Taxes and fees are not included in this redemption. It's also important to note that the 4th-night free perk can be used a maximum of two times per calendar year.
Cash Back
There are three options to cash out Citi ThankYou Points: Statement Credit, Direct Deposit, and a Check in the mail. First, it is important to note that the amount that you can cash ThankYou Points out for depends on the specific cards that you hold. Only the Prestige and Premier Cards allow you to cash out points at 1 cent per point. Lastly, the remainder of the ThankYou cards can only be cashed out at .05 cents per point. There is one nice feature that you can use by holding more than two specific cards in order to earn a bonus 10% rebate on cashing points out.
10% Rebate + Stack
The Citi Rewards+ Card provides a 10% rebate on all points redeemed up to 10,000 points per calendar year. However, remember that redeeming points for cash with the Rewards+ only provides a value of .05 cents per point. To maximize the 10% rebate, simply open either the Citi Premier or Citi Prestige Credit Card to receive the 1 cent per point ratio. It's important to note that the ThankYou accounts must be linked which can be done simply by calling the number on the back of your credit card. See how I utilized this stack when I cashed out a chunk of my ThankYou points in this basic breakdown!

Other Options
Lastly, there are a handful of other options that offer you the opportunity to cash in ThankYou points at 1 cent per point. Examples include merchant gift cards (Starbucks, Best Buy, etc), charities, paying bills, and even using points to pay for items at Amazon & other merchants. I only recommend these options if there is a promotion offering more than 1 cent per point which would beat the cash-out redemption rate. In addition, there are often promotions that provide a percentage off of a purchase at Amazon by using 1 or more ThankYou Point(s) which are great!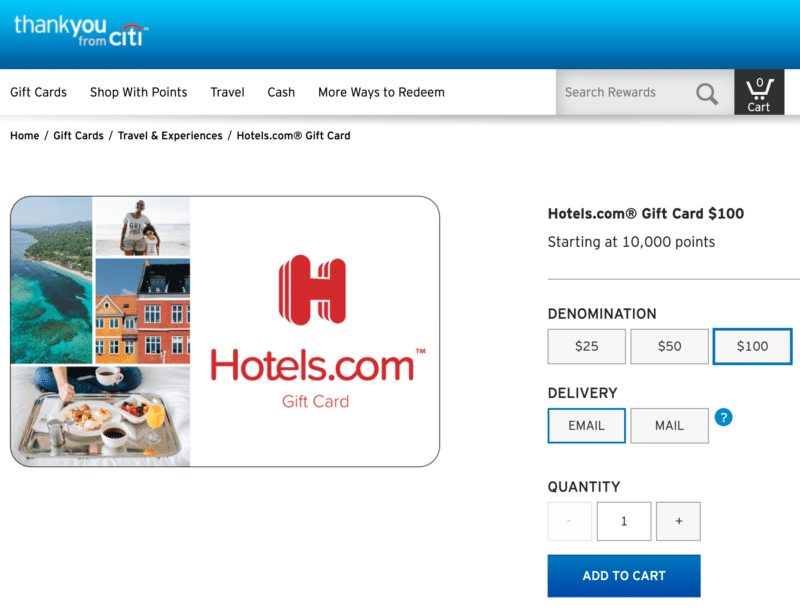 Basic Breakdown
Finally, as you can see there are a variety of ways to redeem Citi ThankYou points for a tremendous value. Whether you are seeking a premium flight experience via one of the ThankYou travel partners or simply cashing out at one cent per point you can't go wrong with this award currency.
Let us know!
What is your favorite aspect of the Citi ThankYou Points Program?
More Basic Reading