It's no secret that we are big fans of Chase products. Chase Sapphire products are our favorite Travel Credit Card. Chase branded credit cards with their own point system, called Ultimate Rewards. The Ultimate Rewards have their own portal where you can book flights, hotels, and even car rentals or excursions. You can also transfer the points to multiple airlines/hotels. This makes these points SUPER versatile and we love collecting them. There are even a few business cards you can get with Chase to collect these points. You can check out our Top Credit Cards for more.
One thing to note is you cannot hold both the Chase Sapphire Reserve Card (CSR) and Chase Sapphire Preferred Card (CSP) at the same time. You also cannot get the bonus within 48 months of each other. So if you opened the CSR and received the welcome offer on January 1, 2022, you'd have to wait until February 2026 to open the CSP. You also would have to close or downgrade your Sapphire product..
Products
Chase Sapphire products are very similar in their benefits, however, depending on your travel and uses, will depend on which card you should hold. Lets break them both down.
Chase Sapphire Reserve is the higher end of the two Sapphire products. Coming in with a whopping $550 Annual Fee is enough to scare most people away. However, we love it for many reasons. If you are an avid traveler that travels 4+ times per year, this card is the better option for you. Here are a few reasons why:
Chase Sapphire Preferred
We will get into the side-by-side comparison, but the Chase Sapphire Preferred Card offers a lower annual fee, and an elevated 60,000 welcome offer.
$95 Annual Fee
60,000 welcome offer after spending $4,000 in 3 months
3x on dining, select streaming services and online grocery purchases (excluding Target, Walmart, and Wholesale clubs). Also excludes in-store grocery purchases
Side by side comparison of the differences
Both cards offer a variety of perks in regard to Travel Credits, however, there is one clear winner if you travel often. If you don't plan on traveling much in the next year though, I'd opt for the Chase Sapphire Preferred first to get the higher welcome offer, then product change to the Chase Sapphire Reserve when your travel picks back up to utilize the other perks.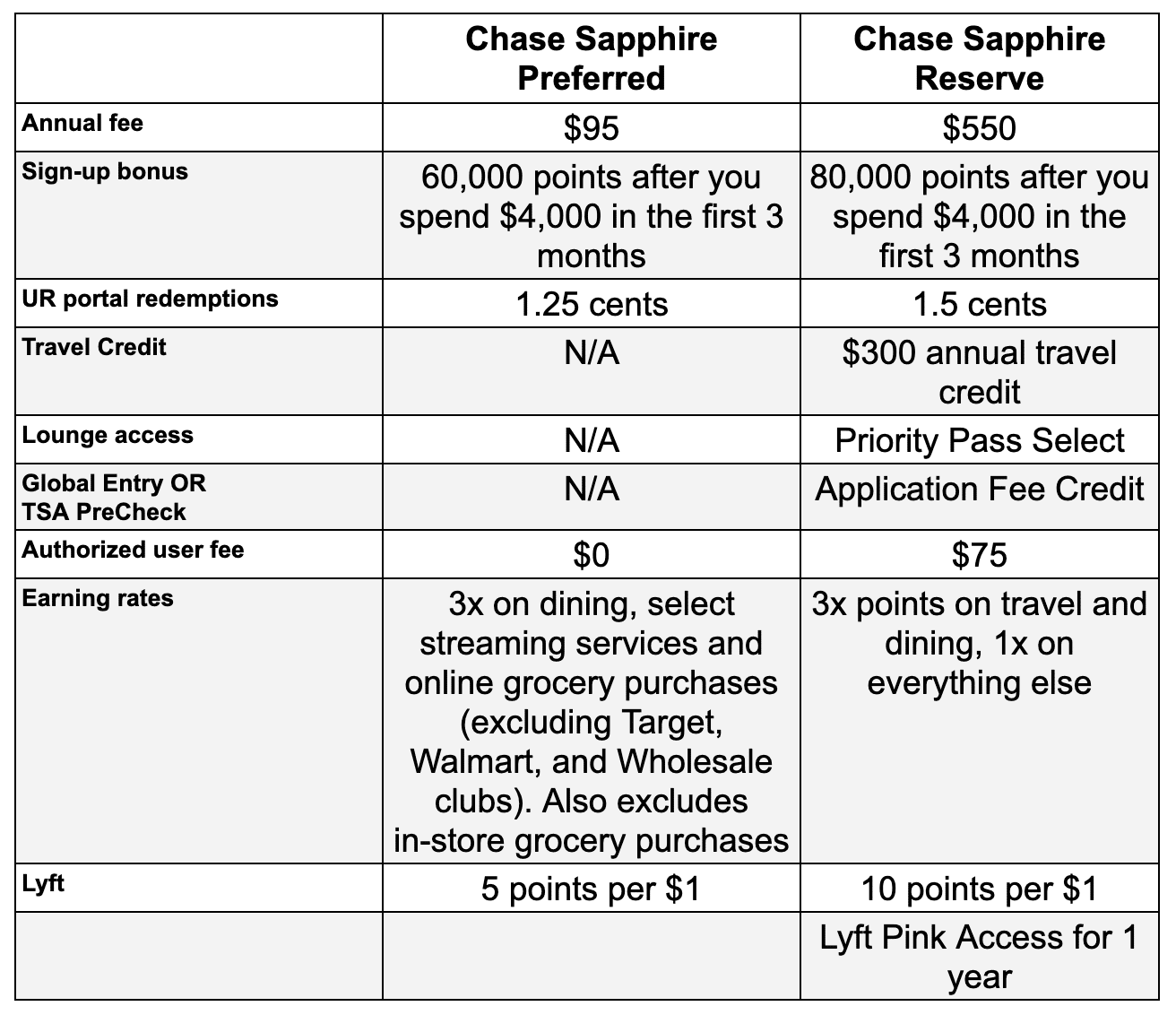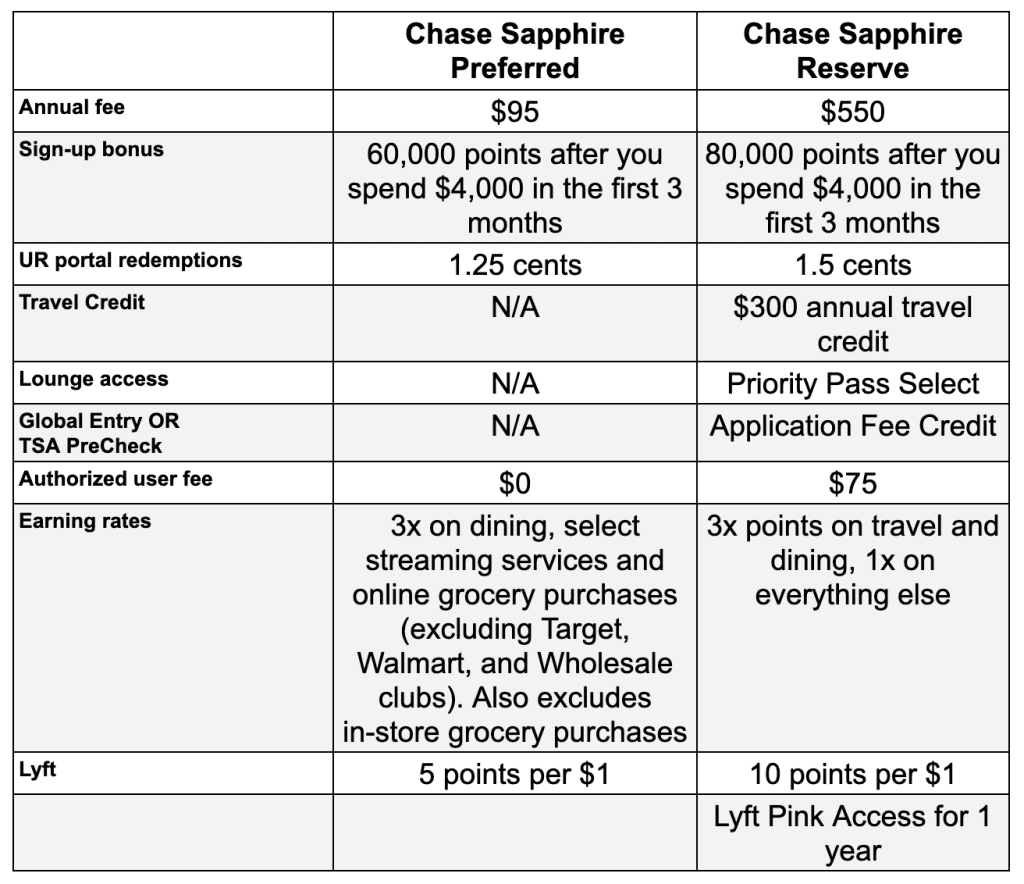 Similarities
Both cards offer great travel benefits, while some of them vary a bit. Here are what is the same:
Trip Cancellation Insurance– Up to $10,000 per covered trip
Baggage Delay Insurance– up to $500 per day for 5 days
Lost Luggage Reimbursement– Up to $3,000 per person (up to $500 per person for jewelry, watches, cameras, video recorders, and other electronic equipment)
Extended Warranty Protection– Extends the time period of the U.S. manufacturer's warranty by an additional year, on eligible warranties of three years or less.
*Please note: Please see Chase.com for more information on the terms and conditions of these cards*
Other Travel Protection
They both offer great travel benefits, but they have some slight variations. The Chase Sapphire Reserve is slightly better protection, but the Chase Sapphire Preferred still offers protection when you use the card to purchase travel.
A good thing to note: If you open one and decide you want the other, you can always product change after a year! Simply call and ask to be switched.
Basic Review
If you travel less than 3-4x per year, the Chase Sapphire Preferred is probably your best bet. However, if you travel more than that, I'd go for the Chase Sapphire Reserve. Priority Pass Lounge Access and TSA Precheck/Global Entry are well worth it. (Also note, if you get Global Entry, you also get TSA Precheck, so the better option is to just get both)
In our house, we each have one of the cards. Dave holds the CSP and I have CSR.
New to Credit Card Rewards Points? Check out the BASICS Below!