We've talked about stacking many times and how it can be used for extreme discounts, even getting paid to open a Walmart+ membership. This time around we are using one of my favorite new reward programs to save money on travel & more. Learn how we combined PayPal, Point Debit, and Rakuten to save 20% in this basic breakdown!
Tools for this Stack
In order to earn the most back on this stack, you will need three separate accounts.
PayPal
Currently, PayPal is running a promotion that is offering 10% back on up to $500 in purchases at Target. You need to opt into the offer first before moving forward. Simply login to your PayPal account and click on "Deal" at the top of the screen. Search for Target and accept the offer.
Are you new to PayPal, let me know your email below in the comments and I'll send you a referral to earn an extra $10 on this promotion!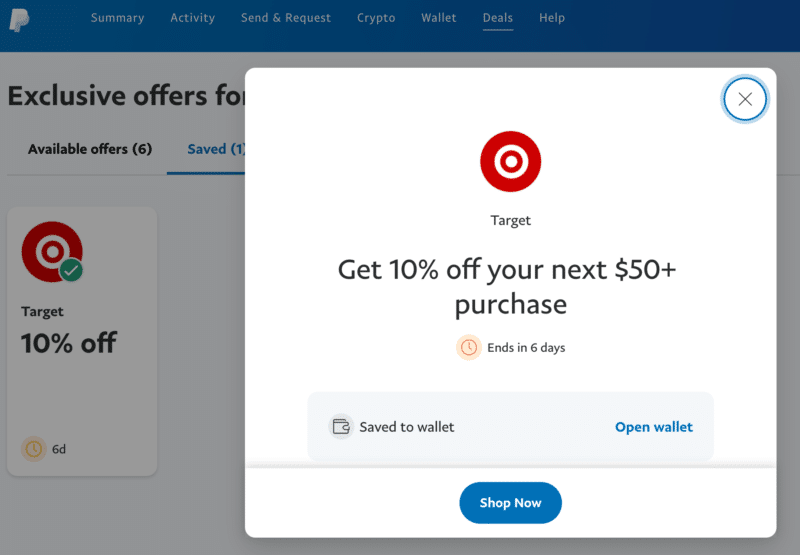 Point Debit
The Point Debit has been nothing less than a moneymaker over the last six months. It does come with a $49 annual fee but I've easily earned 5X that amount from all of the promotions Point runs. Examples of these promotions include $30 – $50 for buying something five consecutive days in a row and 10% off of popular merchants like Amazon and Target!
Right now, you can earn 10x Points (10% off) of purchases at Target up to $500 spent.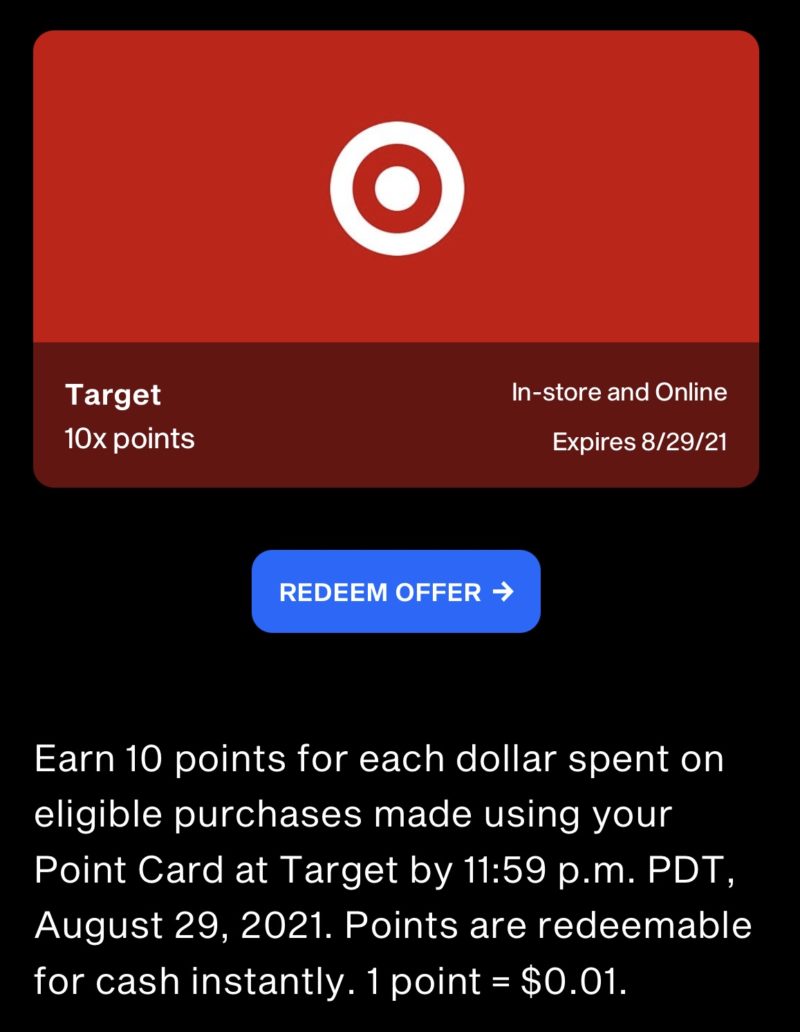 Don't have a Point Account yet? Sign up and spend $1,000 in the first 30 days and earn $100 in cash back.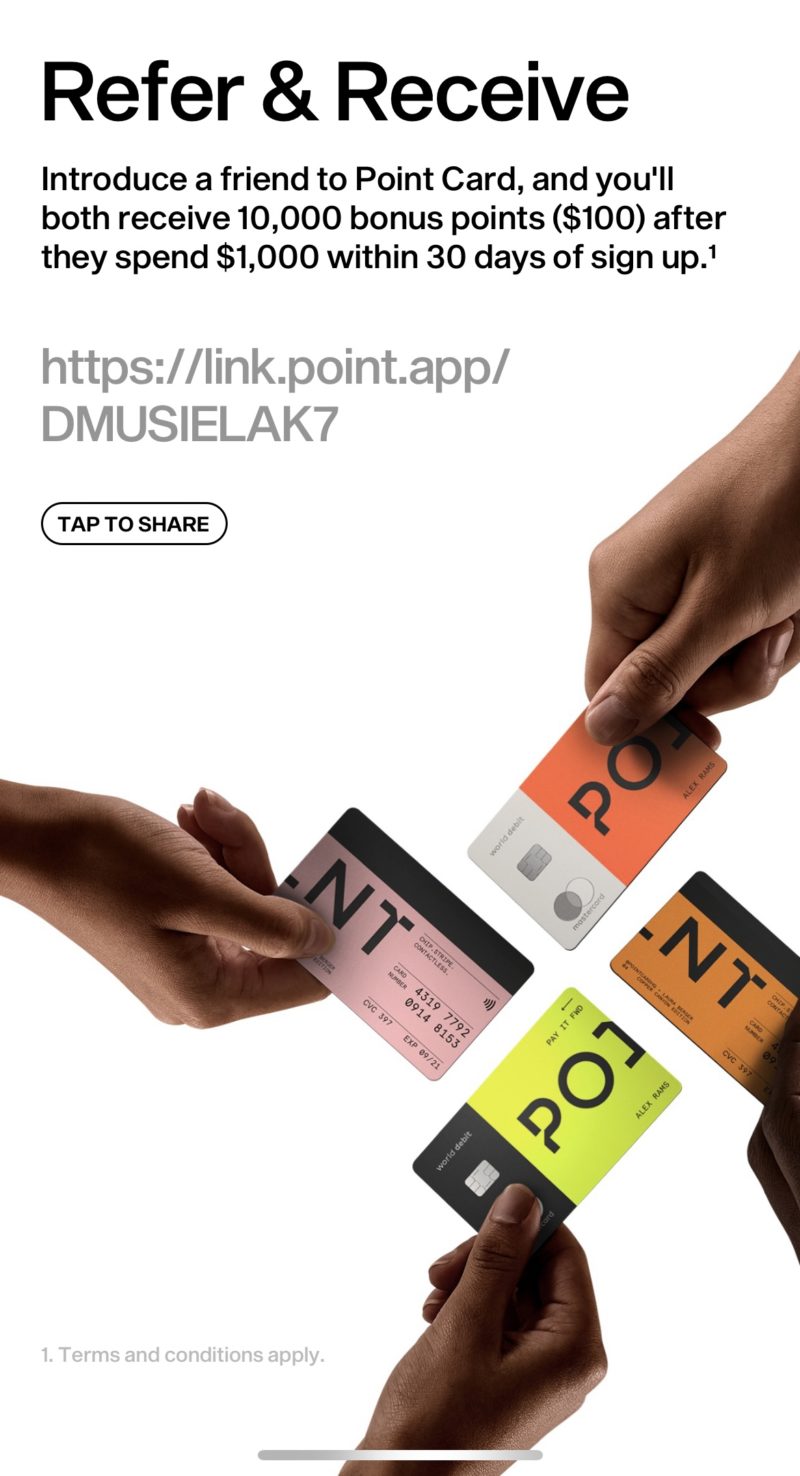 Rakuten
If you click through the Rakuten cashback portal, you can earn an additional 1% off of purchases at Target. It's not much, but 1% here and there adds up quickly! If you don't have a Rakuten Account, you can earn an extra $30 cashback for signing up and spending $30 in the first 90 days.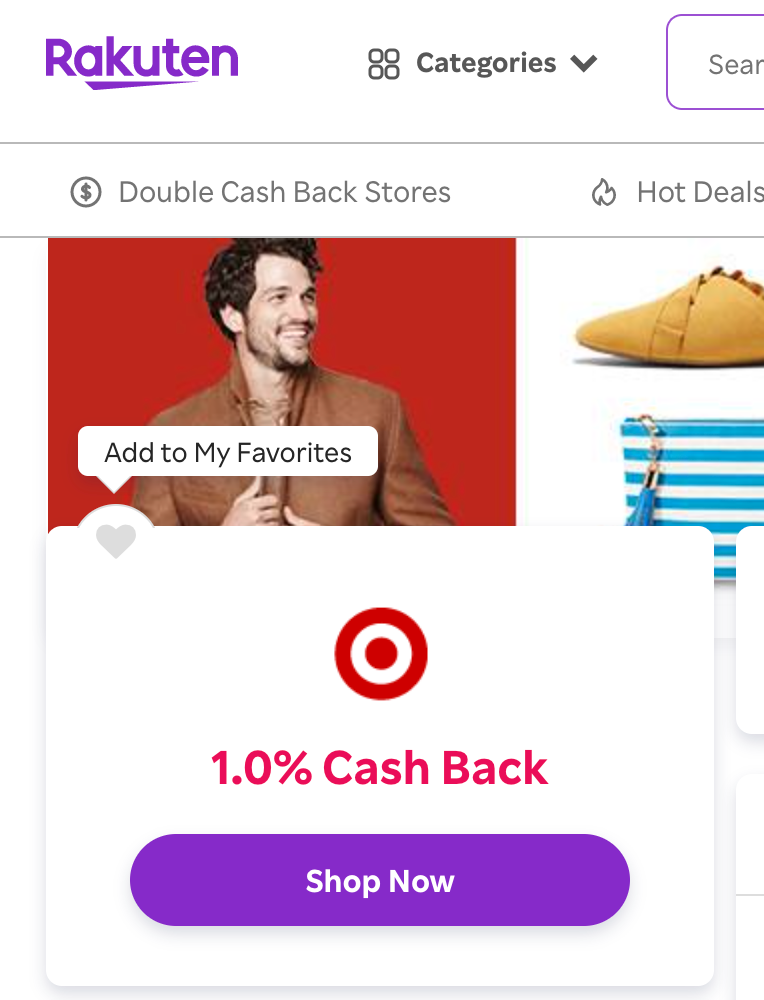 Steps to the Stack
Opt into the PayPal 10% off Target Offer to your account
Add your Point Debit Card to your PayPal Account
Log into your Rakuten Account and search for Target
Click through and find what you want to purchase from Target ($500 for the Maximum Cashback)
When checking out, change the payment method to PayPal
Note that the $50 promotion is applied and click on the Point Debit Card to make your purchase
What to Purchase at Target?
There are a ton of options to maximize this stack. My favorite being gift cards. You'll find many popular brands at Target, including Disney, Airbnb, Hotels.com, Southwest, Delta, and more! I actually went with apple as we are currently looking to purchase a new Macbook air. Using this stack between Lisa and I will result in a nice chunk off of the retail price.

Basic Breakdown
How much is this stack worth? It depends! If you are a new user of all three of those programs that could be worth an additional $140. For me, I purchased one $500 Apple Giftcard and received $50 off via PayPal, $45 off via Point, and $5 off via Rakuten. That's exactly 20% off. We did this twice with each of our accounts for $200 off of $1,000 towards our new MacBook Pro. Mission Basic Stacking Complete!
Let us know!
Did you go for this stack? Any questions?
More Basic Reading