Back in January, the Chase Sapphire Reserve had moved from a $450 Annual Fee up to $550. This move was not a shock to basic travelers, as the biggest competitor to Chase's Premium Travel Card, the American Express Platinum Card Annual Fee has been $550 for years. The $100 increase boasted new perks like a Door Dash Credit and Lyft Pink Membership. Now that the travel industry is in crisis, many people are rethinking whether the premium cards with high annual fees are worth it at this time. Today, we have been receiving notification that Chase Sapphire Reserve Holders have been receiving a surprise $100 Credit!
Chase Banks Surprise Message
Basically, the message states that current Sapphire Reserve Cardholders whose Annual Fee is due in April will still be charged the $550. However, given that the tough time everyone is experiencing, there will be a $100 Statement Credit Provided to help subsidize the costs of the Annual Fee.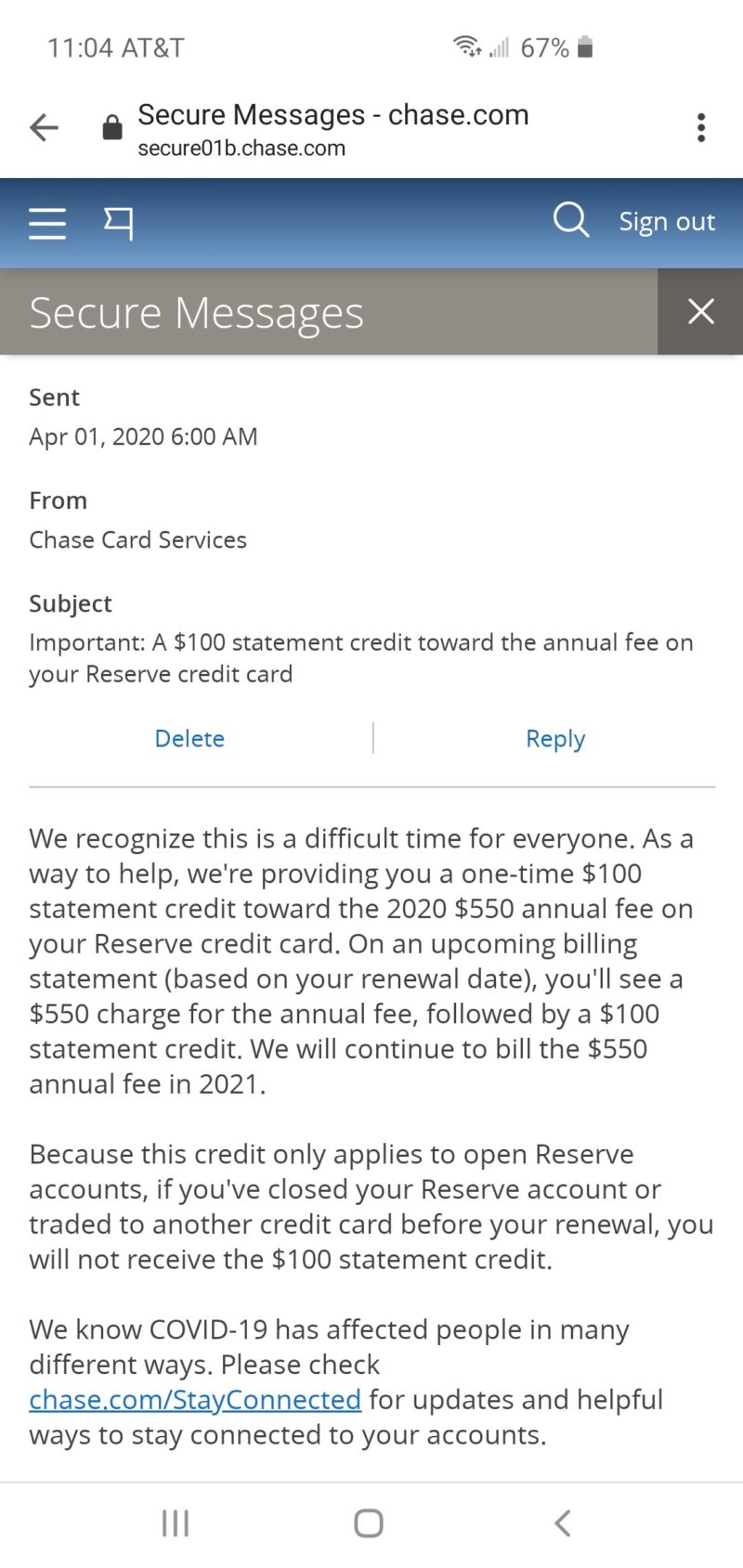 Basic Breakdown
I think this is a great move by Chase Bank. It's nice to see them being proactive during this challenging time. Let's breakdown the $550 Annual Fee. $300 Travel Credit + $100 Statement Credit = $400. So the annual fee is down to $150. Now throw in the $60 Door Dash Credit which brings it down to $90. The question you should ask yourself is whether $90 is worth all of the Benefits (Lounge Access, Trip Insurance, 50% bonus when redeeming points in portal, etc.). It's hard to predict when we will be able to travel again but I am cautiously optimistic for this summer. Given how much I value these benefits, my answer is a Hard Yes! Thanks to this goodwill by Chase, The Sapphire Reserve still remains ranked as one of the Best Credit Cards on the market!
What do you think? Is it still worth it to keep Premium Travel Cards like the Chase Reserve Open? I'd love to hear your thoughts down below in the comments or in our 3,500+Member Basic Travel Facebook Group!
More Basic Reading