End of the year is coming to a close, and that only means one thing. Chase Freedom Quarter 1 promotions are nearing! If you haven't heard of the Chase Freedom Quarterly Challenges yet, be sure to give our overview article a quick review.
Each quarter, you can max out up to $1,500 in spending for FIVE times the cashback. What we really enjoy about this card is you can transfer the Ultimate Rewards Points to your Chase Sapphire Prefered or Chase Sapphire Reserve card to use those points for travel!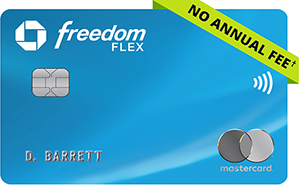 Earn a $200 Bonus after you spend $500 on purchases in your first 3 months from account opening
Earn a $200 Bonus after you spend $500 on purchases in your first 3 months from account opening
Chase Freedom Quarter 1 Categories
This month's categories seem to be pretty easy for us to hit the $1,500 bonus. We love maxing out these categories to give us an easy 7,500 UR points per quarter. So without further ado, here are the Chase Freedom Quarter 1 Categories!
Gas Stations
Internet, Cable & Phone Services
Select Streaming Services
For your convenience, I have included the "Merchant List" of what actual companies qualify. Some of our favorites are up there like Netflix, T-Mobile 7 Eleven and numerous other merchants. I'd make sure that they are on the list before you go and try to max out the list for the quarter.
Activate your Card!
If you haven't activated your 5% cashback categories yet for Chase Freedom Quarter 1, you can do so here. You must activate these each quarter to get the 5% cashback. Simply click the link to get to chasebonus.com and fill out your last name, last 4 of your card number and your zip code and click activate.
If you happened to have read our Chase Freedom Quarter 3 Bonus category a few months ago, you might recall that we tested out purchasing something inside the gas station. This was done at a Red Apple and DID, in fact, qualify for the 5% bonus category.
Please note- that your results may vary on this so I would do a 'test' like we did to verify your specific gas station would qualify as well.
Final Thoughts
Click to activate your 5% cashback, then I would do anything to get those points and max out your spend! My plans are to already include paying for my T-Mobile Phone bill and even my parents for the next 3 months. That'll easily get me almost $1000.
Does anyone have any other advice or tips for reaching the spend on these? Interested to hear your feedback!
More Chase Freedom Quarterly Categories