We have all seen the old Timeshare pitch. Typically it goes something like "earn a discounted stay by learning more about our program over 90 to 120 minutes". Often there are additional freebies thrown into the mix. This can be complimentary food such as breakfast or lunch, excursion vouchers, or even a visa gift card. As a result, the timeshare promotions seem too good to be true which can lead to skepticism. Is it a Scam or travel strategy? Learn more about this lesser-known topic in the Basic Guide to Timeshare Presentations & using them for travel.
In this Basic Guide
What is a Timeshare
How does a Timeshare Presentation work

Signing up
Checking in
Attending
Say No (or Yes)
Collecting Compensation

Examples of Timeshare Presentation Promotions
My Experience participating in the promotions
Where to find a Timeshare Presentation
Timeshare Restrictions and Pitfalls
List of Timeshare Companies (and Website Links)
What is a Timeshare
A timeshare is a form of travel that incorporates a shared approach to real estate. The vacation property is purchased and owned by multiple individuals who agree to split the time allocation. Traditionally, timeshares were sold in week increments. However, most companies have transitioned to point systems. Because of this, you can enjoy shorter trips throughout the year instead of using all the points at once. Similar to credit card points, the timeshare points can be used towards nights at a variety of properties within a portfolio.
Timeshare Properties
A timeshare property often comes in the form of a studio equipped with a kitchen. Sometimes timeshares are located within condominiums or apartment complexes. Interestingly, I've noticed that some timeshare properties are actually shared by larger-scale hotel chains like Marriott or Hilton.
How does a Timeshare Presentation Work
Step One – Signing Up
The first step to participating in a timeshare is signing a contract. Basically, the contract states that you agree to learn more about the property. This "presentation" will be set for a predetermined time. Typically they last for 90-120 minutes. Lastly, will be compensated with "x" for your time.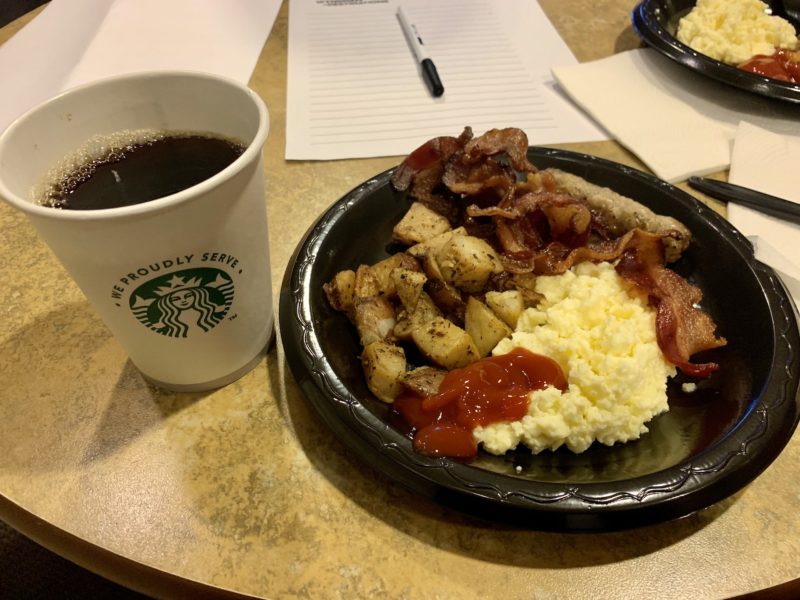 Step Two – Checking In (Sometimes Required)
The second step of checking-in is typically required when an overnight stay is involved. Usually, the terms will indicate that the guests' must check-in at a predetermined location the day before the actual presentation. Often this will be at the hotel you are staying at. However, sometimes it can be at a location in close proximity to the hotel. There have been a handful of times that this step wasn't required with the timeshare promotions I've participated in. Typically the staff would confirm the details of the sales pitch such as the date, time, and location. Afterward, I would be on my way for the duration of my stay.
Step Three – Attending the Presentation
One great aspect of actually attending the presentation is the free breakfast or lunch. In my book, this is an additional factor that leads to even greater savings while traveling. At this point, typically the timeshare salesperson assigned to you will introduce themselves and the shmoozing will begin. One rare occasion in Mexico, the salesperson actually joined us for breakfast which made for a long day of being pitched.
Note the Time –
Legally, since you signed a contract to attend the timeshare promotion. Because of this, the time commitment cannot be extended without your consent. I've met some other travelers who actually will set an alarm on their phones. Personally, I haven't taken it to that extreme but noting the time has saved me a few times from unnecessary tours of hotels or additional sales pitches, etc.
The Presentation typically includes a sales pitch on travel in general. I recall one pitch actually selling the point that not traveling was harmful to one's health due to the epidemic of increased stress levels. Eventually, the presentation will cover how the program works and the general cost of participating. Finally, the agent assigned to you will conclude with a hard pitch based on the income you provide and what he or she thinks you can afford.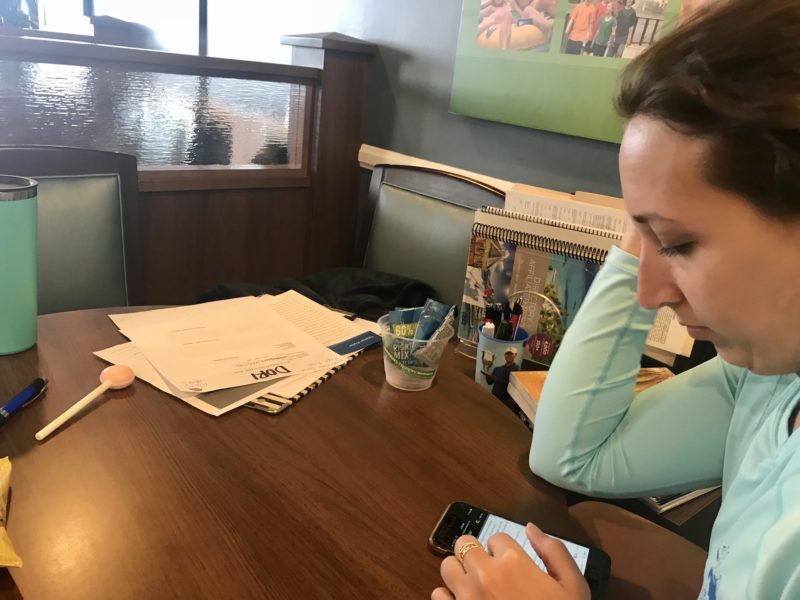 Is a Hard Credit Pull Required?
It's hit or miss if the timeshare presentation requires a credit check. Sometimes it is written in the contract that they need to perform the hard pull in order to provide the correct financing numbers based on your credit score. A hard inquiry won't destroy a credit score nor will it be a primary determining factor in being eligible for future lines of credit. Ideally, it is not wise to add unnecessary pulls if you don't have to.
Step Four – Saying No (or Yes?)
Remember your only commitment was to participate in the presentation. Nothing more, nothing less. However, if you are reading this blog, you are most likely already a savvy points and miles traveler. Most likely, you won't find a benefit from being contractually obligated to a specific timeshare. Now of course, if you find value from what is being offered and it makes sense financially then by all means. In my experience, the financial commitment has never made sense for me. Personally, I don't like the idea of contractually being obligated to pay into the program long-term for the rest of m life.
Step Five – Collecting what was promised
Finally, sometimes the 90-120 minutes drag on. You literally are counting down the seconds to get back to vacationing. Don't get so caught up with leaving that you forget about what is promised to you. This can range from vouchers to cash, gift cards, or other random items. Typically the 'gifts' are provided upon completion of the presentation. Be sure to collect these before leaving or at least inquiring about how to go about receiving them!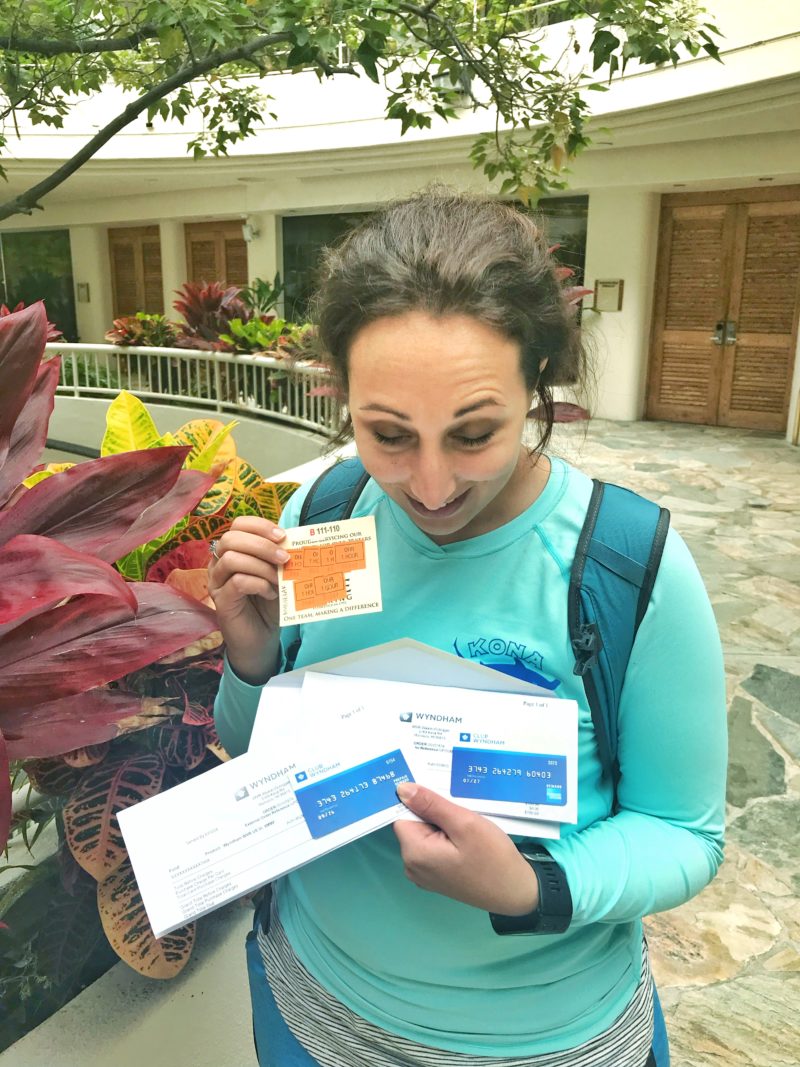 Examples of Timeshare Presentation Promotions
Timeshare Presentation promotions come in all shapes and sizes. Usually, the company starts with a base-level deal. However, they could have a handful of additional perks which can be added by directly asking or being apprehensive. It is also important to note that many of these perks can be added together for a single timeshare promotional experience. For instance, here are examples of promotions I have participated in.
2, 3, 4, or 5 night stays for a heavily discounted rate
Visa, Amex, and Mastercard pre-loaded debit gift cards
Free shows and buffet vouchers in Vegas
Excursions and massages in Mexico
Pre-loaded Debit Cards and lunch vouchers in Hawaii
Certificate for a future complimentary night stay
$100 towards dinner at a handful of restaurants in San Francisco and New York City
Hotel Rewards Points. I've seen Wyndham and Hilton offer bonus points for participating in a timeshare presentation. This is a great negotiating point when booking a timeshare presentation.

My Experience participating in the promotions
Overall I've had some very good experiences with the timeshare presentation travel strategies. My only regret is not documentation the experiences better. However, we do have a few reviews here on the website. For instance, we took advantage of the Hilton Presentation when I ran the NYC Marathon. In the future, I will continue to add more articles.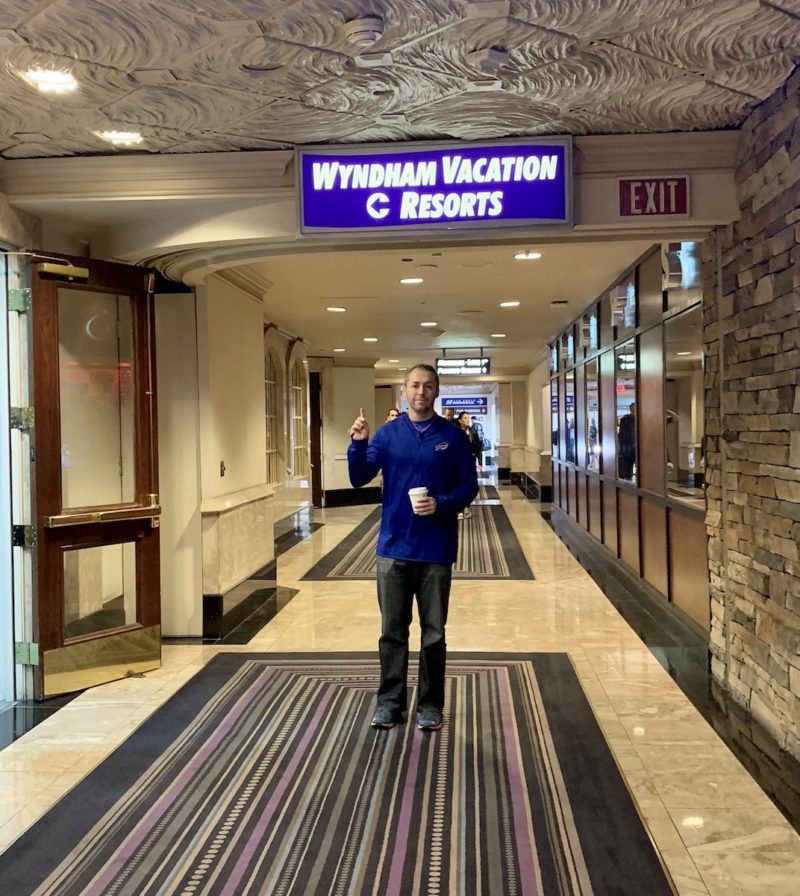 Where to find a Timeshare Presentation
Finding timeshare presentations can be completely random. I've been solicited for Timeshares in Airports, Casinos, Hotels, and even at the New York Times Travel Show. Periodically I'll receive targeted emails from Wyndham, Hilton, and Marriott with a new Timeshare Promotion they are running. Additionally, once or twice each year I'll receive a cold call. Typically, I am most skeptical about these as they often require up-front purchases.
There are a few strategies you can take to be targeted for these sorts of promotions.
First, make sure you are signed up for the loyalty awards accounts with each hotel chain. Wyndham, Marriott, and Hilton are the ones that seem to send out the majority of the timeshare promotional trips.
Next, keep your eyes peeled while traveling. Usually, you can find representatives pitching timeshares in high-traffic areas like entrances or exits. Sometimes hotels will have separate desks set up with signage about stopping by for a free gift.
Lastly, call the general number of a hotel chain. Then inquire about owning a timeshare in the future. The customer service representative will transfer you to the right person.
How do you get the best Timeshare Presentation Promotion
One word: Haggle. I know that the thought of haggling is very polarizing. Some people love to haggle while others avoid it. Just know that the first offer that is presented is most likely not the best one you can get by saying no or being apprehensive.
In Mexico once, the sales representative initially started the hard in-person pitch with one five-night vacation per year for purchasing into the program. An hour later and a whole lot of "No Thank Yous", he had steadily moved up in one-week increments. Lastly, he offered unlimited. visits. Clearly, there had to be a large catch with the promotion and I was not purchasing to find out.
Ultimately when negotiating the terms of the Timeshare Presentation it doesn't hurt to ask for more. If they say no and you are still interested in the trip take the current offer. If they say yes, you earned more by taking a minute to ask. It's a win-win situation.
Timeshare Restrictions and Pitfalls
There are a few restrictions and pitfalls to be aware of when considering a timeshare presentation.
Employment
Certain jobs are restricted from participating. I remember reading in one contract that travel-related jobs like working in aviation could disqualify you.
Relationship
Oftentimes, timeshare promotions are only open to couples who are married or at the very least living together. The timeshare representatives will verify that the addresses match your driver's license.
Income
Most timeshare presentations require the participants to have a certain household income in order to participate.
Room Occupants
If there is a discounted stay at a hotel, there is typically a restriction on who can actually stay in the room. It is usually limited to just the couple who is participating in the presentation. If you are planning on traveling with friends, they may be required to book their own room or participate in their own presentation. Sometimes there are even restrictions on traveling with others in a group and participating in a presentation.
Lying about income (or anything else)
If you are caught fabricating a higher income in order to be "eligible" to participate in a timeshare promotion it is likely that the company will charge you the standard room rate and deny and perks that were included in the contract. Don't do this!
Alcohol
Be careful about what and how much you choose to drink during the hard-pitch of the timeshare presentation. There are some shady companies that will intentionally feed guests stronger drinks in order to make them more likely to sign a contract.
List of Timeshare Companies (and Website Links)

Basic Breakdown
In conclusion, I'm a big fan of timeshare presentations and certainly will be looking to book more presentations in the future. The best experience of ALL TIME took place in Oahu Hawaii. At check-in, we received a card that said to bring it down to the concierge for a free gift. This led to an invitation for a $200 Amex Debit Card and two lunch vouchers (valued at $80) for attending the presentation.
There was a short presentation, maybe ten minutes long followed by a sitdown with the sales rep. She asked us why we were there today and I said for the free $200 and lunch vouchers. Then she asked if we had any interest in purchasing a timeshare, Lisa and I both shook our heads no. Five minutes later we had our $200 debit cards and were eating a delicious comped lunch at the hotel restaurant. I'm sure that was a huge fluke but this is what I love about these promotions!
Let us know!
Have you participated in a Timeshare Presentation? How did it go? 
More Basic Reading