The Big Sur International Marathon takes place every April along California's Famous Highway One. This one of the only times throughout the year that Highway One is closed off to Motor Vehicles leaving only the 4,500 Marathon Participants. Along the course, spectators are blessed with the Coastal Mountains, Crashing Waves, Towering Redwoods, and Verdant Pastures. Typically this race is only accessible through the lottery, charity, or purchasing a travel package. This year, the Big Sur Marathon is offering another option to participate in this bucket-list experience! This race is not a part of Abbott World Marathon Majors, but it is still a race I'd love to run.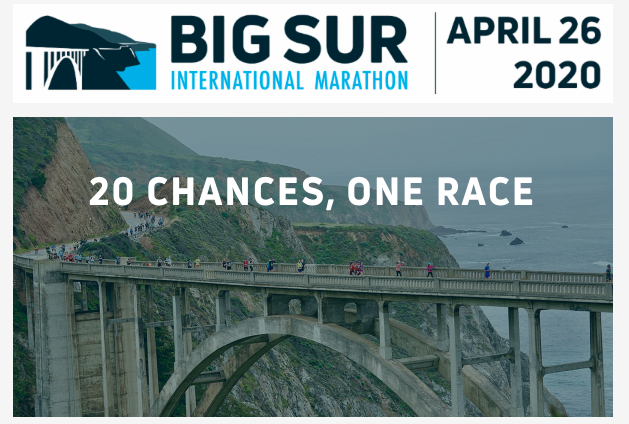 20 Chances, One Race
This year the Big Sur International Marathon has opened up 20 additional spaces to participate in the 26.2 Journey down California's Highway One. In the spirit of ushering in a new decade, Big Sur explains that they would like to help make 20 people's dreams come true this year and encourage them to enter for a chance to win one of the coveted spots.
How to Enter
In order to Enter the "20 Chances, One Race promotion", an online form must be completed. Within the form, the entrant must share why they would like to participate in the race this year. The email reads "We know that the Big Sur Marathon holds immense meaning for many of you – whether you've spent decades running our races with a close friend, want to honor a recently departed loved one, have always wanted to run our race, or simply cannot imagine missing out this year – we want to hear your story. " The deadline to enter is January 31st, 2020 at 11:59:59 PM.
You can enter by clicking the link below
Race Details
The Big Sur International Marathon will be taking place on April 26th, 2020. If you're one of the lucky entrants selected into the Big Race, you'll be required to then pay the Entry Fee of $199.
Included with the race fee, you'll receive:
Long sleeve technical fabric participant shirt in gender-specific sizing, featuring an original design.
Unique ceramic medallion created by Kathleen Kelly Designs for participants finishing within the official time limit of six hours
Food and drink at the start and finish
Souvenir Race Program & Weekend Guide
Free Expo and informational race clinics
Bus transportation to the start in Big Sur and from the finish to your morning departure location (both on the Monterey Peninsula or Big Sur)
Results online and in Monday's Monterey County Herald (a free copy will be sent to U.S. participants in the Marathon living outside of the Monterey Peninsula)
Basic Breakdown
This is a Race that I've had at the top of my bucket list for quite some time. I've entered over the years but have never been lucky enough to be selected. There's something magical and surreal about Highway 1's beautiful landscape. I decided to throw my hat in the ring for this promotion and fingers crossed that I get lucky this time around!
Are you going to enter? What are your thoughts on destination marathons?
Interested in Utilizing Credit Card Points for other Running Events?
Check out these Related Running Articles