Many moons ago I was graduating from College looking across the horizon for inspiration and direction. If the Weinermobile happened to pull up in that moment and offered me a job traveling across the country promoting Hot Dogs my life may have ended up very different. Instead I chose the safe route and moved onto graduate school but a voice deep down wishes I could have participated in an opportunity like the one below!
The Job
Oscar Meyer is hiring "HotDoggers" to navigate the Weinermobile throughout the United States. They are looking for College Seniors who will be graduating with a BA or BS in preferably public relations, journalism, communications, advertising, or marketing. The position will provide a competitive salary for the duration of one year. Applicants should be outgoing, creative, friendly and enthusiastic!
What does a day in the life of a "Hotdogger" look like?
The Hotdogger will represent Oscar Mayer as a brand ambassador through radio and television appearances, newspaper interviews, grocery retail and charity functions.

Additional Responsibilities Include
"meat" and greet people from coast to coast
Maintain company car (Oscar Mayer Wienermobile)
Work with internal and external consumer promotions, marketing and sales professionals
Manage their own traveling public relations firm; organizing promotions, contributing to brand social content and pitching TV, radio and print media
Why is this even a job?
The Oscar Mayer Wienermobile has become an American icon for over 80 years and provides a Wiener Whistle and a smile for all. Oscar Mayer uses the Wienermobile at special events throughout the country and they need people to coordinate all aspects of Wienermobile travel and event management.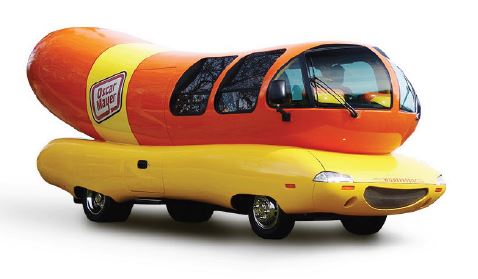 How to Apply?
Interested applicants can send their cover letter and resume to the address below or email to [email protected]

Oscar Mayer
Attn: Hotdogger Position
560 E Verona Ave
Verona, WI 53593
Basic Breakdown
This seems like an awesome opportunity for personal growth and tremendous experience. Being able to travel around the country after college AND BE PAID would have been a dream come true for me! If you know any College Students Graduating this year, be sure to send them this article. My only request is if they are hired, they need to add Buffalo NY as a pit stop so I can get a selfie with the Weinermobile!
More Basic Reading