Back in May, I found out I had COVID antibodies. Luckily, I never got super sick more than a head cold, so I never even really know I had COVID at the time. I had heard that you could donate plasma to help others. What I didn't know until recently, is you can actually get paid for your time to donate Plasma. I'll go over some details of how you can donate, what you need to bring, and how to earn extra money. You can also donate plasma whether you have antibodies or not. There are various locations throughout the US based on which state you live in. To find out more information you can check out donateplasma.org to see what locations are near you. This article will encompass donating with CSL Plasma as that is the location I have been donating at.
What is Plasma
Plasma is the clear gold-colored liquid portion of blood that contains water, salts, enzymes, antibodies, and other proteins. Plasma is removed from the red and white blood cells, platelets, and other cellular components of blood. The removal of plasma is similar to blood donations. You are hooked up to a machine to draw your blood, but then the blood is spun around to remove the gold-colored plasma. Your blood cells are then returned back to you. Because of this, you can donate up to 2x per week as plasma regenerates in just a few hours.
Who Qualifies
To donate you must be:
Be between the ages of 18-65
Weigh at least 110 pounds
Have no tattoos or piercings in the last 4 months
Meet pre-screening eligibility with a physician
Each visit after that you are given a quick 10 minute health check.
How to get up to an extra $100
CSL Plasma has a great referral program right now where you can earn up to an extra $100! To do so, you must be referred by someone via an email address or cell phone number, and download the app. Please send me a message through email, Facebook, or Instagram with your email or phone number to get the special link. If you choose to use my referral link, I will note that I will earn extra money as well for referring you. You will earn extra money PLUS your normal fee for donating. This is currently running through June 30th, 2021.
I will note that this is not $100 extra right up front. Here is how it is broken down:
$25 on your 2nd donation
$75 on your 5th donation
You can also refer friends and family yourself and earn:
$25 on their 1st donation
$50 on their 3rd donation
$75 on their 6th donation
So if you want to earn the full $100, you will need to donate 5 times. If you want to help your friend out who referred you, donate 6 times.
What to Bring
On your first visit, you can expect to be there from 2-3 hours. You will have to get registered, watch a video, get health screened, and then donate. You even get a snack on the first visit! Typically donating takes about 1 hour of your time. For your first visit, be sure to drink plenty of water the day before and the day of. You will need to bring a few items to your first donation.
Photo ID with address (Drivers License)
Social Security Card or W2 that has your social on it
Covid Antibody positive test
Donating Plasma
Typical donation time takes about 60-90 minutes. To prepare for donating, it is best to drink plenty of fluids the day before and the day of. I also avoid drinking a ton of coffee/tea the morning of as it can dehydrate you and reduce the amount of iron in your blood. The more water you drink, the better your body is hydrated which affects how full your veins are for easier separation of plasma from the blood.
If you have covid antibodies, you can earn $65 per donation. If you do not have COVID antibodies, the first 5 donations at CSL plasma are $65 (data for Buffalo, NY). After that, it varies based on how often you donate and your weight.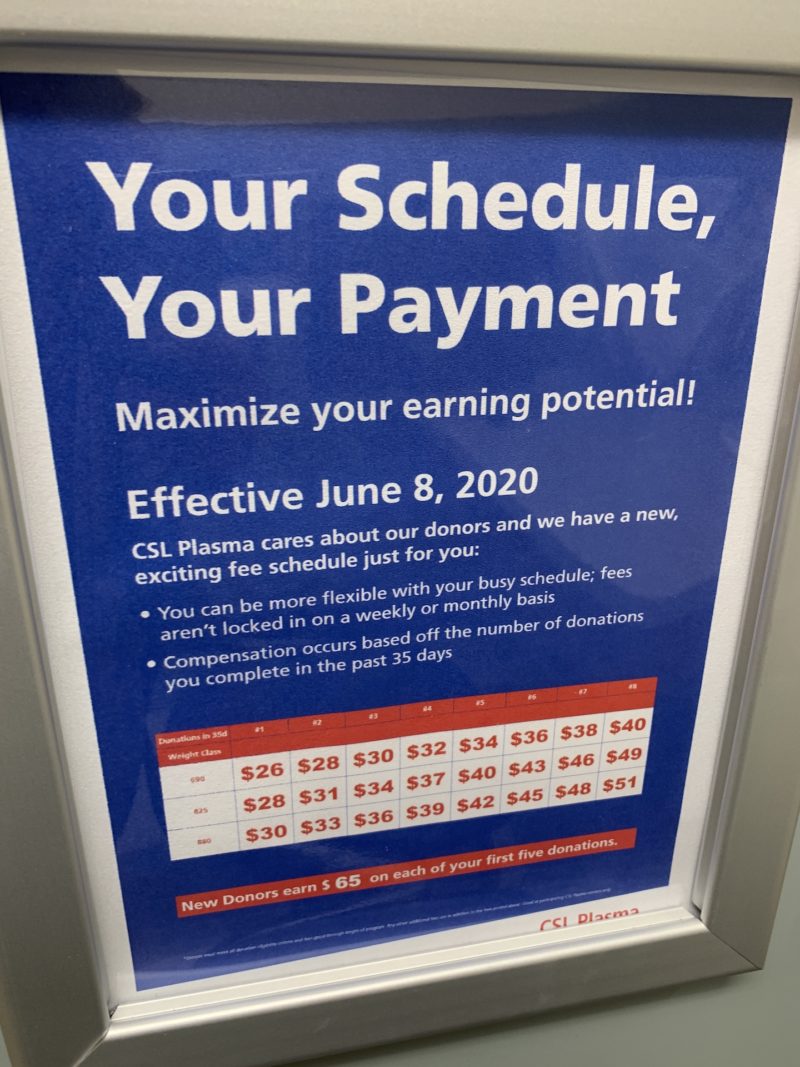 If you have never donated, check out their tips for first-time donations here.
Day of Donation
Prior to donating
Each time you donate, (once you are enrolled), you will have to fill out a Health History Questionnaire. There are two ways to do so. The first is you can do it right at the center. My preferred way is to fill it out through the app prior to my visit. I think it is faster and I spend less time at the plasma donation center. Once you download the app (See below first to get referred for an extra $100), you can then fill out the questionnaire by clicking on the lower right box and filling out your information.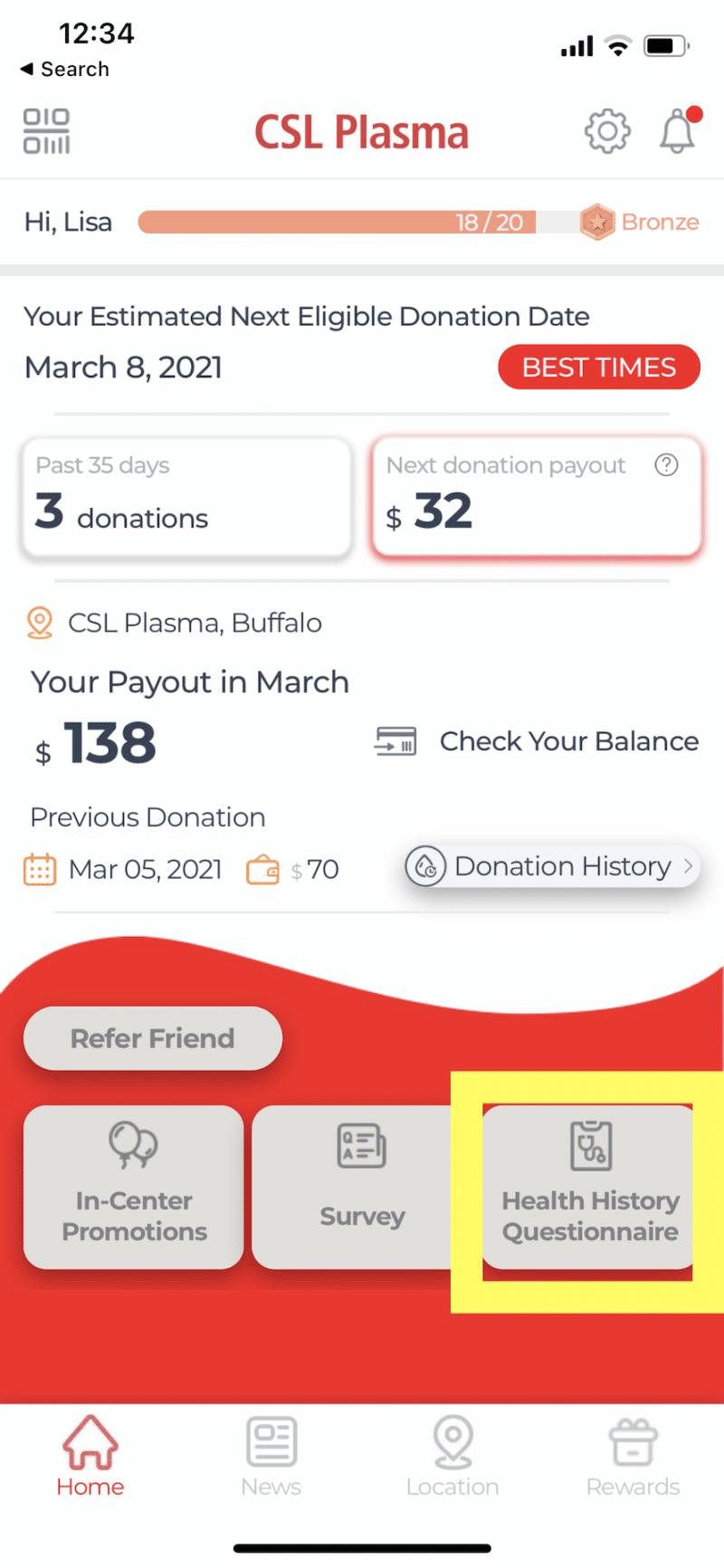 Health Screening
When you get to your CSL Plasma Center, you will get in line for a quick health check. If you filled out the questionnaire online, you will need to show your QR code to scan. Next, a CSL worker will check some basic medical stuff such as weight, protein levels, blood pressure, heart rate, and temperature to ensure you are eligible to donate. Once you are given the OK you are sent to the 'donor floor' to start donating
Donating
Once you are on the floor, they set you up in a nice comfy chair. I like to bring a book and some AirPods to read for 30-45 minutes uninterrupted. They will verify the last 4 of your social to make sure you are who you say you are, and then get you set up for donating. Each person is different on how long it will take to donate as well as how hydrated you are. I average about 30 minutes for donating, and I drink plenty of water so I am usually on the faster end. Also, plasma donation is based on your weight/height they determine how much plasma you can donate. I am the smallest size, and there are 3 sizes of donating. I believe average times are 30-90 minutes.
Once you are finished donating, they will return a saline solution to you as well as the blood. This part I was not prepared for how cold I got, so I always bring a jacket or something to keep me warm. When you are finished, they will let you know how much you earned and when you can donate again.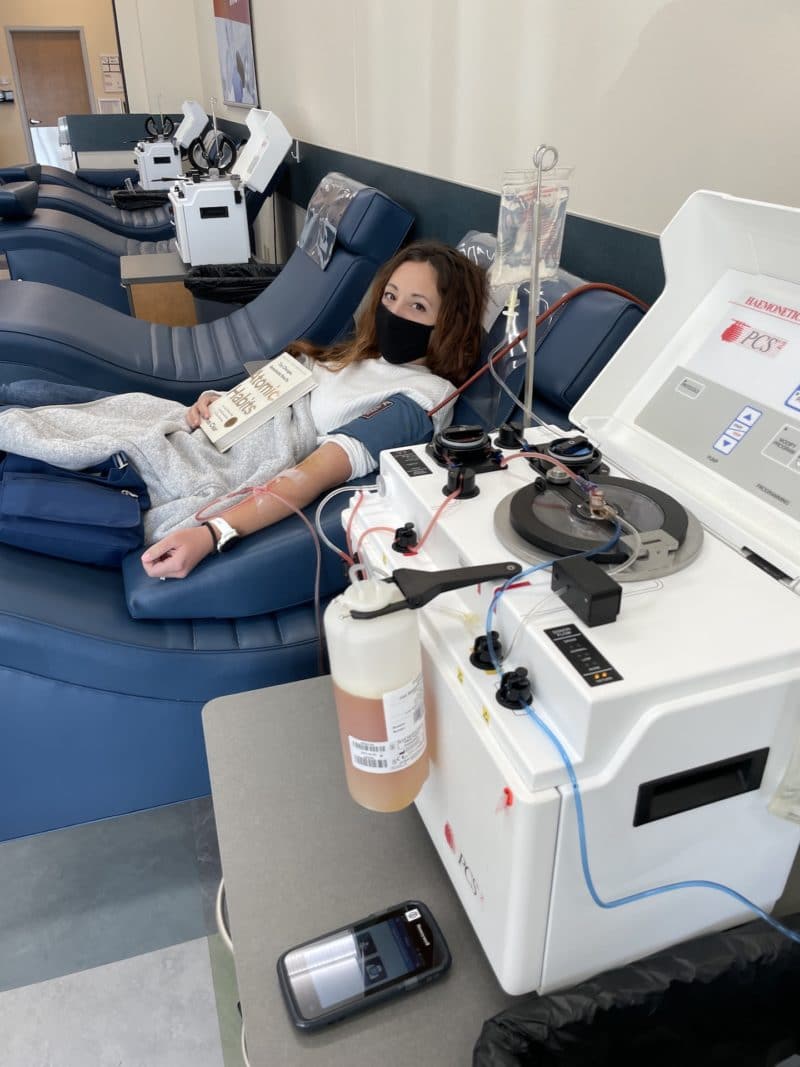 How you get paid
Payments are made on a pre-paid Debit card. You can use anywhere VISA/Mastercard is accepted. Money may be withdrawn, or you can use it to pay bills. What I like about this is that you actually do not receive a 1099 for tax purposes at the end of the year. The money is not taxable as you are actually being compensated for your time as a gift.
Typically you can donate twice a week and earn up to $700 in your first month of donating. If you keep going regularly, you will be on the higher payout based on how many times you've donated in the last 35 days. This extra money can equate to thousands of dollars per year.
Reward Points
If you are an avid reader of Basic Travel Couple, then you know how much we LOVE our points! CSL has its own "rewards" system within the app that gives you bonus points each time you donate, as well as for the first login of the month. Eventually, you can cash out these points for cash onto your prepaid card. I typically save up the money on my prepaid card for a big trip, or I recently used my plasma donations to help pay off $45,000 of credit card debt.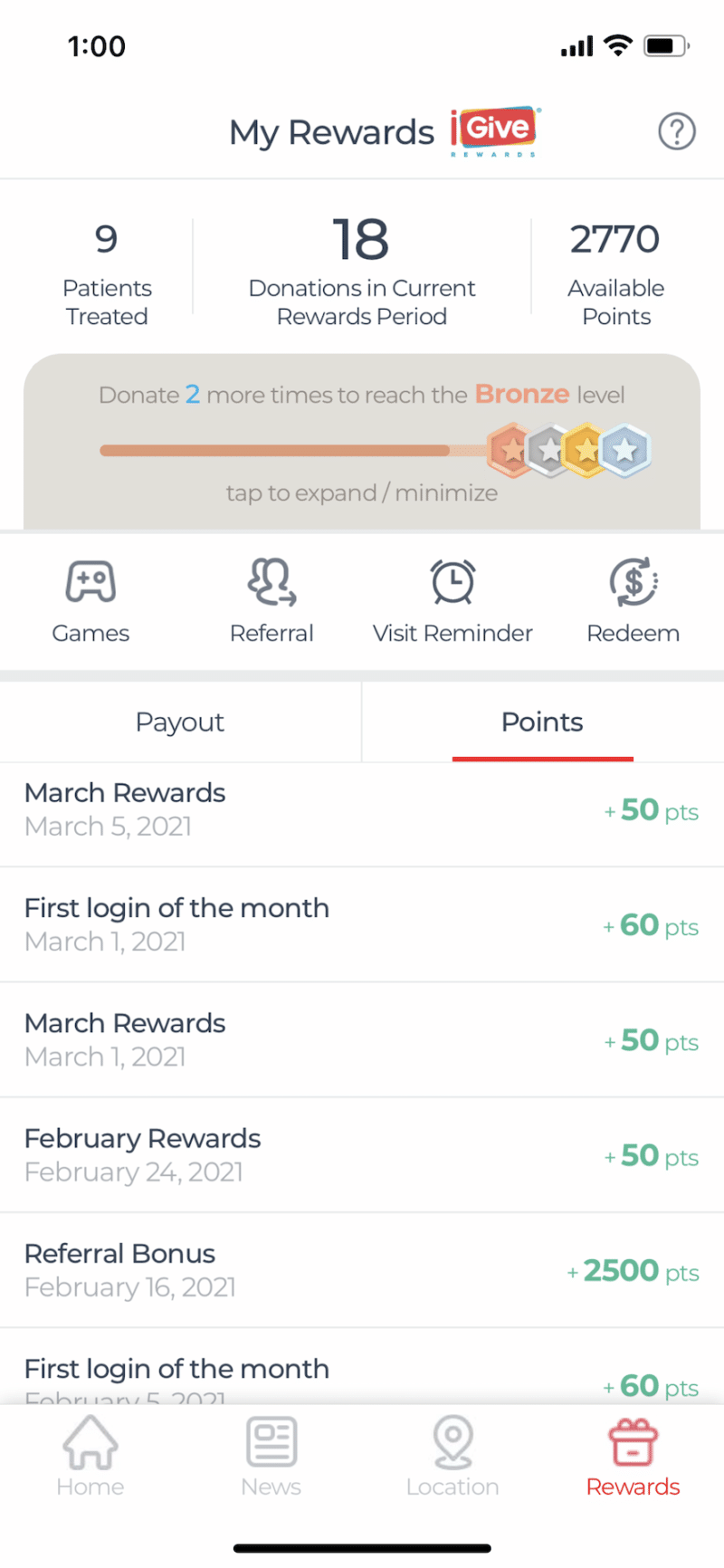 Basic Recap
There are a lot of creative ways to earn some extra cash. While this is a little bit more of a time commitment initially, I think it is worth it in the long run. If you don't have antibodies, you can earn up to $400 per month. If you do, it is up to $800! I like donating as not only do I help others, I am also earning some extra income. Every little bit helps!
New to Credit Card Rewards Points? Check out the BASICS Below!