One year ago today I broke my leg in 5 places while hiking in the Galapagos Islands. I honestly cannot believe how fast this year has flown by, but I will say that breaking my leg was probably one of the best things that ever happened to me. If you would have asked me this a year ago, I would definitely NOT have said this was a positive experience. Looking back on the previous 12 months has been eye-opening. I have changed for the better, and become stronger because of it.
Let Me Explain
Breaking a bone is hard.
It is painful.
It is difficult to get around.
You have to learn how to adjust to using crutches
You're constantly reminding of what you don't have.
But on the other end of it, there is SO much internal growth.
For example, I now am grateful that I can do something I once thought was simple like WALK and RUN.
I can….
Take a shower without having to sit on a stool because I can't stand for a long period of time.
Exercise and move my body to make it stronger.
Go up and down stairs without fear of missing the step with my crutch.
Text and walk!
Get up in the morning and hop out of bed and walk to get myself a drink of water.
Travel and explore new places and countries!
I think oftentimes we take for granted even the simplest things in life, our basic motor skills. You don't realize how fortunate you are to have the use of your legs, arms, smell, taste, hearing, sight. Nothing in this world is ever guaranteed, so be sure to take a moment and be extremely grateful for what you have.
If you haven't broken a bone, just imagine, in a world where everyone is now quarantined, you are stuck in your house, but now you also do not have the use of one leg. And that you are the only person in this predicament so everyone in the world is going on without you. I hope tips for recovering from a broken leg are helpful to you.
Before I Broke my Leg
Right before Dave & I left for our 10 day trip to Galapagos Islands, I had put in my 2 weeks notice at work. I was going to come back for a few days and then I was heading off to training to become a Flight Attendant. Life was great and everything seemed to be falling into place for me.
Then everything changed.
Luckily my job ( the one I just quit) let me stay on a few extra months until I got back on my feet, and my new job was pushed back to the fall. I was given second opportunities for things I had worked so hard for.
To say the time breaking my leg was easy would be a lie. It was not easy. I was discouraged, unmotivated, and feeling sorry for myself. I was in a full leg cast for 2 weeks, a short leg cast for 4, and then a walking boot for another 4 weeks. Walking with crutches was another 2 weeks or so to get used to walking again and take some of the weight off my left leg. It was hard. Probably one of the hardest things I have ever done in my life. But looking back, I know those hard things that I had to go through, made me stronger as a person. It changed my mentality and outlook on life. There are days I want to give up or stop trying but I keep going and push through. Push through the pain, the fear, the unknown. Knowing I'll come out better on the other side because of it.
Recovery
I'll never forget the first time I stepped back on my "healed" broken leg with no crutches. I was at Physical Therapy and he wanted me to walk to see how I was healing. I kind of stood there frozen like I wasn't sure how to and scared for my leg to be able to support me. Begrudgingly, I took a few limping steps. It was weird to walk again, but I was ready to be back to where I started.
I still do PT exercises to this day because my left ankle does not bend as much as the right, but it gets better every day.
Breaking my leg enabled me to see the good in life.
It gave me a chance to rest, reset, and most importantly, grow.
I learned a lot about myself, how to move forward, and how to come out better than before. I've also learned how to be a better friend, to be extremely grateful for everything I have, and how certain things just don't matter anymore.
One Year Later
Now that I'm a year out of it, I decided to write about ways to cope with a broken leg. Before I get into that, I do want to mention one other thing. This accident happened while Dave & I were traveling. If you are going to travel, it is so so so important to have travel insurance! I was extremely lucky that we had travel insurance during my injury. This was a HUGE relief. I then found out that Ecuador covers all medical expenses. So I paid $0 out of pocket for the ambulance, my hospital visit, x rays, setting my leg in the cast, whatever painkillers they gave me in an IV, Tylenol 500s, blood thinners, and an overnight stay. I was definitely lucky in this situation, but be sure to look into this before booking a trip. I'd rather have it and not need it, than not have it and owe hundreds or thousands of dollars.
Tips to Recover from a Broken Leg
1. Seek out Support
Talk to friends. Reach out to people. It is a hard road and it is easier with support. The first two weeks will probably be the worst. It will get better.
2. Have pre-made meals delivered or have someone bring food prepped meals over.
I felt like I was barely eating during this time, so having this ready would have been so helpful.
3. Purchase a leg cover bag.
It'll make showering WAY easier. I tried to do this without one and it was a mess. Just get the bag. You can get it from Amazon here. This won't really help the recovery, but it will definitely keep you smelling fresh and that cast protected!
4. Shower
Seriously. In the full leg cast, I think I showered maybe twice because I couldn't shower really without help (and my leg was in SO much constant pain). BUT the showers made me feel human again.
5. Use a Shower Chair and Handheld Shower Wand
This adjustable chair was a lifesaver for me. I still use it now as my makeup mirror chair, or even to put stuff in high places since it is adjustable! We did not have a separate shower wand, so I ordered this one off of Amazon. It was so helpful when sitting down and showering so you aren't just drowning in water and trying to wash up.
6. Get out of the house.
My friend (Hi Leanne), who was 9 months pregnant, would drag me out of the house, and take me to Target or grocery stores to keep me out and about. I cannot tell you how much of a difference this made it for me! It really helps with your mental well being to get out occasionally. Sometimes we would get lucky and find 2 motorized scooters so we could cart around Walmart or Wegmans, or even Home Depot. I honestly wish I had pictures of these times but I do not. Neither of us really wanted to be photographed.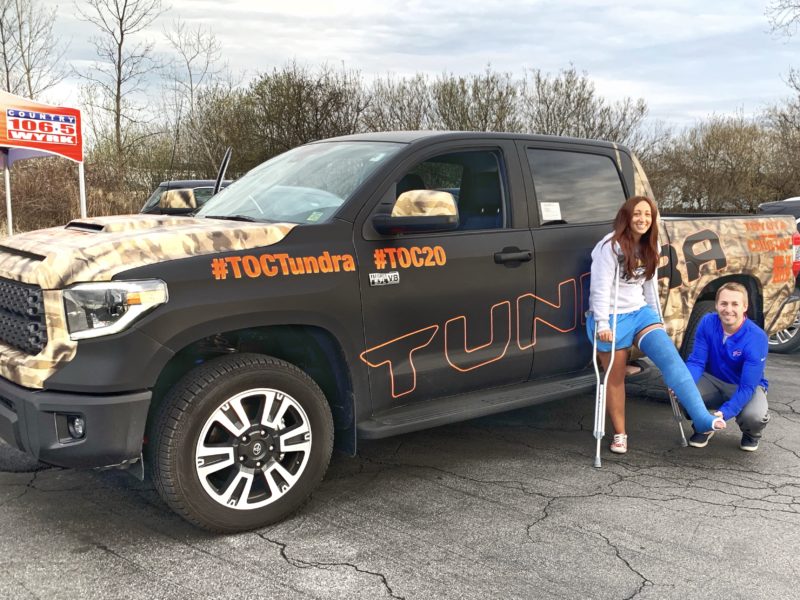 I had a nutritionist recommend bone supplements, but they were massive horse looking pills and I could not get them down. A friend who is into natural healing had suggested these. I actually really liked taking them, they were tiny and tasted good. I took these and Dr's were really impressed with how quickly I was recovering for my type of injury.
8. Purchase a Portable camping stool
If you don't have a wheelchair and just have crutches, it gets tiring. Having a place to sit whenever needed is helpful. This camping stool is tiny and super easy to toss in a backpack to bring wherever you go. This was also a recommendation from a friend, and I only wish I thought of it sooner.
9. Find some good TV shows to watch
If you were anything like me, you'll be sleeping on the couch for a few weeks so you can prop up your leg and its easier to get on and off of. You also most likely won't sleep much from the pain, so you are basically an insomniac and just watch TV on and off all day. Just invest in a few good shows now, and thank me later.
10. Crutch Bag!
This nifty little bag kept my phone and wallet in it most times if I was going out. It was so convenient. I tried using a hoodie pocket but my phone fell out more times than I could count.
11. Cry
This one was something I didn't expect. I didn't cry when I broke my leg, I didn't cry when they cast it, and I didn't cry for the pain. But after being 'stuck' and inactive, I cried. A lot. Probably almost daily. Sometimes for absolutely no reason at all. Mostly because of how busy I was prior to this happening. I worked multiple jobs, bartended, and was constantly running around. Then it just all suddenly came to a screeching halt. Your emotions get the best of you and letting it out is good. Eventually, I got something to look forward to (booking trips), so I was able to get out of my 'slump' after a good few weeks or so.
Reflection
I think at some point in our lives, we all go through something traumatic. Whether it's breaking a leg, losing a loved one, facing an illness, or a near-death experience. We are all given these moments in life as teaching moments.
Teaching us to remember to be grateful and impactful.
Life isn't supposed to be easy. There are good days and bad days. We have to make sacrifices and fight to get to where we want to be, and what we want to do in our lives. Life isn't easy, but it is so so so worth it.
Hang in there my friend. A year from now you will look back and remember your grit and perseverance, and be better because of it.
Do something each and every day that makes you a better person.