"Ahhhhh" my fiance, Lisa, screamed from behind me. I turned and caught her eyes of despair as half of her body was now trapped in a hole. Only moments ago, we were looking off into the blue ocean, listening to the delightful symphony of sea lions from afar. Up until this point, our day had been a perfect mixture of adventure, history, and culture. Nothing could have prepared me for what was about to happen next!
Our feet planted on a wooden platform that served as a viewpoint moments before her tragic accident. I was imagining a time when Charles Darwin gazed out at the same picturesque scene roughly two hundred years ago. Today was our final day on the famous Galapagos Island, San Cristobal. We set out on a highlight tour intending to cross off the same locations that Darwin likely once visited.
Galapagos Islands Review
Over the last week, we explored the Galapagos Islands of Santa Cruz and Isabella. Each Island unique within its own right, home to some of the most diverse animals you can find on this planet. Blue-footed boobies, Galapagos Tortoises, and Marine Iguanas to name a few. Our days were jam-packed with activities and exploration. Our itinerary for our final day included many stops that Darwin most likely stepped through along with some other popular points of interest.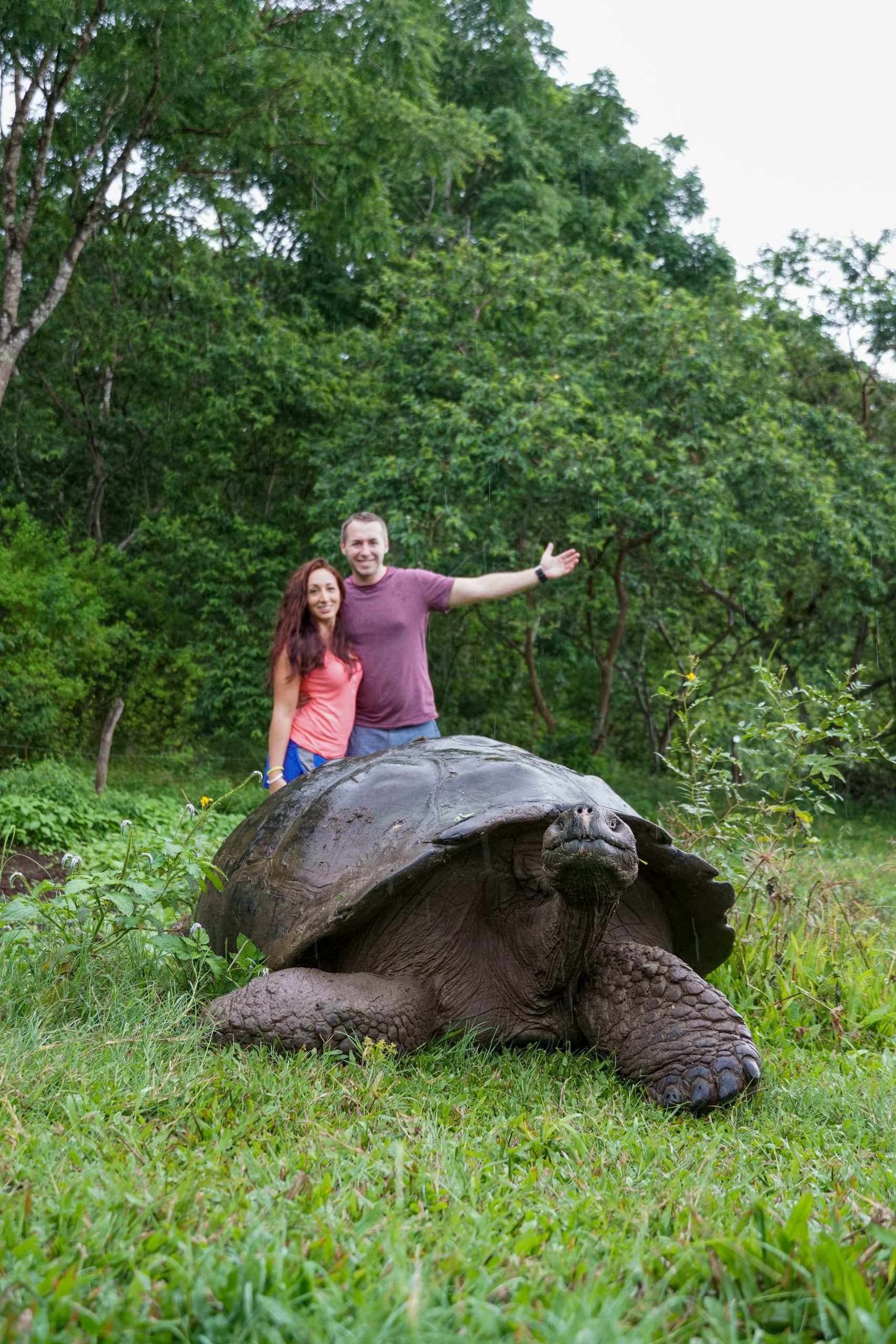 Start of the day
Breakfast began at our beautiful hotel, the Galapagos Eco Friendly. Harry Jimenez, the owner of Eco-Friendly helps prepare a different breakfast spread every morning from a special room that has a sunrise view of the city and harbor. Fresh Ecuadorian Coffee, Fruit, Bacon, Omelet, and a Crepe were on the menu that day. Before heading out, I took a moment to gaze through a pair of binoculars towards the water and took notice of some peculiar birds that caught my eye. Those binoculars are a good example of the little details that Harry stages around eco-friendly to provide his guests with a memorable experience. 
The first mission was to hail a Taxi. Now not any cab, we needed to haggle ourselves a classic half-day DIY San Cristobal Tour. A little secret is that you can save over 50% on the price of the Classic Highlands Tour by pitching it to a Taxi driver. We explained to Carlitos that we wanted to do the tour, which includes stops at El Junco Lagoon, Galapaguera de Cerro Colorado – a Tortoise Reserve, and Puerto Chino Beach. Carlitos invited us into his vehicle for only $60!
Highlands
As we began our journey up into the Highlands, I could not help but wonder what it was like when Charles Darwin first set foot on San Cristobal in 1835. One of the early main draws of Cristobal is that it's the only island within the Galapagos that has permanent freshwater. El Junco, the freshwater lake is the first stop on the Highlands Tour. Even though I could find no record of Darwin visiting El Junco, I'd imagine that he would have taken notice of such an important landmark.
We exited the cab and began our short hike to see the lake for ourselves. The marked pathway held a steady incline all the way up. Sweaty was an understatement, given the humidity that morning. Frequent water breaks extended the journey up, but we did not mind thanks to the scenic views around us. I could hear birds chirping ahead and the cool breeze that undeniably is carried over water started to become more clear.
Views
As I took the final step up and peered over the brush, surprised to see nothing. Nothing in the sense that a mysterious fog completely took over the whole lake. As if El Junco was in disguise wearing a gray cape. "Was it all for nothing" I pronounced to Lisa? But then without warning, the fog dispersed, greeted with a fantastic 360-degree view. The water and green rolling hills that surround it were aesthetically pleasing due to the stark contrast. As quick as the lake appeared, it vanished back beneath the gray cloud of mystery. We managed to snap a few photos during the show! Heading back down the trail, excited to venture over to our next stop, a Tortoise Reserve.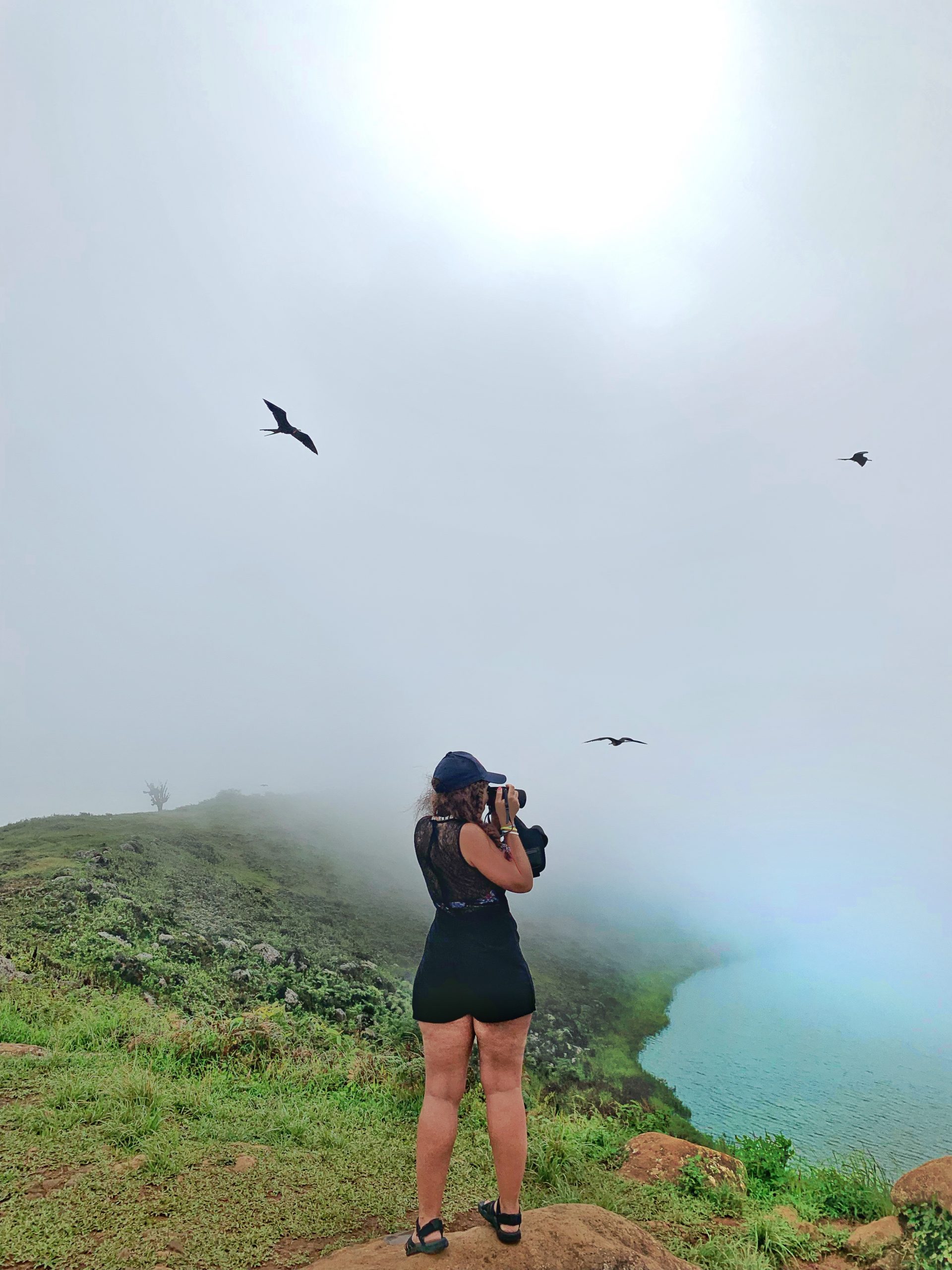 The Galapagos Tortoises are an endangered species today. Ironically, it was Darwin who enjoyed feasting on these gentle giants while on San Cristobal. If he knew that in less then two-hundred years, only 11 of the 15 species of Tortoise would still be roaming our planet, he may have chosen a vegetarian option instead. Thanks to conservation efforts, the Galapagos Tortoise Population has started to increase again!
Galapaguera de Cerro Colorado Tortoise Center
Our visit to Galapaguera de Cerro Colorado Tortoise Center was nothing short of amazing. There are trails within the reserve that we carefully stepped through and every so often a Giant Galapagos Tortoise would happen to cross our path. Carlitos even offered to take photos of us with our new green friends. My one and only regret is bug spray. Despite that slipup, I would not let a few bug bites rain on my parade as we left the sanctuary with some great memories.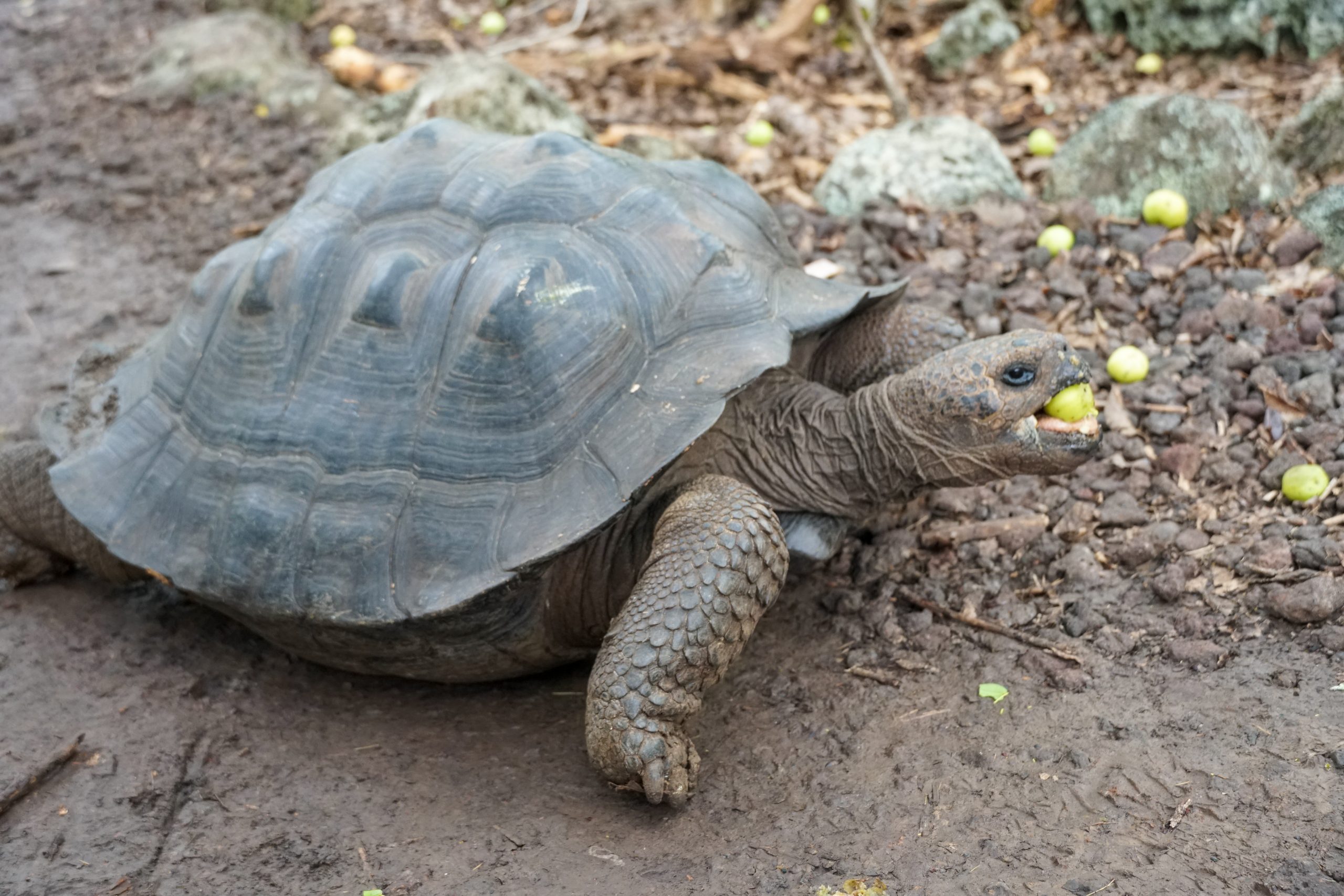 After taking a Siesta on Puerto Chino Beach with some friendly Sea Lions, we were ready to be dropped off for the final Darwin Experience of the day. A trip to San Cristobal is not complete without taking the trail from the harbor over to the Charles Darwin Statue. The statue was erected one hundred years after Darwin's first visit in 1935 to celebrate the Centennial. This destination is a big tourist draw for a strange reason. The statue is oddly disproportioned which makes for a unique selfie!
The final fall
Less than a quarter-mile from Cerro Tijeretas where the statue stands tall, we stopped to take in a beautiful view of the sun over the ocean. We carefully stepped around a missing board on the raised wooden platform to reach the edge. Perhaps it was the hot sun, long day of exploration or mild dehydration but Lisa's next step back would be her final one of this trip.
I pulled her out of the hole and we soon learned that her leg had suffered multiple breaks. We never did make it to that Darwin Statue. In a twisted Darwin fashion, I ask were we not fit enough to make it there, or was this merely an obstacle only the strong would survive? This week is the anniversary of that accident and Lisa's leg is now fully healed. Darwin she remarked, I'll be back for you!
More Basic Reading