I recently had the opportunity to fly in JetBlue's Mint class and spoiler alert, it was AMAZING! From the in-seat massage setting to the curated cuisine offered at 30,000 feet – JetBlue's Mint Product did not disappoint. Learn more about my experience flying upfront in this Basic Breakdown.
Boarding JetBlue's Mint Service
Getting to board first always puts a smile on my face. Especially when you are beat down from traveling on your way back home and sitting up front for the flight. Upon entering the plane, I was excited to find my seat and inspect all of the goodies that were waiting for me. This included an amenity kit, blanket with a memory foam pillow, curated menu, and all of the bells & whistles of the Mint Seat.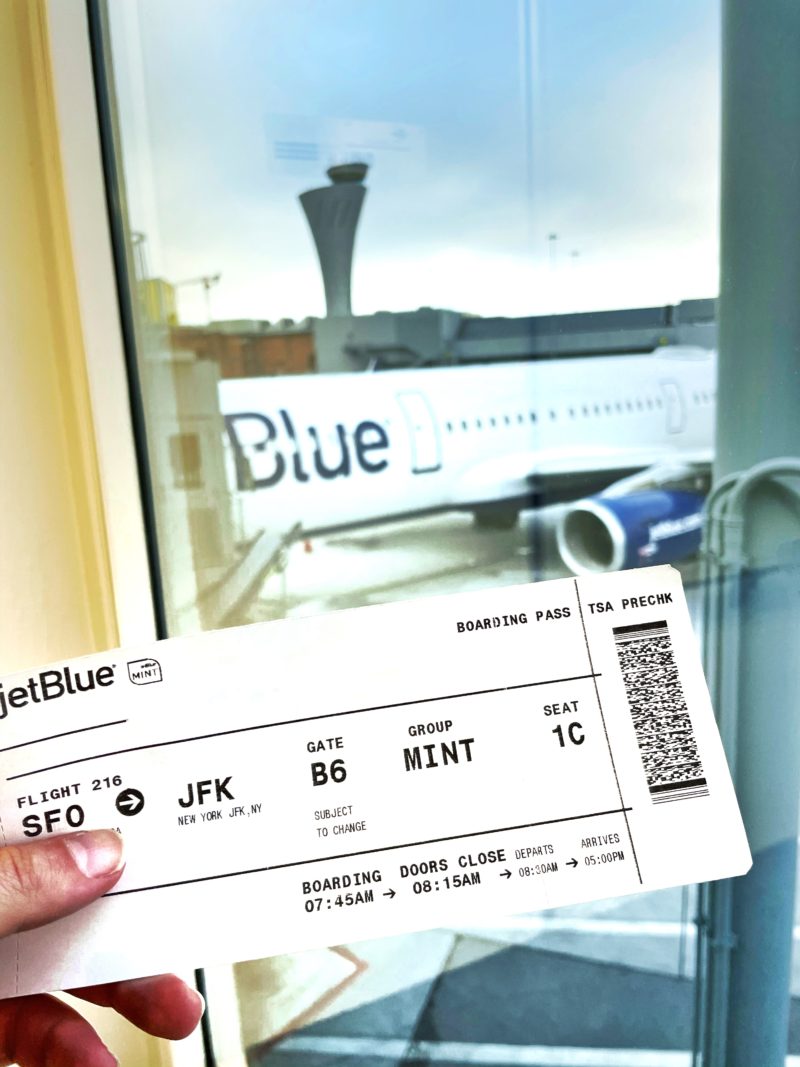 JetBlue's Mint Seat
If you didn't hear JetBlue has a brand new Mint product that they are planning on replacing the "old" Mint seats with. Rumor has it these will be ready to go with the US to London route starting sometime in the near future. I've got to say that the "old" and current JetBlue seats are still pretty awesome.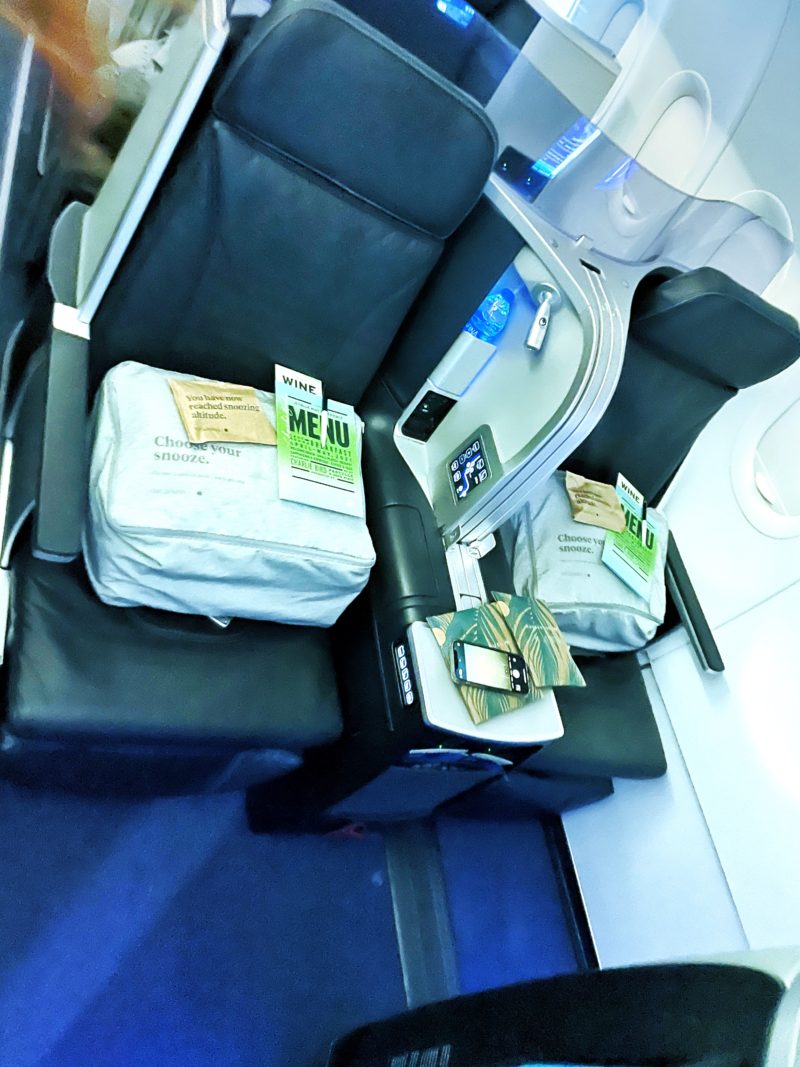 It offers my favorite premium capability to go fully lay-flat at 30,000 feet. In addition, each seat is equipped with a massage built right in – simply press the button to initiate the ultimate relaxation. The entertainment system is always top-notch with JetBlue and this one surely did not disappoint with a retractable remote build into the seat. Last, I love all of the different storage compartments. Since JetBlue's Mint provides socks to wear in flight, there is even a nice storage area for sneakers!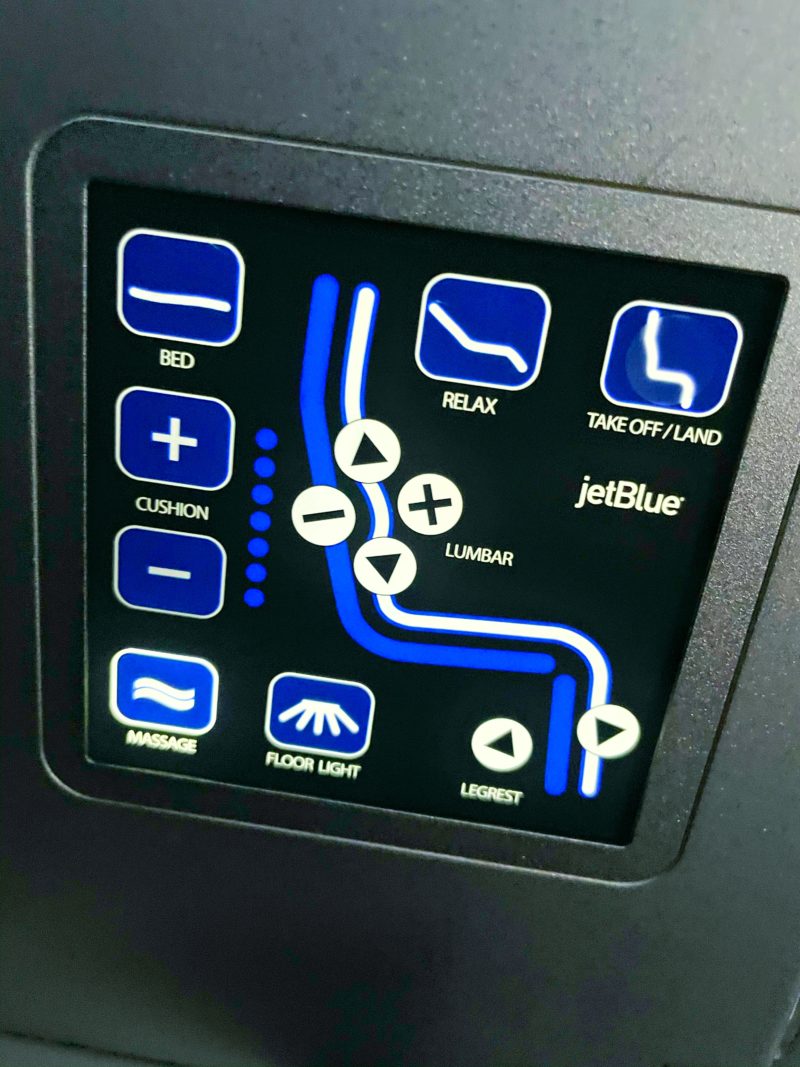 JetBlue's Mint Amenity Kit
What I like about JetBlue's new Mint Amenity kit is that it is actually separated by the traditional items you'd think of like an eye-mask and toothbrush, and a separate wellness kit which includes some unique items which I'll highlight below.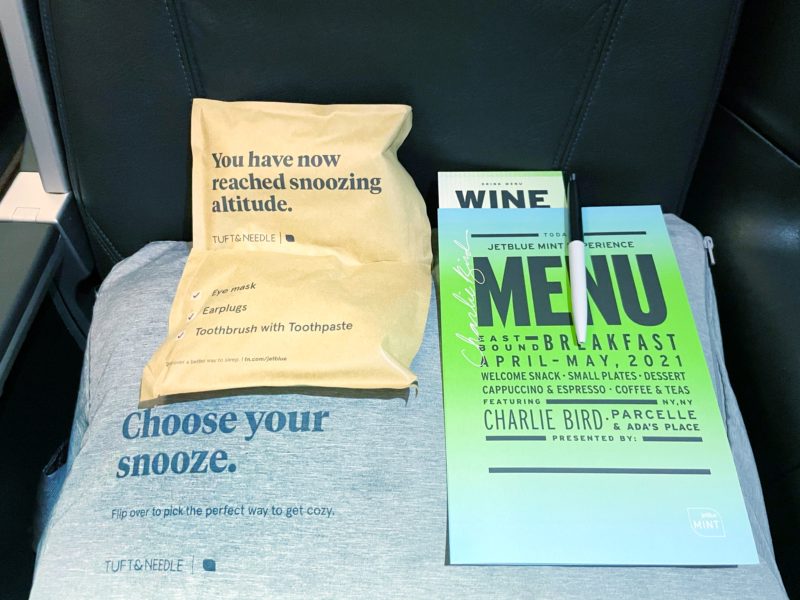 The Wellness Kit is something I haven't seen on any other premium flights. Wanderfuel prepares the kits and tailors them based on the flight destination and duration of time in the sky. In my kit, I found: a 4-1 essential face wipe, crushed tonic matcha, a lotion that includes an aroma to "uplift" me, a mist to help cleanse and rejuvenate my face, and a box of neuromints which includes green tea caffeine, brain activating B6 & B12 vitamins and L-theanine.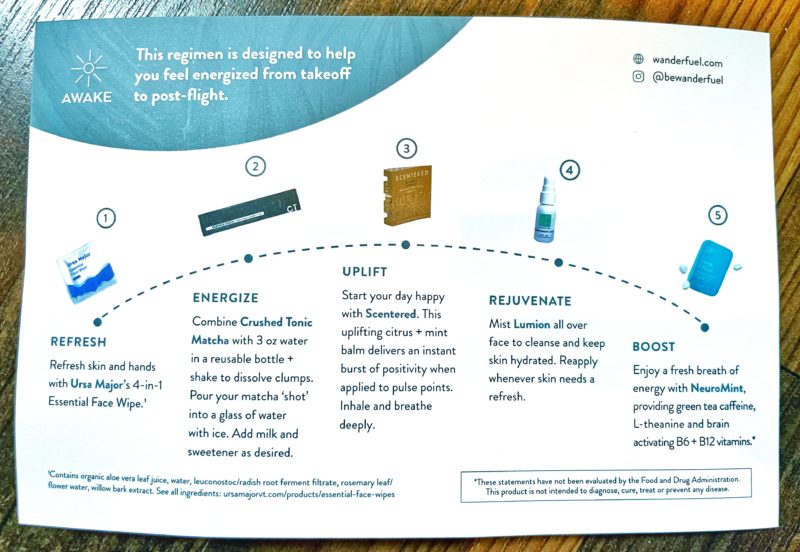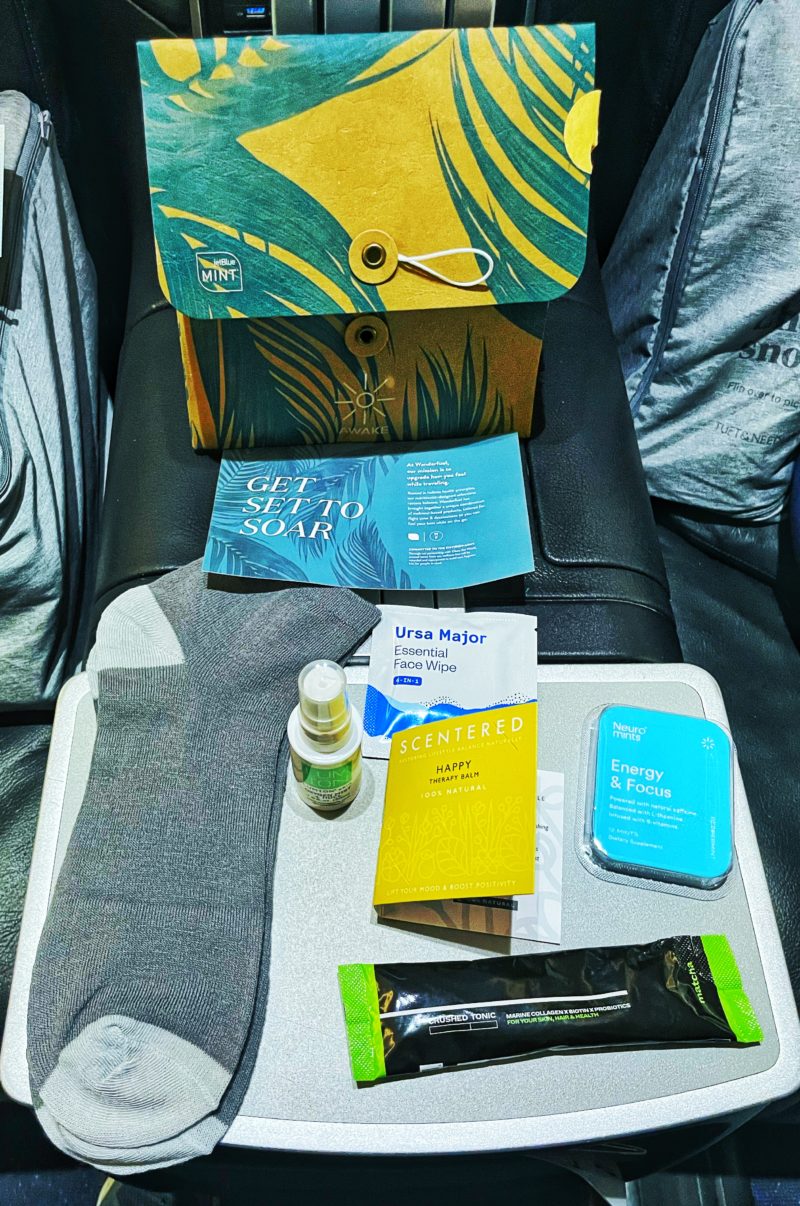 New JetBlue Mint Menu
The JetBlue Mint menu recently underwent a refresh by bringing in Chef Ryan Hardy from the NYC-based Delicious Hospitality Group. Depending on the flight route, time of day, and month the menu will be different.
My flight departed from SFO at 8:30 AM which fell under the Eastbound Breakfast Menu. Upon boarding, I found a paper copy of the menu on my seat along with a pen to circle the items I'd like to try. Since Lisa and I were traveling together, we decided to get one of each item in order to try them all.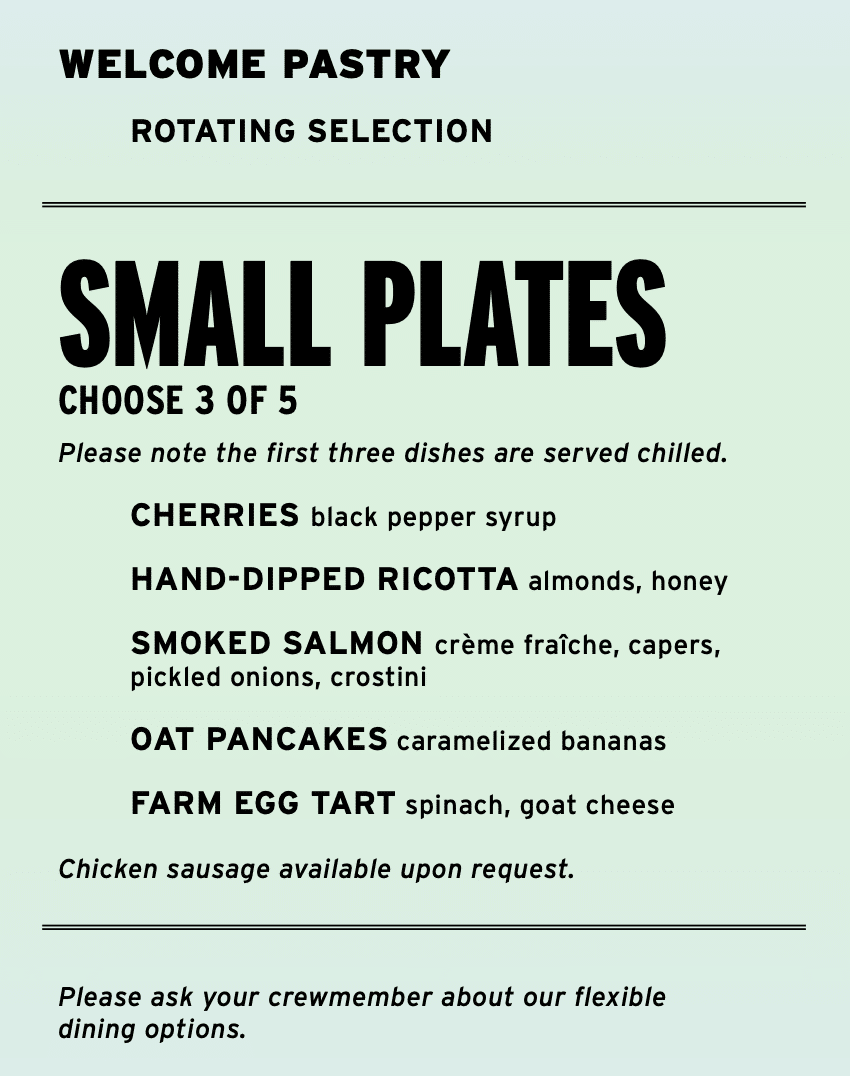 Our coffee and tea came out shortly after takeoff and included some delicious pastries.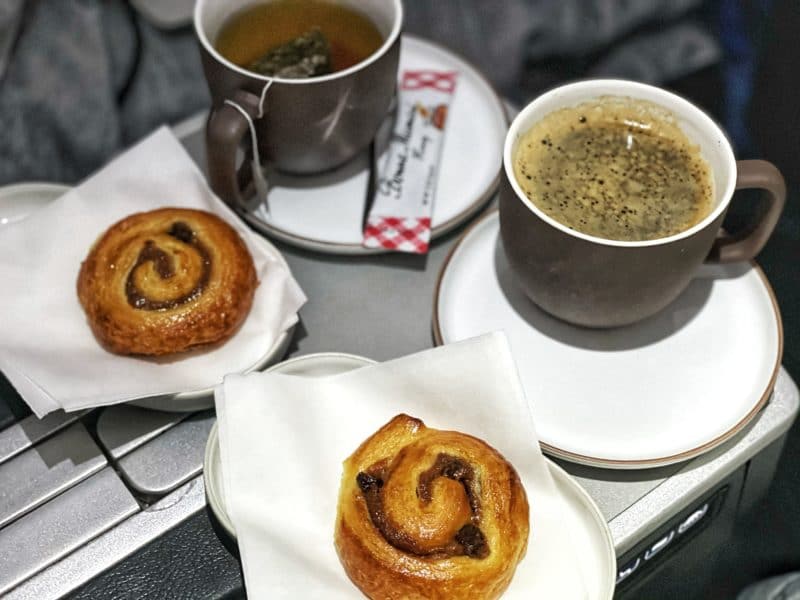 My favorite option from the list was the oat pancakes with caramelized bananas and Smoked Salmon. Lisa enjoyed the Hand-Dipped Ricotta and Farm Egg Tart. Each item was prepared on an individual plate and looked great. It kind of reminded me of flying ANA upfront with the added time spent on presentation.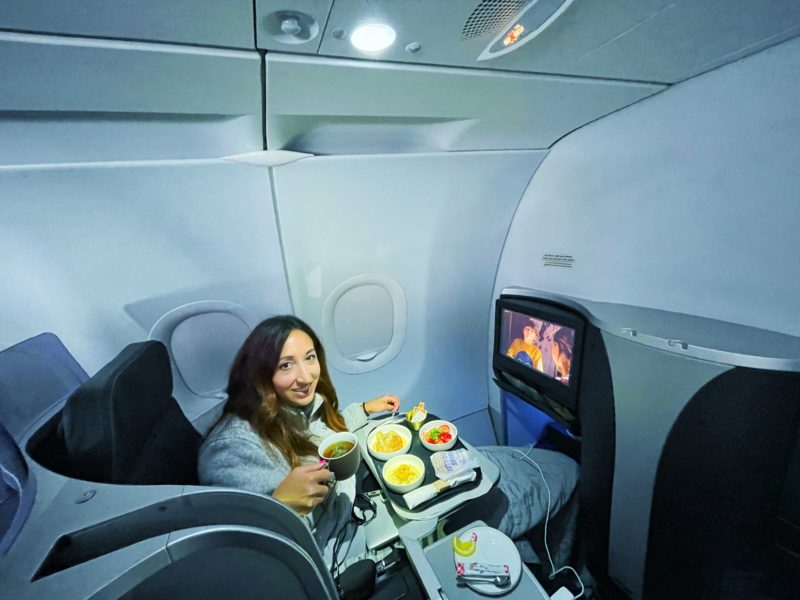 JetBlue Mint Beverages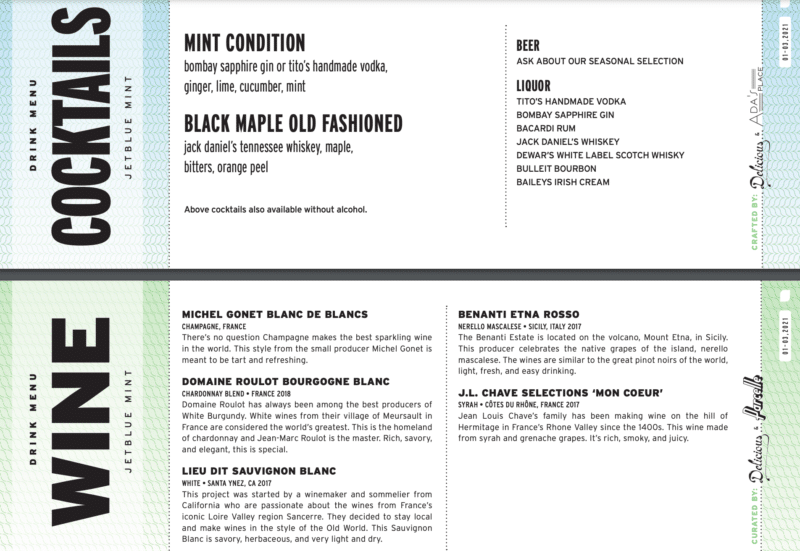 Lisa and I started off with a few cups of Green Tea and Coffee. Towards the end of the flight, we were ready for some cocktails. The JetBlue Mint service includes two unique drinks that can be prepared both with and without alcohol. We both went with the Mint Conditions because when in Rome, right? I may have had a few more during the five and a half hour flight 🙂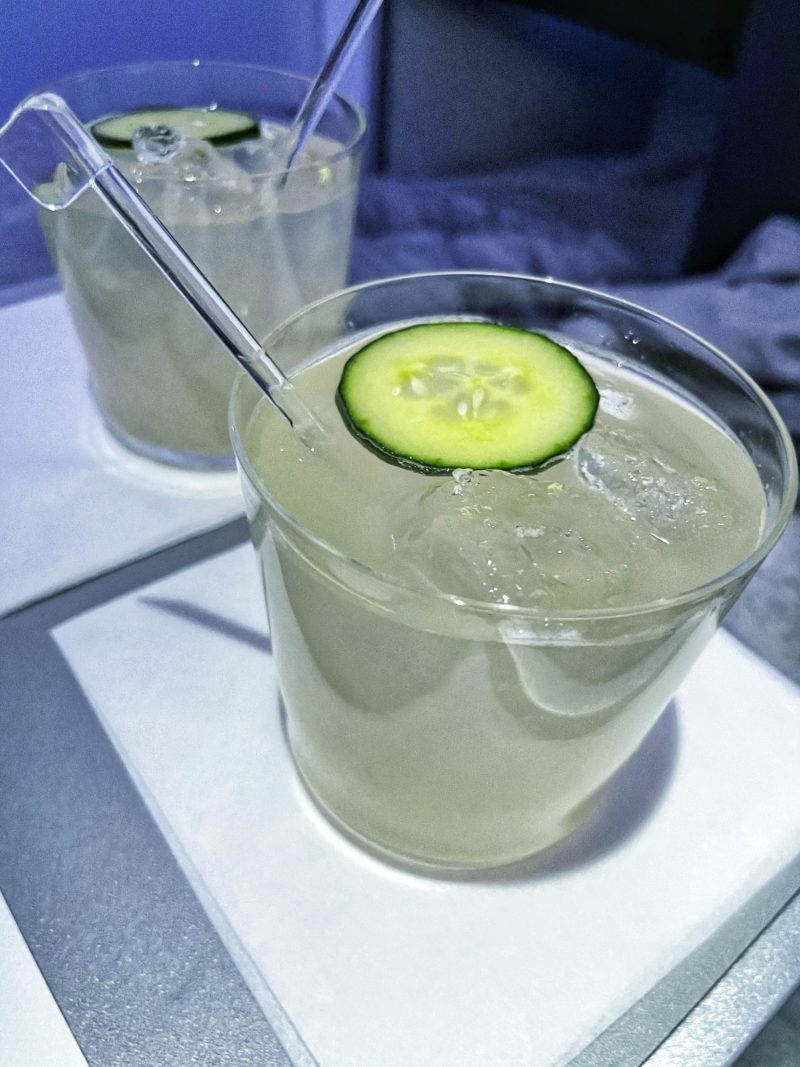 Booking JetBlue Mint
Did you know that you can earn JetBlue Points from a number of Credit Card rewards programs? In my opinion, the best way to book JetBlue's Mint Service is via transferring points to the JetBlue TrueBlue program.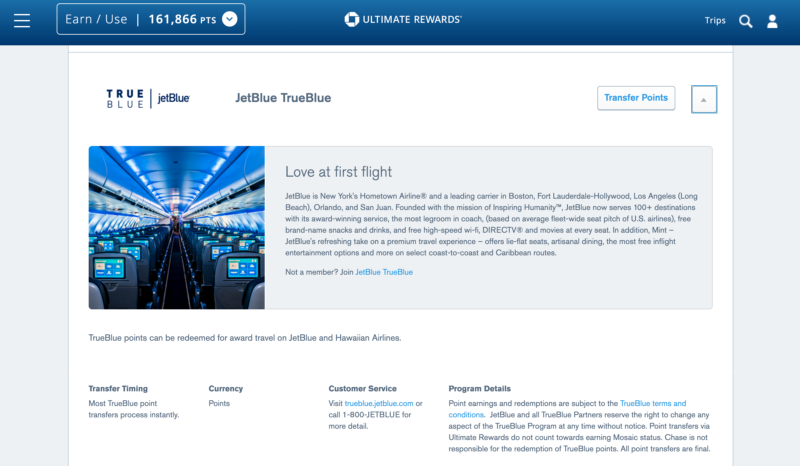 The four programs that transferring directly to JetBlue are:
Chase Ultimate Rewards
Amex Membership Rewards
Citi ThankYou Points
Brex Points
This means that you can technically combine points across those programs to JetBlue in order to book a seat in Mint! Also, another tip is that JetBlue allows Points Pooling. With Points Pooling, up to seven friends & family members can combine their points into a pool for booking Mint Service. This is a great tool given that transferring the four points programs listed above directly to friends & families can often be difficult or not possible. My favorite card to earn Ultimate Rewards Points is the Chase Sapphire Preferred Card. Check to see what the latest offers are on our Top Credit Cards page. 68,800 points could cover a one-way flight in Mint!.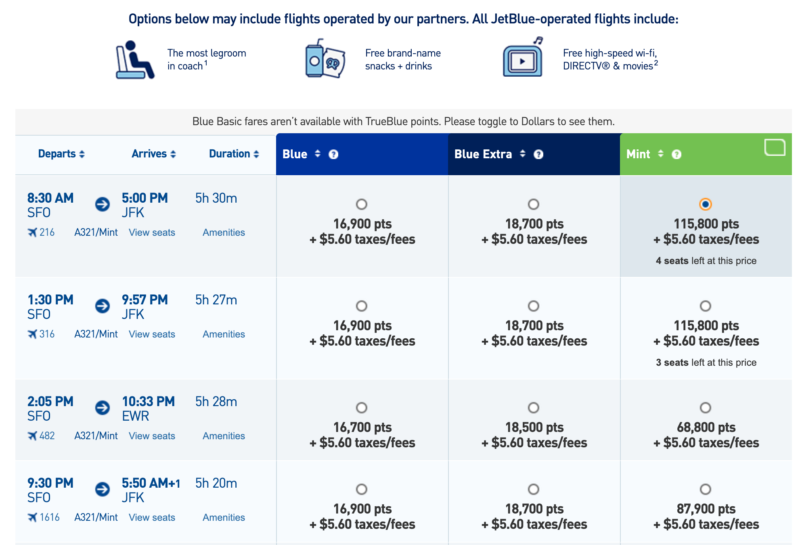 Basic Breakdown
I certainly had a great experience flying JetBlue's Mint Service from SFO to JFK. It's one of the best premium options in the sky for domestic flights from the east coast to the west coast. I'm sure that when the new service begins to London, it will be a top contender for one of the best transatlantic flights in the premium award space. As I'm writing this I am giddy thinking about flying it across the pond!
after you spend $4,000 on purchases in the first 3 months from account opening.
after you spend $4,000 on purchases in the first 3 months from account opening.
Let us know!
Have you flown JetBlue's Mint Product? If so, what did you think?!
More Basic Reading