Airport lounges have long been a game-changer in the basic travel world. There's no argument when it comes to the best way to spend an airport layover. On October 9th, 2020, the JFK Centurion Lounge opened its doors to travelers transiting through New York City. The massive 15,000 square foot lounge has loads to offer including a secret speakeasy (Shhh). Learn more about the new JFK Centurion Lounge in this basic review!
What is a Centurion Lounge
The American Express Centurion Lounge is a private designated space located in ten different cities across the United States and one in Hong Kong. Additionally, there are plans to open a new Centurion Lounge at the London Heathrow (LHR) airport in 2021. These lounges offer a fantastic space to relax, refresh, and rejuvenate – each equipped with spacious seating and delicious cuisine.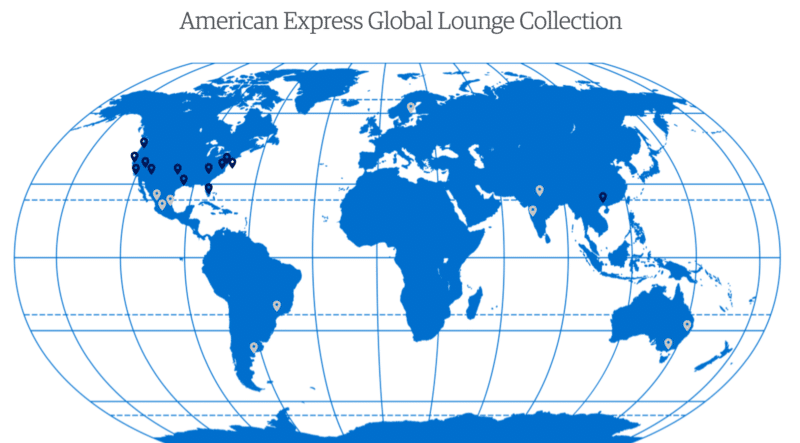 Location of the JFK Centurion Lounge
The JFK Centurion Lounge is located in Terminal 4 (T4) after security. After exiting the TSA check head up the escalator to the second floor and turn left. The lounge is located a short walk down the terminal on the right-hand side. This is the opposite side of where the popular Wingtips Priority Pass lounge is located. The last time I visited T4 was when I was working on the popular Basic Lounge Challenge which ended up being a long night!
How to Access JFK Centurion Lounge
Access to Centurion Lounges is limited to The Platinum Card® from American Express & The Business Platinum® Card from American Express cardholders, including platinum variations and authorized users. To enter the JFK Centurion Lounge simply provide your Platinum Card and a valid departing boarding pass. The lounge is open between 6:00 am and 8:00 pm seven days a week. Each member is allowed to bring two additional guests per entry.
The American Express Cards that Provide Access To the Centurion Lounge
It's important to note that access is limited to customers who have a confirmed seat (no standby tickets) and a departing flight within three hours upon the time of entry. There is no access to the lounge for customers arriving at JFK as their final destination. They are very strict with both of these rules based on personal experience (and many phone calls pleading my case from the entrance desk with Amex customer service).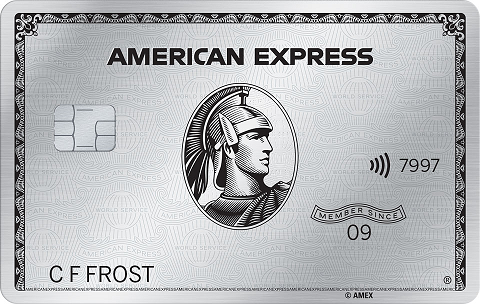 $695 annual fee (Rates & Fees
After spending $6,000 on your card in the first 6 months
Space at JFK Centurion Lounge
Spacious, elegant, and intimate are the first words that come to mind when reflecting on my time spent at the JFK Centurion Lounge. Spread throughout the two levels and 15,000 square foot area you'll find a variety of different seats and space to relax. I really love the cozy ambiance and decor which differs from section to section. The lounge hosts two areas to grab a bite to eat, two bars (+ a secret speakeasy), and a body lab.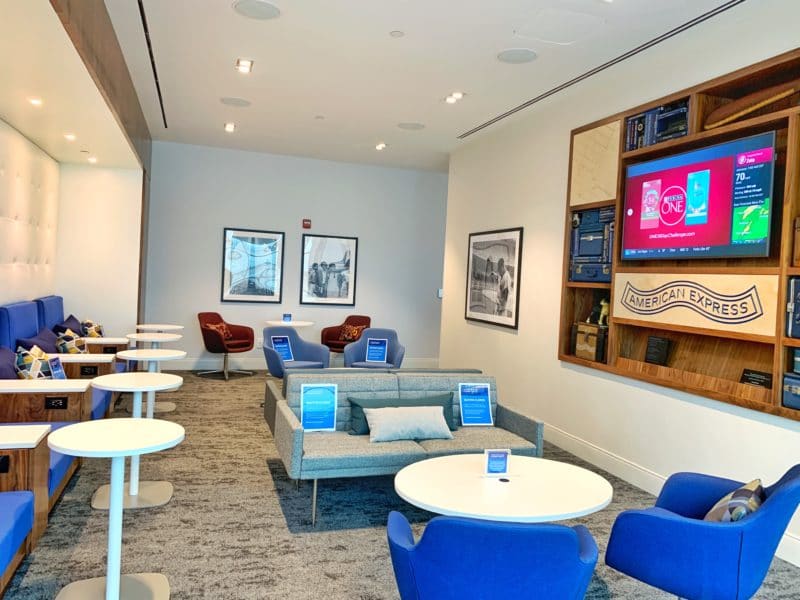 JFK Centurion Lounge Food & Beverages
Breakfast is served from 7 am – 11:30 am and includes both a caciocavallo and egg sandwich with tomato marmalade on a brioche bun and a piece of thick-cut bacon with potatoes, spinach, and mostarda di Cremona.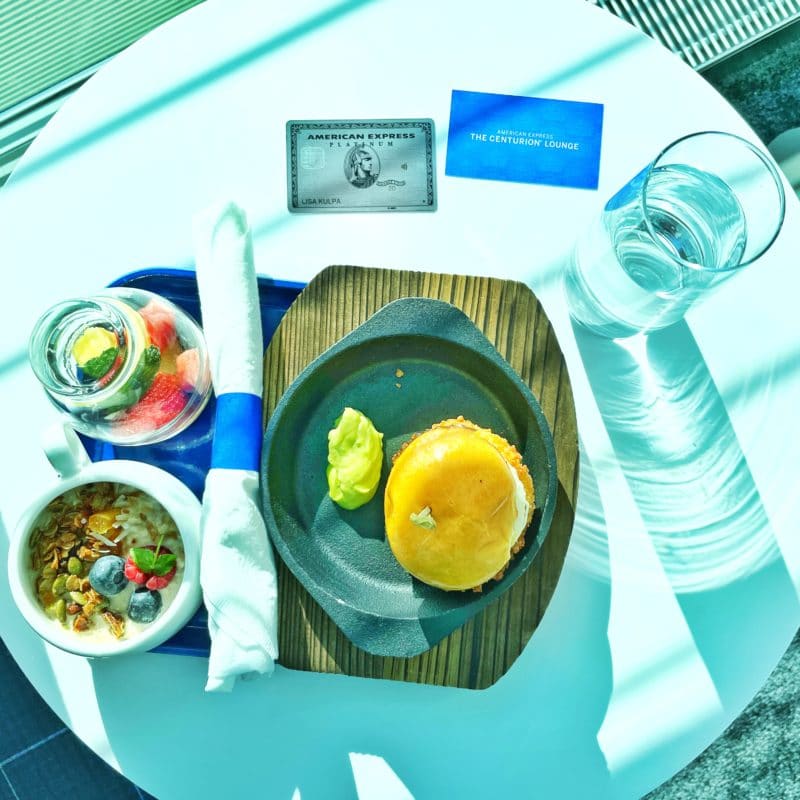 Lunch/Dinner is served from 11:30 am – 7:45 pm and includes the following choices: a fennel salad with castelvetrano olives and provolone, Chicken broth with farro and butternut squash crostini, Steak and golden nugget potatoes with romesco and taleggio sauce, Fried maitake mushroom "po boy" with chipotle mayo and pickles on a brioche bun, and Chocolate cake with black sesame seeds for dessert.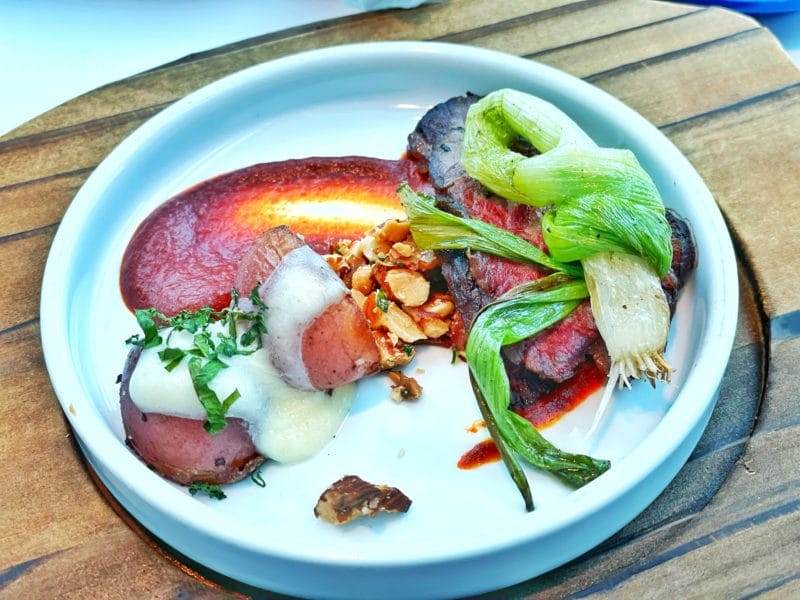 Snacks & the Coffee/Tea Station are available all day. I'm a big fan of the fancy Nespresso machines and always grab a red-eye when I come across one in an airport lounge. The in-house potato chips went great with a local NYC lager!
Two Bars + a Secret Bar have you covered with both alcoholic and non-alcoholic beverages. Some of the popular options include the Port in a Storm cocktail and the Brooklyn Lager. More on the secret drinking hideout below!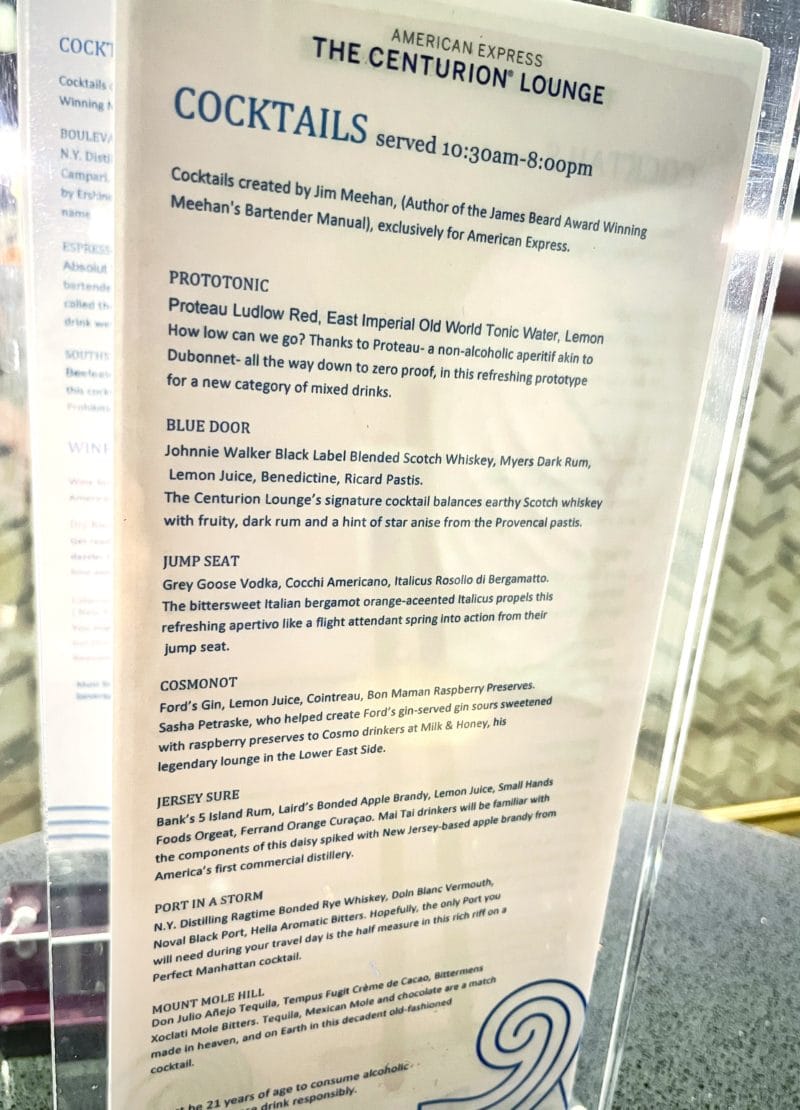 Relax in a vibrating meditation chair!
The whole point of an Airport Lounge is to provide guests with a private area to relax. With that in mind, the JFK Centurion Lounge went a step further by implementing the Equinox Body Lounge. This separate area provides lounge guests with three designated areas to rejuvenate that house thera massage guns and compression leg wraps which increase circulation. My favorite room includes a vibrating meditation chair that has six different options for finding your inner peace!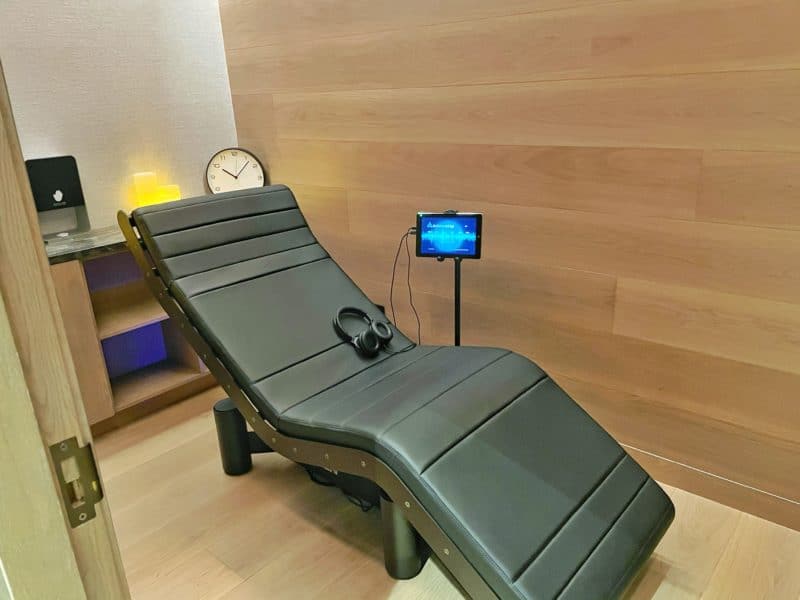 Is there a Secret Speakeasy at JFK Centurion Lounge?
Yes, but don't tell anyone! Now when I say that there is a secret speakeasy I really mean it. Looking at the wall where there is a secret door, you'd never guess that there is a full-size bar hidden behind it. To get to the JFK Centurion speakeasy, head downstairs to the lower level and walk towards the right-hand side near the bar. On the left-hand side of the bar, walk up to the wall and push!
Basic Breakdown
I've frequented many Airport Lounges over the years all around the world. Without a doubt, the new JFK Centurion Lounge is easily one of my favorites. The ambiance, delicious food, and secret speakeasy separate this lounge from the rest. It's a good thing that JFK is a short 50-minute flight from Buffalo because I'm certainly looking forward to being a regular once I start traveling regularly again!
Let us know!
Have you visited the JFK Centurion Lounge? If so, what did you think?! I'd love to hear from you down in the comments or over in the 4,600+ Member Basic Travel Facebook Group!
More Basic Reading