There was a time in my life that I absolutely dreaded layovers and long wait times at the airport. That ended the moment I discovered the secret world of airport lounges. Complimentary food and beverages plus seats that are 1,000 times more comfortable than the standard plastic chairs found near the gates.
When I heard that Denver International Airport (DEN) was opening a brand new American Express Centurion Lounge, I told Lisa there was no way we were heading down to Belize without stopping here first. Lucky for us, DEN flys direct to Philip S.W. Goldson International Airport (BZE). Learn more about the new DEN Centurion Lounge in this basic review!
What is a Centurion Lounge
The American Express Centurion Lounge is a private designated space located in thirteen different cities across the United States and one in Hong Kong. Additionally, there are plans to open a new Centurion Lounge at the London Heathrow (LHR) airport in 2021. These lounges offer a fantastic space to relax, refresh, and rejuvenate – each equipped with spacious seating and delicious cuisine.
Location of the DEN Centurion Lounge
The DEN Centurion Lounge is located in Concourse C near gate C46. There is an escalator and elevator which can take guests up to the Mezzanine level where the lounge entrance is located. I really love the view of the DEN Centurion Lounge Entrance while taking the escalator up. The branded American Express grassy backdrop with the silver centurion logo really makes for an initial impression of the exclusive space!
How to Access DEN Centurion Lounge
Access to Centurion Lounges is limited to The Platinum Card® from American Express & The Business Platinum® Card from American Express cardholders, including platinum variations and authorized users. To enter the DEN Centurion Lounge simply provide your Platinum Card and a valid departing boarding pass. The lounge is open between 7:00 am and 7:00 pm seven days a week. Each member is allowed to bring two additional guests per entry.
The American Express Credit Cards that Provide Access To the Centurion Lounge
It's important to note that access is limited to customers who have a confirmed seat (no standby tickets) and a departing flight within three hours upon the time of entry. There is no access to the lounge for customers arriving at DEN as their final destination.
After spending $6,000 on your card in the first 6 months
After spending $6,000 on your card in the first 6 months
$695 annual fee (Rates & Fees
Space at DEN Centurion Lounge
Spacious and modern are the first words that come to mind when reflecting on my time spent at the DEN Centurion Lounge. The lounge is 14,650 feet divided in two-halves (horseshoe figure) around the escalators which you can see across with all-glass separators. I really love the cozy ambiance and decor which differs from section to section. The lounge hosts one area to grab a bite to eat, two bars, a kid's room, showers, and a pool table & shuffleboard.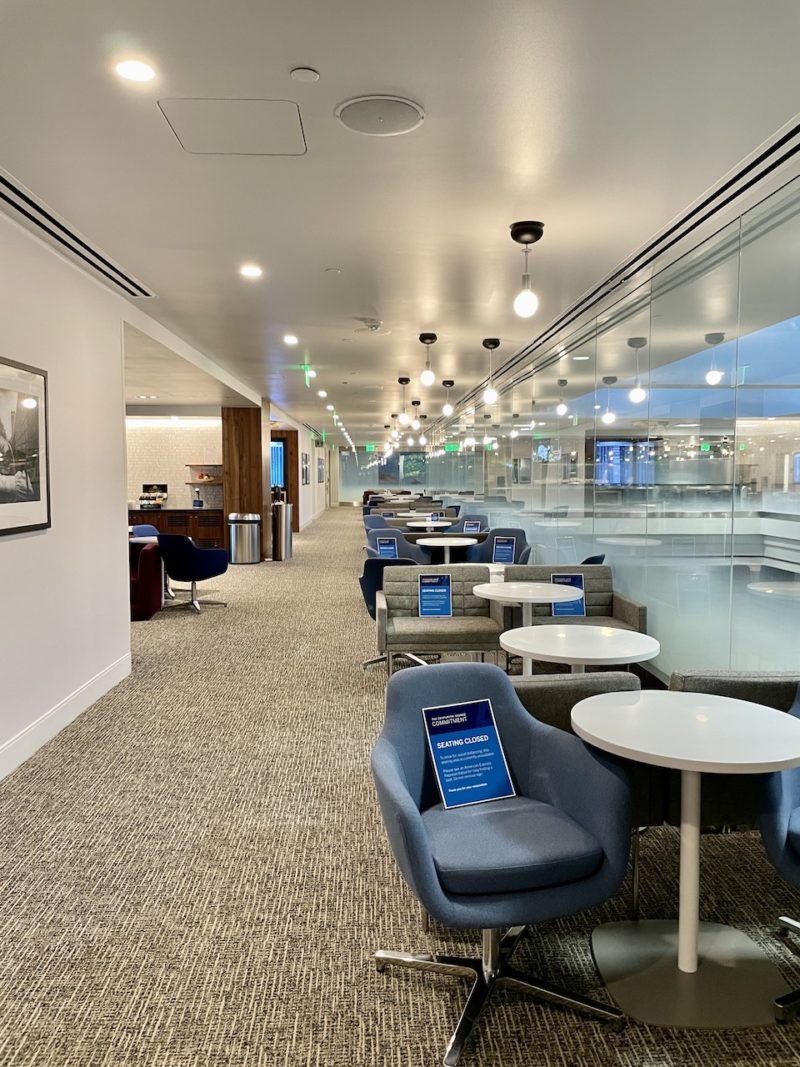 DEN Centurion Lounge Food & Beverages
Breakfast is served from 7 am – 11:30 am. The first hour 7-8 am includes a continental breakfast consisting of fruit and pastries. From 8 am on guests can enjoy a Gubana French Toast with Pecans, Pistachios, Hazelnuts, Cinnamon and Raisins or a Tortilla Española with Potatoes, Peppers and Onion. Both of these options were delicious!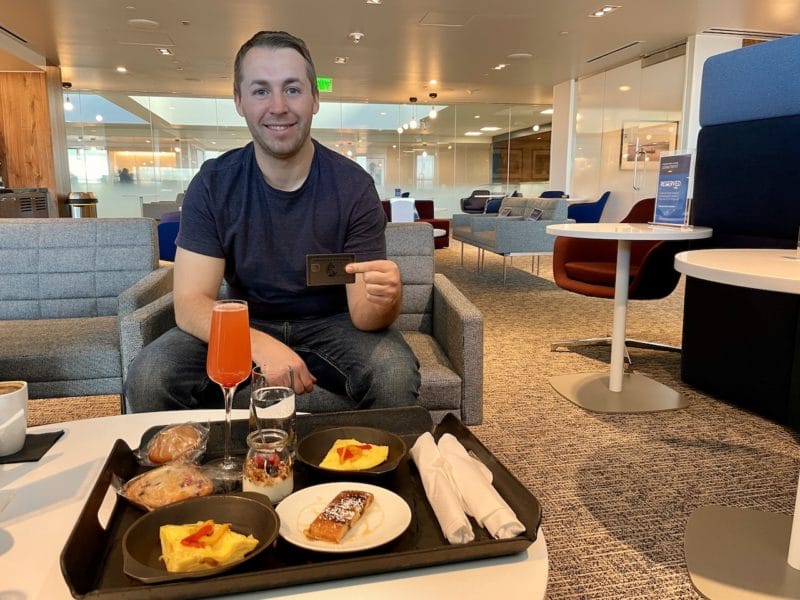 Lunch/Dinner is served from 11:30 am – 6:00 pm and includes the following choices: Quinoa Salad, Chestnut Soup, Grilled Chicken with Salsa Verde, Rigatoni with Prosciutto and Poppy Seeds, Roasted Carrot Salad, Chicken Tortilla Soup, Pork Loin with Capers and Tonnato Sauce, Spelt Pasta with Guanciale, Zucchini, Rosemary and Montasio Cheese. Desert includes both a Basque Cheesecake and Tiramisu.
Snacks & the Coffee/Tea Station are available all day. I'm a big fan of the fancy Nespresso machines and always grab a red-eye (or two) when I come across one in an airport lounge.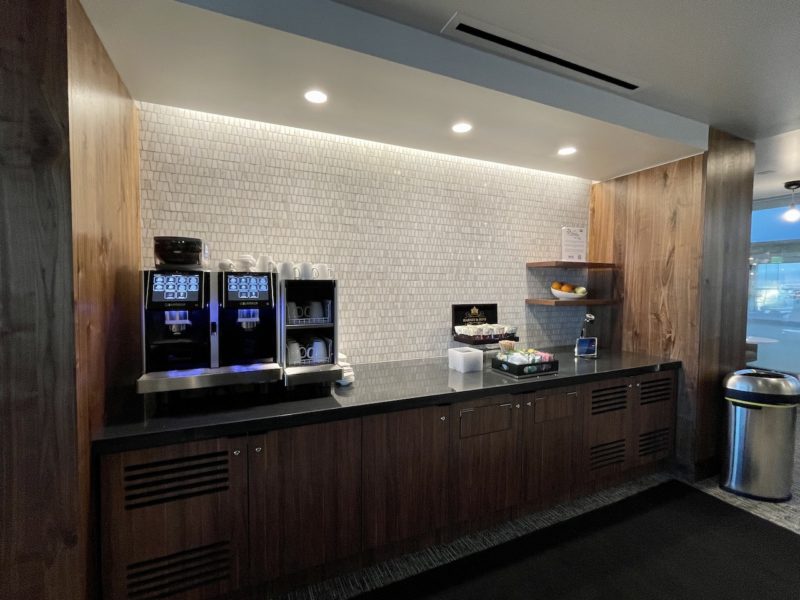 Two Bars have you covered with both alcoholic and non-alcoholic beverages. Some of the popular options include the Dogs Out and the Grail Ale which includes a local Denver IPA mixed with Grapefruit Soda.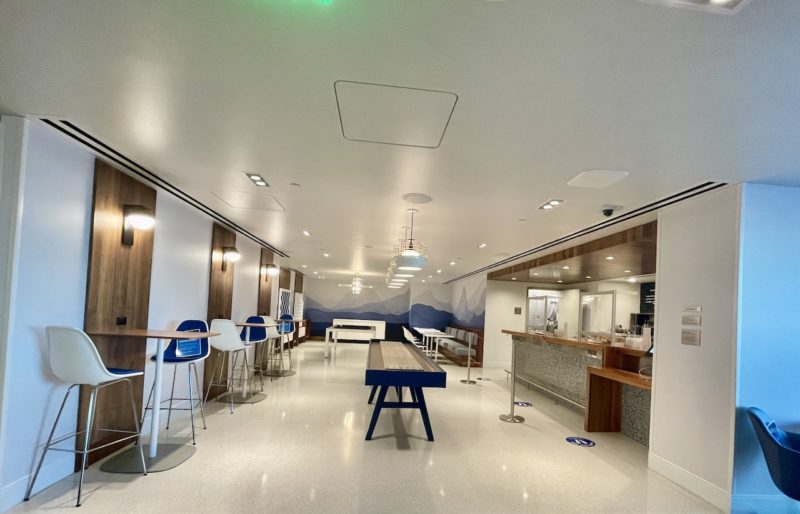 Basic Breakdown
Another fantastic lounge that has made its way up the top of my basic list. I'll be sure to consider layovers in DEN more so going forward now that the Centurion Lounge is open. I also now know that if you're in a pinch, you can even sleep in this airport thanks to my crazy trip down to Belize.
Let us know!
Have you visited the DEN Centurion Lounge? If so, what did you think?!
More Basic Reading