Attending away Buffalo Bills games is one of my favorite way to travel. The only problem is that flights, hotels, and tickets can get costly. Cue in Points and Miles. A stranger introduced me to utilizing award currency to subsidize travel and I haven't looked back. I've been to games in Dallas, Houston, Green Bay, Kansas City, Cleveland, Nashville, and Philadelphia for a fraction of the cost. Learn how I saved $2,500 on a Bills Mafia trip to New Orleans below!
Roundtrip Flights to New Orleans
The flight from Buffalo to New Orleans cost 13,341 Southwest Rapid Rewards Points and $5.60 in taxes and fees. Returning from New Orleans to Buffalo cost 27,933 Southwest Rapid Rewards Points and $5.60 in taxes and fees. That comes to a total of 41,274 Southwest Rapid Rewards Points and $11.20 in taxes and fees for my flight.
Basic Travel Tip – Are you heading to New Orleans for the game? Check out the top 16 things to do while visiting the big easy!
Southwest Companion Pass (BOGO Flights)
My wife's roundtrip flight cost exactly $11.20 thanks to the Southwest Companion Pass. Basically, this pass allows me to add any companion to a reserved flight for only the taxes and fees which are always $5.60 each way for domestic travel.

Total Cost for Flights
Two Roundtrip Flights from Buffalo To New Orleans cost us 27,933 Rapid Rewards Points plus $22.40 in taxes and fees. The cash rate for those same flights is $391.06 per person or $782.12 in total.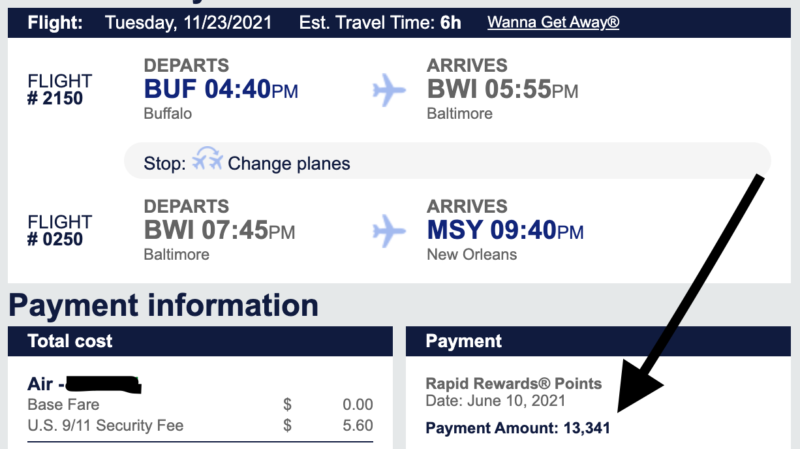 Hotel in New Orleans
There are a ton of great points and miles hotel options to choose from in New Orleans. For this trip, we decided to go with Eliza Jane which is located two blocks from the French Quarter. The cash rate for four nights at the Eliza Jane is $1,579.67 which is just under $400 per night!

Using Points and Miles at the Eliza Jane
Thankfully the Eliza Jane is under the Hyatt brand which offers tremendous redemptions. The same four nights at the Eliza Jane cost us 60,000 Hyatt Points total at a night cost of 15,000.

Total cost for the Hotel
Four nights at the Eliza Jane cost us 60,000 Hyatt Points and $0 in taxes and fees.
Earning Hyatt Points and Southwest Rapid Rewards Points
There are a handful of options to earn both of these rewards currencies. The primary ways are through co-branded credit cards or transferrable points credit cards. Co-branded credit cards include both Southwest and Hyatt branded credit cards. Credit Cards that earn Ultimate Rewards Points transfer directly to both Hyatt and Southwest which is my primary option for earning given the flexibility.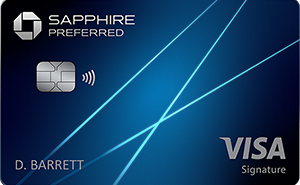 after you spend $4,000 on purchases in the first 3 months from account opening.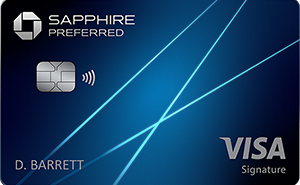 after you spend $4,000 on purchases in the first 3 months from account opening.
Covering the cost of the game tickets
My wife and I each just opened up a new Lili Checking Account that will pay us $100 after spending $250. I haven't purchased tickets yet, I'm one of those people that wait until an hour before game time and purchase via StubHub. However, I have found a ton of tickets for less than $100 a person so there shouldn't be a problem on that end.

Checking account bonuses are a fantastic option for padding a travel fund for these random expenses. There is a long list of options listed here on our website. I open a handful of these each year and rotate my direct deposit around to earn the bonuses. For whatever reason, these checking account offers have been ramping up the past few months. I'm over $3,000 year to date which will help subsidize the cost of food and drinks on this trip as well!
Other Points and Miles Freebies
The first freebies will take place as soon as we enter the Buffalo airport. A handful of the credit cards I have include a free Priority Pass membership which will provide access to Club lounges. These lounges provide free drinks and food plus a nice place to relax before flying. There's also one of these lounges located at the New Orleans airport.
My second big points and miles freebie will take place at the Eliza Jane. Thanks to being a Hyatt Elite Globalist member, breakfast will be comped all four days! In addition, there are usually complimentary beverages and snacks available in the evening for Globalist members at the Eliza Jane which I'll report on after our trip.
Total Cost
Flights $22.40 + 27,933 Rapid Rewards Points versus $782.12
Hotel $0 + 60,000 Hyatt Points versus $1,579.67
Tickets $0 from the $200 in bonus money we received via the Lili Checking Account Promotion
Basic Breakdown
As long as I can find a pair of tickets for less than $200 this whole trip should cost me a total of $22.40 from the flight's taxes and fees. Given the cash cost is $2,561.79, this is a pretty fantastic points and miles victory. There's no way I could afford to take a trip like this without points and miles. Can't wait to witness a huge Bills Mafia victory down in the Big Easy on Thanksgiving!
Does anyone else use points and miles to help make these sorts of trips possible?
More Basic Reading