Every year I try to attend an away Buffalo Bills game as cheaply as possible. I've booked Vegas, Greenbay, Dallas, Houston, Nashville, and now Kansas City using Points & Miles. There's nothing that quite compares to the experience. I love visiting a new city for the long weekend, trying new food, sightseeing, and of course attending all of the Bills Backers activities. Learn how I was able to book a trip from Buffalo to Kansas City using Points & Miles in this basic breakdown!
The Flights
BUF to MCI
I used 18,591 Southwest points + $5.60 to fly from Buffalo NY to Kansas City MO. Thanks to the Southwest Companion Pass, I was able to add Lisa for only the taxes & fees which are only $5.60 on domestic flights.
plus a 30% off promo code after spending $3,000 on purchases in the first 3 months
plus a 30% off promo code after spending $3,000 on purchases in the first 3 months
MCO to BUF
For the way back to Buffalo, it cost me 17,433 Southwest Rapid Rewards Points + $5.60. Using the companion pass again paying only $5.60 to add Lisa.
Total Cost – 36,024 Rapid Rewards Points + $22.40 in taxes and fees for two roundtrip flights from Buffalo to Kansas City!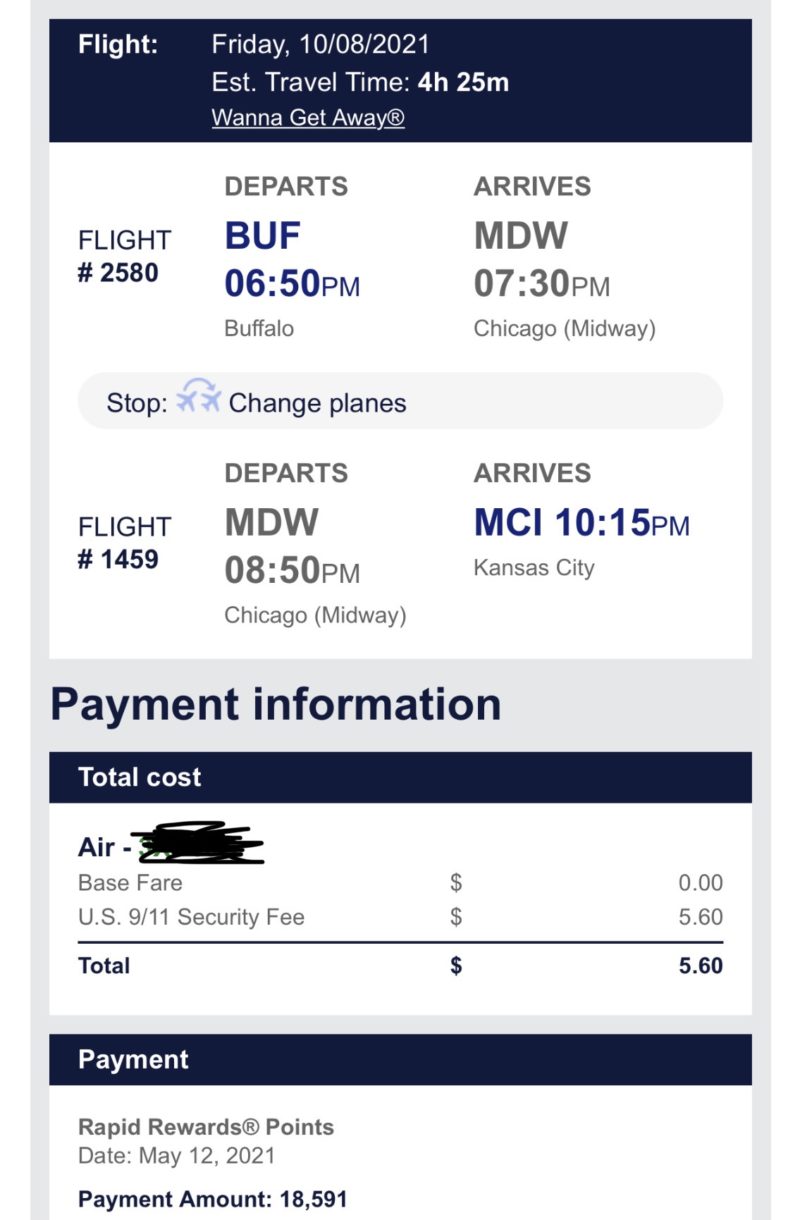 Hotel
There are tons of options for hotels in Kansas City when using points and miles. I decided to go with the Marriott Westin property which is located in a great spot in downtown Kansas City. I had the option to use either 30,000 Bonovy Points or a 35K Bonvoy Free Night Certificate for each night.
The total cost per night is only $1.78 when using Bonovy Points/Certificates which is a whole lot better than the market price of $304 per night!
Total Cost – Three 35K Marriott Bonvoy Free Night Certificates + $5.34 in taxes & fees.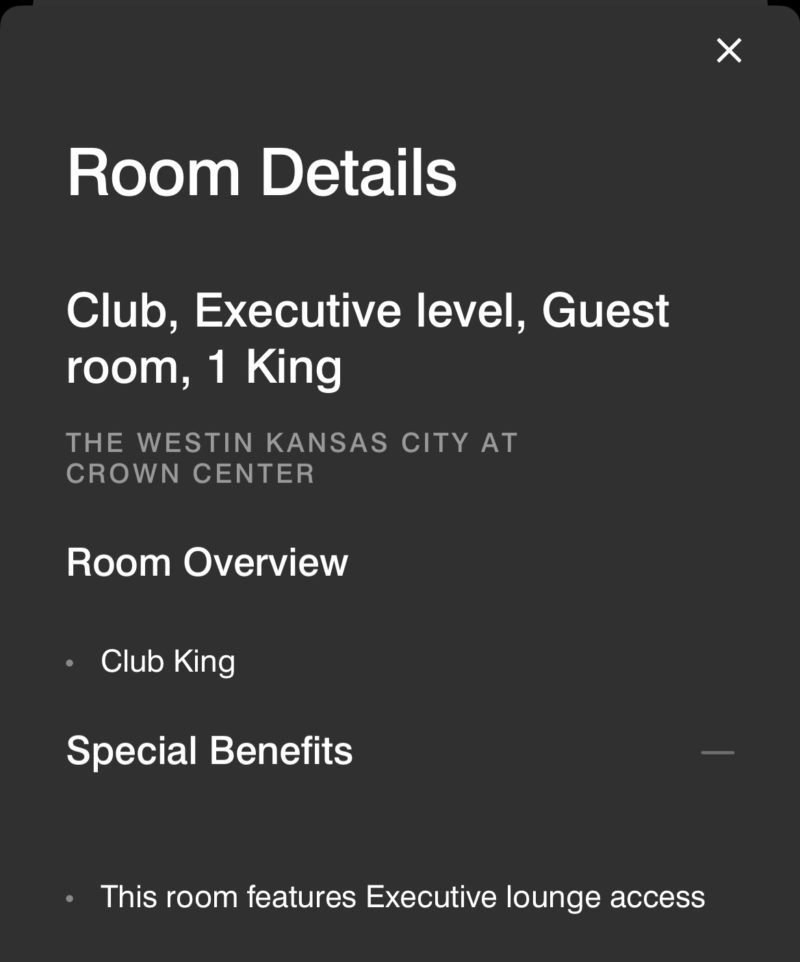 Platinum Elite Perks
I also selected Westin Kansas City due to my elite status with Marriott. Platinum members receive free breakfast, access to an executive lounge, and complimentary upgrades. The free breakfast alone will save us at least $25 per day!
Tickets to the Bills/Cheifs Game
This is always the trickiest purchase in my opinion. Prices vary from when they are released through game day. I like to pad my travel fund with money earned by trying out new checking accounts. Typically I change my payroll direct deposit 2-3 times per year and earn between $250-$400 per account. For these Bills tickets, I actually just earned $300 from the SoFi loan promotion where I opened a loan and paid it back the very next day to earn the bonus! With taxes and fees, the tickets came out to $290.43 which was completely covered by that last bank bonus.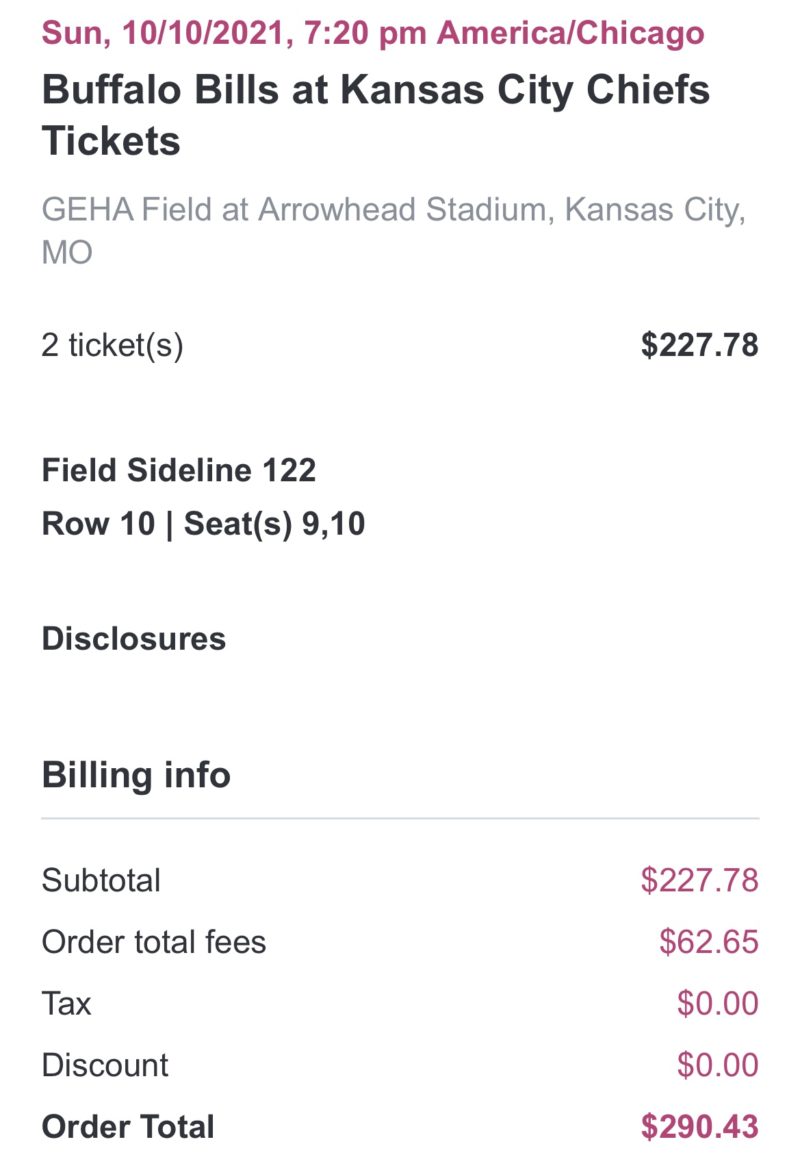 Basic Breakdown
A long weekend trip to see the Buffalo Bills play under the Kansas City lights at Arrowhead stadium has on been circled on my calendar since the schedule was released. Using some Points, Miles and a whopping $27.74; I'll be able to enjoy some great Kansas City BBQ and join the Bills Mafia for what will sure be a memorable weekend.
Have you used Points & Miles to attend a Sporting Event?
More Basic Reading