You may remember Dave & I talking about SoFi Money and SoFi Invest over the last few months. They are one of our favorite financial institutions for a multitude of reasons. The biggest one is due to the fact that there are NO ATM fees WORLDWIDE. They will even reimburse you for any you get charged for. In this article, I will go over how you could quickly make $75 cash and $75 stock investments with two $500 deposits. If you aren't a part of our Facebook Insiders Group yet, be sure to join to be the first in the know!
SoFi Money Account
SoFi Money is unlike any account as it is not actually a bank account, but a cash management account that charges no fees to save, spend, and earn cash back rewards.
First, open a brand new SoFi Money Account here. This is Dave's link and I have a good reason for it that I will get into shortly. Once you open the SoFi Money Account, you will need to direct deposit one $500 or more transaction. I did call and verify what specifically is a direct deposit:
Employer
Unemployment
Social Security
She stated that Venmo/PayPal deposits would not count, but I have not tested this theory. Once you make a qualifying direct deposit, you will receive the $25 bonus. Just to note, you cannot make the direct deposits on the same day. It has to be two separate days.
NO ATM fees and they reimburse you if you do get charged any (Only for account holders grandfathered in prior to June 8th 2020)

For new account holders, ATM fees are reimbursed from 55,000+ ATMs found within the Allpoint Network

NO account fees of any type. (So no monthly fees or anything)
Earn Cashback rewards
Earn up to $10,000 per calendar year on referral bonuses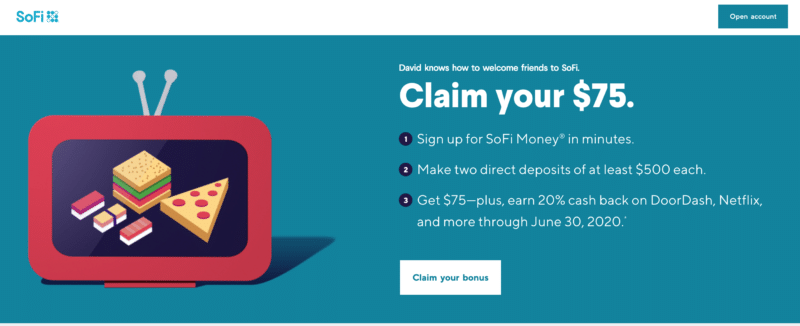 SoFi Invest
After you open your SoFi Money account through Dave's link and get your $1000 direct deposited, you can then open a SoFi Invest account utilizing my link. Again, I will explain this shortly. SoFi Invest is currently offering a $50 stock bonus when you fund your account with at least $1,000. I imagine that you could transfer the money over from your SoFi Money to SoFi Invest and then double dip to get a $25 bonus on SoFi Money and $50 Stock bonus on SoFi Invest.
The Rules
SoFi states that you cannot get a referral bonus from the same bonus. That means you could not open a SoFi Money account from me, and then a SoFi Invest account from me and get both bonuses. Therefore, if you use one SoFi Money link and one SoFi invest link from Dave, then you can earn BOTH bonuses!
The Links
For your convenience, here are ALL of our links:
Remember, whatever one you use, you can then use the other one to get both bonuses. You will know whose link as it says our names at the top.
More Basic Reading