Is there anything more annoying than paying a fee to use your own money? I think not. ATMs have been known to charge anywhere between a few dollars upwards of $20+ per transaction. When traveling internationally, these fees can be even higher. This brings me to one of my favorite Basic Travel Strategies – the ATM Fee Reimbursement Debit Card. In this Basic Guide, learn how to pay no ATM Fees with the Charles Schwab Debit Account. 
ATM Fee Reimbursement Options
Before I jump into the Schwab debit account, it's important to note that there are two other options that offer ATM fee reimbursement. The SoFi money debit account used to be the go-to option prior to June 2020 when all of the perks were scaled back. SoFi still offers ATM reimbursement but only when withdrawing funds from specific Allpoint ATM units.
The runner up to Schwab is the Fidelity account which offers unlimited ATM reimbursements throughout the United States. This leaves Charles Schwab the sole winner in worldwide ATM reimbursements.
How to get ATM fees reimbursed with Schwab
To be eligible for ATM fee reimbursement with Charles Schwab two separate accounts need to be opened first. Both the Schwab One brokerage account and a linked Schwab Bank High Yield Investor Checking Account need to opened together. The great news is that it only takes ten minutes and there are NO FEES for either account.
Opening both Schwab brokerage and checking accounts together (step-by-step)
The first step is to click "Open a Checking Account" by clicking the following link Open an Account with Schwab

Choose a type of account: Individual or Joint
Type in referral code in order to take advantage of deposit bonuses. Our referral code is REFER6NNWA99V. It's an invite-only promotion which oddly doesn't provide the referrer with any bonus which is not typical. More on the bonus levels below!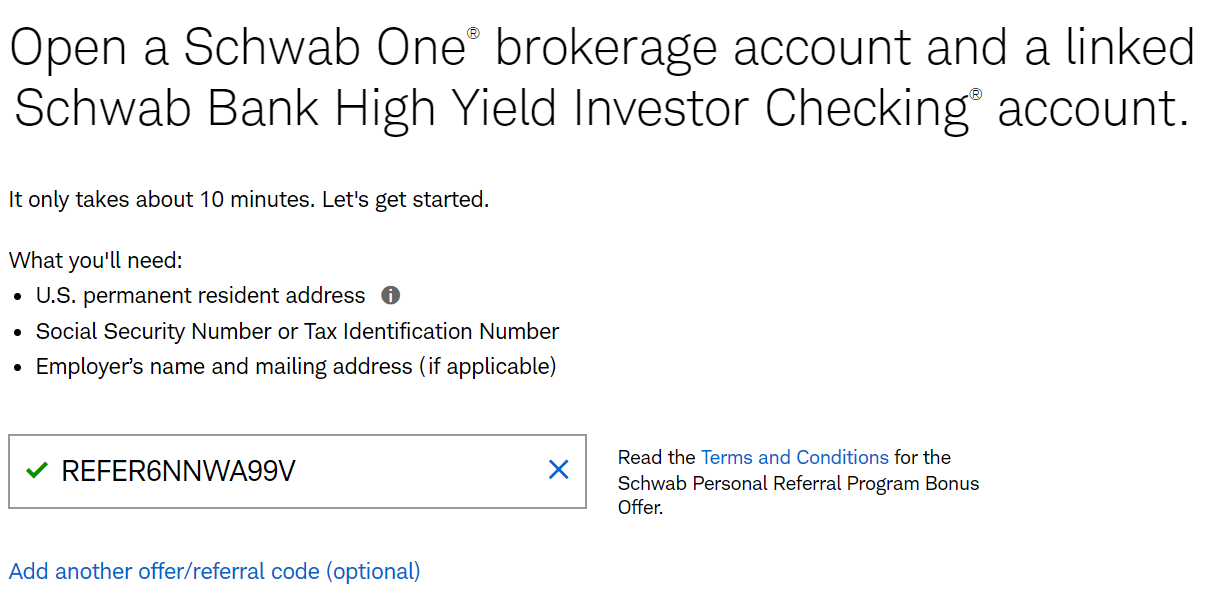 Click "No I'm new to Schwab" and fill in the information requested. Then create a login and password for your new accounts. Click through the account features and terms in order to complete the opening process.
The final screen will display a successful opening of the brokerage account and a pending checking account. This is displayed below in the photo.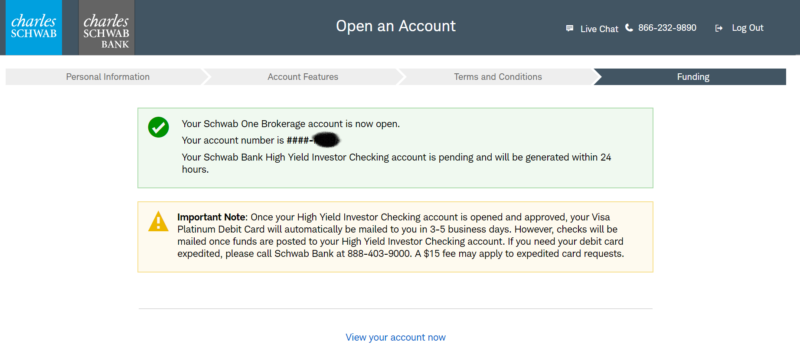 Congrats on completing the application! After the Schwab Bank High Yield Investor Checking Account is approved, you'll be able to add funds that can be withdrawn from any ATM worldwide for FREE!
Deposit Bonus – Schwab Brokerage (Optional)
Do you remember that referral code from earlier that was entered when opening the accounts in step three above? By using that code, it's possible to earn a cash bonus based on the amount that is deposited into the new brokerage account. See the breakdown below.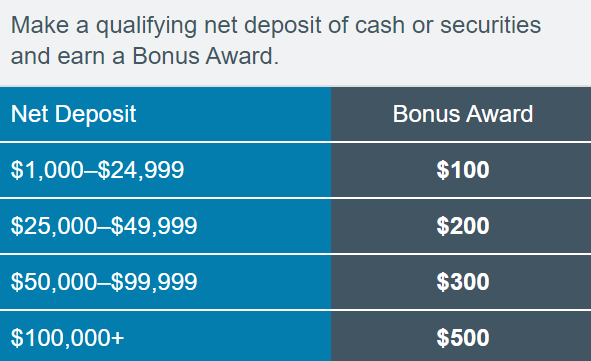 It's important to note that the qualifying amount must be deposited into a new account within 45 days of opening. Additionally, the amount must remain within the account for at least 12 months or Schwab reserves the right to chargeback the bonus amount.

I think the best option is a $1,000 deposit for 12 months in order to earn $100. That is a 10% return on your money. Given most banks are around 1-2% APY, a 10% bonus is hard to beat!
Basic Breakdown
All ATM fees reimbursed worldwide in less than ten minutes! You can't beat that which is why this account remains one of the top money tricks out there in the basic travel world. If you like this money-saving tip, be sure to check out our Basic Travel Course.
Have you used the Schwab account to withdrawal money while traveling?
More Basic Reading